High schoolers these days have to undergo a lot of stress – of studies, of fitting in, and of being able to have friends. This is the age between childhood and adulthood, where youngsters cannot fully comprehend their future and decide what to do. They are extremely vulnerable and impressionable. In such time, mostly due to peer pressure, many youngsters get involved in drugs. What starts as a 'no harm in trying it once' can lead to serious addiction.
There has been a debate about using a car GPS tracking device to monitor the movement of teenagers as it may be considered a violation of their privacy. However, given the fast-paced world we live in, change in family dynamics, and increase in external influences on kids, it has become crucial that a car GPS tracking device and parental control GPS car tracker app be used – not to monitor them, but to accord immediate help whenever needed. Especially when you are combating teenage addiction. Addiction to substances is a disease that often makes youngsters do things they wouldn't normally do. Once addicted, it is known that kids, teenagers and even adults indulge in theft and other petty crimes to pay for their addiction. Thus, keeping your kid safe from this horrific situation is of utmost importance. Infact, every smartphones and tablets with gps are also there which you can use for GPS Navigation and tracking.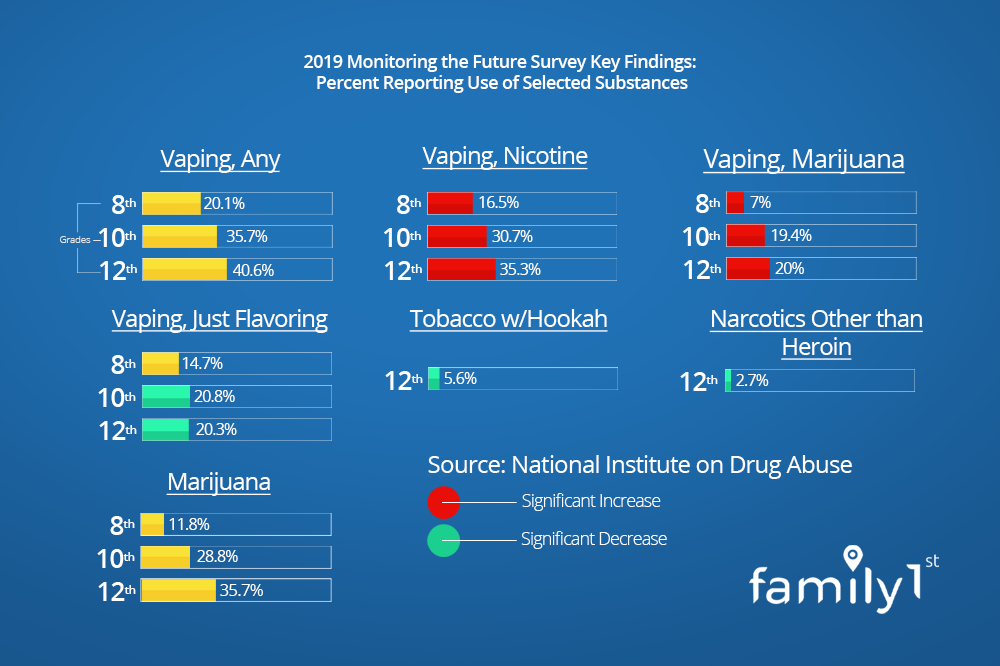 According to Monitoring the Future (MTF) Survey of December 2019, more than 42,500 students across 400 public and private schools participated in the survey. Most 8th, 10th and 12th graders admit to have tried vaping, illicit drugs, alcohol, marijuana, and prescription opioids. Every one in four 10th grader, and one in three 12th grader has tried vaping nicotine, marijuana, and just flavours, because vaping devices are easily available. This has resulted in an approximate 20-30 percent decrease in cigarette use as compared to mid-1990's. There also has been a decline in five-year trends of lifetime, past year, past month and binge alcohol use and in overall rates of lifetime, past year and past month illicit drug use, excluding marijuana, among 10th and 12th graders. However, abuse of prescription opioids among high school seniors is at its lowest rate since the survey began assessing it. But the 2019 MTF results show a continued dramatic increase in vaping. This is a frightening data for most parents. When at home, parents can keep a close watch at kids. But when out of the comfort of home, kids can be influenced by many factors.
Reasons that the high schoolers mentioned for trying or getting addicted to substance abuse in any form are:
To experiment and see what it is like
Because it tastes or makes them feel good
To have a good time with friends
To relax and relieve tensions
To simply get high
Because of boredom
Because they are already addicted
They vape to quit cigarettes
Easy availability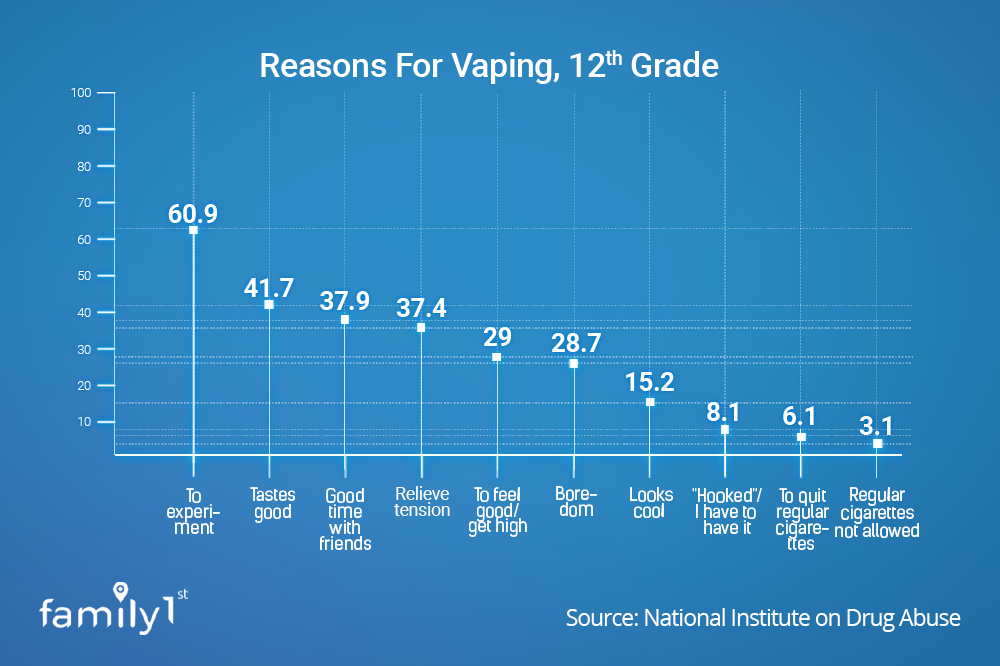 Trends in Vaping: The vaping trend became popular in 2010's and in 2014, MTF included questions about the electronic vaporiser devices into their survey. The 2015 survey included a question about what substance they thought they were vaping, and the 2017 survey added specific questions about vaping nicotine, marijuana, and 'just flavours'.
The 2019 survey results revealed the following facts:
82% high school seniors admitted that vaping devices were easy to get.
80.4% 12th graders reported that it was easy to get e-liquid with nicotine.
Increase of vaping in 10th graders – from 21.7 to25%
Increase of vaping in 12th graders – 26.7 to 30.9%
Most teens mentioned that they vaped nicotine. Approximately 9.6, 19.9 and 25.5 percent of 8th, 10th and 12th graders, respectively, have admitted to nicotine vaping. Moreover, it is interesting note that several high school seniors are aware of the harm caused by occasional (21.4% of high schoolers) and regular (38% of high schoolers) vaping of nicotine. The research also indicated that teens often prefer flavoured nicotine products, and in several cases do not know which e-liquid they were vaping because of inconsistent labelling.
Cigarette Smoking: There has been a downward trend in smoking through all grades. However, given that there has also been substantial increase in vaping nicotine, this data becomes insignificant. 2.3 percent of 8th, 3.4 percent of 10th, and 5.7 percent of 12th graders reported consumption of cigarettes of one-half pack or more. Also, only 2.4 % 12th graders admitted to smoking daily. A notable five- year decline in lifetime smoking of cigarettes was also recorded. A 26 percent decrease was seen among 8th graders reporting lifetime use—from 13.5 percent in 2014 to 10 percent in 2019. Among 10th graders, there was a 37 percent drop in the same five-year period, from 22.6 to 14.2 percent. And among high school seniors, lifetime use fell 35 percent from 34.4 percent in 2014 to 22.3 percent in 2019.
Marijuana Use: Data collected in the survey indicate that there has been a steady use of marijuana amongst 8th, 10th and 12th graders. About 6.6 percent of 8th, 18.4 percent of 10th, and 22.3 percent of 12th graders reported past month marijuana use this year, and 11.8, 28.8, and 35.7 percent of 8th, 10th and 12th graders, respectively, reported use in past year. It was also discovered that marijuana use has considerable increased in 8th and 10th graders by 85.7 and 41.2 percent respectively, as compared to 2018. Since marijuana has been approved for medical use, there has been decrease in teens thinking that it could be harmful if done on regular basis. In 2019, 52.3 percent of 8th graders, 39.6 percent of 10th graders and 30.3 percent of 12th graders perceived great harm from regular marijuana smoking.
Alcohol Abuse: A significant five-year declines in alcohol abuse and binge drinking was noted in 10th and 12th graders. Use of alcohol was reported by 7.9 percent, 18.4 percent, and 29.3 percent of 8th, 10th, and 12th graders, respectively, which reflects a respective decrease from 23.5 percent and 37.4 percent in 2014. Binge drinking means consuming five or more drinks in a row within the duration of two weeks, and it a decrease was recorded amongst 10th and 12th graders between 2014 and 2019. Also, this year's survey recorded 3.8 percent of 8th, 8.5 percent of 10th, and 14.4 percent of 12th graders of binge drinking.
There has also been a drop in lifetime use of alcohol in 8th graders – from 55.8 in 1994 to 24.5 in 2019. Similarly, lifetime use declined by 40.2 and 28.4 percent in 10th and 12th graders, respectively from 2014 to 2019.
Opioid Use: Opioids refer to prescription narcotics, generally given by doctors. The survey found a decline in usage of such drugs among 12th graders. Moreover, heroin use remains low with five-year declines in past year use from 0.5 percent in 2014 to 0.3 percent in 2019 among 10th graders and from 0.6 percent to 0.4 percent, over the same period, among 12th graders. There was a significant decline as recorded in five-year data, for Vicodin and OxyContin. Past year use of Vicodin declined from 3.4 percent in 2014 to 1.1 percent in 2019 among 10th graders and from 4.8 percent to 1.1 percent in the same period among 12th graders. OxyContin was reported by 1.7 percent of 12th graders in 2019, a nearly 50 percent drop compared to 3.3 percent in 2014. Interestingly, rates of prescription opioid misuse are at their lowest levels since first recorded by the survey.
Illicit Drugs: According to the finding of the survey, the misuse of other illegal drug in this population, including cocaine, methamphetamine, and over-the-counter cough and cold medicines, has been steady. Cocaine use was reported by 0.7 percent of 8th graders, 1.5 percent of 10th graders and 2.2 percent of 12th graders, in the past year. Although the usage has decline, there has also been a gradual decrease in the percent of 12th graders, from 54.4% in 2013 to 48% in 2019, that understand the risk of trying cocaine once or twice. Methamphetamine use remained low and steady, with use across all prevalence periods at less than 1 percent in all grades.
What is alarming that only minor changes were seen in the use of amphetamines, LSD and synthetic cannabinoids. The use of amphetamines has remained steady from 2018 to 2019, although, in the past year there was a decrease recorded among high school seniors and a five-year decline in past month, past year and lifetime use was reported by 10th and 12th graders. Shockingly enough, 10th and 12th graders are getting more involved in LSD abuse as seen in past five-year data. The past year use of synthetic cannabinoids (also called spice/K2 or synthetic weed) saw a five-year decrease from 5.4 to 2.6 percent among 10th graders and from 5.8 to 3.3 percent among 12th graders; but saw a one-year increase by 8th graders, with 2.7% reporting past year use.
All the above mentioned data has been taken from a report on drug abuse by National Institute on Drug Abuse; National Institutes of Health; U.S. Department of Health and Human Services. As parents, this data is bound to make you worried and restless. Parenting in itself is tough. However, finding that your child is involved in drugs or taking care of a drug addict high schooler, on the road to recovery means that you need every help you can get. Trust is an important factor in recovery, although most kids are not always forthcoming about their whereabouts and friends.
For this very reason, Family1st has come up with several GPS tracking products and highly advanced multi-function software applications that can help parents monitor drug use and abuse in their young children. It's important here to note that GPS car trackers for teens devices do not invade privacy, they rather help in keeping your loved ones safe, in your absence.
Family1st offers the best and most reliable GPS tracking devices and car tracker GPS that once integrated with software application, gives you best of tracking technology. The application is easy to use, supports multiple devices, can generate a plethora of real-time location data, assists in creating numerous Geofences, and also allows to set criteria to generate emergency alerts. Our devices and services are available for a free trial and can be customized according to your needs. Our parental control app also offers added security in this world which mostly revolves around the internet and social media. Through parental control apps, you can restrict the kind of videos, movies, games and music your kids listen too. Also, you can keep a track of their web browsing history, and their email conversations. Again, this is not an invasion of privacy, but a way to ensure that your kid is not being reckless with their information and privilege.
At Family1st, our most important goal is to ensure the safety of your loved ones with a car tracking devices for teenage drivers. We have a dedicated customer support team, available 24*7 all around the year, ensuring that all your queries and issues are resolved promptly.
For more information about our products and services, feel free to contact us. We will be happy to help!