Summary: The last thing that you would want for your aging parent is to lose control and the comfort of home. This is where medical alert emergency devices come to play. They send an emergency signal to the personnel as soon as the button of the device is pressed. Ideally designed for seniors, these devices provide care 24*7 to your loved ones in your absence. In this article, we will review the top 5 medical alert systems and compare their prices, feature, etc.
As per the Centers for Disease Control and Prevention, one individual among four older people falls each year. Out of those falls, around 20% are severe, leading to a fracture, head trauma, or injury. Furthermore, once an older adult falls, the chances of falling another time increase. There is absolutely no way to prevent it. Thus, it becomes vital to provide immediate assistance when such a situation takes place. This is where home medical systems come into play.

Medical systems enable senior citizens to stay independent, ensuring that they will get help whenever needed. Also called the personal emergency response systems, medical alert systems provide a quick and easy way for the elderly who stay alone and have health issues. At times of emergency, fall, fire, or events, the best medical emergency devices help prevent further damage, injury, or death at times of emergency. These devices comprise a help button that connects the user to a live agent in terms of emergencies.
Top 5 Medical Alert Systems
Nobody would wish to go through such a scenario where they are helpless at times of emergency. This is why many old-age people choose medical alert systems. Although the industry of these medical devices is growing hugely, several industries mislead their customers with a motive to earn extra profit and fees.

If you are looking for the best medical emergency device, we have got you covered! This guide lists the top 5 medical systems that offer immediate assistance to seniors at times of emergencies. Furthermore, by the end of this guide, you will know how to choose the right medical systems.

Without any further ado, let's delve into the discussion!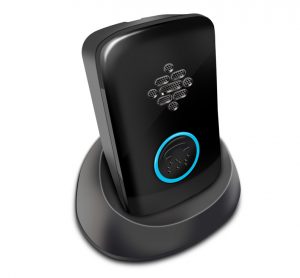 Family1st has been ranked as the first medical alert system in the town. It has excellent customer reviews and completely aims at providing the best services to seniors. This medical alert system allows you to monitor it 24*7 with a single click. Every device of the family1st offers a fall detection feature. Eventually, with several additional features, there is no doubt that it is ranked as the 1st in the best medical emergency devices.

Pricing

The medical alert device of the family1st starts with the lowest range of $29.95. It offers free shipping and does not charge any additional or hidden fees.

Features

It features a two-way voice alert system.
It offers a built-in fall detection feature.
It works 24*7 for emergency responses.
Each of the devices is extremely light in weight and is easy to wear.
It has an excellent battery life which lacks in several other devices.
In cases of theft, real-time tracking helps you to keep track of your loved ones.
Pros

Products are of lifetime warranty
The GPS tracker provides unparalleled security 24*7
Devices are portable and compatible
Excellent battery life
NO ACTIVATION FEE
NO CONTRACT
Cons

You cannot turn off the device from your mobile
Is accessible in North America only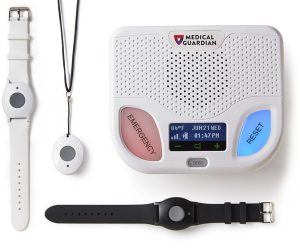 Medical Guardian is an excellent medical system that goes beyond its best to offer facilities and benefits to its customers. With several additional features and benefits, a medical guardian is a brilliant choice for people who wish additional peace of mind and are not inclined towards traditional medical alert options. Furthermore, Medical Guardian provides around six total device options that are undoubtedly more than any other medical system company on the list.

Pricing

Medical Guardian has a total of six distinct plans to offer its customers. These plans range from $29.95 per month to $79.95 per month. Medical guardians do not charge any device activation fee or any installation fee for most of the devices that it offers.

However, one device, namely the "freedom guardian (smartwatch-style device) needs a one-time payment of $99. Additionally, at present medical Guardian does not offer any free shipping although, it does not charge any cancellation fee.

Tip: Customers who wish to pay for their service yearly will gain a good discount from the actual monthly price.

Features

It provides cellular and landline in-home options
It offers a Mobile option that has GPS capacities
The devices are water-resistant. Users can wear it around their neck or wrist.
It features automatic fall detection pendants
It has wall-mounted help buttons
It features wall buttons that are voice-activated
The lockboxes are waterproof.
Pros

Upgraded and sleek hardware
Waterproof pendants
No long term contracts
Smartwatch Option
Caregiver Platform(free)
Cons

Add-on or activation fee required monthly
A bit pricey than its competitors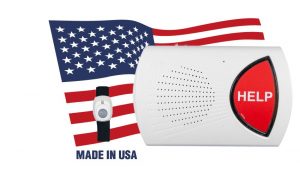 Bay Alarm medical ranks second in the list of the best medical emergency devices. It is excellent as it comprises high-quality service. At a brilliant price point, this medical system offers exceptional features that you will not find elsewhere. The company provides a plethora of reliable in-home and on-the-go devices. You can use these through a cell signal or a landline. The emergency monitoring Centre owns a certification of top-notch ratings. The positive customer reviews indicate the level of quality service offered by the company and the degree of satisfaction of its customers.

Pricing

Bay alarm medical provides a total of 4 devices. They are priced between $19.95 for a very basic in-home system and $39.95 per month for an entirely mobile unit. Each of the devices is paid for every month. Bay alarm medical does not offer any long-term options for payment. Customers are even offered a 30day cancellation window. During this phase, new customers can cancel their service and gain a full refund along with zero shopping costs.

The extra wearable help buttons cost $1.95 per month. The lockbox is available at $1.95 per month. The updated pendants designed by artists for personal help costs $27.95.

Features

It offers cellular in-home options and a landline option
The mobile option is available at 4G, LTE coverage along with an in-car medical alert system
Each of the devices is water-resistant
Each of the help buttons is water-resistant
Pros

Minimal monthly cost
Exceptional customer service
No equipment fee
Geofencing available
Available in 170 languages
Cons

The narrow range of accessories as compared to its competitors
Additional costs on additional features except for basic coverage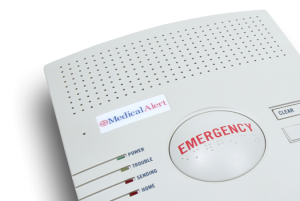 Medical Alert offers every small thing that you require in an ideal emergency alert system. You may even consider it as the best medical emergency device. Rated with an A+ by the Better Business Bureau, the medical alert has brilliant customer reviews. With such remarkable achievements, you can be sure if receiving quality products from Medical Alert. The company owns the highest certifications for offering emergency monitoring 24*7. It offers at-home and on-the-go options along with lifetime equipment and long-term battery life warranties.

A mobile app for all caregivers offers the ultimate peace of mind for people looking for complete safety and security for their families and loved ones.

Pricing

The price range of Medical Alert ranges from $22.95 per month to $37.95 per month when you wish to pay every month. If you choose to pay annually or semi-annually, you can opt for that as well. It can lower your total cost by a few dollars monthly.

Apart from this, Medical Alert provides a 30-day refund guarantee on each of its systems. In case any user or customer is unsatisfied and disappointed with any of their medical devices, the medical alert returns the device within the first 30day for enabling full money back policy.

Any cancellation outside the first 30-day window can also be considered at any point without charging any penalty. However, the user will get a prorated refund.
Starting at a mere $19.95 a month, the Medical Alert system provides phenomenal quality services at a relatively lower price than most of its competitors in the market.

Features

It provides cellular in-home and landline options.
It features a mobile unit along with an optimal wearable help button.
Each of the help buttons that medical alert devices own is water-resistant.
It features an automatic fall detection pendant as well. This feature notifies and calls the response team immediately when the fall takes place.
It provides free charging cords, wristbands, free lockboxes, carrying cases for each of its mobile units, and lanyards.
Pros

No additional one-time fee
Free lockbox available with an annual subscription for the in-home systems
It Covers international areas including the US, Canada, Virgin Islands, Puerto Rico
No long term contracts
Provides pro-rated refunds with zero cancellation fee
Cons

The fall detection facility is not available in the monthly cost for each type of device
Additional accessories and features are limited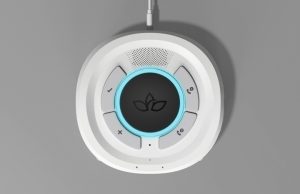 Aloe Care Health provides a high and advanced premium quality service. This medical system is a hands-free system that is ideal for independent aged adults. The voice-activated feature helps the seniors to be safe and well connected with their caregivers. Additionally, they are not required to wear personal alert devices every day.

Aloe Care aims to address the hard and challenging voids, thereby extending help to independent older adults. The safety systems offered by the Aloe care medical system are user-friendly and extremely easy to use. This further enables the elders to stay independently, helping the caregivers offer the best care for their families and loved ones.

Pricing

The price range of aloe care varies from $24.99 per month to $49.99 per month. Users can pay them every month. Along with their monthly service charges, users of Aloe Care can buy their equipment by paying a starting one-time fee of $100- $300. This, however, entirely depends on the type of plan they wish to choose. Aloe care does not charge any additional fees for startups, activations, or installation. However, customers are required to pay for shipping purposes.
Features

It provides 2 systems. Both are ideal for in-home use.
Each of the systems, along with the base and help buttons, is water-resistant.
It features an Aloe care caregiver app. The app helps its users to keep a check and track of its systems from a distance.
You will receive motion sensors along with the total care package. You can monitor its movement via the app portal.
Pros

Fall detection feature available with mobile plans
Friendly app available for family and friends
Voice assistance smart hub feature
Emergency center offering 24*7 response
Cons

Wi-Fi needed for total care plan
Should pay upfront for equipment
Choosing the Right Medical System
The first and foremost step to opt for the best medical emergency device is to analyze the system that will work best for both you and your loved ones. You can opt for a traditional home system or a mobile system. It is even better when you choose both.
Choosing the best medical emergency device and system depends on how much you or your loved one stays apart or unaccompanied. The active seniors who usually stay out of home will require a mobile device as compared to the seniors who stay at home more often. Seniors staying back at home can go for an in-home device that does not need to be charged.

Selecting an ideal medical alert system entirely depends on your medical needs, lifestyle and preferences. The medical alert system industry is huge, and you are offered innumerable options to select from. However, below are a few factors that you should consider before choosing the device that best suits your needs. Let us check these factors:

1. Easy to use
If you require simple medical assistance, you need to press one button to get help. Most of the alert systems or devices comprise a base station or cellular signals. These help them to communicate and interact with professionals as it has inbuilt two-way audio. However, before purchasing, make sure you analyze and understand the working of the systems and their features to not face any problems at times of emergency.

2. Water-resistant
Most of the incidents, emergencies, or falls take place in showers. As older people are too wary of managing themselves, you need to make sure that the device you are purchasing is water-resistant. Moreover, if you or your doctor feels that your loved one is prone to fall on any water-related surface, always look for waterproof devices.

3. Monitors 24*7
Emergencies can take place at any point in time. Therefore, most of the medical alert systems are available 24*7 and provide the best monitoring and customer service to offer you peace of mind. However, many don't. Thus, when looking for any medical alert system device, always go for the one that provides monitoring 24*7 and is available for you.

4. Cellular connection Vs landline
Some of the medical alerts connect with the landline of your home or any cellular networks to get signals in emergencies and help. In case you are on the go, it is best to opt for a cellular connection.

5. Range
In case you are opting for a landline system, you must know the distance of your devices that extends from your home or base station. In such a case, you will want to stay inside the reach to receive signals in case of an emergency.

6. Battery Life
Any medical alert device turns into a useless device when it is uncharged. Also, the portable device needs regular charging. Therefore if you are purchasing a system for a forgetful senior, always look for the battery in it. Go for the systems that enable battery monitoring. This way, you can stay updated and alert in case the battery life falls. Note that the devices ideal for in-home systems does not require charging.
Conclusion
Choosing an ideal medical care system is a challenging task. As you buy such alert systems for your loved ones, you need to make sure you purchase the best medical emergency device from the system. With many options in the market, it is difficult for any user to pick the ideal one. However, with this guide, we hope you can narrow down your picks. This was a guide that listed the top 5 medical alert systems that are highly reliable. Having excellent customer reviews, these systems are completely worth your time and money.