You may be planning to enjoy your summer holidays by going on an adventurous trip or making cross-country journeys by motorcycle. You will be on a route that very few could explore and venture, and you must ensure not being trapped in any danger or uncertain conditions. You may be on unknown and risky routes, under harsh weather conditions, and might face problems that require an immediate response. GPS trackers are the latest technology devices that can help you to follow your defined route, avoid potential risks, and allow others to track your exact location whenever required.
The GPS trackers use satellite-based technology to track your motorcycle's precise location and movements. It will help you not get lost or diverted from desired routes. If you face any accident or dangerous situation, your family members can immediately track your location and provide necessary assistance. You can also generate alerts through the GPS trackers to inform any rescue team or your group members who can easily track your location and come for your help.
The trackers are simple to use and compatible with any model of motorcycle. The motorcycle tracking system utilizes GPS to track, record, and share details about real-time locations at regular intervals so that you remain updated about the motorcycle's position, speed, direction of travel, etc. It also guides the rider to optimize the routes and avoid potential hazards on the road. You can secure your bike against misuse or theft by fixing a GPS tracker and getting alerts when someone starts tampering with your motorcycle.
You may be thrilled to explore new routes and places, but you must keep yourself secure from potential risks or hazards. The GPS trackers provide excellent support to make your journey smooth and hassle-free while ensuring your safety by tracking and guiding you in your movements.
Why Your Motorcycle Needs a GPS Tracker? 
The most significant benefit of a GPS tracking system for your motorcycle is ensuring safety. If you often use the motorbike as a mode of transport, make sure to have a GPS tracking device that continuously keeps track of your real-time location with a virtually limitless range. As you are on a new route, there are risks and dangers. 
The GPS tracker helps you detect and avoid risky conditions and safely guides you to your destination. The tracking devices help you commute through unknown routes, guide you on cross-country adventure trips, and protect your vehicle against theft and mishandling. Generally, these devices are waterproof and impact-resistant, making them robust and reliable for use in various conditions. A GPS monitoring system offers several benefits to the persons using a motorbike which are as follows:
The tracking devices can track a predefined route and provide turn-by-turn directions as you move to make your journey more convenient.

It helps you find routes if you deviate from the scheduled track and allows you to reach the destination safely.

It tracks your actual location and shares details with others to help you get timely assistance if you need so.

The tracker collects data from surroundings and guides you to follow the most suitable routes avoiding potential hazards and delays.

It provides you with regular location updates of your bike so you can easily track and recover a stolen or lost bike.

The GPS technology allows you to create a safe zone of movement with virtual boundaries and set up alerts to know about any unusual or unauthorized movement beyond those areas.

The tracker helps you locate emergency responses or roadside assistance in nearby locations that you may need during the journey.

The GPS tools work well in places with limited or no network signal and track your location.

Some devices have an SOS button facility to raise alarms in emergencies and get an immediate response. 
Desired Features of GPS Trackers For Motorcycle
Trackers use different types of technology with varying ranges of response, accuracy, and reliability. You must consider the response frequency of receiving updates and the accuracy level. Several features are available in the tracking devices that best suit your requirements as a bike rider. The desired features in the tracker for your bike are as follows: 
Real-Time Tracking
The devices should track the predefined route and provide turn-by-turn directions to guide you to your destination. It monitors your exact location and provides updated information regularly to allow others to keep track of your location and movements. An active Real-time GPS tracker also generates alerts in case the bike is misplaced or misused. It is best to choose a GPS tracker that gives regular and precise location updates, which help to locate and recover a stolen or lost bike.
 Geofencing
This tool allows you to create a virtual fence over the map and get notified when the bike crosses it. It is one of the most significant features of GPS technology. It allows you to set up virtual boundaries and get immediate alerts as soon as your bike enters or exits the predetermined zones. This feature is crucial if you want to keep track of the movements of several motorcycles used for commercial purposes.
Battery Life 
The GPS trackers must have a long-lasting battery life with a backup of several weeks. It is also necessary to compare the warranty period of different devices because it indicates the product quality. You might want to choose a tracker with a battery that requires less time and intervals for recharging. The battery-saving features allow automatic standby mode when the device is not in use. It also provides alerts when battery power is low. 
Compact size 
The design, compactness, and size of the GPS tracking devices are also deciding factors to match their suitability in meeting specific purposes. Lightweight and compact devices that are convenient to handle and easy to fit in any space are the most suitable devices for bikers. 
Installation
A handy GPS device is always preferable and is ready to use without a complicated installation procedure. The devices are wireless and come with a magnetic case that helps fix the tracker in any convenient place on the bike. If you ride a bike on a rough course or speed up to reach your destination fast, a strong magnet mounting will ensure that the GPS tracker will not dislocate from its place. 
Durability
Motorbike users look for robust design and durability of the device for suitability of use in different conditions. The device should function smoothly, even when exposed to heat, cold, water, and dust. It is advisable to choose a GPS tracker for your bike that is durable enough to withstand any harsh weather and is waterproof. You should look for a GPS tracker that serves you for a longer time with reliability. 
Flexibility and Compatibility
The tracking system should be compatible with various digital devices and have reliable software support for efficient functioning. The system must be flexible enough to easily integrate different software and hardware devices to make it conveniently accessible to many users. The user interface must be intuitive, allowing easy access to live tracking and other advanced features. 
Connectivity
It is always preferable to have a tracker that offers you faster connectivity and provides a simple and user-friendly mode of operation. Reliable and multiple connection support helps you get regular location updates of your bike from any location.
Customer Support
An assured and fast customer support service is also a deciding factor in choosing a device. The hardware device might sometimes fail to function properly. The service provider that offers non-stop 24/7 customer support will be very helpful for you even during odd hours while you are on a journey.
The Best GPS Trackers For Motorcycles in 2023
Various GPS trackers for motorcycles are dominating the market with advertised features. The best GPS trackers for motorcycles must possess the desired features, considering the location tracking and security requirements you need for your bike. You should also look at the response time and frequency of location updates and the available historical tracking data. You also need to consider the power backup and durability features. We will provide details about the 10 best GPS trackers for your motorcycle meeting your specific needs. 
1
Family1st Portable GPS Tracker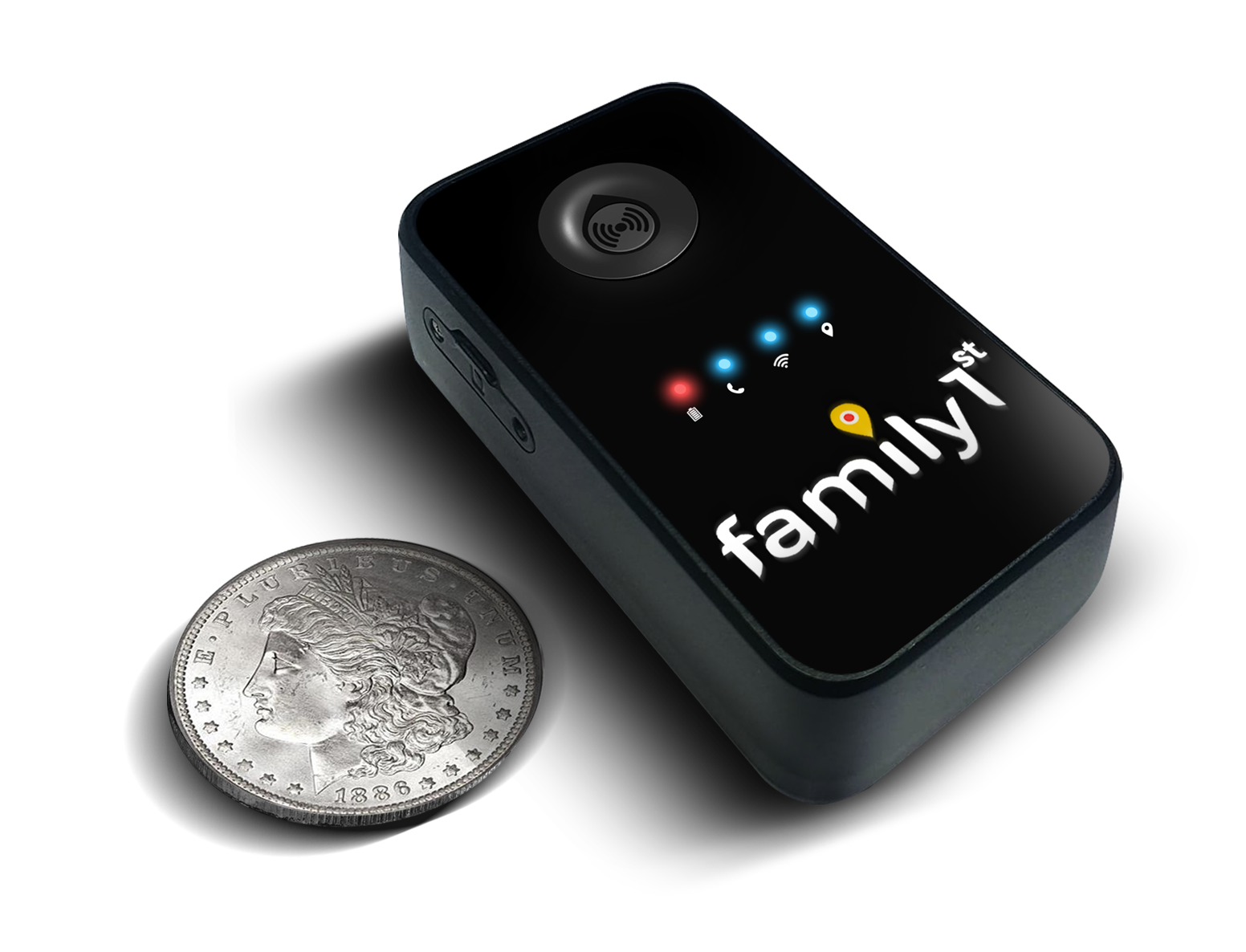 Family1st GPS trackers are known for efficient and affordable products and services. It also has one of the best customer services in the industry. Family1st provides a small, durable, and reliable device that is most suitable for bikers due to several reasons. Its sleek and compact design makes it perfect to fit at any position of your bike, inaccessible by miscreants. 
It comes with a rechargeable battery that lasts up to two weeks. The device offers real-time tracking information at frequent intervals. You can also set up alerts and notifications, including geofence alerts, enabling you to keep track of bike movements. The device uses 4G/LTE connectivity to give fast updates of real-time locations.
Key features
Cost-effective device

Real-time tracking and alerts

Best for personal tracking

Compact and doesn't require any installation

Sturdy and weather-resistant

Good battery life
2
Optimus 3.0 GPS Tracker
This tracking device works best for motorbikes due to its portable and sturdy design, with a dual-magnet case for easy mounting. It has an internal motion sensor that helps the device stand by when not used, thus preserving the battery charge. 
Optimus 3.0 GPS tracker provides all the features of modern-day GPS trackers, such as speeding and motion control, along with geofence and emergency alert facilities. You can get alerts from the GPS tracker for speeding, entering, or leaving predefined areas or when the tracker's battery charge is low. 
The tracker displays the live location on Google Maps, traffic view, and road blockages to help you optimize your routes, saving time and fuel. The device safeguards your motorbike against theft or misuse. You can also download the Optimus app on multiple digital devices to stay continuously connected and updated on your location in real-time.
The lithium-polymer battery offers a power backup of about two weeks on a single charge. You can view the exact percentage of power remaining and set up notifications when it reaches certain levels. 
Key features
Cost-effective

Motion and speed sensor

Battery saving on standby mode

Compact design 
3
Tracki 2020 Model Mini GPS tracker
It is one of the most popular GPS trackers for motorbikes and offers worldwide coverage in over 190 countries. The compact and handy GPS device provides various features such as a motion sensor, SOS, and Geofence functions. You can create virtual boundaries to define a safe movement zone and get notified as soon as your bike enters or exits the predefined area. 
This function helps you identify any unauthorized movement of your bike, allowing you to take immediate action and enhance security. The connected app helps provide you with accurate live routes. The speeding alert option guides you to practice safe riding. 
The device has in-built SOS and panic buttons that allow generating alerts and ensure you get help as required. This device suits professional bikers who love participating in cross-border bike tours. 
Key features
Easy setup

Indoor and outdoor tracking 

5 years of historical data

Option for extra battery
4
LandAirSea 54 GPS Tracker
This device is perfect for motorcycles due to its various supporting features. It is round in shape with a strong internal magnet. It can be fixed conveniently at any position of the bike and can withstand a bumpy ride. The device installation on your motorcycle is simple, as you can place it in the exact spot you want. The magnetization is strong enough to fix the device securely on the motorbike in all conditions. The LandAirSea 54 GPS tracker has a superior-quality dustproof and waterproof casing, making it durable.
This GPS device provides accurate location details and has a sensitive sensor giving instant alerts in case of unauthorized use of the bike. You can get the real-time location and movements of the motorcycle through the app or any web platform.
The app also allows you to share location details with your contacts in case of any help. A rechargeable lithium-ion battery provides power to the device, which can last up to six months in low-power mode as per the claim by service providers. 
Key features
Precise location tracking up to six feet

Real-time alerts

Location sharing with others

Stable battery backup 
5
Americalac GL300 MXW GPS Tracker 

This device is most suitable for asset tracking, especially vehicles. The compact design and durability make it perfect for your bike. This device gives the updated location of your bike in real-time with a precision of 10-20 feet. GL300 MXW has a powerful battery backup that helps you travel with the bike for several days. The app is easy to download on any digital device and gives you easy and continuous access to bike movements. 
You can get alerts for low battery, route deviation, or unusual movements, allowing you to take prompt actions. This tracker offers setting up the frequency of location updates as ten, thirty, or sixty seconds. You can buy a separate magnetic case for ease of mounting the device on the bike. 
Americaloc offers travel history records that allow users to track their favorite routes and search for other vehicle activities. Historical data is easily accessible by date and provides details of activities, such as location, parking, speed, and entering or exiting geofences. The Americaloc app lets you create custom routes that the tracker follows exactly. These features are crucial for tracking, navigation, and security for motorcycle riders. 
Key features
Real-time tracking and alerts

Long battery life

Track record up to 1 year

Worldwide coverage
6
Invoxia Cellular GPS Tracker 
It is a versatile GPS tracking device with reliable features. The sleek design allows you to fix it conveniently in the motorbike and hidden from others' access. The device is durable and can withstand harsh weather conditions. It has a long battery life of up to 2.5 weeks, depending on usage. The device is easy to install and supports 4G LTE network connectivity. 
The Geofence feature allows you to set up virtual boundaries for movements and receive alerts whenever your bike crosses the boundaries. Invoxia provides an app with a user-friendly interface that helps you get timely alerts and notifications per requirements. 
The system uses cloud-based tracking technology, making the data collection and processing faster and more accurate. Accurate location tracking and setting up multiple geofences allow you to ensure the safety and security of your bicycle.
Key features
Fast and accurate tracking

Multiple geofences

Add-on for increasing battery life

Real-time alerts
7
Monimoto GPS Tracker
The Monimoto GPS tracker has been proven as a good option for securing your bike. The elongated cylindrical design of the device allows you to place it conveniently in a limited space in your bike's frame or handlebars. It comes with a motion sensor that sends alerts in case of unauthorized movement of the bike. The device contains two single-use batteries that can sustain up to a year. 
The Monimoto GPS device comes with a Key Fob that sends proximity alerts to your mobile device, making it faster and easier to locate the exact position of the motorbike. The device will alert you of a potential theft through a phone call if it fails to connect the Key Fob. The GPS device paired with a Key Fob enhances the safety and security of your bike. 
Key features
Coverage in the USA and several European countries 

Alerts with a key fob 

The cylindrical design makes it easier to fit 

2G and 3G supported
8
Sherlock Antitheft Tracker
This tracking device has an elongated and cylindrical design that makes it perfect for fitting inside your bike's handlebars and making it completely invisible. Its rechargeable battery works for seven days without charging, which helps you make your journey smoother and safer. The Sherlock tracker also has a motion sensor that immediately alerts you of any unusual movement of the bike, allowing you to take appropriate action to avoid theft or misuse. 
This GPS tracker is compatible with many network providers in the USA and Europe and can operate on a quad-band cellular connection. The companion app of Sherlock Tracker is compatible with all Android and Apple devices. The app gives you the accurate location of your bike up to 5 meters. It has an efficient anti-theft mode that enables you to share location information with the local law enforcement authorities in case of emergencies.
Key features
Unique flexible design 

Antitheft mode alerts

Accurate location tracking

Location sharing 
9
Spytec GL300 GPS Tracker 
Spy tec has developed a lightweight and compact tracking device with efficient tracking performance, fast data processing via the cloud platform, and the ability to create custom geofences for better monitoring of vehicles. It can provide real-time location updates every five seconds, a crucial feature to keep your bike safe and secure. 
The long battery life improves the reliability of the device. You can use the device for more than two weeks before recharging it and will receive low-battery alerts. You also have the option to add an external battery pack that helps you extend the power backup for about six months. Spy tec offers robust app support to complement the device's outstanding performance. 
The feature-packed mobile app and user-friendly web platform allow you to track real-time locations, view historical data, and customize notifications and alerts as per your requirements. You can also set up multiple geofences of any size and shape and get alerts whenever the motorcycle enters or leaves those zones. 
Key features
Accurate tracking

Geofence alerts

Extended battery pack

SOS button for emergencies
10
Tkstar TK905 GPS Tracker
The Tkstar tracker takes care of the security needs of motorcycle users by providing different types of security alerts. You can create custom safety zones around any location, and the device will send a notification as soon as your bike enters or leaves that zone. This feature helps you track any unauthorized access or movement. 
A crucial feature of the TK905 is that it uses a highly sensitive tracker that senses movements, impact, or shock when someone tries to steal or tamper with the bike. The sensors remain active even when the tracker is in sleep mode. It is an ideal feature for protecting your motorcycle from theft or mishandling. Tkstar also allows you to monitor audio around the device remotely. 
The security settings and alerts of the tracker are easily customizable and manageable through a dedicated smartphone app. It has a durable waterproof casing and built-in magnetic pieces for easy and secure mounting on your bike.
Key features
Shock alarm to prevent tampering

Remote audio monitoring

60 days battery backup
Conclusion
GPS-tracking devices offer several benefits, including improved monitoring, reduced risks, and safety compliance. You should select a device based on specific features that best suit your requirements. A GPS tracker for the motorcycle is essential if you often travel on the bike and park it in different places. Finding your bike in parking areas is difficult, and there are risks of being stolen. 
GPS tracker for bicycles can help you track the exact location of your motorcycle so that you can relax knowing your motorbike is safe. The motorbike tracking devices have advanced features like motion sensors, geofencing, and speeding alerts that make the bicycle safer and more secure. 
Most tracking devices have a simple yet robust configuration that provides an effective tracking system. The GPS trackers also have minimal maintenance needs and provide maximum security for your motorcycle. Trackers for motorcycles are beneficial as you can track everyone in your group on a journey and find out the routes to your next destination.
These trackers ensure that everyone is within reach and away from potential risks. A GPS tool makes the journey more enjoyable as it guides you through new locations and routes by easy map display. The most important feature of a tracker is an effective and reliable tracking system that provides real-time updates at a regular frequency. It should have a long battery life to allow prolonged use without recharging. 
It must be durable with impact resistance and weather-proof features to handle unpredictable conditions. Reliable software support and compatibility with network devices are the significant features one should look for before selecting the ideal device. It is worth investing in a feature-rich, durable, user-friendly, and reliable tracking device that will help you achieve several benefits.