Trekking is a favorite hobby, passion, or adventure for many people. The idea of climbing unknown hills or mountains or exploring deep forests sounds exciting and gives an adrenaline rush. However, good as it sounds, these activities are dangerous. Exploring the unknown always has its sets of challenges. One example is Aron Ralston, who lost his way when he was canyoneering through Bluejohn Canyon in 2003. He had a bad accident and had to amputate his arm to survive. The reason for this ordeal was that he did not have any GPS or tracking device that could have saved him. A GPS tracking device can be a guardian angel overlooking your hiking or mountaineering adventures.
What is a Hiking GPS Tracker?
A hiking GPS tracker is a handheld device used when trekking or mountaineering. These devices are helpful because they allow you to find your way in case of poor visibility or unfamiliar landscapes. The most common forms of GPS are smartphones, and more recent ones are GPS-enabled watches. However, handheld GPS devices have many advantages as they show more detailed maps and satellite imagery than other GPS devices.GPS trackers for hiking are durable devices with longer battery life. They have rechargeable and replaceable batteries.
Basic Features of GPS Trackers for Hiking
There are many GPS trackers available for hiking. Following are some of the basic features that you need to consider before you buy one. 
Robust Design: The portable GPS device should have a sturdy design. It should have good quality and feel to it. The materials used should be shock resistant and waterproof.

Battery Life: The tracker should have a good battery life so that you do not have to change the batteries too often.

Display with Good Resolution: The display used in the GPS device should be crisp with good resolution. There are touchscreen devices, and devices with buttons available depending on your preference and comfort. 

Weight: GPS trackers for hiking should always be lightweight. This reduces the overall load you carry and makes trekking easier.

Satellite reception: The most significant feature has to be the satellite reception in remote locations. A GPS device for hiking without a good reception cannot be considered reliant and may cost you dearly.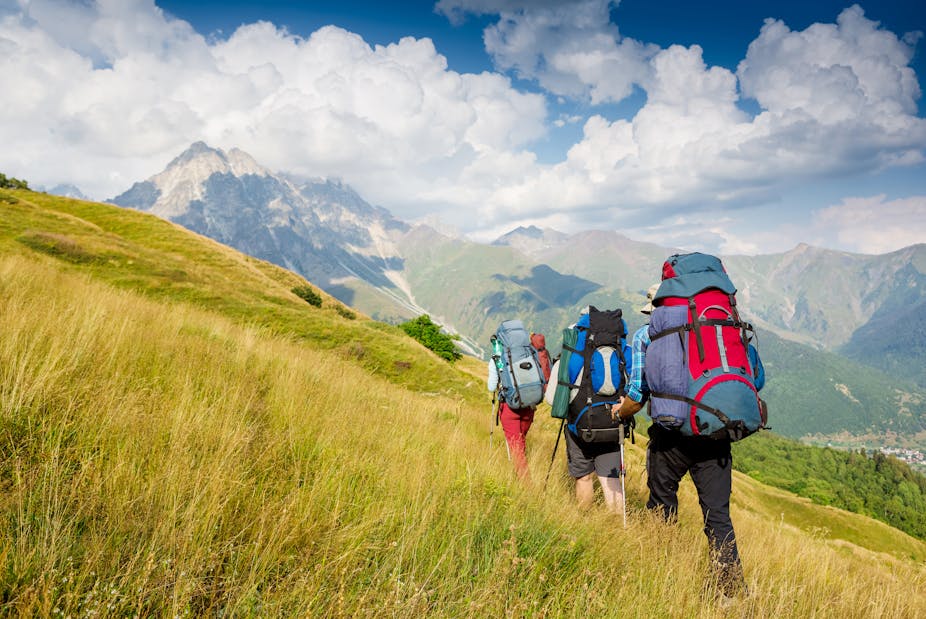 Advanced Features GPS Trackers for Hiking 
GPS trackers with advanced features and capabilities are a must for professional trekkers who face many challenges. These GPS trackers may be costly but offer life-saving features that are useful during your challenging treks. Some of these advanced features are as follows:
Electronic Compass: Also known as a digital device, that relies on the same magnetic fields which make the manual compass spin. A GPS tracker with an electronic compass will be very accurate.

Barometer: Barometers are used at higher altitudes to determine elevation changes and also changes in air pressure caused due to weather patterns.

Preloaded Maps: GPS devices come with basic preloaded maps. Most devices also accept full-fledged topo maps. These maps have preloaded details of hiking and bike paths, thereby making hiking and mountaineering easy.
This listicle comprises The 8 Best Hiking GPS Trackers. The list has been compiled after analyzing the advantages and benefits of each product. These GPS trackers have been tried and tested. The objective is to give you the best options in the wide range of GPS trackers available for hiking.
First on the list is the Family1st Portable GPS Tracker for Hiking. As it is very popular with users, the Family 1st GPS tracker is easy to operate, easy on the pocket, and a solid competitor to its rivals. Most hiking groups prefer to carry a GPS tracker for safety and the most sought brand is Family1st GPS tracker due to its accuracy, real-time data, user-friendliness, and cost-effectiveness.
The Family1st tracker is a portable and compact device. It has the two most significant features of being weatherproof and water-resistant, which are the requisites of a GPS device meant for hiking. The product comes with an intuitive app available on Android and iPhone and can be tracked anywhere within the United States, Mexico, and Canada. The device has two weeks of active battery life. This is something that is very critical for hiking in remote or wild locations.
The cost of the device is $29.95+free shipping. The monthly subscription is $21.95 per month, without any contracts or cancellations.
Product Highlights:
4 G Cellular technology with real-time tracking.

GPS tracker integrated with Alexa.

Low battery notification.

SOS alert after the panic button is activated.

Lifetime warranty.

24*7 email support.
Specifications & Battery:
Size 2.8"x 1.8"x 1.1"

Weight: 3.60 Oz.

Battery: 2400 mAh Li-Polymer.

Battery Type: Internal and Rechargeable.

2 weeks battery life on the basic plan for an hour of drive time minimum every day
Website: www.family1st.io
Versatile and equal to a matchbox in size, the Amcrest portable GPS tracker is your ideal hiking companion. Rated as IPX5 in the Ingress Protection (IP) rating as a waterproof device, the Amcrest will not get damaged during monsoon hiking. The tracker offers real-time information on the location of your GPS. Intuitive UI uses an integrated maps interface to view your monitored activity and settings. The Amcrest tracker supports up to 20 geo-fencing regions, making it easy to track anything. The device sends reports on whether your GPS device is switched on & off. The device creates links to previous trips and shares them with your family and friends.
The cost of the device is $44.99 with monthly GPS cloud subscription plans as follows:
| | | |
| --- | --- | --- |
| Price  | Reporting | Battery Life |
| $19.99 | 60-second updates | 10-14 days |
| $24.99 | 30-second updates | 7-8 days |
| $29.99 | 15-second updates | 4-5 days |
| $34.99 | 5-second updates | 2-3 days |
Product Highlights:
4G Coverage.

10-14 days battery life achieved through smart power design.

SOS alarm feature by pressing the function button.

Internal 3-Axis Accelerometer Motion Alarm.

Zipper pouch that helps keep GPS tracker secure & protected from external damage.
Specifications & Battery:
Dimensions: 3" x 1.5" x 1"

GSM: 900/1800 MHz.

Charging Voltage 5V DC.

GPS Weight: 0.22 lbs.

Battery: Li-Polymer 2600 mAh.
Website: www.amcrest.com
The Trak-4 GPS is one of the simplest and most effective trackers for hiking. The device can track vehicles, assets, equipment, trailers, and your family and dear ones. The GPS tracker is simple to use, whereby you can sign in, attach it to the asset and start using it within minutes of your purchase. It is compact, handy, rugged, and slipped into your backpack or pockets during hiking trips. The tracker is weatherproof and waterproof for use in mountains or forests.
You can choose in-motion ping rates from a minute to an hour. The GPS tracker will check in once daily, even when not moving. The expert mapping feature tracks multiple units on the same map. Animated ant-trails show the direction of travel on your tracker over time, which is very useful for hiking. Trak-4 GPS tracker allows you to share your device's real-time location with your family and friends. The GPS tracker will use WiFi and cell geolocation when a GPS signal is blocked.
The cost of the device is $48.80 with subscription plans paid monthly and annually, as follows:      
 

Subscription Plans (Paid Annually)

 $6.99/month ($83.88/year)

 $9.99/month ($119.88/year)

 $14.99/month ($179.88/year)
 

Subscription Plans (Paid Monthly)

        $12.99/month 

        $16.99/month 

          $18.98/month
  Product Highlights:
GPS Tracking with Cell-trilateration Fallback.

Geo-fencing and low-battery alerts.

Email & Text alerts.

Unlimited Data.

No Contract & No Cancellation or Activation Fees.
Specifications & Battery:
USB-Chargeable.

High-capacity Internal Rechargeable Battery.

Compatible with Trak-4 Adhesive MAG Kit.
Website: www.trak-4.com
It is a portable GPS tracker with small dimensions and is easy to carry. The LandAirSea 54 GPS device for hiking is the perfect gadget for your weekend hikes. The GPS tracker is an indigenously engineered product of the United States. The tracker can be tucked into your pocket or backpack, making it ideal for hiking trips. The tracker has a unique share-spot feature that allows the device location to share with family & friends. This feature will give reassurance to your family about your safety. The GPS tracker is waterproof and dustproof and will safeguard you in adverse weather conditions.
The tracker has an app and website with a secure login that will provide real-time tracking. The device has a plan description and tracking intervals from 3-second updates going up to a maximum of 3 minutes. 
The cost of the device is $29.95. The monthly plan description with tracking intervals is as follows: 
| Plan Description &                     Tracking Intervals | Pay Month-to-Month                           | Prepay 6 Months (10%) off            | Prepay 1 Year (25%) off  | Prepay 2 Years (50%) off |
| --- | --- | --- | --- | --- |
| 3 Minutes Updates | $19.95 PerMonth | $107.73 | $179.55 | $238.80 |
| 1 Minute Updates | $24.95 PerMonth | $134.73 | $224.55 | $299.40 |
| 30 Second Updates | $34.95 PerMonth | $188.73 | $314.55 | $419.40 |
| 10 Second Updates | $39.95 PerMonth | $215.73 | $359.55 | $479.40 |
| 5 Second Updates | $44.95 PerMonth | $242.73 | $404.55 | $539.40 |
| 3 Second Updates | $49.95 PerMonth | $269.73 | $449.55 | $599.40 |
Product Highlights:
Arrival & Departure Notifications.

Geofence Alerts, Speed Alerts, InstaFence, Battery Alerts.

Live & Historical Playback.

Lights can be turned out (Dark Mode)

Includes SIM
Specifications & Battery:
Dimensions: D: 2.275" H: 0.945"

Tracking Technology: 4G LTE + Satellite.

Battery Life, on 3 seconds to 3 minutes updates – 1 to 3 weeks.

Battery Life, on low power mode for up to 6 months.
Website: www.landairsea.com
The Optimus 2.0 portable GPS tracker is an all-around GPS device for hiking. The practical boxy design of the tracker makes it easy to slip into your pockets or backpack effortlessly. The tracker sends email and text message alerts for leaving and entering areas. The device alerts pre-defined SMS numbers and email addresses when the central button of the tracker is activated. The device has a geofencing feature that keeps your near ones informed about your whereabouts while hiking.
There are alerts sent when your tracker is low on battery. You can set your tracker to report its location based on the time from every 10 seconds up to 10 minutes, at no extra fees. The tracker can be purchased, with a magnetic waterproof case, at a cost.
The cost of the device is $29.95. The monthly subscription is $19.95 with no contract or hidden fees, and you can cancel it anytime. 
Product Highlights:
Real-Time Tracking.

SIM Card and Data Plan Included.

View tracker on Google maps.

App for Android and iPhone.

Reports available for distance, time moving, and parking places.

One year GPS tracking historical data saved during service.
Specifications & Battery:
Dimensions 3in x 15in x 1in.

Weight 3.3 ounces. 

Up to 2 weeks battery life in standby mode.

Tracker battery percent.

Warranty: 90 Day warranty  

Lifetime warranty while the subscription is active.
Website: www.optimustracker.com
A multinational company, Americaloc is a leading manufacturer of portable GPS trackers. The company specializes in manufacturing personal GPS tracking devices, including GPS trackers for hiking. The GL300MXW is a multi-dimensional device, light, compact, and easy to carry.
You can receive real-time alerts on events like switching devices on/off, low battery, and geo fences. Moreover, you can track the device from any phone, tablet, computer, or app on your Android or iPhone. The device automatically updates its position every minute while moving, giving a feeling of safety and satisfaction to anyone monitoring you during your hiking trip.
The device cost is $109.60 with a monthly subscription of $25. Other payment options are as follows: 
| | | |
| --- | --- | --- |
| Frequency | Subscription Amount | Savings |
| 3 months | $65 | $10 |
| 4 months | $85 | $15 |
| 6 months | $124 | $22 |
| 1 year | $228 | $228 |
Product Highlights:
Real-time tracking and one-year tracking history.

The device has an Inbuilt movement detector, which changes reporting frequency to save power.

Availability of one-year historical data.

Waterproof GPS tracker.
Specifications & Battery
Rechargeable battery lasting for 14 days.

Longest battery life.

Version works on CAT M1 Technology.

The device has a mini-USB interface.
Website: www.americaloc.com
The Security Spark Nano 7 is the best tracker in the list of products offered by Brickhouse. This portable GPS tracker has the best features required in GPS trackers for hiking. The device is equipped with features like geofences and an emergency panic button to ensure your safety during your hiking trips. There is a smartphone app for Android and iPhone for you to monitor your GPS tracker's location anywhere. An Optional magnetic waterproof case is available to protect your tracker and continue working even in the harshest weather conditions, which is essential for hiking.
The cost of the device is $17.97. The monthly subscription is $24.99, including location updates, tracking history, standard reports, and many other features.
Product Highlights:
Text alerts and geofencing with a minimum of 5 geofences.

Compatible with Alexa.

Full 4G coverage anywhere in North America, allowing tracking anywhere in the United States, Mexico, and Canada.

Rapid tracker option for faster-tracking speed to get more details about your tracking target.
 Specifications & Battery
Dimensions 3.0" x 1.58" x 1.0"

Sim card included and pre-installed.

Power: 14 days standby, 14 hours non-stop tracking, 7 days average use time.

Storage: Cloud web server.
Website: www.brickhousesecurity.com 
A powerful tracker in the list of GPS trackers for hiking, tracki has all the requisite features for your arduous hiking trips. The tiny GPS-GSM device has worldwide coverage in up to 190 countries. Additionally, indoor tracking is possible by using WiFi & Bluetooth. The portable GPS tracker provides real-time view updates every 60 seconds, providing you with history reports, mapping past locations, and addresses with dates and times.
The device has an SOS panic button + 2 additional alert buttons, which will give you a safety cushion of alerting your near ones in case of any emergencies during the hike. Five-year data history is encrypted and stored for future reference. Waterproof magnetic box for GPS Tracker available with a 3500mAh battery extender available at $38.88 
The cost of the Tracki 2022 4G device is $28.88. The monthly subscription is $19.95, with other plans like:
Pre-Paid 6-Month Plan $99.6 

Pre-Paid 1 Year Plan $167.40

Pre-Paid 2-Year Plan $239.40
Product Highlights:
Safe zone notification.

5 minutes to set up & activate.

Indoor + Outdoor coverage.

Encrypted data hides the identity of the owner of the device lost.

Silicon case prevents damage from liquids.
Specifications & Battery
Smallest and lightest GPS tracker. 

Dimensions 1.75"x 1.5"x 0.55".

Battery life of 1 month in battery save mode.

6-month battery life in saves mode with an optional extra battery.

Battery life of 2-3 days in tracking 1-5 times/min.

Battery life of 3 months in tracking once a day.

Optional extra 3,500mAh magnetic battery.
Website: www.tracki.com
 Conclusion
Selecting the right GPS tracker for hiking is very vital. The tracker should tick all the checkboxes concerning safety and communication; your life depends on it. In this list, we have covered the eight best hiking GPS trackers. You can choose the device which fits your requirement and have an adventurous but safe hike.