If your search for a GPS tracker for your ATV has brought you here, we want to commend you – for realizing the need and benefits of a GPS tracker. Traversing rugged roads with an ATV (All-terrain vehicle) is an exciting and adrenaline-inducing adventure. No wonder we have a national championship for racing ATVs! However, riding ATVs comes with a set of concerns for both – drivers and owners.
As ATVs are expensive and lightweight, they are prone to theft. Moreover, these vehicles work best in remote and rough terrain, where locating them in case of emergency can be difficult. So yes, deciding to get an ATV GPS tracker is probably the best!
Getting a GPS tracking device for your ATV can help you in several ways. Read on to see how a GPS tracker can be beneficial for you.
Also, we have added a list of nine GPS trackers that could be perfect for you. 
Benefits Of An ATV GPS Tracker
Real-Time Location Tracking
Advanced GPS tracker offers precise location data anywhere and anytime you want. You can use the real-time GPS tracker to find your ATV's accurate locations. It can also track in remote areas, forests, off-road, or moor – the places where ATVs are convenient. Through a real-time tracker, you can check where your dear ones are traveling at a given time and whether the area is safe for them or not.
Finding Paths
Although ATVs are multipurpose, their most popular use is recreational. You may take it for off-road riding, hill riding, camping, etc. The areas you choose for these activities are usually isolated, with no signboards for directions. There is a possibility that you might get lost while riding your ATV. An ATV GPS tracker can be beneficial in such cases as you can find your way back through the navigation feature.
Theft Alert and Recovery
An average ATV with full specs and a mid-size engine can cost up to $10,000, and this is probably the best reason to get a GPS tracker to secure them. In case of theft, you will be able to recover it easily, before the ATV is sold in the black market, or worse – dismantled for its parts. GPS trackers give real-time locations which you can share with the police, enabling faster recovery. Also, you can get a wholesome GPS solution that offers motion or unauthorized touch sensors and alarms. That way, you can nip the problem in the bud! 
Alerts On Crossing Virtual Boundaries
If you own an ATV, you must be aware of the risk factor it carries along. ATVs can be unsteady and tough to control, especially when your untrained family members drive them at high speeds. If they ride an ATV on a plane surface or ground, they might be able to handle it. However, driving the ATV on an irregular surface can be challenging. Crash and collisions may happen often, and some of them can be fatal. To avoid these mishaps, you can first train your kids, teens, and spouse in riding an ATV. Alternatively, you can set up Geofences. The geofencing feature of a GPS tracker allows you to define virtual boundaries on the map to get alerts whenever the kids or teens cross those boundaries. This way, you can create a safer area for them to traverse and avoid a ride in high-risk areas.
Helpful In Many Sports
ATVs are popular in many types of sports such as Quad Racing, Treasure Hunting, Desert Racing, Hill Climbing, Cross-Country Racing, Snow Racing, and many more. A GPS tracker comes in handy in all of these sports. You can use it to find the shorter paths, analyze driving behavior, and check your current position in the race. The racing team managers can check the racers' positions and get a better analysis of the game.
Alerts You On Towing
ATVs are not beyond the scope of traffic rules, and any negligence can attract the attention of law authorities. If you have parked your ATV in an unauthorized area, it may get towed by the traffic police. A GPS tracker can assist you in alerting that your vehicle is moving. You can immediately reach the spot and avoid the extra labor to find your vehicle. The motion sensor of the GPS tracker is capable enough to let you know that someone is trying to move it.
Alerts You On Speeding
ATVs have always been associated with thrill and excitement. You might lend your ATV to someone who gets excited with speed. They might damage the vehicle by reckless driving, crossing the speed limit, and not following the safety measures. An ATV GPS tracker comes with the alert on speeding. You will get notified through the email, text, or companion app when they cross the preset speed limit.
Alerts You On Low Battery
While you are traveling through an unfamiliar area, the battery of the GPS tracker is a crucial factor for safety. Thus, using an efficient GPS tracker with a low-battery alert can be life-saving. The tracker would alert the user on low battery so they can charge it as soon as possible. A low battery alert will give you time to reach the nearest charging point and recharge the device before it drains out.
Water-Resistant
ATVs are known for riding in muddy, dirt, and damp areas. An advanced ATV GPS tracker with water-resistant hardware is beneficial when you take your ATV to these conditions. A IP64 GPS tracker would even let you track the locations underwater.
Portable And Compact Devices
GPS trackers for ATV are portable and compact devices. You can carry them anywhere you want and place them in any tiny space. Even if your ATV doesn't have any dedicated space to keep the tracking device, you can carry it in your pocket or mount it anywhere on the vehicle. 
GPS Trackers For ATVs Available in the Market 
Disclaimer: The purpose of this article is to LIST the best products in the market and not to review or rank them. All the products listed here have several unique features catering to a wide range of customer requirements. As an Amazon Associate, We earn from qualifying purchases.
While compiling this list, we evaluated the devices based on their cost, subscription plans, battery life, size, and installation process. We considered factors like the countries they offer coverage in, ease of use of their application, security, or other unique features they offer. We also looked into add-on services these vendors provide – lifetime warranty, 24/7 customer support, installation help, and more.
The intention is to inform and educate the reader on the variety of options available in the market.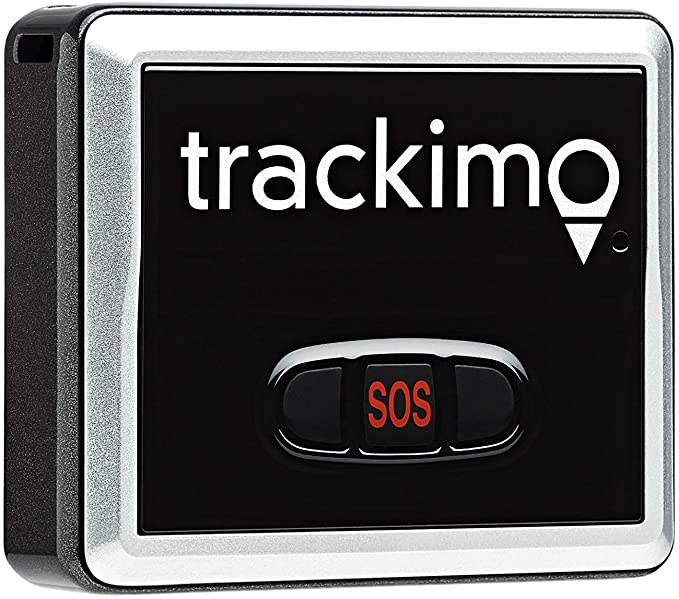 Trackimo is one of the tiniest GPS trackers available in the market. It is a versatile tracking device used for tracking people, pets, vehicles, drones, and equipment. This tracking device has worldwide coverage. You can track the device anywhere with a cellular network.
You can receive alerts via text or email on Geofence breach, overspeeding, and sudden movement. It also features an SOS button and two more preset alert buttons for an emergency.
The battery of Trackimo can last up to 30 days in energy-saving mode. Therefore, you can place it anywhere and track it for a long duration.
The Trackimo GPS tracker is available at $198 that includes a one-year worldwide cell service.
Product Highlights
Worldwide 4G connectivity

Indoor and outdoor tracking

SOS, Geofencing, Speed, and Motion alerts

Live to track with 1-minute updates

Low monthly service cost starting from $5 per month
Battery & Specs
Size: 1.8" x 1.6" x 0.7″

Weight: 1.4 Oz

Battery: 600mah Lithium-ion battery

Battery type: Internal and Rechargeable

4 days active battery life with 1-minute updates

1 month save mode battery life with 6 updates per day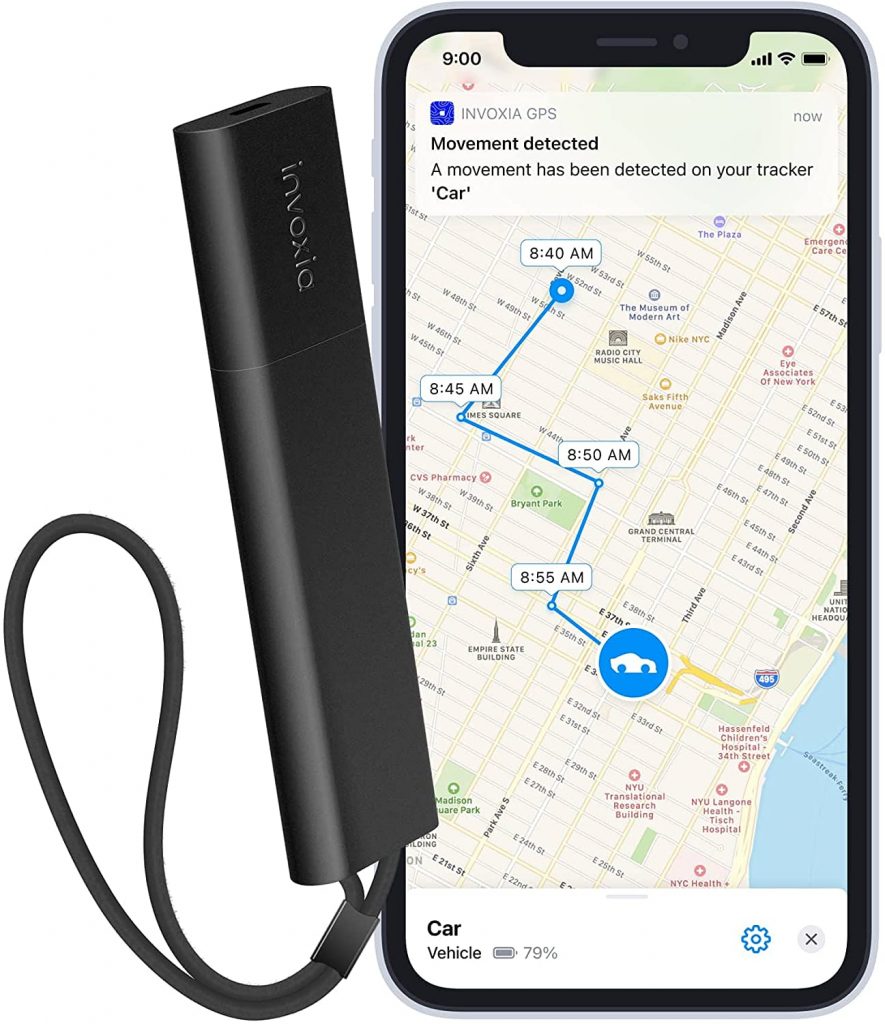 Invoxia Cellular is a standalone GPS tracker designed to track cars, motorbikes, bags, and valuables. It is a lightweight, compact, and discreet tracking device that can be placed in any small space. 
The battery of Invoxia can last up to 4 months if you use it with the default updates setting. 
You can receive alerts via email or text messages. This device is also compatible with IFTTT (If This Then That), through which you can control your light, music, and thermostats when your tracker enters or leaves an area.
This tracking device is available at $129 with a one-year free subscription plan.
Product Highlights
Small size

Motion Alerts

Coverage in over 190 countries

Custom contacts alert for emergencies
Battery & Specs
Size: 1.75″ x 1.6″ x 0.6″

Weight: 1.26 Oz

Battery: 3,5000 mAh

Battery Type: Internal and Rechargeable

2-3 active battery life with 1-5 updates every minute

3 months battery with one update per day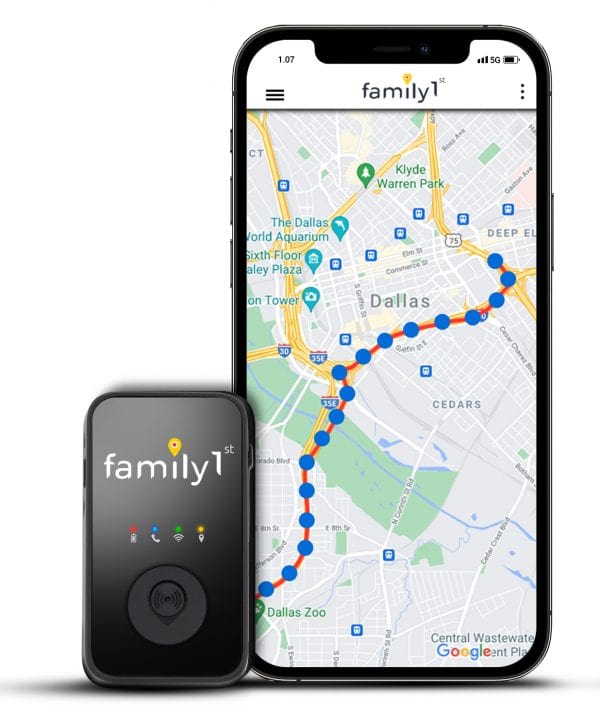 The Family1st Portable GPS tracker is a real-time GPS tracker specially designed for personal use. This tracking device has all the necessary features which make it a good choice for tracking ATVs. It can effortlessly track kids, teens, the elderly, pets, vehicles, and valuables, available at a very low monthly subscription. 
It has a 2400 mAh powerful battery that can work for two weeks.
The robust design and high-tech hardware make it one of the most durable devices. 
Its intuitive alerting system includes various notifications such as low-battery and Geofence. The Panic button allows you to send instant alerts to your contacts in emergencies.
One of the unique features of this device is Alexa integration. 
This device is available at $29.95 with a monthly subscription of $21.95.
Product Highlight
Low device cost and subscription plan

No Contract, No cost activation, and deactivation

Lifetime Warranty on device

Coverage in the USA, Mexico, and Canada
Battery & Specs
Size: 2.8" x 1.8" x 1.1"

Weight: 3.60 Oz

Battery: 2400 mAh Li-Polymer

Battery Type: Internal and Rechargeable

2 weeks battery life on the basic plan for an hour of drive time minimum every day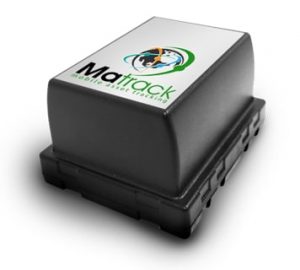 As your ATV is meant to ride through harsh terrain and weather, you need a GPS tracker with reliable and long battery life – just like Matrack MA-Asset Classic tracker. This tracker comes with an incredible 3 years of battery life, with 2 location updates per day. Also, in emergencies like accidents or theft, Matrack offers Aggressive mode tracking, which you can easily activate through the app on your iOS or Android device. 
The MA-Asset Classic tracker comes with a strong in-built magnet which makes installation much faster and convenient. 
The device costs $50 and the subscription starts at $12.95 per month only.
Product Highlights
1-minute installation

Built-in magnets

Waterproof and weatherproof device

Geofence alerts via email and SMS

Aggressive Tracking mode in emergency
Battery & Specs
Size: 2.87″ x 2.4″ x 1.69″

Weight: 7.02 Oz

Battery: 3.6V Lithium, 13Ah

Battery type: Internal and Rechargeable

3 years battery life at 2 updates per day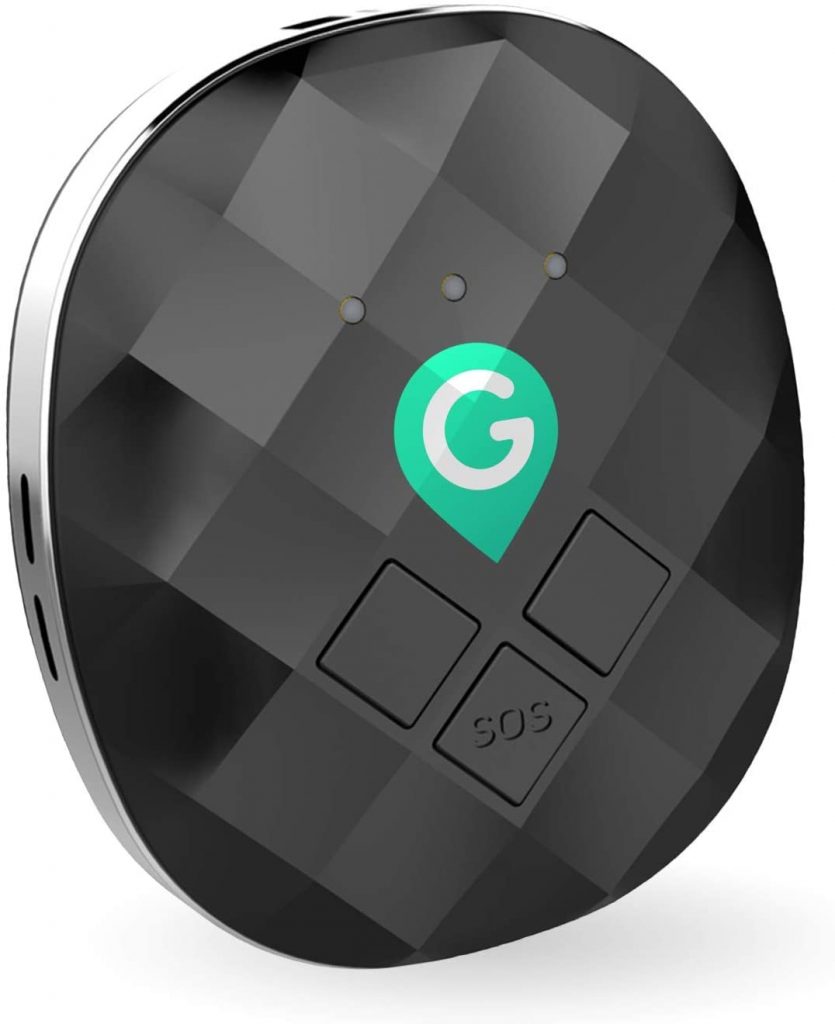 The GeoZilla GPS Tracker is a user-friendly, small, and lightweight GPS device available at no monthly fee. This tracker is suitable for cars, motorbikes, boats, jet skis, ATVs, RVs, trailers, business assets, fleets, etc. It is a multipurpose tracker that works for any situation. You can use this tracker for outdoor as well as indoor tracking. Moreover, this tracking device has worldwide coverage.
You can create custom alerts for arrival and departure with this device. Apart from that, you can also use SOS and Geofence features to send and receive alerts.
The battery of GeoZilla can work for five days on a full charge with a 60-second update.
The GeoZilla GPS Tracker is available at $121.98. There is no monthly subscription charged for this GPS tracker.
Product Highlight
Lightweight and portable

Blends with surroundings

User-friendly app

Affordable tracking services
Battery & Specs
Size: 8″ x 1.6″ x 1″

Weight: 1.05 Oz

Battery: Li-ion 520mAh

Battery type: Internal and Rechargeable

2-3 days active battery life for 1-minute updates

6 days in sleep mode (no activity)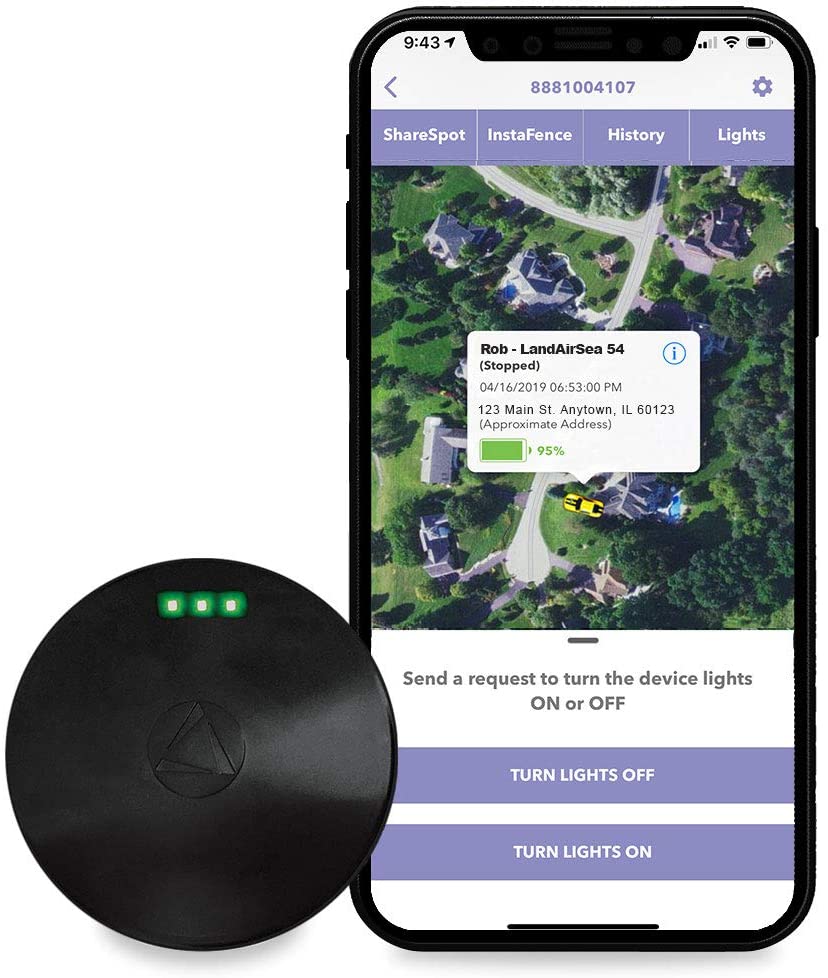 The LandAirSea 54 GPS tracker is best known for its discreet tracking. You can track almost anything that moves with the help of this tracker. Due to its lightweight and round shape, you can place it within any tiny space of a vehicle, bag, purse, etc. The "Dark Mode" allows you to turn off the LED for discreet tracking. 
The battery of this tracking device can last up to one to three weeks on the update interval from three seconds to three minutes.
The price of the LandAirSea 54 GPS tracker is $29.95. The monthly subscription fee for this device is $19.95.
Product Highlights
Waterproof Device

Google Maps integration

Immediate Alerts and notifications

Versatile use
Battery & Specs
Size: 2.25″ x 2.25″ x 0.8″

Weight: 8 Oz

Battery: Lithium ion battery

Battery Type: Internal and Rechargeable

3 weeks active battery life with 3-minute updates

6 months battery life on Sleep mode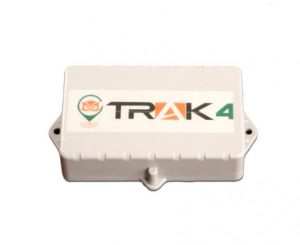 Trak-4 GPS tracker is a rugged yet portable GPS tracker that provides you with all the basic features at an affordable price. This tracker is a bit heavier than usual but can fit into your pocket or any compact space. You can access the data through a web app optimized for PC and mobile. The cell-trilateration feature assists in providing an approximate location when the GPS signal is not available.
It has got a high-capacity rechargeable battery that can work for 18 months on a single charge.
The Trak-4 GPS tracker is available at $48.80 with a monthly subscription of $6.99 per month.
Product Highlights
Location Sharing

Small and compact design

Weatherproof device
Battery & Specs
Size: 2.5" x 1.75" x 1.25"

Weight:3oz

Battery: 4600 mAh

Battery type: Internal and Rechargeable

2 weeks active battery life with one-minute updates

18 months battery life with 1 update per day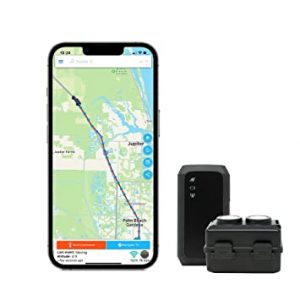 Optimus 3.0 GPS tracker is a real-time GPS tracker that can help you to keep an eye on your valuable possessions. You can buy it with a twin waterproof magnetic case to attach the device to your ATVs. It allows you to customize frequency reports so you can adjust the reporting frequency according to your need. As for the battery, you won't have to worry about changing it for not one or two but three months with 1-minute reporting. It also has an inbuilt motion sensor that turns the device into standby mode when not in operation. 
It is a reliable GPS  tracker that would also provide speed alerts. So when you rent your ATV, you can always ensure its safety. It also has a history report that shows your record of trips and how often the tracker went over the speed limit. You can also set up customized areas over the map to ensure that your customer doesn't leave the predestined site. 
The Optimus 3.0 GPS tracker costs $39.95. The monthly subscription fee starts from $19.95. 
Product Highlights
Low subscription cost

No contract, no cancellation fee

Alerts for geofences, low battery, SOS, and more

Google Maps integration

Internal motion sensor 
Battery & Specs
Size: 3″ x 1.5″ x 1″

Weight: 3.3 Oz

Battery: Lithium Polymer batteries

Battery Type: Internal and Rechargeable

1-month active battery life with 1-minute updates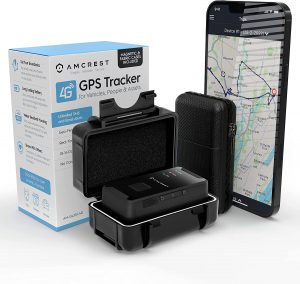 Amcrest GPS tracker is a 4G LTE portable tracker that provides a nationwide 4G LTE network to provide faster real-time updates. You can buy it with the IP67 waterproof magnetic case. It will protect the device and provide you the freedom to use your ATV in any weather condition. It has a robust tracking platform with satellite maps and hybrid views powered by Google and mapquest so you can choose what suits you best. 
It also has an SOS button for emergencies. With one touch you and other contacts will receive email and text messages along with real-time location information. Amcrest GPS tracker has a rechargeable battery life of up to 2 weeks with active charging. 
Amcrest GPS tracker costs $44.99, with the monthly subscription fee starting from $19.99. 
Product Highlights
Compact size – smaller than a matchbox

Intelligent Battery Alerts

Motion and SOS Alarm

Weather resistant

Supports up to 20 geofences
Battery and Specs
Size: 3" x 1.5" x 1"

Weight: 3.52 Oz

Battery: Li-Polymer, 2600 mAh

Battery type: Internal and Rechargeable

10-12 days active battery life for one minute's updates

2-week battery life on sleep mode (no activity)
Things To Consider Before Buying A GPS Tracker For ATVs
Sturdy Device
Choose a GPS device for ATVs that is sturdy and durable so you can use it in any situation or condition. A "rough 'n' tough" device can bear all the crashes and collisions even if you mount it on unsafe areas of the vehicle.
Waterproof
If you own an ATV, one of the purposes would be to ride it in muddy and damp areas. A waterproof tracker also allows uninterrupted tracking of your vehicle in rainy weather.
Long Battery Life
It is always a wise choice to buy a GPS tracker with long battery life. The trackers that have short battery backup can betray you at any moment. You do not want the GPS tracker to stop tracking your dear ones, especially in the case of emergencies.
Two-Way Communication
If you get a GPS tracker with two-way communication, it would be a plus point. Kids, teens, and the elderly are prone to panic in emergencies. A tracker with two-way messaging or calls allows them to interact with you hassle-free.
SOS feature
Check if there is an SOS or panic button before buying an ATV GPS tracker. The SOS feature is a simple way to send an alert to your contacts or emergency services. You can send the alert notification by just pressing the dedicated button on the tracker.
Compatibility
Get yourself a tracker that is compatible with any mobile device or tablet. You should be able to connect or sync your GPS device with any device you want.
Warranty
Find a GPS tracker that comes with a long-term warranty. Just like any other electronic device, a GPS tracker can also get damaged or stop working. A genuine company will repair or exchange the device for a new one. Choosing a GPS tracker with an unlimited or lifetime warranty is always a better option.
Monthly Subscription
If you want to buy a tracker for your ATV, you should go for the one with a low monthly subscription. Since you are not buying it for any commercial purpose, the tracker with a low monthly subscription will solve all your basic needs.
Tech Support
Choose a GPS tracker brand that provides you with quality service and genuine tech support. A GPS tracker is an intuitive device meant to be used by all age groups, but there are times when you might not understand the simplest of the functions. In such cases, an efficient tech support executive will make your tasks easy and solve your queries.
Frequently Asked Questions
How can I protect my ATV from theft?
You can protect your TV from theft by installing a real-time GPS tracker. It can help you to know the whereabouts of your asset 24/7 and also enjoy other features, such as geofencing, maintenance reminders, vehicle diagnostic reports, driver driving behavior, etc. 
Which Is Better- Hardwired or a portable GPS tracker for ATV?
The answer to this question is subjective. If you are an individual owner, you can choose anyone according to your needs and demands. Portable ones are easy to attach and remove, while hardwired ones offer complete discrete tracking. 
As for business owners, you can go with a hardwired one to ensure your customer doesn't spot the tracker and feel like you are invading their privacy. Thieves cannot remove it if they find the ATV alone.  
I frequently use my ATV on my farm. Are GPS trackers strong to withstand the terrain?
Yes. GPS trackers are made of sturdy material. Most Family1st trackers are dust and waterproof too. They can withstand rough terrains and weather. 
My teenagers like to take the ATV out for a drive. Can a GPS tracker keep them safe?
Yes. You can create a geofence and virtually mark a safe boundary around the area where your kids can drive the ATV freely. If they cross this barrier and head towards dangerous terrain, the tracker will alert you. You can then reach out and bring them back to safety. 
The Bottom Line
Now that you know the features and benefits of an ideal ATV GPS tracker, you can choose the one suitable for you. If you own an ATV and wish to track it for safety, you can get any of the best tracking devices listed above. All these GPS trackers are durable, feature-rich, and cost-efficient.