For a parent, nothing comes before their child. You want to give your child the best of what the world offers- toys, sports, education, or anything the child needs. But what's most important is the safety of the child. Every parent wants to keep their child safe and away from potential danger and adopt the best measures to protect them. Moreover, if you have a child with special needs, protection and safety are more important than ever.
Individuals with autism and other special needs need a tad more attention and care than others. You might need to keep a watchful eye on them for as long as 24 hours a day. It is hard to know what's going on in their mind, and therefore, observing their behavior is crucial to understanding and protecting them. When your child is at home, you can install CCTV cameras in rooms, buy foolproof door knobs, and so on. But what happens when your kid steps outside?
When family members with autism leave the house, concerns about their safety always plague one's minds. After all, you cannot always accompany them everywhere. Children with special needs often face cognitive and behavioral issues. They are at more risk of danger when on their own. However, as the child grows, they need more autonomy in their life. So how do you let them become a little more independent while ensuring their safety? 
Using a GPS Tracker 
With a GPS tracking device, you can keep an eye on your child wherever they go. These trackers have proven to be a boon for many parents, as it ensures the safety of all family members with special needs. 
Features like customizable alerts and setting up geofences are two very important features you must consider. You can customize alerts to inform you whenever there is movement. With a geofence, you can create boundaries for your child. As soon as they enter or exit a safe area, you will receive a notification of the same. 
Since a GPS tracker lets you know where your loved one is at all times, you can allow them to step out of the house alone and discover themselves too. With a reliable tracking device, you can also build trust with your child and let them know you trust them too. Some trackers also allow you to contact them through these trackers- so you can check up on them whenever you want. 
Best GPS Trackers For Children with Special Needs 
Thanks to development in technology and a deeper understanding of the autism spectrum and other special needs, creators know exactly what to provide in products designed for this group of people. These GPS trackers are made to cater to your sensitive needs while keeping in mind the well-being of your family. 
#1
AngelSense 
AngelSense is a one-of-a-kind tracking solution designed specifically for individuals with autism and special needs. This tracker aims at providing safety and security for children and adults with special needs. AngelSense trackers track location using satellites like any other GPS tracker and send you alerts about your child's movement. However, that is not all: AngelSense does more than that to provide all-rounded protection at all times. 
AngelSense also has voice communication- you can communicate through this tracker as and when you'd like. This 2-way voice communication has also helped detect cases of bullying and mistreatment of autistic individuals. Along with SOS features and emergency alerts, it also offers non-removable wearing. Trackers come with magnetic pins and sleeves, belts, watches, and armbands to keep the tracker attached to your body, at all times. Armbands and belts are more suited for older children and adults. You can also opt for a reversible undershirt which keeps the tracker in place. However, you can only buy these products after buying the tracking device. 
A recent upgrade in its technology also allows AngelSense to introduce indoor tracking, using WiFi networks to know your child's location. It also includes a fall detection feature- If the person wearing it falls and does not move, you will receive an alert immediately. 
#2
Family1st 4G LTE GPS Tracker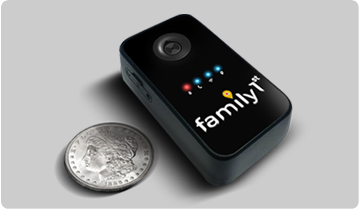 The Family1st GPS tracker is known as one of the best GPS tracking solutions in the market and has been consistently rated No. 1 on Amazon. We provide GPS trackers that cover all the needs of a family- from aged parents to young children and adults who need to be treated with more sensitivity and care.
Family1st GPS technology is designed to provide you with every bit of information you need to ensure your child is safe and sound, wherever they are. We offer features that allow you to see where your child is, whether they have entered a dangerous zone or taken a detour, etc. You can also set up geofences by simply dragging and dropping a pin and setting boundaries on the map. Our technology is user-friendly and easy to use on your mobile phones, laptops, tablets, or any other device you'd like. At Family1st, we believe that every family comes first. Our products are economical and have affordable prices, making them ideal for families with special needs children. Our devices are small and easy to attach, so the children can carry them easily. You can also avail of a magnetic case for a more secure attachment of the tracker to your child so that they do not lose it.
You can use Family1st GPS trackers with SMS connectivity that can keep you in the loop as well! Hence, you will never lose touch with your child. Family1st gives you the safety and reliability you need to protect a vulnerable loved one. 
#3
Amber Alert GPS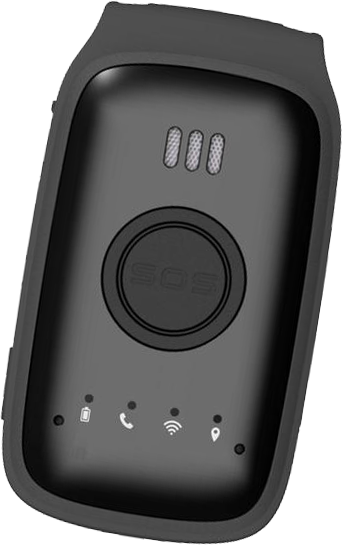 The Amber Alert GPS is one of the most popular child-friendly GPS trackers. It provides convenient and reliable information which is transmitted live. Due to the reliability of this tracker, it is a good choice to track children with special needs. This tracker was created to bring care and control of the child's movements under the parents' supervision with ease. 
Amber Alert GPS also comes with a parent portal and app to access location data and other tracking information. It also supports two-way calling, so you can stay connected to your child through the tracker and call them whenever you'd like. It also provides emergency alerts- for when your child enters a dangerous zone, goes beyond set boundaries, is injured, etc. It records your child's movement and reports it to you via the app. Amber Alert also has a provision of Predator Alerts. An emergency alert is sent to the parent if the child comes within 500 feet of a registered sex offender or felon. Thus, parents will always be aware of any threats surrounding the child and take appropriate measures. 
Additionally, Amber Alert GPS also ensures complete privacy. Your location data is not shared with anyone unless you grant explicit permission for it. This GPS also syncs effortlessly with Android and iOS. Therefore, it is compatible with most devices in the market. 
#4
Jiobit GPS Tracker 
The Jiobit GPS tracker is ideal for children, especially ones with special needs. This is a compact tracker that comes with long battery life. It is a COPPA-certified tracker, adding to its reliability in the market. 
It offers real-time tracking, geofencing, and a built-in app to access information. However, that is not all Jiobit also provides a detailed report of your child's whereabouts, including a complete history of your child's check-ins. More importantly, it is sensitive to a child's needs. It comes with an accelerometer, so if there is a change in your child's movement speed, you will receive a notification immediately. Jiobit trackers also have temperature sensors, so if they are feeling sick, you can stay one step ahead with the help of this tracker and go to your child's aid. 
Additionally, these trackers come with built-in straps or waistband clips. So, you can be assured that it will always stay attached to your little one. You can also tag your child's favorite places on an online map with this tracker! 
#5
Samsung SmartThings Tracker 
The Samsung SmartThings Tracker is multipurpose. It is lightweight, durable, and compact. You can use it to track children, adults, grandparents, and sensitive individuals as well. It provides accurate location information both indoors and outdoors. It uses an accelerometer and three colored LEDs to track your loved one effortlessly. 
The tracker is compact and lightweight. It can easily be attached to your child's personal belongings, like a backpack. You can use geofencing to mark safe or dangerous zones. This tracker is also water-resistant, so it will not get damaged easily. It has a rating of IP68. Therefore it also has a long shelf life. The tracker is designed with protection from rain, dust, snow, or hail and can withstand harsh weather conditions. 
You may also customize your automatic alerts with ease. Children with special needs sometimes wander off in the neighborhood and often get lost. If that happens, all your child has to do is press the power button twice to send their location to you. They can also send an SOS alert instead. 
You can connect it to your smartphone and avail of free cellular service for up to 12 months with zero additional charges. However, this tracker currently only works with Android devices. It also works for seven days after each charge. 
#6
Geozilla GPS Tracker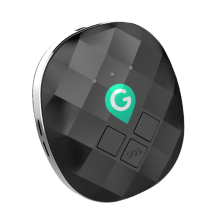 The Geozilla GPS tracker is a favorite of customers as it is equipped with smartphone-like functions, making it easy to use. This GPS solution comes with an app you can install on iOS and Android. It uses Google Maps to track your child's location and will send notifications in periodic intervals on its own without you having to check the location manually. This feature assures you of your child's safety at all times. 
The tracker has a central button with an SOS symbol on it. In case of an emergency, you just have to click on that button- an emergency text is sent to your guardians immediately. This product also provides global coverage, so you can track your loved one from anywhere in the world. Geozilla GPS is designed to track vulnerable people and has appropriate features for the same, making it an ideal choice for individuals with special needs. 
Moreover, if your loved one starts to gain more independence and opt for driving, this tracker has you covered there too. It comes with a Driving Protection Feature- it can detect harsh driving behavior. This feature will be activated when your child is traveling in an unsafe vehicle too. 
#7
My Gator Watch Kids Tracker 
Many children with disabilities are unable to use smartphones and tablets. The My Gator watch tracker is designed specifically for them. The tracker is fit in a wearable watch. Moreover, this tracker is designed by a team of parents. So you can fully trust them and be assured as well. 
This watch also enables two-way voice calling, so the parent can connect to the child and vice versa whenever you want. It also has a pre-installed multi-network SIM network, so you never have to worry about connectivity issues. It is also water-resistant. 
Additionally, this tracking facility ensures complete privacy. It is end-to-end encrypted. You are the only one with access to the data.
Everybody deserves to be treated as equals and normally- filled with love, affection, and care. However, this is harder for some than most. Individuals with special needs often have to face the harsher side of the world. Instances of bullying and criminal activity against them are prevalent in today's day and age. We must do our best to protect them from these things. 
The devices listed above are lightweight, portable, and easy to carry. Therefore, it will cause no discomfort to the wearer. More importantly, with customized alerts and geofences, you will receive immediate notifications if your loved one is in danger and can prevent an accident. Using a GPS tracker creates a big difference in their lives. You will have access to their live location and know where they are at all times, making the world tens of times safer for them.