Fleet management isn't a new concept. While the pandemic has reinvigorated the essence of telecommuting and remote offices, fleets in general, have been active for almost a decade, or even more. The idea of truckers reaching far into the interstates with substantial freight isn't something that requires revisiting.
However, fleet management hasn't been gauged seriously before the advent of the pandemic. While the occasional mishap has always been around the corner, truckers and fleet managers never had to pair high-cost fleet management applications, which eventually kept the logistical and mobility costs to a minimum.
The pandemic, however, has changed things with the trucks, cars, carriages, or a group of vehicles comprising a smaller fleet, requiring discretionary monitoring. Also, better integration between the connected fleet vehicles has started gaining predominance in the post-pandemic era.
But, tracking or management software only works to perfection if the main hub can establish consistent connections with the vehicles. This is why it is more than important to divert attention towards the relevant GPS trackers before talking about the software solutions at length.
Why Fleet Tracking is necessary?
Let us first address the elephant in the room before enlisting the resources for the same. With safety and cost being the most important considerations while running fleets, tracking solutions allow managers to keep a close eye on driver safety, real-time locational insights, vehicle maintenance requirements, and even fuel consumption.
Also, with trucks now instructed to barge into the remote areas for providing emergency supplies, tracking and management allow managers to plan the routes better, without impacting the HOS. Plus, tracking software allows the truckers to keep a close eye on the DOT loopholes whilst keeping violations and citations out of the way, proactively.
But then, making the most of these fleet management perks is impossible without having the best GPS tracker by your side. In the subsequent sections, we shall take a closer look at the best devices for managing smaller fleets with significant ease.
Best GPS Trackers For Small Fleets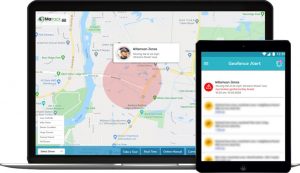 Highlights
Weather-proof
Real-time Alerts
Geofencing support
Low battery alerts
Review
The best thing about Matrack is its exceptional range of products, starting from solar hardwired units to detachable, classic OBG plug-ins. While the hardwired fleet tracker is good enough for the older vehicles and more as an asset tracker for detachable trailers, we shall be talking about the MA-OBD plug-in variant, simply for the sake of usability.
This tracker allows you to monitor the vehicle conditions by offering insights into the diagnostics. Plus, its weather-proof nature ensures versatile usage whereas the rugged layout makes it easy to carry around.
As far as the feature sets are concerned, this is one of the few GPS trackers to allow aggressive tracking, whilst offering road assistance. Plus, you get two real-time updates daily, either as an SMS notification or an email alert.
Overall, if you seek a complete fleet tracker with GPS capabilities, the MA-OBD from Matrack is the best possible option.
Pros
One year warranty on the product
Waterproof for braving extreme weather conditions
Aggressive theft tracking supported
Offers road assistance
Cons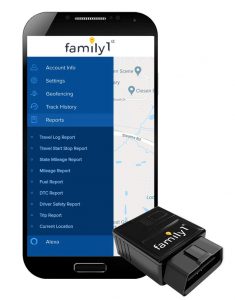 Highlights
Subscription-based setup
Excellent tech support
Can support indoor tracking via wireless networks
Theft-prevention supported
Review
In case you are interested in a reliable and efficient OBD tracker that doesn't only track the fleet but also offers historical data-centric insights for 365 days, it is best to invest in the Family1st OBD tracker.
As far as the features are concerned, real-time fleet tracking and monitoring are more than obvious. This product also offers Geofencing support, ensuring that the fleet only moves in and out of the approved regions.
Coming to the notifications, Family1st supports email and SMS-specific updates whilst helping you monitor engine diagnostics in real-time.
Also, this is one of the few fleet trackers that make driver safety details available to fleet managers. Finally, if you are interested in a device that can monitor the miles, braking activity, late hours, hard acceleration, and other elusive details, the Family1st OBD tracker is the best bet to go with.
Pros
Helps you manage drivers based on their habits
Allows you to store data for up to one year
Easy to use and install
Real-time updates are quick
Cons
Doesn't work in absence of an OBD interface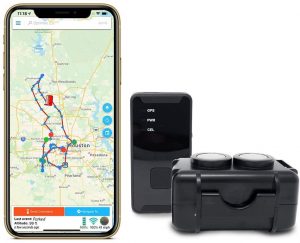 Highlights
Magnet case
State-of-art proprietary software
Customized alerts
Review
For those who are looking to use a fleet tracker in the clandestine mode, the Optimus 2.0 comes forth as a pretty reliable option, courtesy of the excellent real-time vehicle tracking performances and its ability to help managers monitor speed and route details.
While for some fleets the 10-sec customization window might be way too much and not at par with the commercial GPS trackers, it can still be an asset for the convoys moving non-essential products and on defined routes.
This tracker comes with an affordable subscription plan but you can connect with the company to get a better deal for your commercial resources. However, the subscription model can be a hassle for most companies despite being easy to activate.
Also, the Optimus 2.0 boasts a 12-day battery backup and comes equipped with a pretty loaded companion application for monitoring speed and other metrics, sans lags.
Pros
Sleek and portable
Comes with an SOS feature
Decent battery life
Cons
Subscription renewal might get frustrating at times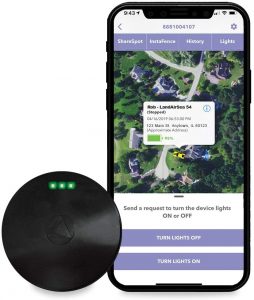 Highlights
Compatible with Google Maps
Provision for pairing a SIM card
Completely waterproof
Review
Most fleet managers prefer nifty and portable waterproof GPS trackers for braving diverse weather conditions. If you come with similar priorities, we would recommend the LandAirSea 54 as the preferred GPS tracker.
If you want additional insights into the durability quotient of this GPS tracker, it is the extraordinary casing that makes it a great bet for real-time fleet tracking. Plus, the accommodative nature towards historical data and Geofencing also make the LandAirSea 54 tracker a lucrative bet.
Lastly, the battery lasts for at least a month, as tested by our experts.
Pros
Durable structure for withstanding inclement weather conditions
Supports email alerts
Massive battery life
Cons
Requires a subscription plan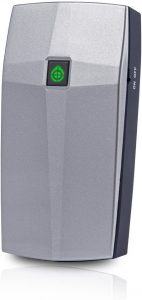 Highlights
Small and stealthy
Supports push notifications
App-based compatibility
Review
The Aspenta Vectu GPS tracker should be one of your most preferred bets if you are looking for a more portable device in the concerned space. Firstly, this product offers SMS support and push notification access to the managers, thereby allowing them to stay connected with the individuals behind the wheels
However, the best fleet-specific feature has to be its ability to locate the connected vehicles from a distance of 16 feet. The extended range followed by the availability of real-time updates makes the Aspenta Vectu worth investing in.
But then, you would still require a subscription plan to deploy this device at its topmost potential.
Pros
Excellent range
Multi-OS compatibility
Portable
Cons
Read more: How do GPS Tracking Devices Work?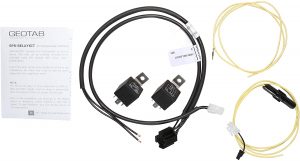 Highlights
Works best with proprietary fleet management software
Perfect for Geofencing
Detects reverse collisions
Review
The Geotab GO7 is one of the more resilient and reliable fleet trackers on the market, best suited for OBD integration and detecting unwanted accidents. Therefore, any vehicle with an OBD port can hardly go wrong with this inventive device.
As far as the feature sets are concerned, this tracker comes equipped with support for Geofencing and idling. This means, as a manager, you can very easily keep a track of the driver's whereabouts, whilst monitoring productivity, consistently.
Also, this is one of the few trackers on the list that can help you keep a tack on the seatbelt usage of the driver, specifically for sending out warnings for countering DOT violations.
Pros
All-inclusive tracker
Notifies truckers of seatbelt usage
Best for fleet smarting under regulatory issues
Cons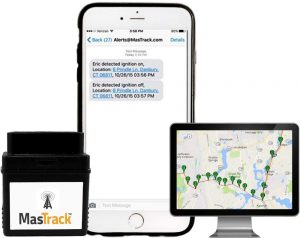 Highlights
Works perfectly if the vehicle has an OBD port
Offers Geofencing support
The tracker itself is powered by the vehicle
Review
If you want to get rid of the tracker batteries and the lingering issues relevant to charging, the MasTrack MT-OBD is certainly the best option to consider. However, you require OBD support and a dedicated port to pair this tracker with. Once paired, the running vehicle itself powers the same and you need not worry about charging the same after a few days or weeks.
The feature sets are at par with any premium tracker as MasTrack MT-OBD allows access to speeding data, idling time, and even the period when the vehicle is either turned off or on.
Plus, as a manager, you can stay connected with the fleet at all times, via the dedicated mobile app. Not just that, the Geofencing abilities are top-shelf and allow you to keep a track of the locations the fleet has been at and even monitor the router, as per preferences. 
Pros
Competent Geofencing support
Self-charging unit
Offers access to idling data
Cons
OBD port is required for seamless installation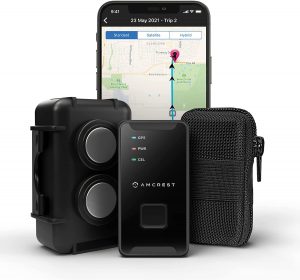 Highlights
Supports real-time tracking
14-day battery backup
Smart alerts are supported
Review
If steady battery life is one of your priorities, we would urge you to invest in the famed Amcrest GL300. This fleet tracker comes with multi-faceted benefits and allows you to track the movements of cars, busses, and other personal and commercial vehicles.
However, we were most impressed with the exceptional tracking capabilities of this top-shelf tracker. As a fleet manager, you can very well rely on the Geofencing support on offer followed by the provision for procuring real-time alerts.
Lastly, you can access the web interface to set up five-second feed updates, as per your requirements. Overall, the Amcrest Tracker is a portable option that also comes equipped with 4G LTE support.
Pros
Excellent battery life
Consistent readings
Cons
A subscription model is involved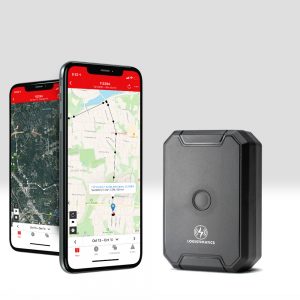 Highlights
Offers SIM card support
Location updates are faster than usual
Supports audio monitoring
Review
There are times when audio access to the fleet or the dashboard becomes important, specifically if you want to relay certain information from one point to the other. This is where the Logismatics Mobile-200 tracker comes in handy as it offers a dedicated contact number for you to connect with the drivers.
Therefore, it wouldn't be wrong to state that the Logismatics Mobile-200 is one of the better trackers for notifying managers of roadside emergencies. Plus, it also comes with dedicated Geofencing support whilst ensuring historical data coverage for 90 days.
However, it lacks OBD compatibility and requires you to charge the battery after the vehicle has elapsed two weeks' worth of usage.
Pros
Live audio tracking is an investing feature
Battery life exceeds expectations
Easy to set up
Cons
No OBD support
Pricey subscription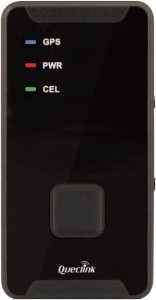 Highlights
Tracking history goes back a year
Excellent coverage
Features the CAT M1 technology
Review
The Americaloc GL300 is one of the few IoT-ready tracking devices in the market, boasting excellent battery life and the ability to monitor multiple movements and data insights with ease. Plus, this GPS fleet tracker also allows you to keep a track of vehicle data that dates back even a year.
When it comes to the alerts, this tracker offers ready and actionable insights into fleet-specific metrics like speeding, movement, and even parking tendencies. Plus, the real-time vehicle tracking support is one of the more inventive inclusions.
Lastly, this is one of the better fleet tracking devices that supports SOS intimations and allows managers to access insights using the intuitive companion app.
Pros
CAT M1 technology makes it power-efficient
The companion app is intuitive
SOS support
Cons
Tips to Consider before getting a GPS Fleet tracker
Here are some of the aspects that you need to consider before purchasing the right GPS tracker for your fleet:

Before making the purchase, cross-reference the type of vehicle you wish to connect the tracker with. While battery-operated trackers are most common, you can even opt for the plug-in units that draw power from the OBD II slot.
Also, you need to take care of some key tracker features, including the signal reach. For fleets though, it is advisable to consider worldwide coverage followed by the availability of real-time fleet tracking support.
Alerts, notifications, and availability of trip history need to be checked before taking a call. Besides, you should also look for trackers with dedicated SOS functionalities for helping the drivers intimate the managers, in case of an emergency.
Geofencing is yet another feature that you need to look for, provided the fleet regularly treads international borders.
Lastly, you should keep a close eye on the weather-proofing quotient of the tracker followed by reliance on 24×7 access and ease of installation.
Final Verdict
If you have fleets running far and wide across the country, it is advisable to invest in a credible and feature-packed GPS tracker. While you might be tempted to opt for dedicated hardware, a small and portable tracker is often more than adequate, provided it comes with the requisite specs sheet.
Plus, with the ELD mandate getting activated way back in 2017, vehicle tracking for recording HOS and other aspects of the fleet has become all the more important, especially for keeping the citations, fines, and violations at bay.
This is why smaller fleets need to rely on portable GPS trackers that are easy to install and over round-the-clock monitoring support to the managers who want to track mileage, fuel costs, parking time, idling period, speed, and other aspects of freight movement.
If you are still unsure as to which GPS fleet tracker is the best option for you, we would recommend the Matrack MA-OBD, precisely for its all-inclusive specs sheet and reasonable pricing.