Best GPS Trackers for Kids/ Teenagers
Investing in a GPS device for kids is a pretty wise decision if you are a parent or guardian, who seeks up-to-date information about their little one.I
We get it, adults have errands to run, it's impossible to be around your child every single time. Thankfully, you have landed on the right page. Today, we will help you to find a GPS tracking device, perfect for your child. Our focus is to help all parents take care of their children while giving them the independence to explore the world on their own.
The best GPS trackers are popular for their accurate location update and quick alert facility- a technology apt for concerned parents, who are often worried about their child's whereabouts. Gearing up your child with a tracking device uniquely meant for kids will permit your child to enjoy their ventures, and will give you peace of mind.
Family1st Child Tracker- Best Child GPS Tracker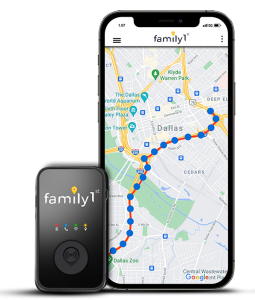 Family1st Child Tracker is one of the #1 Rated Child Tracking Device on Amazon. It is​ used by over hundreds of thousands of users to track their small childrens and teenagers. It come at a very affordable price and also offers you a lot of custom features
Lowest Price Starting $24.95
Lifetime Warranty
Real-Time Tracking & Reports
Pocketable size
14-days battery Life
30-days money back guarantee
For heavy outdoor use you need a magnetic case to protect the unit
---
Why do you need a GPS tracker for kids?
A GPS tracker for kids will allow them their freedom to play and enjoy, without leaving you worried about their safety. You can regularly monitor every activity of your child despite not being physically present with them, all the time.
For working parents, this product is a must-have gadget. Yes, there are numerous options in the market today; one must have a clear-cut idea of things to consider before making a purchase. The ideal child GPS tracker will have a personal tracking system meant to detect your child's location precisely, by using a map on your Smartphone or tablet.
As Parents, we are always thinking about our children. We care and we love them the most. Imagine being with your 7-year-old child in a crowded market. You are holding his hand but suddenly you lose them in the crowd. A kid's GPS tracker will save you from this nightmare.
Also, children are naive and most susceptible to crimes. We can't stop filthy criminals from committing a crime, but we can keep our children away from them.
What to look for in a kid's GPS tracker?
When considering the fundamental attributes, a kid's GPS tracker should be comfortable, accurate, and user-friendly.
These days' fancy kids GPS trackers also have geofencing in their list of features. We hope you know that geofencing creates an electrical barrier on a digital map, which if gets busted, immediately shows the signs of infringement, and alerts you about the potential threat.
By making emergency use of these connectivity functions, your kid can make an SOS call to assign the number present to the watch. Quick alerts, fast communication, and fault-free service are the traits to look out for.
Reviews of the best kids' GPS trackers
To save your time and help you with a few options, we have created a list, handpicking the best GPS tracker for your kids. The list contains some of the best child GPS trackers, which are not just children-friendly but cost-effective too. All the devices in our list have a wide range.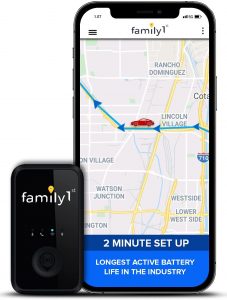 We chose Family1st as our top pick.
The Family1st portable GPS device is a GPS tracker ideally meant for families, which have special children. They are the most talked-about GPS tracking service both online and offline. Crime rates are at all-time high and special children can become vulnerable to potential threats. Families, especially parents do not want children out of their sight but often, this is not possible.
Family1st GPS tracking devices are the most popular GPS tracking device family1st GPS device is loved by parents and customers all around due to its extensive GPS tracking solution features. The lowest monthly subscription rate starts at $19.95.
By real-time data transmission, one can get hold of their child's spot without having to be physically present with them. Those parents who have a special kid at their home can even mark a safety parameter around their house or school. They will get informed as soon as the child passes the limit that you have set.
This popular GPS tracking device is connected with an application that can be installed on any mobile device. A user-friendly navigation system and quick notification alerts (by messages and email), will let you live life without constant worrying. Your kid can enjoy bicycle riding with your friends, while a discreet device shadows them.
The best feature of this device is its outstanding battery life of more than 2 weeks. Not just that, you can also link the device with Alexa and now you can use audio commands to utilize the device.
The device is protected by end-to-end encryption; your personal information is never lost in the process of locating your kid. The manufacturer has got everything covered for you, by adding every component you can think of.
Pros
It's handy, doesn't require any installation
Provides location in real-time
Geofencing
Terrific 24*7 customer support
Cons
Subscription cost is high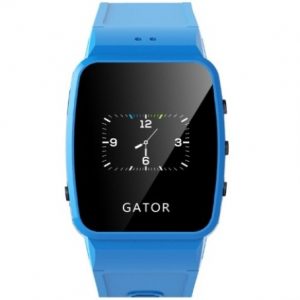 A wearable phone with a GPS tracker
My Gator Watch is a GPS tracking device specially made for young children who cannot use smartphones. You can also quote it as the best Smartphone alternative for kids. One of the fascinating things about this device is that it is built and managed by a team of parents like you- who want the best for your children.
This on-point device focuses on its primary function, which is to look for your kid and connect with the parent or guardian. You can place two-way calls at any time of the day. In this smart way to get linked, there are no distractions offered by social media sites, cameras, and gaming zones. With the four days standby battery, you can relax without worrying about a poor connection.
The watch is specially designed for kids between the ages of 6 to 12, who are still young for smartphones. This genius GPS tracker can solve all connectivity issues, owing to its multi-network pre-installed sim facility. The watch is made up of splash-proof material and completely secured with end-to-end encryption. All data remains personal to you.
Pros
Two-way phone calls – between your child and up to 13 trusted family and friends.
GPS and Wi-Fi tracking.
Easy to use
Cons
Weak data transmission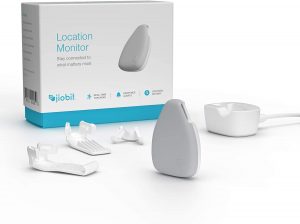 If you are a parent who is looking for a compact GPS tracker for kids, then you must check out Jiobit. Its live location feature lets you track your child's current location at any time of the day. You can manually place your child's favorite places on the map.
The manufacturer offers an 'alert' feature that can be easily operated by the kids, in case they need to establish an urgent connection with their parents or guardians. The device will surely come in handy in case of any emergency that would threaten your child.
One can easily secure a Jiobit GPS tracker with the help of a built-in strap or a waistband clip. The child can go after an outer sleeve attachment if they find it pleasing.
Helpful features like geofencing and smart alerts keep your child guarded at all times. Jio fit has a secure internet connection. The GPS tracker doesn't need to be tethered to any hub. Along with GPS location, the Jiobit packs also include elements like an accelerometer and a temperature sensor.
This GPS tracker for kids will provide you with a detailed timeline containing a complete history of your child's check-ins. The device is end-to-end encrypted and it comes with the COPPA certification. Yearly contract plans start at $ 8.99 per month.
Pros
Enormous battery life
Utmost security and no risk of data leakage.
Cons
Lacks highly needed audio communication facility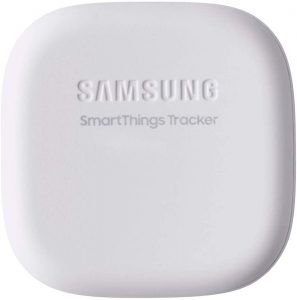 The Samsung SmartThings Tracker provides concise location information, both outdoor and indoor by the use of GPS location technology and accurate Wi-Fi-based positioning. The device is equipped with an accelerometer and three colored LEDs, all working together to track your child consistently for up to 7 days per charge.
The device currently works with Android devices. This GPS device for kids can be easily attached to your child's backpack for any other personal belongings. The geofencing feature will allow you to mark safe territory for your kid. The tag alerts you by triggering the lights when your child enters and leaves a place. You can mark your child's location periodically. It just takes a connection to your Smartphone.
An iP68 water resistance rating will surely contribute to the long shelf life of your kid's GPS tracking device. Cellular service is included for the first 12 months with no additional charge. After the first 12 months of service, pricing starts at $5 a month or $50 per year.
Pros
Geofencing
Accelerometer
Accurate results
Cons
A little complicated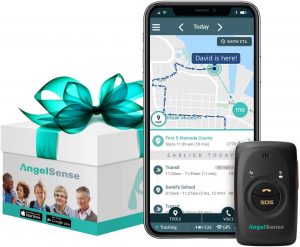 AngelSense Kids GPS Tracker is rated as one of the best GPS trackers for kids currently in the market. This kids GPS tracker is originally meant to track down children with conditions like Autism and Dementia, but anyone can use it effortlessly, owing to its smart features and real-time location bells.
One of the powerful features of AngelSense is a two-way voice call enabling you to contact your child at any moment, without wasting time on unclear button operations. The manufacturer provides an exclusive Diary Lock, which registers data every 30 seconds and synchronizes it periodically.
This child GPS device is a high-end model and contains a wide variety of subscription plans. The plans are a little heavy, starting at around $30 a month. You can always pay by installment. The plans are devised on grounds of key features like bonding alerts, voice communication, and consistent location updates. The device is an ideal virtual guardian for your child; you can trust it with your gut.
Pros
The exclusive two-way calling feature
Frequent Location alerts
Cons
The monthly subscription fee is too much.
Relay Kids Smartphone, is primarily a communication device for kids and parents. It works on GPS technology and covers the entire nation in its tracking belt. The dimension of this compact child GPS tracker is 2.5 inches square, making it a perfect pocket companion for one's children.
It works legit for parents who do not want their children to be glued to their mobile screens all the time. The relay operates on a single button touch and connects your child with you at any given point in time. The company does not believe in long-term contracts, instead, it offers commitment for as long as you are happy.
Parents can easily create channels to communicate with more than one kid by enabling different chat rooms, using the group call feature. Using this screen-less tracker, young children can protect themselves from unnecessary screen time.
It is the perfect solution for those parents whose children stay at school for after-school activities. Relay is a budget-friendly cell phone alternative that comes with a one-year warranty and some fulfilled promises.
Battery life is 10 hours per charge. Relay costs around $50. Plans are quite modest and start with a basic option of $10.
Pros
No fussy contracts
Group chat facility
Cons
You cannot wear it.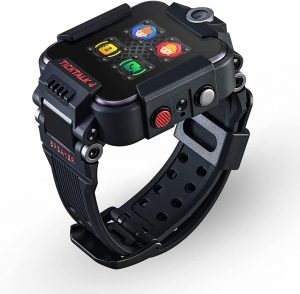 Tick Talk 4 is a self-sufficient Smartphone-like GPS tracker for kids, carefully curate for children between ages 5 to 12.
It is precisely a children's Smartphone watch that contains video, voice, and Wi-Fi calling services. One can enjoy music, text, and click pictures by using this simple device. It is an ideal gift for older kids. The device is equipped with powerful GPS tracking Technology.
Guardians can also use geofencing to protect their kids. This virtual boundary created by you can be accessed on any Smartphone or tablet. It offers quick alerts and is always responsive to any activity.
TickTalk 4 doesn't have any games installed within its system but it rather provides a generous stream of kid's music and stories in its standout feature- iHeartRadio.
This GPS tracker for kids serves a dual function. It offers uninterrupted communication with your child whilst teaching them self-reliance.
Pros
Tracks Steps
Offers Smartphone features
Has geofencing
No distracting games
Cons
You cannot connect it with any cellular network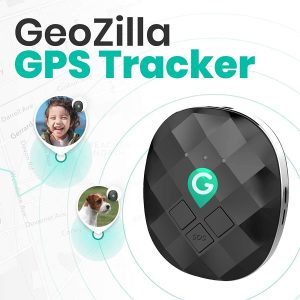 The Geozilla GPS Tracker is a small, user-friendly gadget that allows you to keep track of your little kid. Equipped with Smartphone-like functions, the device contains a central button marked with an SOS symbol which sends an emergency text in case of an unfavorable situation. The app works in recital with a free-of-cost geozilla app, available for both iOS and Android.
The app makes use of Google maps to mark the precise status of your child's correct location. The GPS tracker will nudge you repeatedly on set intervals, each time to assure you of your child's safety.
You can custom add areas for home, school, and your child's workspace. The tracker will alert you when your child enters or leaves the place. You can subscribe to any of the premium plans or set up a free account as per your requirements. You can consider a seven-day free trial followed by a $79.99 annual plan.
The responsive support team will assist you with all of your concerns. A peculiar function is the 'Driving protection feature, which comes in handy while your child is traveling.
Pros
Lightweight and portable
Dedicated SOS button
Cons
Premium version is promoted too much
Devices can only be reset by the company tech department.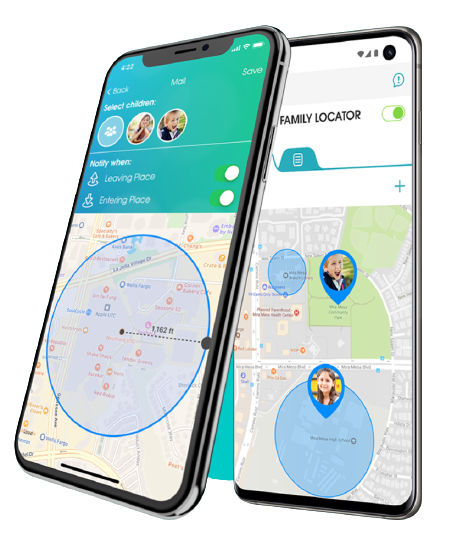 OurPact GPS offers direct access to the child's location. If they are at their friend's house or playing in the park, you can know it all. It works by an app. The app must be synchronized on the child's device, to yours.
The watch has an impressive battery life of 4 days, so you can keep an eye on your children continuously for 4 days. Four days of constant relaxation isn't too much to ask for. It is made by a team of parents who understand the needs of other parents.
The app helps parents to keep children out of unwanted and harmful distractions, offered by social media sites. The children at this age are very easily influenced by unwanted information. The app offers parents a facility to block unwanted sites by bedtime, so now children will develop a habit of going to bed early. Your child can easily enjoy the highlights of a Smartphone without being too consumed in the process.
The app also offers the facility of taking screenshots. The app needs a computer to get installed with its system.
Pros
Monitors screen time
No upfront cost
Cons
Needs synchronization
Final Words
We hope that this article has helped you understand the fundamentals of the best GPS tracker for children currently available in the market. Remember each tracker is unique but all of them serve a common purpose- To safeguard children.