The other day something rare, precious and phenomenal happened to me. I was surprised by the unexpected gift of 45 minutes to myself in the 
middle
 of the day. My husband had a surprise errand he had to run which would take him that amount of time to complete and my son had an impromptu playdate a few houses down and I…was…all…alone The Should Trap I was beside myself with anticipation over how to use the invaluable treasure.  My mommy's brain defaulted to the efficient, productive and responsible ideas of what I "s
hould
" get done: fold laundry, process the mail that piled up, organize a drawer, load up the dishwasher, prep for the next meal, etc. Kindness = A Pep In Your Step I've been on the self-care journey long enough though, to know that when this kind of opportunities present themselves, the best thing to do is treat myself to those things I can't do when others are around (unless they're my girl buddies over for a planned girlfriend pampering session). Loving myself enough to treat myself to kind acts that are creative, relaxing, fun or nourishing, undeniably and unfailingly always inoculate my day with the chutzpah needed to get the "should's"  done happily. Self-Kindness Leads To Larger Bandwidth That chutzpah is what gives me the bandwidth for more attention to detail where it makes a difference like smiley face strawberries on my son's pancake instead of just tossed on top or putting a little elbow grease and my heart into a card for a friends' birthday instead of buying it. Over Thinking, It Took Precious Time The downside of that momentous occasion the other day was that due to being hardwired in the habit of doing things for myself in the morning, I ended up spending half of the time thinking what best way to use it, what a time waster! I think of self-care all the time and write about it every week, but I'm a planner at heart, so thinking on my feet on such an occasion was not my strong point. I thought to myself "What if there were a fun and easier way to access those great self-loving ideas when I needed them?"
Bored Jar 
For Kids The sweet idea of the bored jar for kids that is all the craze on Pinterest. It's a fun and easy way for kids to access ideas of things to do when they're bored. Ideas are written on popsicle sticks as opposed to having them on paper and some parents also color-coded them according to categories such as things to make, do outside, do inside, etc. A Great Model There are benefits to this idea over simply having these ideas on a  paper such as, the stick not getting lost like a paper because they have a designated place in the jar,  their more durable then the paper to wear and tear and  the color-coded categories makes them easier to choose from and nice to look at. Bored Jar Meets Mommy's Self-Care Today I will share with you how I took the boring jar idea and applied it to my impromptu situation to create a self-care jar!!  I first sat down and brainstormed a list of things to treat myself to and grouped them according to increments of time from 1-5 minutes, 5-10 minutes, 10-15 minutes, 15-20 and 25+ and wrote them on popsicle sticks. I then color-coded them according to the time increments with different colored washi tape.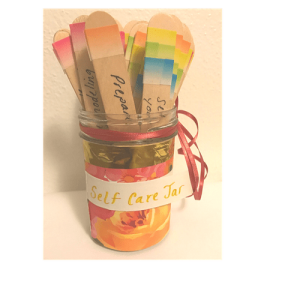 DIY Self-Care I had so much fun making this it felt like a self-care treat just putting it together! This is a great and inexpensive DIY to make for ourselves or a friend, especially those that are new parents. For those of you that are not parents but are needing a fun way to bring variety into your self-care, why not play self-care roulette with yourself and try out a new idea every day during your allotted self-care time? Here are lists of what I wrote in the time increments, some overlap and that's why there are many colors on one stick. This is how I made the key on the label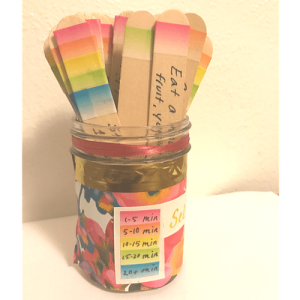 Here is a picture of some of the actual sticks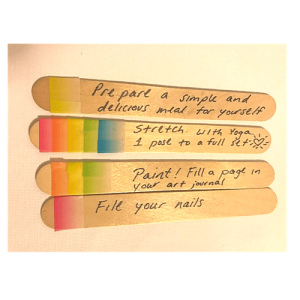 1-5 minutes Red
Light some incense
Eat a nourishing snack: almonds, fruit, yogurt, etc.
File your nails
Hydrate well: simple water or with electrolytes
Roll feet on the foot massager
Stretch with a yoga posture
Pinch some modeling clay between your fingers
5-10 minutes Orange
Read
Comb your scalp and hair
Roll feet on foot massager longer
Work hand puzzle  toy
Stretch with more yoga postures
Mold modeling clay  into something
Fill out a page in my adult dot to dot book
Paint with watercolors
Write a thank you note to someone to mail
Walk outside
Draw in a doodle
Journal gratitude's
Watch a Steve Harvey clip and laugh!
Prepare a smoothie
Spill unedited thoughts in a journal with a Brain dump
Make yourself a cup of tea
10-15 minutes Yellow
Put your feet in a bucket of hot Epsom salt water
Paint more with watercolors
Read
Stretch with more postures
Take on a Rush Hour Game challenge
Start and finish a word search puzzle or sudoku  puzzle in those books
Polish your nails and set to dry
Nap!
Walk outside
Journal more gratitude's
Color a page in your adult coloring book
Draw  a doodle in your journal
Prepare a yummy meal for yourself
Watch two Steve Harvey clips
15-20 minutes Green
Nap
Complete a set of yoga postures
A long walk outside
Read more
Journal your heart out!
a longer gratitude list
Color more in a coloring book
Draw more doodles in the journal
Prepare a meal for yourself and eat by candlelight
Take an Epsom salt bath 30 min (Consider the 10min prep scrub and waiting for water to fill)
Watch a full episode of the Steve Harvey show
For everything over 20 minutes, I colored with blue washi tape. I plan to have this jar handy in my home so that next time that precious window of time shows up, I'll be ready! How do you show up for your self-care when surprised with time all to yourself?
Lorena is a writer, teacher, and mother of an active 7-year old. Find out more out her passion for creating morning routines that transform habits and lives at https://yourmorningpower.com