Today, technology has facilitated us with almost everything. It has certainly made our lives easier by providing us with a variety of reliable and much-needed gadgets, that we can use to benefit our family and loved ones. One of the best inventions is GPS tracking devices. If you are unaware of the benefits of GPS, here we explain to you.
The benefit of GPS is that it allows us to track the people in our family and loved ones such as kids, senior citizens, teens, and pet dogs. A hidden GPS tracker for children has come as a savior that permits us to take timely action and reduce the chances of risk and mishaps. GPS tracking technology has proven to be advantageous for working parents who intend to keep their family members safe and sound. Also, at the time of emergency, with a teen/kids GPS tracker, you know what to do and how to reach them.
According to some reports, the GPS market size was projected at USD 40 billion in 2017 and the same is projected to grow at a CAGR of 18%. Increased use of smartphones and GPS-enabled vehicles are pushing the growth of this market.
Many reputed GPS-enabled tracking device brands manufacture handy and reliable devices to help people keep track of the movements of their family members. The best benefits of GPS tracking are enhancing every single day with a variety of features being added now and then. The GPS devices and their app have offered immense help to several families who have elderly, children, and people with special needs in their homes. It is a cost-effective and efficient way to benefit your family.
Benefits of GPS Tracking Devices
Though the benefits are many, here we talk about the most popular benefits of GPS tracker devices.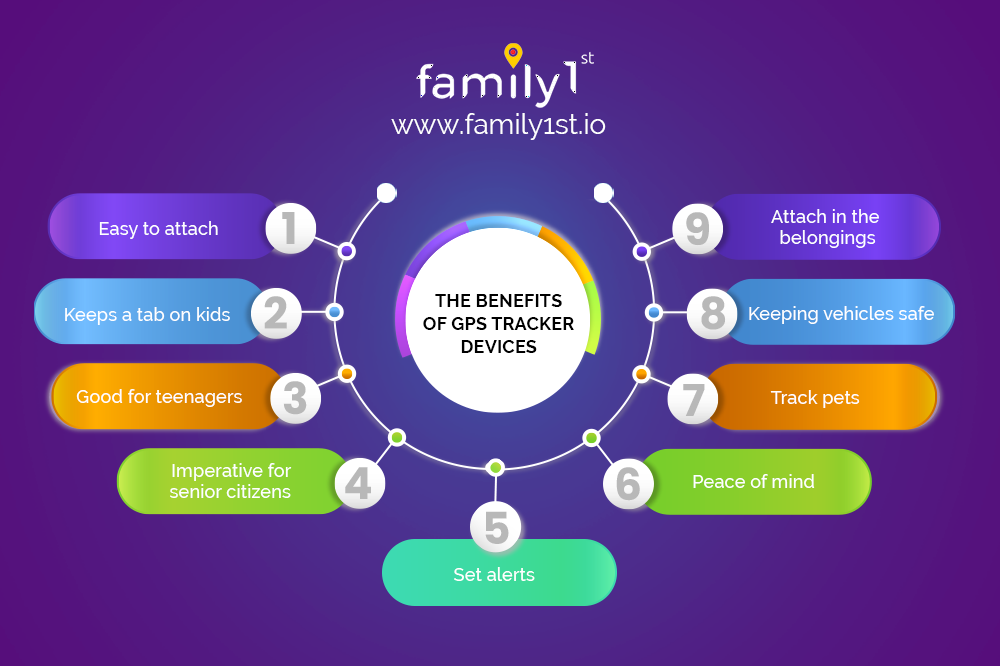 Easy to attach
GPS trackers are so handy and small in size that they can be easily attached in the form of a watch, a backpack, in the pockets, etc. Carrying such a small device is easy and you can always check your loved one's location using the phone app. So, you always know where your special people are when you are not with them. Use your phone or tab or laptop to track the location and ensure the safety and wellbeing of the people and things you love especially the elderly and children.
Keeps a tab on kids
If you do not send your child to the society play area alone, thinking about the safety of your kids and how you will know about the whereabouts of your child, then your problem seems to have ended. At times, the children get swayed to unknown areas such as parking and the basement of the premises, out of curiosity. But his habit of wandering often upsets the parents who are unable to find their children in the desired play area spots.
Sometimes the children also get lost in the supermarkets, malls, a big event function, or a park. It gives you a nightmare to lose their sight, isn't it?  But one of the benefits of using GPS is that you can always find them easily. It works best as children get to wander and play, as you can keep a track of them.  Mini GPS trackers are best for your children and come in handy for their safety.
Good for teenagers
It is a matter of utmost importance to keep our teens safe. This age is slightly difficult to deal with, for the parents. Due to the hormonal changes, challenges such as educational and physical, emotional volatility, their behavior is unpredictable. Won't you always like to know who are their friends, where are they meeting with people, how are they commuting, and whether they are driving safe. They crave independence and hence, it becomes impossible to control them. One of the best GPS benefits is that you can monitor them and avoid any risk.  
Imperative for Senior citizens
It is most worrying to take care of the elderly and those with certain medical conditions at home. Most of seniors have some kind of ailment and diseases like Parkinson's, Alzheimer's, dementia, BP, heart problems, and much more. In this fast life, when both the partners are working, do not allow the safety of elder ones at your home compromised. They are dependent on the caregivers, so you need all day and night close watch on them.
Many senior citizens have been reported with memory loss that experience hallucinations and disorientation. Due to this, it is always risky that they go out and forget their way back home. Under this scenario, you need a GPS tracker for seniors that can remain with them always and allows you to keep track of them. On the other hand, you can even use a medical alert device to ensure the safety of the elderly at your house.
Set alerts
One of the future benefits of GPS is that you can set up alerts such as driving speed alerts, etc. so that you can prevent accidents and keep their driving as per the norms. In case of speeding and accidents, you will get an alert. GPS devices can be attached to the car.
Peace of mind
Having GPS devices can tremendously reduce your anxiety and allow you to breathe a sigh of relief. Leaving the elderly parents or kids at home or a third location, where they are unguarded can keep you worried. With a GPS device, you always know where they are at any point in time. In case of mishaps like an accident or missing elderly parents or kids, you can easily find their location. There are many features in the device such as fencing, alert, etc. that allow you better and faster tracking.
Track pets
Pets are the most vulnerable ones. If you have an adorable pet at your home and you want to ensure its safety, then make the Pet GPS tracker an integral part of your life and enjoy the benefits. It is common for the pets to get lost as they wander out of the premises in search of food or other reasons. Due to this habit, you will have a tough time. The current benefits of GPS are that if you install a GPS tracker in their neck-band, you will always have access to its real-time location. With this information, you can track the location of your pet. 
Keeping Vehicles safe
Car theft is not uncommon. Many families have reported having lost their cars. Though they get the insurance amount, they always suffer emotional loss. Imagine what it feels like to lose your primary mode of transport! It will take some time to arrange a new car, get the claim of the lost car, arrange financials for the new car, etc. This will hamper your routine life like dropping kids to school, going to work, out with family, etc. But if you have the GPS tracker for vehicle, you can accurately find your car's location on the app in real-time. Though you cannot stop the car from going away it will maximize the chances of getting it back. The police will also act fast with the help of location information through GPS devices and will be able to track your vehicle and get it back for you. Even the insurance companies provide discounts on vehicle insurance if you have a real-time GPS vehicle tracker device, as it reduces the chances of theft of the car.
Attach in the belongings
You can also attach a GPS device to your most valuable or possessed belongings. While traveling also, the luggage is prone to get misplaced and lost. Instead of suffering stress due to the loss of your belongings, use a luggage GPS tracker to always stay protected. You can easily fit the same in your bags and the cases of theft or misplacement, you can always find your luggage and get it back. So, ensure a hassle-free trip by just concentrating on the natural landscape, camping, picnic, etc. by buying a personal tracker, instead of worrying about the luggage.
Sometimes, when you go camping or hiking you need to leave your luggage at a public place along with the belongings of other travelers. This mixes up the luggage. At that time also, you can use the GPS device to find it at the place where it is kept. The GPS devices have strong internet connectivity and you can always take its help whenever you need it.
What are the benefits of GPS tracking devices offered by Family1st?
Now that you know the sea of benefits of GPS technology, it is equally important to buy only the best device available for a reliable solution. Family1st GPS tracking devices offer the best features to ensure the safety of your family and loved ones. Family1st is the name you can completely trust upon. The company has a huge list of satisfied customers who vouch for Family1st reasonably priced, high technology, and reliable GPS device. You can easily download its app on any mobile device. Not only our devices are handy and efficient but weatherproof and sturdy too.
With a highly reliable, robust, and most affordable Family1st GPS tracking device, you are always protected. The company also offers a 30-day return guarantee to its clients. The devices are made after years of research. Only when the product passes through a series of quality control and checks, it is launched in the market in its best materials and high technology. Some devices offer a lifetime warranty too.
You must go for Family1st GPS solutions to ensure the safety of your children, seniors, teens, pets, cars, and other family members. You can also reach out to the technical support team in case of any queries or doubts.