If you're anything like us, you know that finding the right GPS tracker for your car can feel like looking for a needle in a haystack. There are so many options out there, each with its own set of features and benefits. But don't worry, We've got you covered. We've spent countless hours researching, comparing, and testing different models to bring you this comprehensive guide to the best GPS trackers for cars.
Whether you're a parent wanting to keep tabs on your teen driver, a car owner looking to protect your investment, or a fleet manager needing to monitor your vehicles, We've created the perfect guide to help you learn how to choose and buy the right tracker for your car.
What to Look for Before Buying GPS Tracker for Your Car
There are quite a few aspects that need to be prioritized before purchasing the preferred car tracking device. These include:
Tracking capabilities
It is quite obvious for you to prioritize tracking capabilities as the first and foremost consideration. As a rule of thumb, it is necessary to check whether the car tracker offers real-time updates. This means a reliable GPS tracker must be able to notify you when the vehicle moves from point A to point B. 
Other aspects of tracking include the ability to manage multiple vehicles and interfaces with ease. Also, if you have high-end requirements, the ability to log the trip history is a good feature to look at. This way, it becomes easier to trust others with your car, when you can constantly monitor the stoppages, engine running time, idling period, and other trip-related aspects.
Alerting
Besides tracking, a good GPS tracker should also come equipped with a reliable alerting system. Look for specs like route deviation alerts, stoppage alerts, tampering alerts, speeding intimation, and more. Top-shelf trackers generally feature a high-end alerting system, making it easier for the car owners to track maintenance liabilities, pilferages if any, and other car-related aspects. 
Geofencing
Some of the more reliable GPS car trackers feature something called Geofencing support. This attribute allows you to establish certain virtual geographical boundaries via the app. Once the car enters or even exits the geographical fence, the person in charge of the tracking app is intimated. 
This feature is great for improving operational efficiency and workforce optimization standards pertaining to a specific workplace where cars and other vehicles are used to manage people and load. 
Reporting
A good GPS tracking app is expected to send out every important report whilst being able to track and log the data for a significant period of time. The ability to log and share historical reports and even the dashboard summary makes certain GPS tracking applications better than most. 
Access Control and Ease of Usage
If you are planning to use a vehicle fleet for managing workflow, you must look for a tracking device that offers ease of usage and better access control. This means the person in charge of the app and the device should be able to change the user profiles, as per requirements.
In addition to these attributes, you should be mindful of the installation support, OBD compatibility, and analytics focused on the concerned tracking device. 
Our Testing Process for GPS Trackers for Cars
Before we dive into the reviews, we want to share our testing process with you. Our goal is to provide you with the most accurate and reliable information, and that starts with thorough, hands-on testing of each GPS tracker. Here's how we did it:
1. Unboxing and Setup: We started by unboxing each GPS tracker and setting it up according to the manufacturer's instructions. We noted how easy (or difficult) each device was to set up and whether the instructions were clear and easy to follow.
2. Features and Functionality: We tested all the features of each GPS tracker, including real-time tracking, geofencing, and alerts. We also evaluated the user interface of the associated app or website, checking for ease of use, clarity, and functionality.
3. Real-World Tracking: We installed each GPS tracker in a car and used it over a period of several days. We drove around town, on highways, and in rural areas to test the accuracy and reliability of the tracking. We also checked how quickly the real-time tracking updated and how accurate the location data was.
4. Battery Life: For GPS trackers with standalone batteries, we tested the battery life. We noted how long the tracker lasted on a single charge and how long it took to recharge.
5. Durability and Build Quality: We evaluated the build quality of each GPS tracker, looking for any signs of poor construction or potential durability issues. We also checked the water and dust resistance, if applicable.
6. Customer Support: We contacted the customer support of each brand, asking questions about the product and gauging the quality of their service.
7. Price and Value: Finally, we considered the price of each GPS tracker and the value it offered for its cost. We also took into account any subscription fees required for data services.
By conducting these tests, we were able to get a comprehensive understanding of each GPS tracker's performance, reliability, and overall value. We believe this hands-on approach provides the most accurate and trustworthy reviews, helping you make an informed decision when choosing a GPS tracker for your car. 
Based on our tests, here's what we have concluded for the most recommended GPS tracking devices:
| Product | Key Features | Pros | Cons |
| --- | --- | --- | --- |
| Family1st GPS Tracker | Alexa-compatible, subscription-based service, lifetime gadget warranty, round-the-clock tech support | Offers detailed tracking history, easy to configure and use, an affordable monthly subscription model, excellent battery life | Only tracks the pre-assigned vehicle, and requires the OBD interface to reach the full potential |
| Bouncie Tracker | Customized alerts, monthly subscription plan, real-time alerts | Geofencing support, offers real-time alerts, the lowest possible subscription rates, supports mileage tracking | erroneous flashing light, Alexa commands can be glitchy at times |
| Americaloc GL300W | Offers history coverage of up to one year, supports real-time vehicle tracking, equipped with a magnetic case | Exceptional battery life, strictly monitors vehicle activities, easy to hide, allows you to save and view history for up to 365 days | Expensive |
| Optimus 2.0 | Compatible with a slew of apps and devices, easy-to-use app interface, Enhanced concealment | Competitive Pricing, the app interface is intuitive, offers router details, advanced vehicle monitoring | Might experience issues with auto-update |
| MotoSafety Tracker | Compatible with Google Maps, supports the curfew mode, the monthly subscription fee is close to 20 dollars | Supports router display, the curfew mode is an intuitive addition, an innovative and responsive app, competitive subscription fee | Sensitive to acceleration |
10 Best GPS Trackers for Cars In 2023 [ Complete Review ]
Still with us!
Then, you might be interested in reading detailed reviews concerning the 10 best car GPS trackers that we have tested extensively, across diverse parameters. We understand that you might be new to the concept of GPS tracking and there is a set of insights enlisted at the end of this discussion to help you make informed decisions, based on your preferences, budget, and requirements. Here's our list of top 10 GPS tracking devices for your car.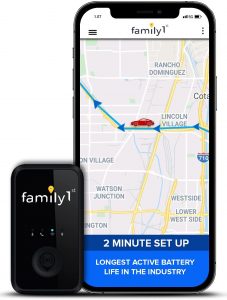 Highlights
Alexa compatible
Subscription-based service
Lifetime gadget warranty
Round-the-clock tech support
Review
With its outstanding features and low price, the Family1st GPS tracker takes the lead. One of our colleagues kept the tracker in their car to accurately check all its features. In comparison to other alternatives, this device is quite small in size, making it the perfect tool for covert tracking. Although, for legal reasons, we recommend that you adhere to local laws regarding tracking. 
This tracker stands out for its long battery life, customizable features, and refund guarantee based on performance. While it lacks real-time location notifications, it does support up to ten geofences, provides 24/7 email and weekday phone assistance, and is Alexa-compatible. Family1st GPS tracker ensures accurate tracking and regular updates, thereby ensuring continued coverage and better autonomy. 
An activation form and device installation are required for setup. The app is compatible with many devices, and the tracker is water-resistant and has 4G connectivity. It has a 14-day battery life based on an hour of driving every day. Overall, the Family1st GPS tracker scales above the rest, owing to the extended battery life, customizable usage, and promise to offer a full refund, in case the performance leaves you unsatisfied. 
Pros
Offers detailed tracking history
Easy to configure and use
An affordable monthly subscription model
Excellent battery life
Cons
Only tracks the pre-assigned vehicle
Requires the OBD interface to reach the full potential
Bouncie Tracker: Best for Inclusive Vehicle Maintenance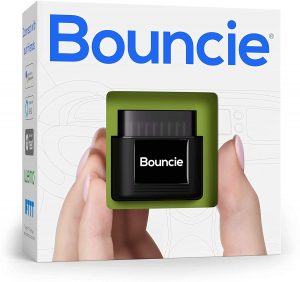 Highlights
Customized alerts
Monthly subscription plan
Real-time alerts
Review
If you are seeking inclusivity while searching for GPS trackers, there aren't many better options in the market as compared to Bouncie. This tracker readily fits into the OBD port of the concerned car and allows you to track acceleration, speed-based alerts, hard braking scenarios, and other car-related processes.
Plus, the $8 dollar subscription fee is pretty competitive, to say the least. Also, this is one of the few GPS trackers in the market that allows you to store data on the move whilst supporting mileage tracking. 
Pros
Geofencing support
Offers real-time alerts
Lowest possible subscription rates
Supports mileage tracking
Cons
Erroneous flashing light
Alexa commands can be glitchy at times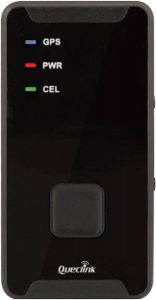 Highlights
Offers history coverage of up to one year
Supports real-time vehicle tracking
Equipped with a magnetic case
Review
Car owners with a penchant for portable trackers can purchase the Americaloc GL300W without second thoughts. Owing to the minimalistic form factor, this is one of the best gadgets in the retail arena to carry around without breaking a sweat.
Despite the exorbitant price tag, the Americaloc GL300W deserves your attention, owing to the curated magnetic case, which in turn allows you to hide the same in plain sight. Plus, this GPS tracker provided steady real-time vehicle tracking followed by customized alerts that can notify you in case of restricted entries, overspeeding and other activities. In case, you are looking for GPS trackers with magnets, we got you covered with our guide and a comprehensive list for the same.
Pros
Exceptional battery life
Strictly monitors vehicle activities
Easy to hide
Allows you to save and view history for up to 365 days
Cons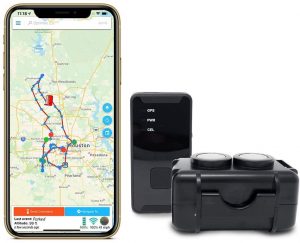 Highlights
Compatible with a slew of apps and devices
Easy to use app interface
Enhanced concealment
Review
The Optimus 2.0 is more of a tracker bundle, supporting real-time, accurate, and obviously discreet tracking. What works in favor of this device is the extended battery life of up to 2 weeks. However, if you want to experience the best possible battery life, you must select the reporting frequency of 1 minute by logging onto the app.
Also, Optimus 2.0 is one of the best resources in the market for someone who is looking to perfectly pair the generated data with the featured mobile app. Finally, there is a twin-magnet tracker case in play that restricts the same from getting identified. 
Pros
Competitive Pricing
The app interface is intuitive 
Offers router details
Advanced vehicle monitoring
Cons
Might experience issues with auto-update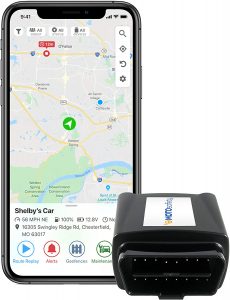 Highlights
Compatible with Google maps
Supports the curfew mode
The monthly subscription fee is close to 20 dollars
Review
If you are a new driver who is still trying to find his or her way around a car, we would recommend the MotoSafety Tracker over any other GPS tracker on the market. As new drivers need to rely more on customized location alerts, geofencing, and Google maps, the MotoSafety Tracker allows them to be on track with the more stringent requirements.
Plus, parents can rely on this tracker to help them with curfew management, by tracking the movement of the driving kids, at specific hours. 
The competitive monthly rate allows you to use this device without thinking about the finances. Plus, the app-based interface also makes way for a driver training module, whilst allowing the new driver to hone the skills further.  
Pros
Supports router display
The curfew mode is an intuitive addition
Innovative and responsive app
Competitive subscription fee
Cons
Sensitive to acceleration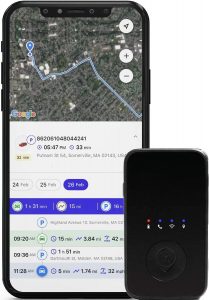 Highlights
Measures 3×1.5 inches
Comes with 4G support
Supports location changes
Zero activation cost
Review
The Primetracking GPS tracker comes forth as one of the smallest units in the retail space, allowing you to deploy the same either as an open resource or in the clandestine mode. You can even consider using the same with multiple cellular service providers by tapping into their 4G connectivity module.
As far as location updates are concerned, this tracker provides intimation in increments of 10 seconds. The battery life can extend up to two weeks, making it one of the more dependable car trackers to purchase. 
Pros
Portable
Offers router history
Unlimited GPS range
Competitive pricing
Cons
Geo-fencing technology is properly seasoned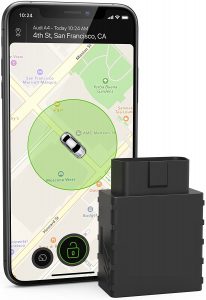 Highlights
Monitors the vehicle in real-time
Provides safety score
Records route history
Compatible with the OBD2 port
Review
OBD2 compatible GPS trackers can be extremely resourceful, provided you know how to configure and use the same. The Carlock Tracker is one such resourceful gadget that is capable of monitoring the smallest of car-specific activities and movements with precision.
This means, if you are interested in detecting vibration, the status of the tracker, or the rate of acceleration, the Carlock Tracker has the requisite firepower to provide the details. Plus, with this tracker at work, you can even log in to the route history and follow whether the car traces the same at every instance.
Plus, this is one of the few trackers to provide a safety score, depending on the capabilities of the person behind the wheel. 
Pros
Monitors acceleration and sharp turns
Offers international support
Can be installed seamlessly into the OBD2 port 
Offers route history
Cons
Not the most battery-intensive tracker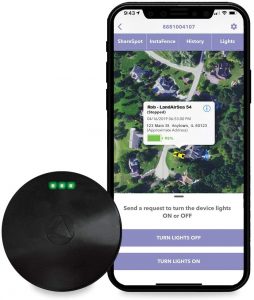 Highlights
Completely waterproof
Compact and portable design
The battery can last up to 2 weeks
Intuitive application
Review
The LandAirSea 54 is probably the only cent-percent waterproof tracker on the list, with comparable indoor and outdoor compatibility. Leading the way is the integrated magnet that helps with the installation. Plus, the compact layout ensures that you can place the gadget in a given vehicle without getting noticed.
Coming to the feature sets, this GPS car tracker comes equipped with a rechargeable battery unit, which is more than capable of powering the tracker for 2 weeks at once. Also, you can monitor diverse car-specific activities via the LandAirSea 54 application, which notifies the owner regarding playback, arrival, and even sends forth proximity alerts.
However, you can control the nature and frequency of the updates by tweaking the apps and the subscription plan, as per preferences. 
Pros
You can access tracker data via the web interface
Supports geofencing, InstaFencing, and emails alerts
Can support 4G connectivity via select service providers
Easy to install
Cons
Pricey
Battery backup could have been better
Highlights
Compact and lightweight
Real-time tracking with worldwide coverage
SOS button for emergencies
Low monthly subscription fee
Review
The Tracki Mini GPS Tracker is a small but powerful device that offers real-time tracking with worldwide coverage. This makes it an excellent choice for those who travel frequently or have international business. The device is compact and lightweight, making it easy to install and conceal in your vehicle.
One standout feature of the Tracki Mini is its SOS button, which can be used in emergencies to send an instant alert with the vehicle's location. The device also offers a low monthly subscription fee, making it an affordable choice for many users.
Pros
Compact and easy to install
Real-time tracking with worldwide coverage
SOS button for emergencies
Affordable monthly subscription
Cons
Battery life could be better
Requires a clear view of the sky for optimal performance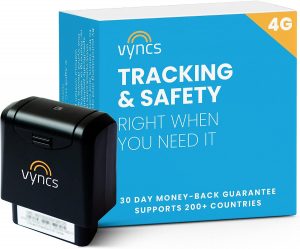 Highlights
No monthly fee
Real-time tracking
Geofencing capabilities
Fleet management features
Review
The Vyncs GPS Tracker is a comprehensive solution for those who need to manage multiple vehicles. This tracker stands out with its no monthly fee structure, where you only pay for the device and the first year of service.
The device offers real-time tracking and has geofencing capabilities, allowing you to set up virtual boundaries and receive alerts when the vehicle enters or exits these areas. What sets the Vyncs GPS Tracker apart is its fleet management features, which include fuel consumption tracking, vehicle health monitoring, and driver scoring.
This makes it an excellent choice for businesses that need to keep track of multiple vehicles and drivers. The device is also easy to install, plugging directly into the OBD-II port of your vehicle.
Pros
No monthly fee
Real-time tracking and geofencing
Comprehensive fleet management features
Easy to install
Cons
Requires annual subscription renewal
May not be suitable for individual users
How does a Car GPS tracker work?
Now that you are aware of the existing car tracking choices, it is necessary to understand the functioning and usage of the device in general. This insightful section is expected to help you make informed decisions.
Firstly, a GPS tracker uses the global positioning system and related technology to constantly transmit locational data to the cloud servers. The concept is comparable to using a SIM card, which also relays information to certain towers. For a GPS tracker, there are GPS satellites, which constantly track the information and the processes, whilst updating them onto the concerned application. You can learn more about how car gps tGPSker works from here.
A vehicle with a tracking device sends the wireless signal to the data server, which is then connected to the cloud network and can be accessed using a smartphone, tablet, or computer. This technology allows you to make decisions concerning the type of tracker that needs to be purchased.
For instance, local GPS tracking activities use cellular data and send the tracking insights to local servers only. However, if you require international tracking support, a 4G tracker with a globally compatible SIM card needs to be prioritized. 
How to Install a GPS Tracker in Your Car?
Installing a GPS tracker in your car is a straightforward process that can be completed in a few simple steps. However, the installation process can vary slightly depending on the type of GPS tracker you have. Here's a general guide to help you get started:
Step 1: Choose the Right GPS Tracker
Before you can install a GPS tracker, you need to choose the right one for your car. Consider factors such as the tracker's features, battery life, and subscription fees. Some trackers plug directly into your car's OBD-II port, while others are standalone devices that can be placed anywhere in the vehicle.
Step 2: Find the Best Location
The location of your GPS tracker can impact its effectiveness. For plug-in devices, the OBD-II port is usually located under the dashboard on the driver's side. For standalone trackers, choose a discreet location that has a clear view of the sky. Common locations include under the seats, in the glove compartment, or attached to the underside of the car using a magnetic case.
Step 3: Install the Tracker
If you're using a plug-in device, simply plug the tracker into the OBD-II port. The device should light up or beep to indicate that it's working. For standalone trackers, place the device in your chosen location and secure it if necessary. Some trackers come with adhesive or magnetic cases for easy installation.
Step 4: Set Up the Tracker
Once the tracker is installed, you'll need to set it up. This usually involves downloading a mobile app or logging into a website, creating an account, and linking your tracker to your account. You may also need to configure settings such as alerts and geofencing boundaries.
Step 5: Test the Tracker
After installation, it's important to test the tracker to ensure it's working correctly. Check the app or website to see if the tracker's location is being accurately reported. You may also want to test any additional features such as speed alerts or geofencing notifications.
Why does GPS Tracking for Cars make more sense?
E-commerce setups with autonomous product delivery systems have been using GPS trackers for a long. However, car owners have recently started taking the concept of GPS tracking seriously owing to the affordability, innovation, and functionality on offer.
With electric vehicles and autonomous cars being the latest concepts to surface vehicle tracking has become an indispensable option instead of being restricted as a choice. Also, installing GPS trackers is easy and one can control the same via a dedicated application.
Why Car owners are increasingly relying on GPS Trackers?
There can be multiple reasons for investing in a GPS tracker for a car. If you are a car owner, who is concerned about the safety of the vehicle, GPS tracking with alarms and other enhancements make sense. Plus, if the car itself changes hands now and then, a GPS tracker allows you to ascertain the traveling and fuel usage history, thereby adding to the financial autonomy. 
But then, not every GPS tracker for a car is the same. In the subsequent sections, we shall talk about 10 of the best trackers in the market that have started making several heads roll with their innovative feature sets and deep-seated compatibility.
Wrapping Up
Finding the best GPS tracking device for your car can be quite tricky, provided you are an early adopter. While the buying guide and the tentative feature sets allow you to make better choices, it is expected of you to be a bit confused, considering the wide range of choices, all around.
But then, the Family1st GPS tracker can put all apprehensions and confusion to rest by coming forth as an all-inclusive GPS tracker for cars. While there are other trackers to consider, the Family1st GPS tracker is likely the most all-around device to buy, with an affordable subscription plan and outstanding battery backup.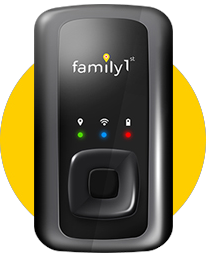 Purchased Car GPS Tracker Device