Owning a GPS Tracking Device means convenience, safety, productivity, luxury, and increased satisfaction. The device is energy-efficient, low maintenance, and low-cost and offers maximum value in return to business users and domestic users.
Car GPS trackers can assure your safety and ensure peace of mind. If you have a driver and want to track your car to monitor the driver's behavior and enhance the driver's accountability, use a car tracker to track the car's exact location correctly.
Thousands of people have been using car GPS tracking systems every day to track their cars. It is already a multi-billion dollar market. Currently, most people drive a vehicle with a tracking device. However, people are still wondering whether the tracking device is good enough! So, here we explain to you the numerous benefits of having a Car tracker and the best places to install a GPS tracker in your car.
What are the best places to install a GPS tracker in a car?
It is crucial to address the most common question that people have related to their newly bought car GPS tracking device – "Which is the best place in the car to install the GPS tracker?"
Keeping a GPS tracker covertly and not exposing it to the outside elements preventing risk and potential hazards makes more sense. Therefore, people are always searching for the most apt places to put a tracker in their car. Here we suggest the best places to install a GPS tracker on your car.
Dashboard
According to several experts, attaching your car GPS tracker under the dashboard can serve many purposes at once. First, the GPS tracking device will be hidden and therefore less likely to be uninstalled or tampered with.
Secondly, a car tracker under the dashboard can get a good signal from the satellite and work seamlessly. Lastly, the GPS tracker will be away from natural elements and offer you services for a longer time.  
Under the Seat
People who want to hide their car GPS tracker device can keep it under the car seat. If this trick interests you, you will have to take out the vehicle's seat and again install the same after hiding the tracking device under it. You also might have to stitch the seat cover to make the device more discreet.
You can explore the best place to hide your tracking device inside the seat by checking the side cover and the upholstery. You will indeed find a patch where you can easily place the gadget. If you install the device on the sides, it will be difficult for someone to find it.
Under the Car
Another best place to install a car tracker is under the car. But for that, it is better to look for a magnetic GPS trackers with either in-built magnets or a separate magnetic case.  Magnets will make it easier to fix the device on the metallic surface quickly.
Also, one thing that you need to make sure of is that the device should be waterproof. It is a common scenario when the car passes through a minor water pit, and the bottom of the car gets wet. In this condition, a waterproof car tracker or a tracker covered in waterproof material will keep your device intact against water and dirt.
Front or Rear Bumper
It might be challenging for someone to think that a car tracker is in the front or rear bumper. No one can see the same. It is nestled in the cobweb of wires, temperature, light, and more, making it one of the best places to hide the GPS tracker. To do this, you might have to take the help of a car mechanic.
The rear bumper also has wires, and again, it is easy to conceal a GPS tracker there. In the colony of the cables, it will be challenging to find out the car tracker.
Under Carpets
Hide the tracker under the carpets below and also between the seats. Isn't this a great option for a place to keep your GPS tracker in the car?
Other than these places, you can get a bit more innovative and think of several other sites for installing the device. Such as, no one will believe that you might have hidden the device in the wheel well. You can also keep the device besides the cylinder or your toolbox.
Family1st GPS tracking device for your car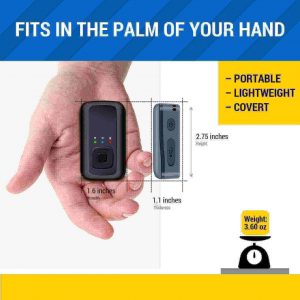 If you are looking for a GPS tracker for your car, then Family1st GPS tracker for your car is the best option for you. Its compact design makes it easier to hide. The device comes with 4G and Wi-Fi capabilities ensuring that you are always updated about your car's location. Our GPS tracking unit comes with an easy-to-use app that you can download on any iOS or Android device and access all the data you need. You can also set up security and alert preferences through the app. We offer a Geofencing feature that allows you to create up to 10 safe zones and receive alerts whenever your car enters or exits these areas.  
Equipped with SOS and location sharing abilities, Family1st portable GPS tracker for car can prove to be life-saving in emergencies.
Our GPS tracker for car is affordable with the lowest subscription cost. There are no contracts, and you can activate or deactivate the service, whenever you like, without any hidden fee. We know that an emergency never looks at the time, and that is why we offer client support around the clock, through various channels. 
Family1st Portable Car Tracker: The Benefits
Safety
If your driver goes out of reach, you can view the last location and track them. This feature is highly effective in ensuring the safety of the driver and the passengers inside the car.
Enhanced peace of mind
If your driver has gone to drop your kids at school and their phone is unreachable, then in this kind of urgent situation, a car tracking device will always help you locate the exact position of your car. Remaining updated will enhance your peace of mind.
Fuel Efficiency
The GPS tracker provides data for the most economical and fastest route. You can maximize your fuel efficiency by redirecting your vehicle as per the suggested shortest route.
Vehicle Recovery
In case the thief steals the car. The tracking device can help you find the exact location, and you get a chance to recover it fast. Hence, it lowers the cases of theft and vandalism.
Low Insurance premium
The premium is lesser for the tracking system cars. OBD tracking devices have become quite prevalent. Now, insurance companies have started to offer discounts to safe drivers.
Alerts
The device sends signals, and you can lower the downtime and prevent accidents if the device might experience failure.
Driver behavior
This device can help you monitor your driver and avert unsafe driving habits.
Report generation
You do not need to manually organize the data as the device provides an accurate and detailed report. You will always be aware of the driving history, such as time duration on a specific location, last location, and a lot more.
Wrapping up
A GPS tracker for car offers blanket protection against several security and safety threats. You can use it to help your teen learn the basics of safe driving, or you can keep an eye on your elderly family member's driving. With a well-placed GPS tracker, you can ensure that your car is not being used for unauthorized or illegal purposes. 
But the key to making the most of your car GPS tracker is installing or placing it in your car in a way that it can perform its job without any interruptions. We have already discussed the best places to keep your GPS tracker in your car. If you have any tips or suggestions, do let us know in the comment section. Happy tracking!