For those looking for a GPS tracking solution for personal use, one of the deciding factors is how easy is it to install. You want it to be hassle-free. Asking an expert to come and install it for you will only pile up the cost. 
Family1st is one of the top-rated portable GPS tracking device providers. Our success as the favored one comes from offering a high-end customized solution at an affordable rate without compromising with quality. If the reason to get a GPS device is to track
your car and its driver, 
your teenager's driving behavior, 
an elderly member in the family, 
small children and babies, or
pets, 
then the Family1st portable GPS tracker is the best for you. 
Why choose Family1st portable GPS tracker?
Easy installation
Our portable device is built for easy installation. All you need to do is follow the steps in the next section, and you will be able to use the device within a few minutes. The device is compact and can be placed discreetly anywhere in the vehicle. 
Affordable
The device costs $29.95 only and comes with the lowest monthly subscription in the market at $21.95. There are no contracts or activation charges. You pay as you go and can cancel the subscription at any time you want. 
Real-time tracking
There are many benefits of GPS devices. With this device, you get real-time location information. The portable device comes with 4G connectivity for outdoors and WiFi capabilities for indoors. The device works in the USA, Mexico, Canada, US Virgin Islands, and Puerto Rico. So if you are planning to go for a holiday in any part of North America, we have you covered.
Battery-life
If you are getting a GPS tracking device to ensure the safety of your loved ones, you need it to have longer battery life. Family 1 st portable GPS device comes with two weeks of battery life for active use and six months of battery life in sleep mode. 
Safe-Zone Notification
Our tracker offers Geofencing capabilities allowing you to create virtual boundaries around the areas your family usually visits. For example, if your kid has an art or music class or baseball practice, you can make a fence around these areas. As soon as your kid enters or exits this fence, you get an alert. It helps you know that your kids are where they should be. 
24/7 customer support
We at Family1st offer round-the-clock tech support to all our customers. We have a dedicated team of trained professionals who work tirelessly to solve all your queries without delay.
Installing Family1st Portable GPS tracking device: A guide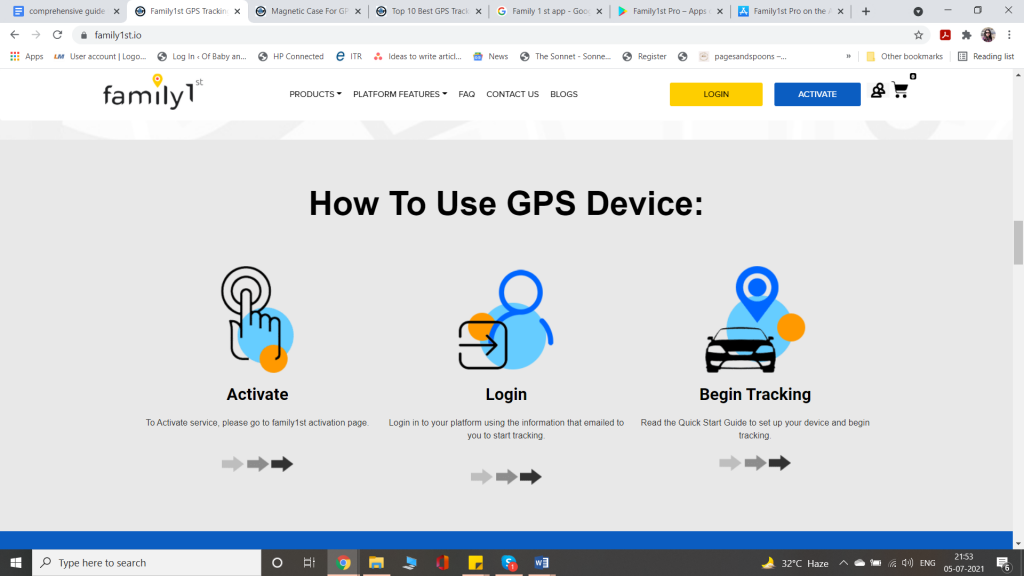 Once you place the order for your device, it is shipped to you in 2-5 days, free of cost. In the box, you get 
Family 1 st portable GPS tracking device, 
a Type C wall charger, and 
User's guide. 
We also offer a highly recommended weatherproof magnetic case for the tracker, which you can purchase separately for $17.95. The magnetic case keeps the device safe from environmental elements such as weather, dust, water, and rust. It aids in attaching the portable GPS device to the metallic surface for easier tracking. 
Now that you have your device out of the box, here is what you need to do:
Visit the product activation page here, and choose your subscription plan. We have three options: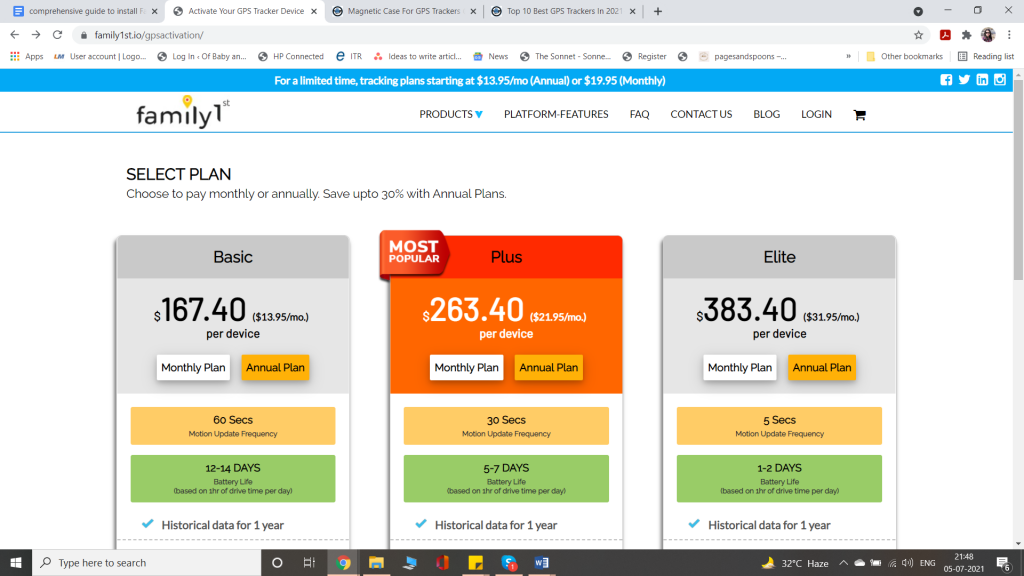 BASIC – Priced at $21.95 per device per month or $167.40 per annum, this plan offers motion updates every 60 seconds.
PLUS: Available at a monthly subscription of $28.95 per device or an annual subscription of $263.40 per device, this plan offers motion updates every 30 seconds.
ELITE: With motion updates every 5 seconds, this plan costs $38.95 per month and $383.40 per year. 
Fill in your personal and payment details, and activate the device.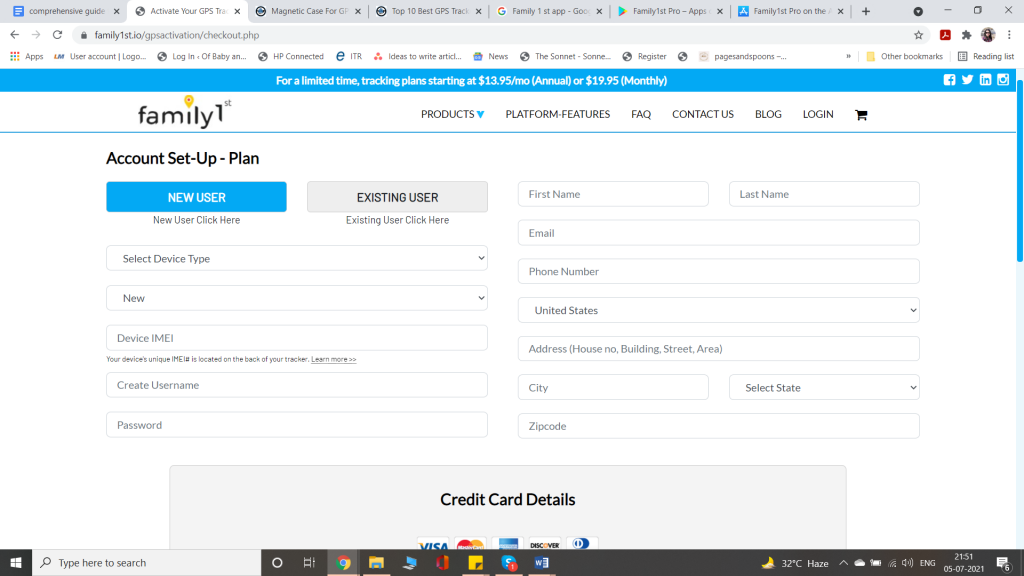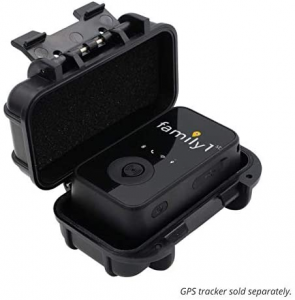 Place the device anywhere you want. 
And you are good to go. Happy Tracking!
For tracking kids or elderly members, you can keep the device in their bags, wheelchair, bikes, stroller, or in pockets of their clothing. To track a vehicle, you can place the tracker anywhere, for example, under the seat. If you got our portable GPS tracker to monitor your pet, attach the device to their collar for better tracking. To attach the GPS tracking device discreetly to a car or skateboard, you can use our magnetic case, which is perfect for the job. 
Family1st is known for being one of the most affordable GPS devices in the market, with the LOWEST monthly subscription of $19.95 only. And with us – you pay what you get. No contract, activation, or cancellation fee!