Owning a boat calls for not only a heavy initial investment but also constant maintenance and expenditure. Your boat is a valuable asset, and you need to take care of it. However, watercraft theft is a very prominent offense and needs to be kept in mind when considering the safety and use of your boat. 
According to the National Insurance Crime Bureau, more than 4000 watercraft vehicles were stolen in 2018 alone from all 50 states of America. An estimated 11 million dollars worth of boats are stolen each year. The most common watercraft hijacked are fishing boats and jet skis, a majority of which are in possession by citizens like you! The boats used for personal use are often at greater risk of misuse than commercial boats. 
Though watercraft theft has become a rampant issue these days, it is quite a simple solution, and you have come to the right article! With the appropriate safety measures and the right GPS technology for your boat, you can ensure and monitor its safe use and compliance with a tap on your phone and laptop. A GPS tracking device will make sure you always know where your boat is at all times. A decent GPS tracking device will also provide additional features that make your boating experience smoother and trouble-free. Along with that, you can take a few steps and precautions for the best possible utilization of your resources while you have fun on your boat!
Why do you need a GPS tracker for your boat?
Using a GPS tracker not only assures your boat's safety but also gives you additional services making your boating experience trouble-free and peaceful. 
Safety during Emergencies
Accidents are unforeseen. A mishap can happen anytime. You cannot predict or prevent an accident. Nevertheless, you can take measures to mitigate its aftermath. You must receive immediate help in the event of an accident. A GPS tracking device affixed to your boat makes sure of that. Marine accidents are fatal; through a GPS tracking device, rescuers have a foolproof way to find you and help you to safety. 
Best Locations
The GPS tracking device stores all information and records your travel time and location. You can use this information to go to the best spots for fishing and diving without having to locate it physically on a map again and again. Your GPS device will do that job for you. 
Recover Stolen Boats
In the unfortunate event that your boat gets stolen, you can easily trace and recover it using your GPS device. Thanks to the easy-to-use Android and iOS optimized apps that most GPS companies like Family1st and Matrack offer, the recovery procedure is not difficult or tedious but rather convenient (we still recommend being watchful about your boats, of course). It also aids the law system in the quick and easy location of your boat.
Insurance Benefits
Many insurance companies offer premiums and benefits to owners whose boats have existing safety measures. Installing a GPS device is one of them. In the face of an emergency, installing a GPS device will benefit not only your safety but also your finances. 
Some GPS trackers like the ones offered by Matrack and Family1st also provide you with advanced features. These include updates on untimely and unauthorized usage of your boat, among others. It also offers geofencing features. Geofencing allows you to set boundaries for your boat at the touch and drop of a pin on your screen. Whenever it enters or exits these boundaries, you will receive a notification. 
As far as the financial concerns of a GPS device go, GPS tracking devices are pretty affordable. GPS vendors like Family1st offer personalized plans depending upon your needs and requirements. We also have a list of the Best GPS Tracker for Boats that might help you.
How can you choose the best GPS boat tracker for your boat?
Like any purchase, a few factors come into play while buying a boat tracker that suits all your needs. Prioritize and look for a list of features that compliment the purpose of your boat. 
Tracker Apps for Mobile Phones
As mentioned before, most GPS service providers like Family1st and Matrack come with apps optimized for your phones, laptops, and tablets. Having an app that you can use to control your GPS device makes the ordeal a whole lot easier. Our recommendation – choose a GPS tracker with a dedicated app compatible with all your devices. 
Emergency Signals
The motive behind procuring a GPS device is to ensure your safety at all costs. Having an SOS feature is a prerequisite to using a GPS tracking device. It allows rescuers to find you immediately in case a mishap occurs. Most GPS trackers come with an SOS button, which when pressed, alerts the concerned authorities. It will provide the location and the directions to your device. 
Alert System
Apart from emergency SOS signals, your GPS device should also be able to send distress signals in other situations. Geofencing alerts let you monitor the areas your boat enters and exits. You can set up a geofence at the click of a button or a tap on your screen. It should also provide a movement alert to notify you of any activity happening on your boat in your absence. Many boat trackers also allow you to send customized alerts. It helps you preload a message and keep it ready to send it to a predefined set of contacts. This way, you can send a coherent message to your emergency contacts without wasting time. 
Adaptability
You must choose a GPS device that is easy to use and has long battery life. Some trackers run on 3 AA batteries that last almost five years. A GPS tracker that is easy to use is preferred! Family1st offers many wireless GPS trackers for personal use that are easy to use and have good adaptability. 
Water-Resistant
Needless to say, your tracker needs to be water-resistant, which implies resistance to water, mud, and enough strength to face resistance and not cause damage to circuitry. If your GPS tracker is not immune to exposure, the purpose of buying one for your boat becomes redundant, so water resistance is an important feature to consider.
Economical Purchase
Like any other buy, you'd want to make sure your tracker is worth the investment. Make sure you get all the desired features for good value. Some GPS service providers have monthly payment plans. Some have yearly plans with the initial down payment. Providers like Matrack and Family1st have personalized subscription and service plans designed for you to suit your needs at an economical rate.  
User-Friendly Maps
Having a user-friendly mapping system is a crucial factor in buying a GPS device. You must be comfortable with the graphics and formatting of the tracker and how it displays your location. Some trackers have a mapping portal and integrate with other maps. Others come with an intuitive interface, which you can adapt. 
Getting a GPS tracker for your boat or yacht is no less than an investment. It ensures the safety of you and your loved ones. It lets you use your boat to its best capabilities without any risks. Your boat is a financial investment that needs monthly care and maintenance. Apart from the advantages that a GPS tracking device brings you, there are a few tasks you can manually do to keep your boat in good shape. 
What can you do to ensure the safety of your boat?
Keep complete documentation
Always keep detailed documentation of your boat. It often comes in handy in case of accidents and mishaps. Moreover, it's always good to have complete information on an expensive purchase and investment. 
Insurance
In case your boat gets stolen, a sound insurance policy will do you some good. With a good insurance policy, you will not lose your money. Many insurance companies give you premiums and benefits for installing a GPS tracking device in your boat, giving you more incentive to opt for them both!
Keep Valuables Aside
Keeping valuable products in your boat will attract thieves and put your boat at risk. You can avoid this risk by keeping your boat empty of valuable or luxury items. 
Install an Alarm system
A high-quality alarm system is a reliable way of assuring the safety of your boat. Many modern-day GPS trackers come with alarm systems, making your job easier. Moreover, many insurance companies offer benefits and premiums to owners with alarm systems, giving you an incentive to install them in your boat. 
Have you found the right tracker yet?
If you have made it this far in the article, chances are you still have not stumbled upon the right tracker for your boat. The good news is you do not need to look any further. You are on the right website!
Family1st GPS trackers are among the best GPS trackers designed to keep you and your family safe. At Family1st, your family always comes first- we provide trackers for children, the elderly, and all personal vehicles at your behest.
Family1st Portable GPS Tracker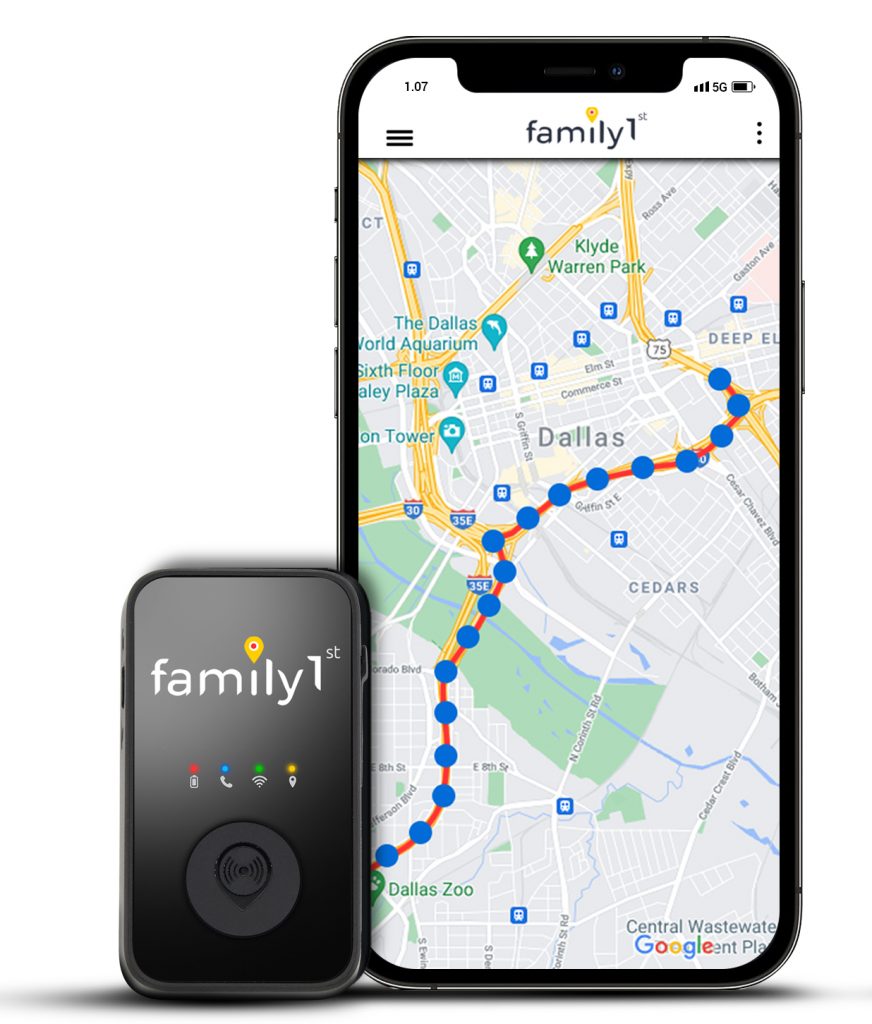 The Family1st Portable GPS tracker is known as one of the best trackers for boats in the US. It also helps track cars, motorbikes, boats, and anything movable. It offers unparalleled security tools and features for individuals and corporations, with personalized plans for each. Once you download the companion app, you can use the tracker with just a click on any of your phones or laptop from the comfort of your home!
Our latest technology integrates 4G data features with our trackers, making it one of the rarer products in the market. The Family1st Portable GPS tracker comes with 4G technology, which is ten times faster than your regular 3G tracker, enhancing your experience. The 4G coverage is available all across North America, allowing you to use Family1st's services all across the continent.
With a strong battery life of two weeks and a lifetime warranty coming with it, Family1st trackers have all the necessary features available at an affordable price. If you are not satisfied with the product or want to replace or refund one of them, we will do so for you whenever you'd like! It is water-resistant and has the SOS feature allowing you to contact helpers and family members in an emergency.
Family1st trackers save your data, and only you have access to it. Apart from the usual features such as geofencing and user-friendly apps, the GPS tracker is optimized with Alexa's features and supports indoor tracking. We also have customizable alerts that you can work with as you please, including battery, ignition, location, etc. Moreover, we also provide round-the-clock support for customers, available anytime to assist you when you need it!