GPS trackers have become synonymous with safety today owing to their multiple life-saving features. Whether it is the safety of your kids or the security of your valuables, you can rely on these portable tracking devices. This article will help you find the best portable GPS trackers.
Have kids who like to wander off whenever left unsupervised? Or is your cat not a homebody and disappears at odd hours? A portable GPS tracker is your go-to product then. It helps you keep a track of your loved ones so that you don't have to curb the explorer spirit of your kids or pets. Depending upon your need there are various GPS tracking devices available but you have to find out the best portable tracking device.
Here we have gathered the top 7 best portable GPS trackers. While some devices are specially built for the sole purpose of tracking, other devices have a built-in GPS and come with additional features.
Top 5 Best Portable GPS Trackers In 2022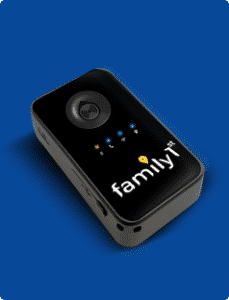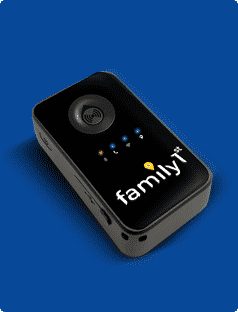 Product Dimensions: 2.75 x 1.8 x 1.1 inches
Weight: 3.68 ounces
The top in our list of the best portable GPS trackers is the Family1st GPS tracker. The small size of the tracker allows you to put it in a bag or the car with no one noticing. Family 1st GPS tracker comes with an extended 2400 mAh Li-Polymer rechargeable battery which can last up to two weeks. Equipped with a lightning-fast 4G LTE network, this GPS LTE tracker is perfect to track vehicles, kids, pets, seniors, and all other valuables.
Family 1st is reputed to deliver top-notch security tools at low prices. The portable GPS tracker comes at a nominal rate of 21.95/month, among the lowest subscription rates in the market. It enables indoor tracking using Wi-Fi; therefore, you don't have to worry even if you misplace the device. On top of it, they give a lifetime warranty on their products and a 30-day moneyback guarantee.
This portable GPS tracker by Family1st can be kept hidden anywhere in a vehicle, backpack, or luggage. You can either connect it to your smartphone by downloading the app or tracking it directly via the website. In addition, the app allows you to add multiple GPS trackers under the same account, so you can track all your assets simultaneously.
The sleek design of the Family 1st GPS tracker makes it easier to plant the device in multiple unsuspecting places. You can even place the GPS tracker under your vehicle with the help of Family1st Magnetic case and get complete reports based on total miles driven, total miles driven at or above 80 Mph, hard acceleration activity, etc. Parents whose kids are learning to drive are great fans of this feature. You can also create up to 10 geofences and the tracker will alert you when your vehicle enters those areas. The other features of this portable GPS tracker include low battery and speeding alerts, and a feature to receive texts and email notifications.
PROS
Real-time GPS tracker
Compact design
Affordable GPS subscription rates
Lifetime Warranty
14-days battery Life
30-days Money Back guarantee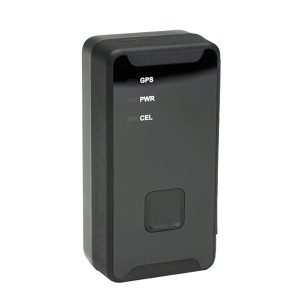 Product Dimensions: 5.4 x 4.1 x 2.7 inches
Weight: 3.17 ounces
If you are looking for a tiny, portable 4G real-time GPS tracker, you can rely on Logistimatics Micro-420. Besides being completely silent, the GPS tracker is also lightweight and can fit easily in your palm. Also, it is easy to use and set up. The product comes with a battery charger, SIM card, USB cable, and an instructions manual that guides you through getting the device started. You simply have to install the tracking app onto your smartphone and place the Micro-420 with the valuable item you want to track. The device also allows access from any web browser.
Logistimatics Micro-420 works on the 4G cellular network that means it does not have to rely on Bluetooth. It switches from AT&T to Verizon towers depending on whichever carrier has a stronger coverage in your area. The GPS tracker will send your location data to you within seconds. Because of this feature, the Micro-420 GPS tracker proves to be a reliable device even in rural and remote areas. This portable GPS tracker lets you define geofences and alerts you when the device exits or enters the created geofence. It offers both satellite and map mode, and lets you view the location history of the device for the last 90 days.
Micro-420 GPS tracker has a longer battery life that will last you for up to 10 days and is rechargeable. The tracking plan will cost you only 14.95 USD /month and includes no cancellation fee. The GPS tracker comes with a SIM card, so you can text and receive app notifications. On the downside, the Micro 420 is not water-resistant. But there are many waterproof magnetic cases available that will shield your GPS tracker during rain or while you swim.
PROS
Tiny 4G real-time GPS tracker
2600mAh lithium-ion rechargeable battery
Real-time tracking with 30-second updates
SOS button on the tracker
Works even in remote areas
Easy to set up

Product Dimensions: 2.91 x 1.61 x 0.63 inches
Weight: 1.28 Ounces
This is one of the best portable GPS trackers in the market that can help you keep a track of your loved ones and your belongings. YEPZON Freedom 3G GPS tracker allows multiple devices and users. That means you can connect numerous trackers to your smartphone once you install the Yepzon app. This proves to be pretty helpful when you have to track multiple objects at once.
Yepzon app ensures data security too as it does not require you to sign in with an account. It however allows you to share the tracking information with other users too which can be a life-saving feature in certain events. You simply have to push a button on the GPS tracker and it will give you the most accurate location whether you are indoor or outdoor. Whether you have kids going out with their friends or a family member on a trip, you can rely on this portable GPS tracker to keep you updated with their location.
The Yepzon GPS tracker comes with an in-built SOS button and three user modes. The locator mode can be used when you are lost on a solo trip or are worried about the whereabouts of your kids. The locator with an alarm button proves to be beneficial in case you a trip have senior citizens on a jog or run. The third mode is just an alarm button. It is a boon for forgetful people like us who put valuables in random places. You can have the tracking plan of this portable GPS tracker at just $4.99 a month, plus there is no extra fee charged when you cancel your plan. So, whether it is the safety of your loved ones or the security of your valuable items, you can trust this portable GPS tracker.
PROS
High accuracy with WIFI based tracker
Works with Android, Windows & iPhones
5-10 days of battery life
Zero subscription fee for 1-month
The app does not collect personal data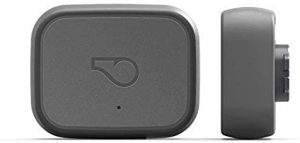 Product Dimensions: 1.8 x 1.4 x 0.6 inches
Weight: 0.96 Ounces
Designed specifically for tracking pets, Whistle 3 turns out to be one of the best portable GPS trackers. The lightweight tracker runs on GPS and thus covers a wider range than Bluetooth-based devices. This new upgrade comes with two new modes, Whistle goes explore and Whistle go.
Whistle 3 allows you to monitor your pet's daily activities and also how your pet measures up for their age, weight, and breed. Since it was designed for pets, durability and waterproof feature is a given. So, you need not worry about your pets that love to jump in a puddle whenever they see one.
The battery life for this product is also exceptional in comparison to other pet tracking devices. Depending on the activity of your pet, the battery can last up to 6-7 days. It can be easily attached to the collar of your pet and it won't even feel the weight. You can also get text, app, or email notifications when your pet leaves home.
PROS
Small and reliable design
Nationwide location tracking
Longer battery life
Affordable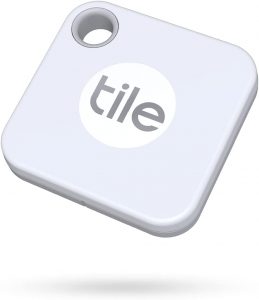 Product Dimensions: 0.24 x 1.38 x 1.38 inches
Weight: 0.16 ounces
This is the only device on our list that does not run on GPS. Mate by Tile uses Bluetooth to locate your valuables. With a range of about 150 feet, Tile Mate helps you find lost items with your phone. If your lost object is within the range, but out of sight, Tile can ring it.
This feature prompted us to include the device on our list of the best portable GPS trackers. It allows you to locate your phone even when it is on DND mode by playing a loud tone. All you have to do is double press the Tile button on your device. If your device is not with you, you can ask the Tile lost-and-found community to update the location of your phone given they are within the range.
Tile Mate comes with a replaceable CR1632 battery which can run for about one year. It is also waterproof and compatible with Android, Windows, and iOS platforms.
PROS
Track phone even when silent
Water-resistant
Data privacy
Frequently Asked Questions
Which is best for personal use – hardwired or portable GPS tracker?
A portable GPS tracker is best for personal use. It can help you to create several tracking demands, such as keeping an eye on your school-going kid, ensuring the elderly, monitoring the driving behavior of your new teenage driver, or ensuring the well-being of your loved ones. 
You can also use the same to track your valuable position such as car, bikes, ATVs, backpacks, purses, or your luggage on vacation.
Do I need technical support to install a portable tracker?
No. You do not need any expertise. You just need to keep the tracker in/on the person/thing you want to track. Portable trackers are wireless and have their own power support. This feature makes it easier to carry the GPS tracker in cars, luggage, school bags, wheelchairs, boats, etc., making the device truly portable. Most portable devices are smaller than their wired counterparts and are easier to conceal. 
Are portable GPS trackers good for long-term tracking?
Yes. If you want to track a person like your spouse, kids, teens, or senior parents, portable trackers can offer you great service for a long time. However, if you are looking to track just your car or any other motor vehicle, we suggest you opt for hardwired or OBD GPS trackers. 
Track what you value with the best device
Now you know the best portable GPS trackers. We have made sure to mention every product that can fit within your budget and also deliver accurate tracking.
There are many benefits of owning a portable GPS tracker. And the safety of your loved ones is the top advantage. The best portable GPS trackers are also better than bulky tracking devices in many ways. A portable GPS can fit within the palm of your hand or your pockets. Its lightweight allows the user to carry it anywhere quite easily. And the compact size gives it access to unsuspecting places.
While 4G trackers are known for faster updates, there are many 3G devices too which outsmart the former ones in many aspects. So go ahead and choose the best portable GPS tracker that perfectly suits your requirements.