GPS trackers are mostly known for providing location data – in real-time as well as historic navigation data. The commercial application of this location data is what makes GPS technology essential in our everyday lives. What was once available to a handful of armed personnel is now used to locate your nearest restaurant and store!
Currently, GPS tracking systems are just as necessary for cars and other vehicles as is insurance. While one helps minimize the risk, the latter covers it. Moreover, having a reliable GPS tracking system for your car can reduce your expense towards insurance premiums. 
Let's discuss this in detail!
How do GPS trackers keep your car safe?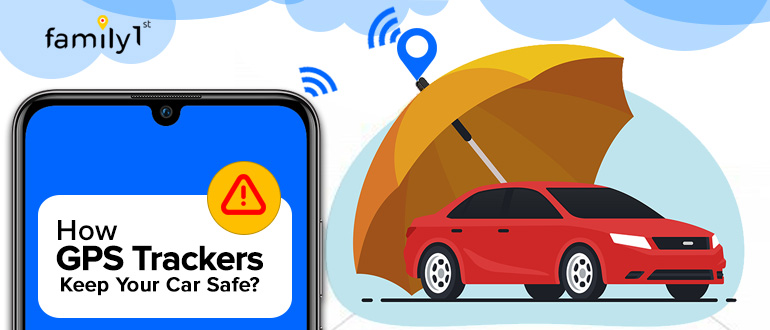 You know the location of your car at all times. This feature helps locate your car in public parking or when someone other than you is driving it.
 In case of theft, you can locate your car and share the information with law enforcement. It speeds up the recovery process and also minimizes potential damages and loss. 
If you are in an emergency, you can share the location of your car with your friends, family, and relevant authorities – to get the help you need.
Some GPS trackers for cars can record unsafe driving practices like speeding, hard braking, rash driving, and more. The information helps in encouraging safer driving habits. 
A comprehensive GPS tracking solution for cars also monitors vehicle diagnostics, facilitating scheduling service and maintenance checks which is great if you own a car rental business. It helps in keeping your vehicle in working condition and ensuring that it does not break down. Regular maintenance also increases the life of your car. 
These days, GPS tracking solution providers also give dashboard cameras that record while the car is in motion. In case of an accident, the footage from the camera can be used to determine responsibility.
Discounted car insurance premiums with GPS trackers 
Before agreeing to cover your car against risks like theft and accidents, car insurance providers check several factors like-
Your driving habits and history
Your age and health
The area you live and generally commute to 
The purpose of using your car – personal or commercial
Make and model of your car
Safety rating
All the above factors and more decide the amount of coverage and premium you need to pay. A reliable GPS tracker increases the safety rating of your car exponentially, and that is why several insurers offer great deals and discounts on GPS tracker-equipped car insurance premiums.
Reasons why car insurance companies give discounts for GPS trackers
We have already discussed the features of a GPS tracker that keep your car safe. And because of the added safety and risk aversion that GPS trackers provide, some insurance companies offer up to 15% discounts.
Car insurance companies cover losses arising due to theft. However, with a GPS tracker, a stolen car can be recovered quickly, thereby reducing the chances of large claim payouts.
An all-inclusive GPS tracker like the Family 1 st portable GPS tracker comes with features that help monitor driving. So anyone driving a car with such a GPS tracking system is bound to drive safe, thereby reducing the chances of accidents.
Insurance companies also consider the upkeep of the vehicle before offering to cover it against risks. GPS tracking solutions can collect information on mileage and vehicle diagnostics allowing car owners to schedule regular service and maintenance for an oil change, tire rotations, etc. It elongates the vehicle's life and makes it safer, which means lesser claims for the insurance company to settle.  
Best insurance companies for car owners with GPS trackers
The car insurance business is big and has several players. So, being the best car GPS tracker provider in the market, we at Family1st conducted extensive research to find the most suitable insurer for you.
For our research into discounts offered by auto insurance companies for tracking devices, we interacted with these 20 top auto insurers: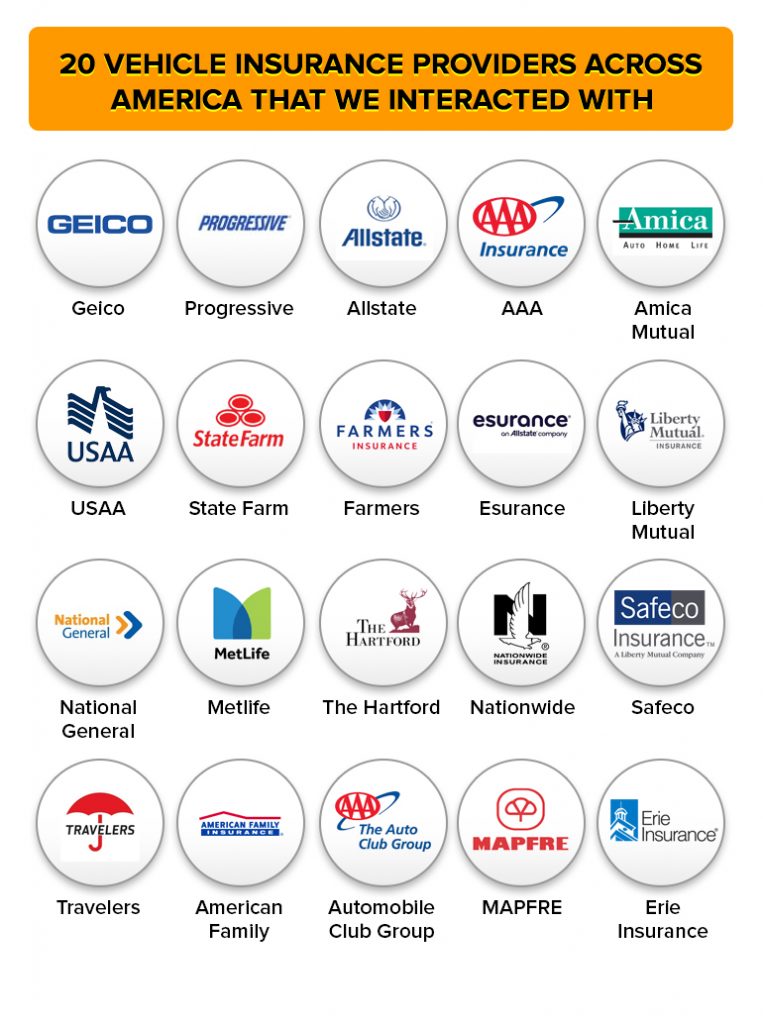 We also choose these two cars of different makes and models to get a better picture. We wanted to see the impact of different cars with GPS trackers on auto insurance premiums.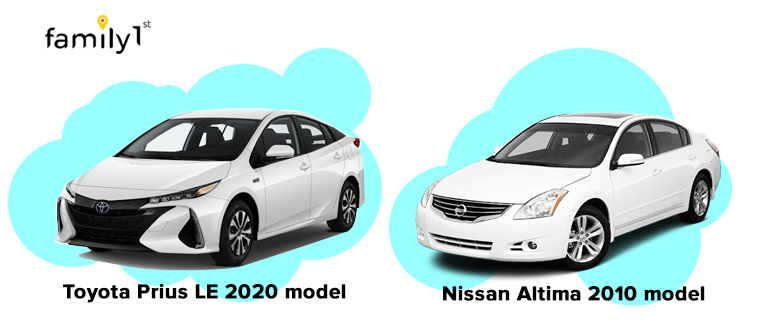 Based on the factors that auto insurers look at before offering a cover, and the presence of a reliable GPS tracker, here is what we found: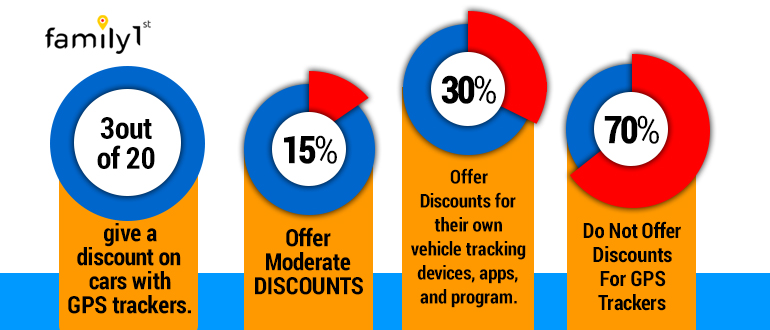 Only 3 out of the above 20 give a discount on cars with GPS trackers.
About 15% of auto insurance companies like Progressive, National General, and Esurance give moderate discounts on insurance premiums based on the GPS tracker's recovery ability. 
30% of auto insurance companies extend discounts only for their own vehicle tracking devices, apps, and programs.
70% of car insurers do not offer any discount for GPS trackers. 
Here is a list of auto insurance companies that recognize the importance of GPS trackers in enhancing the safety of your car, and thus, also offer good deals on insurance premiums: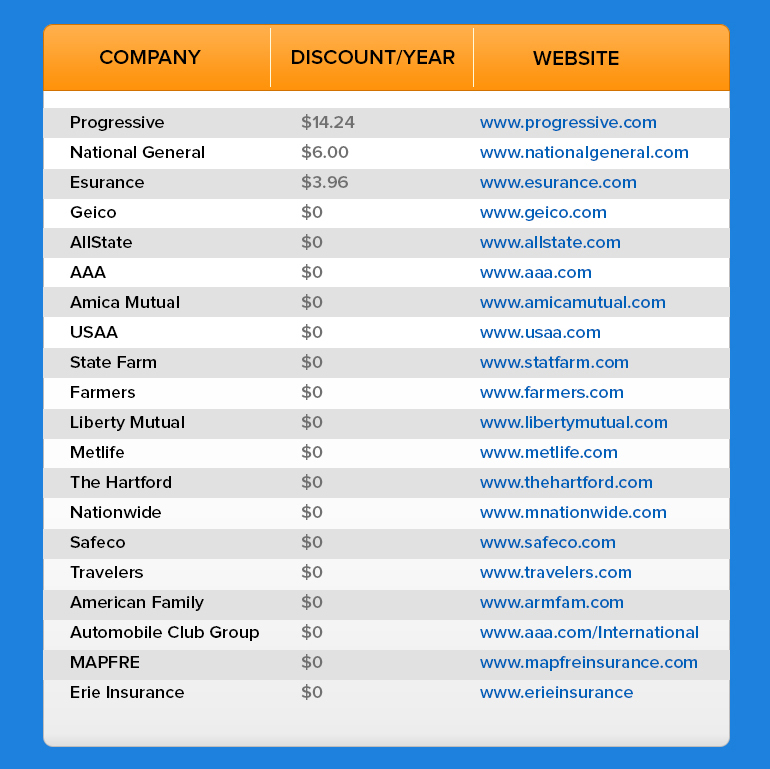 So here is what you need to know before choosing your insurer to save more
Progressive offers a GPS tracking discount at a much better rate than others in the industry. The second-best choices are National General and Esurance. 
Some insurers provide a bundled service of auto insurance and a GPS tracking system.
Insurance can cover monetary loss, but GPS tracking systems can keep your loved ones and assets safe. So even if you choose an auto insurer that doesn't consider the risk-minimizing aspects of a GPS tracker, get a strong GPS tracking device like the Family1st portable tracker for added safety. 
In conclusion
In the long run, GPS trackers save money on maintenance, fuel, and insurance expenses. No matter which insurance company you choose, a GPS tracker will always prove to be a good investment. It acts like a security blanket for your loved ones and your car against theft, accident, and more. By transmitting real-time location, you can get help in emergencies. You can also ensure that your car is not used for illegal or unauthorized work. With the driver-behavior report, you can train a new driver in safe driving practices. Most importantly, GPS trackers for cars give you much-needed peace of mind and stress-free life.