Recreational vehicles (RV) are becoming a popular mode of transport nowadays. This economical family-unit vehicle is a favorite for those who want to travel while enjoying the convenience of a home. When you're in an RV, you have complete control of your schedule, as you can go where you want and stop along the way as many times as possible. 
A successful and comfortable RV trip requires effective planning to ensure safety on the road and prepare for uncertain conditions while traveling and living in such a small space. This vehicle is a valuable asset for you, and you want to protect it from adverse weather conditions, damages, or repairs. 
A sense of caution and alertness would help you safely explore remote areas with your RV and adventure into the unknown. RV travel can be a fun way to explore when backed up by systematic preparation and planning to ensure safety. 
This article will provide you with ten crucial tips you must follow during planning, traveling, and staying in an RV to ensure your safety and security. The helpful RV safety tips guide you to keep your RV, and the lives of your family and travel companions secure while enjoying the trip. 
One of the essential tools for ensuring the safety of your RV life is a GPS tracker which continuously keeps track of your location and movements, guides you through optimizing routes, and alerts you about road and weather conditions and potential risks. It is an efficient device that provides you with safety support throughout the driving, adventuring, and camping phase of your RV life.
What are the safety tips for RV life?
There are various factors involved in making an RV life safe and secure. The expert drivers and travelers have provided some crucial safety tips that can help you avoid potential risks and mishaps. The ten most significant safety tips are discussed as follows:
Plan ahead
It is of utmost importance to make a thorough and systematic plan before starting your RV journey and living at places of your choice. It involves many parameters, and some of the most crucial aspects are as follows:
Research the area:

A fair idea about where you plan to visit can make a huge difference, especially in an emergency. Knowledge about the available services, emergency assistance facilities, and relevant traffic rules and regulations of that region helps you travel and stay in that area more conveniently.

Pack the essentials:

Make a list of items you must carry while embarking on a journey with your RV so that you do not forget something that helps you safely move in your RV. The items must include food, water, a fire extinguisher, a first aid box, a smoke alarm, a toolbox, gorilla tape, tow cables, a tire pressure monitoring device, a roadside safety kit, etc.

Have an emergency plan:

Plan your staying and camping flexibly so that there is always an escape route or alternate track for in and out. You should select accessories that you can dismantle and collate rapidly in emergencies.

 
Conduct a Pre-Drive Safety Check
A careful pre-drive safety check can help avoid many unexpected situations and accidents. Inspection of your RV before embarking on a trip based on a step-by-step checklist can help you ensure that all items are properly secured and in good working condition as required. A pre-trip checklist should include the following:
Check the tow bar and safety cables

Check for any signs of fluid leaks

Check oil, transmission, and coolant levels

Check air brakes, parking brakes, and tow brakes

Check the exhaust lines for any blockages

Inspect tire condition and air pressure

Check that safety detectors are working

 Check that bay doors are closed and latched
Avoid unnecessary failures
It's a big deal if your tire flattens during travel due to improper inflation, worn-out tires, or overloaded vehicles. Cover the tires (including the spare) when your RV is idle to prevent heat, dust, and water damage. 
Maintain the level of your RV each time you plan to keep it in one place for a couple of days or longer. It will help avoid unnecessary stress on tires leading to excessive wear. Check the inflation pressure of the RV tires at least once a month and before starting a trip to prevent blowouts due to inadequate or excess inflation.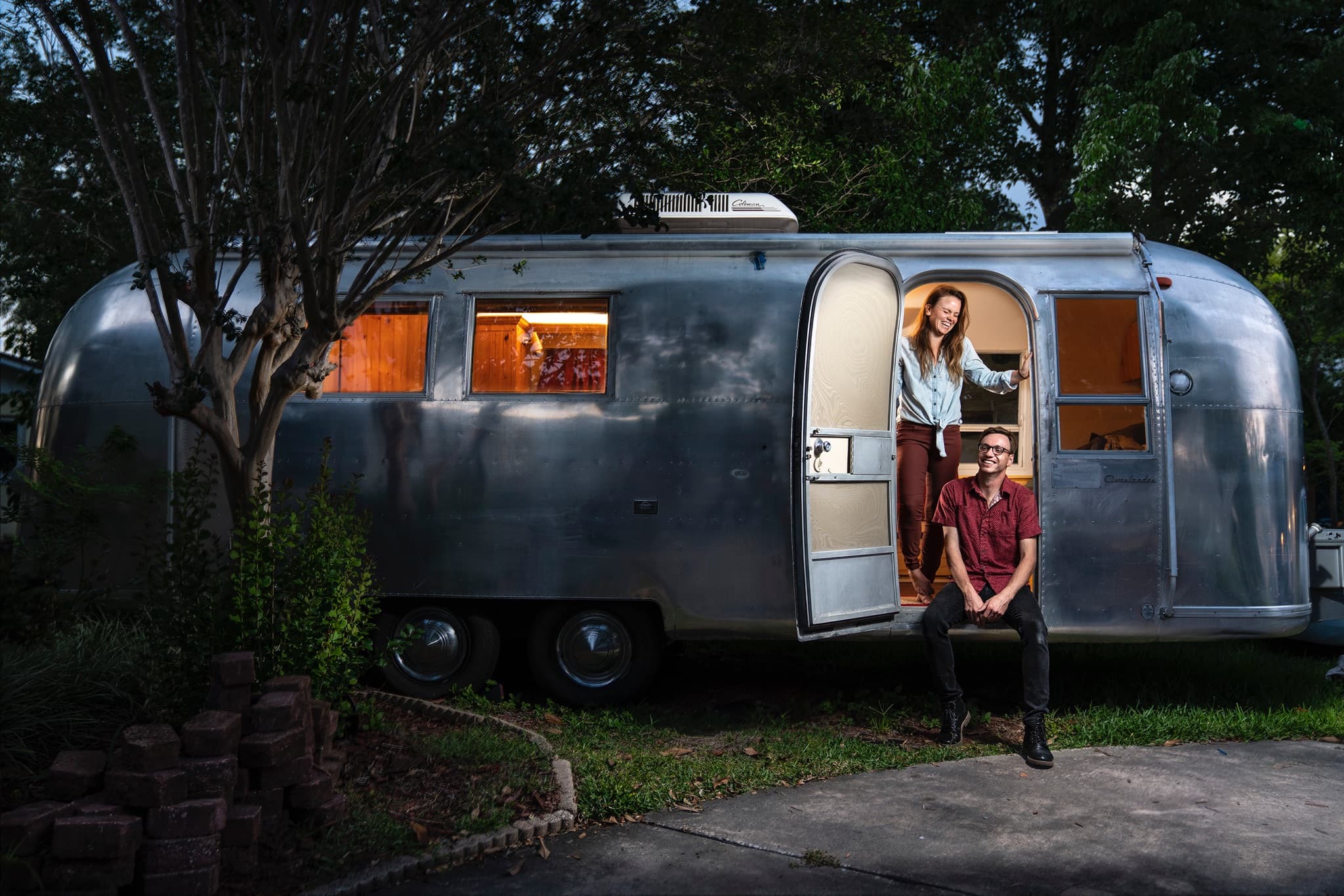 It is advisable to do this when tires are cold, as heat generated during driving temporarily increases air pressure. It is better to replace any tires older than five years, even if there is no apparent sign of wear or damage. 
The use pattern of an RV is quite different as it travels significant distances and remains idle for long periods. Servicing your vehicle according to the schedule recom­mended by the manufacturer will save you in the long run.
Keep an eye on the weather
RV drivers and travelers should pay more attention to weather conditions as a crucial factor in RV safety. Always update yourself about the weather forecast for your starting area, destination, and travel routes. 
There are so many places where the weather can create havoc on your journey. It not only dampens your camping experience but extends your travel time by getting stuck midway. RV is a heavy vehicle and difficult to haul on roads damaged due to rain or storms. 
You should look around to see if the site you have chosen for camping is on a higher level that allows good drainage in case of heavy downpour and avoid the chances of flooding pools and lakes. It is advisable to follow the weather forecast to ensure you would not face any severe storms or rainfall. You can get real-time updates on the weather through your digital device. 
Maintain safe driving practices
A fully loaded RV has slower acceleration and takes more time to come to a stop than other personal and passenger vehicles. You must be extremely careful while applying brakes by increasing your following distance and judging if you have enough clearance while moving with the traffic. You need to take care of the RV's extra weight, height, and length when turning, cornering, or parking. Always use turn signals, preferably about 50 feet before you turn. 
It's a common cause of accidents when an impatient driver tries to pass an RV that has just begun to make a slow turn. There has to be clear visibility of traffic conditions on the road ahead while driving the RV. You may install dash cams to help you provide a wide-angle view of your surroundings and guide you to drive safely. 
You can install GPS tracking devices that will alert you in case of deviations and guide you to follow the predefined route, thus ensuring safety. It is necessary to remain cautious about the extra height of an RV, to avoid hitting bridges and overhangs while driving. RVs are taller, and their center of gravity is higher, so it is easier to roll over. You should be very cautious about the speed limit to avoid the chances of accidents with your RV.  
Have a basic understanding of troubleshooting
You should gather a fair idea about the vehicle's operating and maintenance procedures that would help you fix up any problem or minor repairs. You need to carry some essential tools so that you may not have to pack up and drive to a dealer for service. 
If you can satisfactorily troubleshoot and fix something yourself, you can save time and money and enjoy the RV lifestyle. There may be a problem that needs immediate attention, so you can take the help of the tools to resolve the issue for the time being before finding a service station. Your digital devices connected with GPS trackers can provide you with the location of the nearest road assistance and servicing facilities. 
Improve your knowledge of the RV you are operating through research and update yourself. You need to choose the right tools and gain confidence that you can do it by yourself. Keep digital copies of manuals for quick reference when something goes wrong. Your digital device allows you to take the help of online platforms that can provide the necessary support, and you can also consult a professional. 
Make sure you can get help at the earliest
You may be enjoying the freedom and thrill of an adventurous camping trip in your RV, but you should also understand that if something happens, you must be able to get the necessary assistance at the earliest. You may get a usable signal in some pretty remote areas but relying on a cell signal is not a foolproof choice. 
You need to call up or send alerts to the concerned to inform them about your location and help them reach you within the shortest time. It's always a good idea to let your family and friends know where you're heading, the route you're taking, and the estimated arrival time. You must carry a GPS tracker that tracks your location and movements and allows you to send signals to others. 
GPS trackers work on satellite communication technology most effectively when no cell service network exists. These trackers help you keep in touch with your family when you travel to places with poor or no cell service. GPS trackers are the most reliable tools to keep track of location and movements while guiding you through the appropriate routes to reach your destination safely. 
Have a Way to Protect Yourself
Whether camping in the wilderness or traveling through uncertain conditions, you must think of some means to protect yourself. It can mean protection from another person, potential hazards, or unlawful driving violations. 
If you are not sure of the surroundings, take steps to make yourself comfortable, ask locals which areas are safe for travelers to haul and visit, and try the best use of modern gadgets to identify appropriate routes and avoid potential risks. 
The best way is to keep your eyes and ears open and stay engaged with your surroundings. You should take proactive steps to protect the RV from theft and vandalism, especially in a remote location, campground, or in parking lot. 
GPS trackers can help you in this regard by generating alerts if any unusual movement of the RV happens. Always be aware of your surroundings whether you're driving, parked at a campground, fueling at a gas station, or stopping somewhere along the road. You need to be adaptable to your circumstances and always be proactive in ensuring your safety.  
RV Insurance and road service
Please ensure that your insurance and road service covers every aspect of your RV trip. It is always a good idea to insure your tip and assets, but you need to understand what is covered. Your insurance agent guides you to complete your insurance paperwork before you leave. 
There are only a few road services that specialize in RVs. You need to know whether your route is RV-friendly, select the areas where you can safely drive and park your RV, and don't want to face any non-compliance or regulatory issues. 
You need to check whether your vehicle insurance covers the RV or if you need separate RV insurance or road service coverage. 
It's good to have the policy details handy when you need them. You must also check how much load you can carry and stay under the legal weight limits for your specific RV. You may require weighing your RV at commercial truck stops or DOT checkpoints to get a certificate of approval for weight limits.  
Have a backup plan and review it
You should be ready for unforeseen situations like sudden road blockages, closures, repairs, or even a natural disaster in your area. 
You must be sure how to deal with the situation if you get separated from your group members and must communicate with others to share mutual locations and conditions. 
Make a backup plan through various scenarios to tackle the situation if something unusual happens. 
You may plan to spend a few weeks in campgrounds, but due to unfavorable weather or the campground itself, you may leave sooner than planned. 
If you're a full-time RV user, you may not plan to have a home base to stay in when you stop traveling. 
Certain conditions may force you to take shelter somewhere, so you must keep a list of friends and acquaintances you can contact in case you need a place to park temporarily.
Conclusion
An RV allows you to enjoy a new adventure or a family trip while experiencing the comfort and conveniences of your home. It can be overwhelming to travel and camp across the country by land while bringing the comforts of your home. You can park your RV on a campsite and enjoy a unique and comfortable experience with your family and friends. RVs are mimic homes that can move as per requirement. 
Traveling full-time with an RV can be exciting, but you should take the advice and guidance of those that have done it before and prepare yourself for the journey. RVs are extremely heavy and occupy larger space, making them challenging to drive and park. 
Proper preparation, practice, and resource support can help you improve safety. You need to plan correctly, maintain the checklists, and become confident to handle challenges by following some practical tips regarding safety and security. 
The primary requirement for ensuring safety is to allow others to keep track of your locations and movements with the help of GPS-based tracking technology. The Family1st GPS tools help you optimize your routes, identify potential hazards, locate roadside assistance, and send signals to get the necessary support in emergencies. 
The Family1st GPS trackers allow you to set up a virtual boundary to identify a specific zone so that you receive alerts whenever you enter or leave the zone. This feature improves the safety of the RV while driving and when parked in a campsite or parking bay. Advanced technological tools and systems can provide reliable support in ensuring an efficient, safe, and convenient travel trip with your recreational vehicle.