Nowadays, tracking applications have become more common than ever before. We use this technology to track almost everything, from food delivery to our loved ones' taxi rides. While these are some examples of commercial tracking, you can also use GPS tracking applications to track your loved ones and ensure their safety in real-time.
You don't have to invest in hardware to monitor the location of your loved ones. If you have a mobile phone, i.e., android or iPhone, you are good to go. Family tracking apps are the best way to track your family. It uses the GPS technology built into your smartphone and delivers reliable real-time location information.
How Do Family Tracking Apps Work?
Now the question is, how does a family tracking app work? Well, it is a simple process.
The GPS tracking app works by using the GPS technology of your phone to deliver precise tracking updates.
The GPS received by the mobile application can pick up signals from multiple satellites orbiting the Earth. It then calculates the distance between the device and the satellite by determining the time the wave takes to reach the receiver from the satellite.
The GPS receiver then uses this information to calculate the device's exact location on the earth's surface. And then use the same data to provide real-time updates to the user.
Why Do You Need Family Tracking Apps?
GPS tracking apps are essential tools that can help you to track everything and everyone you care for. It can include your child, elderly parents, spouse, vehicles, etc. You can not only ensure their safety but also effectively address emergencies. 
Here are some reasons- why you might consider using a mobile tracking application for yourself and your family members.
Track Your Loved Ones
One of the most important reasons you should try out a family tracking application is to track your loved ones. It provides you with a sense of security as you can know the whereabouts of your loved ones 24/7. 
So even when you are not with them, you will stay connected to them. It is also important to note that they don't have to answer the phone now and then. They can continue doing what they are doing, and you can enjoy your peace of mind knowing that your child or spouse is where they should be.
However, there is a potential issue with this. Some mobile GPS applications do not deliver accurate positioning data. And you are left wondering what is happening. Suppose you are tracking your child by installing a mobile application on their smartphone. Now, out of the blue, it starts displaying the wrong information. You will be left panicking about where your child went. But, in reality, they are in school, safe and sound. 
Using a reliable mobile tracking application that provides accurate tracking information can help prevent such confusion.
Top 9 Best Family Tracking Apps for iPhone and Android (2023)
Note: 
You should know that a GPS tracking app won't work without a stable internet connection and a GPS receiver. 
Comprehensive List Of Family Tracking Apps
Family1st Mobile Tracking Application- Best Reliable Tracking Application 
FamiSafe- Best Child Tracking Application
Google Find My Device- Best To Locate Lost Phone 
Geozilla Family Tracking Application- Best To Respond Efficiently In Emergency 
Life360- Best For Elderly 
MyCarTracks- Best To Track Your New Teen Driver 
MSpy Mobile Tracking Application- Best For Spouse Tracking 
Glympse- Best Teenager Tracking Application
GPS Phone Tracker- Best Multipurpose Tracking Application 
#1
Our Recommendation- Family1st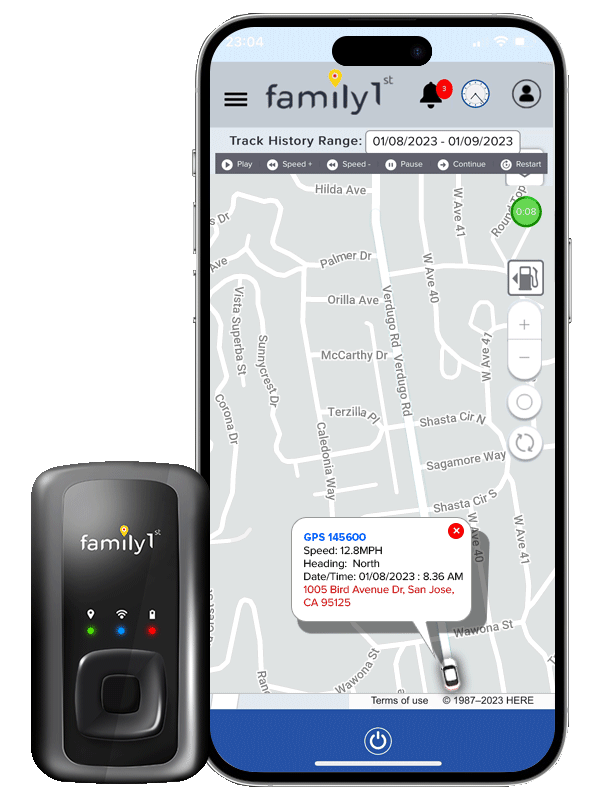 Well, there are various GPS-tracking mobile applications in the market, but Family1st is worth mentioning. 
Family1st GPS tracking mobile application is a unique platform with multiple features. It is an intuitive app available for both iPhone and Android users. The app seamlessly integrates with the Family1st Portable GPS tracker. 
It is one of the most accurate and reliable tracking solutions. It comes with a GPS tracker to enable real-time location tracking. You can use it to track almost anything and everything you care about. 
The app is easy to set up and works smoothly on every interface. It is also user-friendly, so you can use it to access various features without any difficulty. You can access the location history, create geofences, view driver safety reports, etc. 
It also sends you real-time notifications for every single activity. It will ensure you do not miss important events and know your loved one's whereabouts.
But who wants to get disturbed every minute by unimportant events? You can customize the notifications according to your needs, so you only get alerts for the events.
This solution is one of the most affordable in the market, so you will not have to strain your budget. You can own the device by paying $29.95+ monthly subscription fees of $21.95 and enjoy the free mobile application.
Child's Safety 
One of the biggest concerns for every parent is their child's safety. It is common for parents to worry about their children when they are out of their sight, whether they are at school or on the playground. 
It is why parents offer their children a mobile phone at a young age to communicate with them whenever they want. However, if you have given your child a mobile phone, they will probably not answer the phone when they are in school or playing with their friends.
You can use family tracking applications to track your child's activities and ensure their safety without disturbing them now and then. Also, many GPS trackers like FamiSafe allow you to enable two-way communication with your child. It can also help you remotely listen to a child's surroundings and ensure that no one is bullying or misbehaving with them in your absence.
#2
Our Recommendation: FamiSafe
FamiSafe is one of the most powerful family tracking applications for Android and iPhone users to monitor their child's activity (both online and offline). With geofences, you can mark out possible places your child can go, and the app will send you notifications whenever they enter or exit a location. 
If your child goes out of the house or goes to a place they shouldn't, you will receive a notification with real-time location updates.
FamiSafe also allows you to manage your child's online presence. You can monitor their app usage, block inappropriate content, set usage limits, and access their search history to ensure they are not engaged in dangerous activities. 
You can even identify signs of cyberbullying, adult content, or online predators and deal with them.
FamiSafe offers three different plans to choose from:
Monthly Plan: Costs $9.99 per month.

Annual Plan: Costs $59.99 per year.

Three-day free trial: You can enjoy a three-day free trial before committing to any subscription plans.
Track Your Lost Phone
Have you ever lost your smartphone? Well, the panic it creates. Your privacy is at stake, right? Your photos, videos, files, and everything is at risk. Also, your precious investment is all gone in one day. If you don't want this to happen, install a tracking application on your phone. It will help you track your mobile phone in case of theft or misplaced device.
You can also share the real-time location with the local authorities to help them recover your phone fast.
Another significant advantage of having a family tracking application on your phone is that it allows you to remotely lock the device and wipe out all the data before someone else illegally accesses it and uses it against you. It is a helpful feature if you have stored sensitive information such as passwords, ATM pins, etc.
Having a mobile tracking application on your phone also helps you file insurance claims faster. And lastly, it can prevent your phone from being stolen using features like remote alarms and notifications.
#3
Our Recommendation- Google Find My Device 
Google Find My Device is a free mobile tracking application for Android devices that can help you track and locate your lost phone with various features and tools. It is available for free on the Google Play Store.
Other features of this mobile application include the ability to remotely lock and wipe data from your lost or stolen phone. This feature must be enabled before the phone is lost or stolen. Additionally, it can help you find your misplaced phone by playing a loud sound, even if it is on silent mode, but only if the device is still powered on.
Furthermore, it can help you locate your smartwatch or tablet if it is connected to the same Google account.
Important Note: To use these features, you will need a stable internet connection, and you must sign in from the same Google account on the device to locate it if it gets lost or stolen.
Emergency
Family tracking applications can be helpful in emergencies. During an emergency, time is crucial. Timely help can save a person's life. Mobile tracking applications can help you quickly share your location with family members and emergency responders to get assistance as fast as possible.
It also allows you to send real-time location information to grab your family members' attention when you need them. Some even come with a built-in communication feature that enables you to send messages or make calls directly from the app.
If you are not able to call for help, the mobile application will detect any unusual vibrations or movements. And will send alerts to your designated emergency contacts.
#4
Our Recommendation- Geozilla 
If you are looking for a reliable mobile tracking application to help you and your loved ones in an emergency, then Geozilla is the perfect solution.
The Geozilla tracking application helps you to track your family members, friends, kids, and vehicles in real time. You can download the application on your mobile phone to check their location remotely on the map.
The mobile application is available on the App Store and Play Store for iPhone and Android users. It is simple to use and easy to navigate. You can easily access the various features available on the mobile application and from the web portal.
It also allows you to create virtual boundaries over the map to receive alerts whenever your loved ones enter or exit the same. 
The geofencing feature allows you to set up virtual boundaries around locations, for example, your child's school, spouse's workplace, or home. So that you can receive notifications when they arrive or leave, providing peace of mind and added safety.
It also allows you to monitor the driving behavior of your loved ones so you can point out any reckless driving activity in your family. It helps you correct these behaviors on time before they turn into accidents.
The best part of this device is that it allows you to connect all family members on a single portal, so you can monitor everyone on a single platform and ensure their safety. It also has an SOS button that allows your loved ones to send an immediate notification, along with the current location information in emergencies. If they, unfortunately, get into an accident and need attention, they can always send their location to you.
The only thing you need to remember about this solution is that it comes with a GPS tracker. Also, the subscription plans start from $19.99 per month. But before committing to anything, you can take a seven-day free trial and determine if the solution is good for you.
Elderly
Family tracking applications can help you to take care of your elderly parents, especially if they are suffering from any disease and require additional care.
It provides a sense of security that your parents are safe at home. Even if they live in a different city, you can still connect with them remotely and get informed about every single event.
Many elderly suffer from severe injuries by falling at home and not receiving instant medical assistance. But if you have a mobile tracking application on your Android or iPhone, you can enjoy features like fall detection and emergency alerts.
It will help you check on your parents by yourself or send emergency responders to their homes for medical assistance. Also, if your parents live alone, they can connect with you if they need your help.
It will also help you provide better care to your family members as you can set reminders for their medical appointments, medications, etc. In this way, you will not have to remember everything & you will receive a notification for all those. This way, you will never miss doctor appointments or medications.
In this way, you will not have to compromise on the independence of your elderly loved ones to keep them safe. They can enjoy their retirement life while you monitor their safety. You will also enjoy peace of mind, knowing that your loved ones are safe and that you can locate them using the mobile application. If they need your help, they can always reach out to you. 
Before selecting a mobile application, ensure it is appropriate for your parents. It should be customizable, allowing you to adjust the font size and interface for their convenience.
#5
Our Recommendation: Life360
Life360 is a powerful tracking application for Android and iPhone users that helps you stay connected with your family remotely.  
The best part of the device is that it connects you with every family member. You can download the mobile application on their smartphones and connect with yours to monitor their activity.
You can also create multiple geofences over the map to get notified whenever they enter or exit the location. In this way, you can always ensure that your elderly parents visit their doctors on time. You will also receive notifications when they are at a shopping center, care center, or park.
If your parents like to drive, you won't have to worry about them. Life360 has various driving safety features, such as crash detection and driver reports. It can detect sudden crashes and send emergency notifications to the other members of the circle. You can also download driver reports to access important information like how often they exceed permitted speed limits, harsh braking, and rapid acceleration.
The app also has a panic button option that they can press to get immediate assistance. It will send you real-time notifications & you can check on them to confirm their well-being.
The Life360 mobile tracking application offers both a free and a paid version.
Free Plan:
The free version of the app provides basic features such as real-time location tracking, private groups, location history, family driving report, data breach alerts, an SOS button, and many more.
Premium Plan:
The premium plan costs $4.99/month or $49.99/year. It includes various advanced features like:
Location Sharing

Unlimited Place Alerts

Location ETA

Individual Driver Reports

Family Driving Summary

Help Alert

30 days of Location History

Battery Monitoring

Priority Customer Support.
Track Your New Teen Driver
Has your little child grown up and is ready to drive their first car? Well, you must be proud of them, but you are scared too, right? You can use a family tracking application to ensure their safety by keeping track of their whereabouts.
The application also helps you monitor your teenager's driving skills and ensure they are not engaging in reckless driving behavior, such as speeding or distracted driving. It generates reports on their driving skills and provides data on how often they drove past the speeding limit, harsh acceleration, sudden braking, etc. You can use these statistics to help your child overcome their problems and become a better and more responsible driver.
The mobile application will also help teenage drivers to boost their confidence, as they can navigate the roads without getting lost. They will also be able to get instant assistance in an emergency.
#6
Our Recommendation- MyCarTracks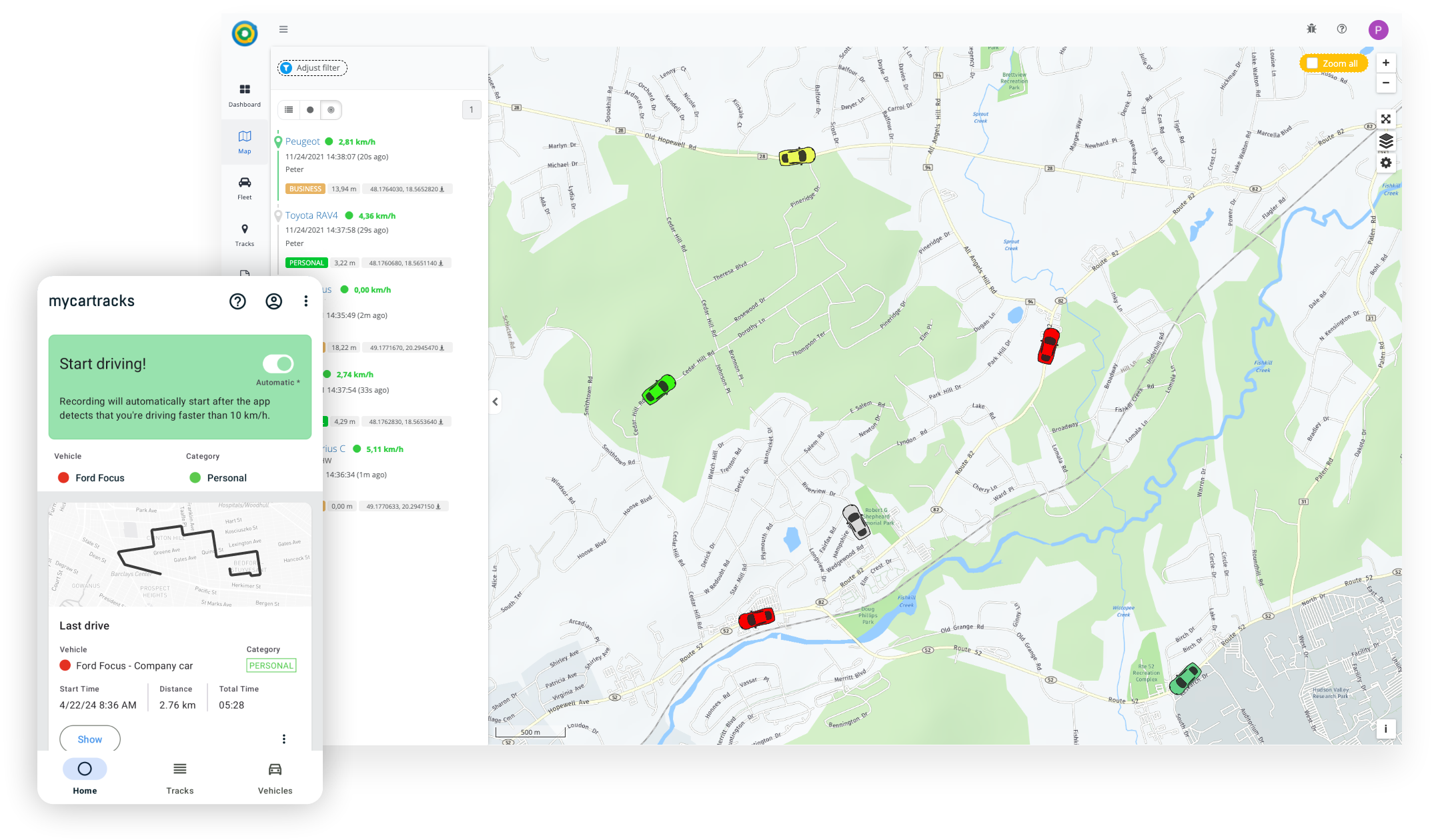 MyCarTracks is a mobile tracking application that allows you to track your new teenage driver. It helps you monitor the real-time movements of your child. In this way, you can watch them and identify and restrict any reckless driving behavior on time.
You can get detailed reports on their driving activities, such as speed, fuel consumption, harsh acceleration, sudden braking, etc.
You can view their location and set up geofences to receive alerts whenever the vehicle crosses the designated areas. This way, you can always keep an eye on your child when they reach college, home, or any familiar place. You can also see if they are attending their classes or bunking them to enjoy themselves with their friends.
MyCarTracks mobile application comes with a GPS tracker. The pricing starts from $9.99 per month, with which you can enjoy basic features like real-time tracking, driver behavior monitoring, and customizable reports.
Cheating Spouse
Are you suspicious of your spouse? Are they acting differently nowadays? Well, it may all be in your mind. 
You can use a family tracking application to track your partner and ensure they are not cheating.
If they have cheated on you in the past, they may do so again. So you can use the mobile tracking application to check on them and ensure they are not repeating the same mistake. If they have learned from their mistakes and are loyal now, you can use the statistics to rebuild your trust and prove their loyalty towards you. 
You can also use their location data to collect evidence against them if they are cheating. It will help you win the legal battle against them.
#7
Our Recommendation- mSpy Mobile Tracking Application
mSpy allows you to track your spouse in real time and confirm your doubts. It offers a range of features that would help you collect evidence against your spouse for infidelity. Some of the features are listed below.
It uses the GPS and Wi-Fi capabilities of the device to deliver accurate real-time location information. So you can know their whereabouts 24/7 and identify if they are lying to you. You can also access the location history to know where they were.
You can also set up geofences over the map and mark out all important locations where they go to get notified when they leave.
It also allows you to listen to their phone calls. You can monitor their incoming and outgoing calls and check their call logs.
You can also view all incoming and outgoing text messages, including deleted ones.
If your partner uses social media platforms all the time, you can also monitor their activity over that using this mobile application.
To use this mobile application, you have to create an account on the mSpy portal. Then, you will have to choose a suitable plan for yourself. 

Afterward, you can log in to the control panel and view your spouse's activities.
mSpy is compatible with Android and iPhones, and you can download the app on three devices with a single subscription. So, you can also use it to track your child.
mSpy offers various subscription plans for you to choose from. 
The basic plan starts at $18.89 per month, and with this plan, you can access all the features such as call and text message monitoring, GPS tracker, access to contacts, etc.
It also has a premium plan that starts at $41.99 per month. It includes all the features of the basic plan, plus some advanced features like social media monitoring, app blocking, keylogger, etc.
A NOTE: While it's understandable to feel suspicious of a partner's behavior, using a mobile tracking app to spy on them without their consent is not ethical or legal. Violating someone's privacy can have serious consequences, such as damaging the relationship irreparably or facing legal action. Communication and honest dialogue are recommended to resolve issues, and seeking counseling or legal advice may be necessary if trust has already been broken.
Other Recommendations:
#8
Glympse
Glympse is a family tracking application that allows you to monitor the real-time location of your loved ones. It uses GPS technology to track precise location information.
It also allows you to share your location via a link through text messages, emails, or any social media platform. The best part is that it respects your privacy. You can set a time limit for how long you want to share the location information. So you can use this to convince your teenager to allow you to track them remotely when they are going on any solo adventure activity or hiking.
#9
GPS Phone Tracker
GPS phone tracker is a mobile application that allows you to track the real-time location of the mobile device. It is available for both IOS and Android users.
This mobile application tracks the real-time location of its users using the GPS and Wi-Fi capabilities of the device. In addition to providing detailed location updates, it enables you to access the location history. Furthermore, you can set up a virtual boundary over the map, and whenever the device crosses that boundary, you will receive notifications.
You can use this app for multiple tracking purposes, such as tracking your kid, spouse, elderly parents, or new teen drivers. It also has several features that allow you to access the device remotely. 
You can view the call and text message history.
Also, if they lose the device or someone stole it, you can remotely lock or wipe the data before someone tries to use it illegally.
Final Words
These mobile applications can allow you to track your loved ones remotely, but you should remember one thing, you should respect their privacy too. While it is okay to worry about their safety, you should not try to invade their privacy and restrict their freedom.
Before using any of these mobile tracking applications, try to communicate your troubles to your family and explain why they should voluntarily download the mobile application and allow you to access their location.
FAQS
What are some of the top mobile tracking applications available?
Some of the top mobile tracking applications available include:
Family1st

FamiSafe

Find My Device

Geozilla

Life360

MyCarTracks

mSpy

Glympse

GPS Phone Tracker
How can I choose the best mobile tracking application for my needs?
Before choosing any mobile tracking application you have to consider various factors such as price compatibility, ease of use, features, etc. 
You should also check out the customer reviews from the online store to get more clarity about the same.
Can mobile GPS tracking applications work without an internet connection?
Most mobile GPS tracking applications require a stable internet connection to work. However, some can work without an Internet connection and store data locally to upload in the cloud when the Internet connection is available. 
How accurate are mobile GPS tracking applications?
The accuracy of a mobile GPS tracking application depends on the quality of the GPS receiver of your device, the strength of the GPS signal, and your location. However, most tracking applications provide accurate location tracking up to a few meters. 
How do mobile GPS tracking applications work?
The mobile GPS tracking application uses the GPS technology of your phone to deliver real-time location information.