The safety of loved ones and assets is one of the major concerns for everyone in the present time. It's an irrefutable fact that a new set of technologies can now help us keep tabs on the security and well-being of our family even if we are busy or not around. A GPS tracker is one of the advanced tools that help in tracking cars, assets, pets, and people.
Unfortunately, most GPS trackers require monthly subscription fees. It can be too costly for some people to pay the fees. It's prudent for them to buy the best GPS trackers with no monthly fee. The best vehicle tracking device with no monthly fee system allows consumers to use GPS services without extra charges. These systems do not have contracts or monthly service charges with almost all the benefits of the GPS tracker.
If you're just looking for a direct recommendation, here we are with the best one based on pricing, features and value for money. 
Family1st GPS Tracker- Best No Monthly Fee GPS Tracker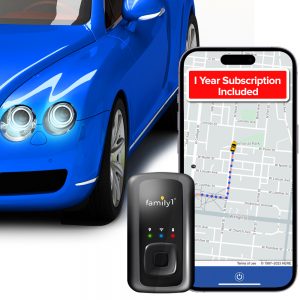 Family1st GPS Tracker is one of the #1 Rated GPS Tracking Device with no monthly fee. We at Family1st ensure protecting your loved ones anywhere and anywhere. With our powerful 2400 mAh Li-Polymer battery track your loved one or assets anytime. We have an inbuilt and rechargeable battery that lasts up to 2 weeks and 6 months on sleep mode.
All you've got to do is order your device and install the app to track and receive instant notifications and alerts to know if they're safe! You can also view and download the daily travel report.
Product Highlights
Real-time GPS tracking & Reports
Single charge holds up-to 14-days battery Life
30-days money-back guarantee
Easy Pay Options Available
No Contract, No cost activation, and deactivation
Lifetime Warranty
Coverage in the USA, Mexico, and Canada
Benefits of having the GPS trackers with no monthly fee
A GPS tracker commonly works as an anti-theft measure. It also helps in keeping tabs on elders of the family and safeguarding teenagers. Regardless of your reason for using one, a GPS tracker can always be helpful. You have to simply place it inside a vehicle, or attach it somewhere inconspicuous, and you'll be able to track your vehicle's location via a website or mobile app. 
Having a "no monthly fee GPS tracker" gives you many benefits equivalent to a tracker with a monthly subscription. However, there are also some ways they can be more advantageous. Following are some merits of having a GPS tracker with no monthly fee:
Saves money (no monthly fee)
One of the substantial benefits of having a GPS tracker with no monthly fee is that you save extra charges of the subscription fee. You can use almost all the services like the other tracker
Real-Time Tracking
A GPS tracker can be very beneficial in terms of real-time tracking. It will send you to the real-time location of your vehicle so that you can feel safe about your loved ones and belongings.
Anti-theft
Using a GPS tracker will give you a sense of relief as you feel secure about your car. If your car is stolen, you can get an alert, track its location, and increase the possibility of getting it back.
Improves productivity
Commercial vehicles or fleet management companies can use GPS trackers to effectively monitor routes, driving behavior, mileage, the performance of the vehicle, scheduling, and thereby improving productivity.
Check your location history
Through an efficient GPS tracker, you can check your location history. You can recall all your past visits by accessing the past data stored in your tracker or the cloud storage service.
Secures your pets
There are times when your pets are uncontrollable. You might forget to chain them while you are talking to your neighbors and they might run to a different street or locality. Attaching a GPS tracker may help them locate faster and help you keep them safe.
Analyze performance
The GPS tracker can help you in checking your car's performance. You can evaluate the car's performance by checking several parameters. You can check the distance, the type of route, the speed, and the driving behavior by installing the tracker in your car.
Get help in an emergency
GPS tracker can prove to be a godsend in case of emergencies. In any unfortunate incident, you can check your location, and inform the required authorities to get quick help. It will help you especially when you are in an unfamiliar area.
The purpose of this article is to LIST the best products in the market, and not to review or rank them. All the products listed here have several unique features catering to a wide range of customer requirements. The intention is to inform and educate the reader on the variety of options available in the market. 
How we tested the devices?
We followed multiple steps to test the devices. First, we visited the products' official websites and compared their features, specifications, and prices. We also searched for the products on popular e-commerce platforms like Amazon and Shopify and analyzed the customer reviews and ratings.
To get deeper insights, we contacted each product's customer support and sales team and asked them about their warranty, delivery, and refund policies. We also carried out trials with some products to get first-hand information.
All these methods helped our team discover and comprehend the salient features and functionalities of the products and analyze the information to conclude about the products' reliability, accuracy, and efficiency.
Top 9 Best GPS Tracker with No Monthly Fee [Reviewed]
Disclaimer: The purpose of this article is to LIST the best products in the market, and not to review or rank them. All the products listed here have several unique features catering to a wide range of customer requirements.
While compiling this list, we evaluated the devices based on their cost, subscription plans, battery life, size, and installation process. We considered factors like the countries they offer coverage in, ease of use of their application, security, or other unique features they offer. We also looked into add-on services these vendors provide – lifetime warranty, 24/7 customer support, installation help, and more.
The intention is to inform and educate the reader on the variety of options available in the market.
When you look for a "no monthly fee GPS tracker" on the internet you will come across a lot of options. It can be a tough choice when you have to choose the best tracker that suits your requirements. So, if you are looking for the best GPS tracker with no monthly fees, check out our list of the top-performing GPS trackers available today that require absolutely no subscription plans:
Family1st GPS tracker – Best Tracker For Tracking Teens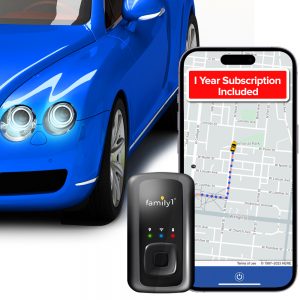 Having used the Family 1st GPS tracker, we can confidently say that it is perfect for seniors and teens, offering top-notch features with minimal upkeep. Its sturdy build and efficient tracking make it a cost-effective choice online. However, the most significant advantage is that it provides a no-monthly fee service. 
The device boasts a range of features like Real-Time Tracking through the companion app, 24 Hour Travel History, geo-fencing, and more. Stored reports are easily accessible on Android/iOS Apps for a year. 
With a 2400 mAh Li-Polymer battery, it runs for two weeks with continuous updates. We found that setting the hardware and the app is easy, and its 4G technology provides swift updates across North America.
The device is priced at $185.99 with free shipping, and it comes with a lifetime warranty, and the 30-day cancellation policy reflects their customer-friendly approach.
Unique Features
A one-year subscription included in the device price

Real-time tracking through the user-friendly App

Water-resistant design

Long-lasting Li-Po battery

Multiple Geofence setup

Compact and portable design

Compatibility with Alexa

24-hour travel history

Android and iOS compatibility
Invoxia Cellular GPS Tracker- Best Tracker For Vehicle Tracking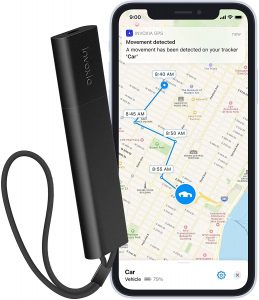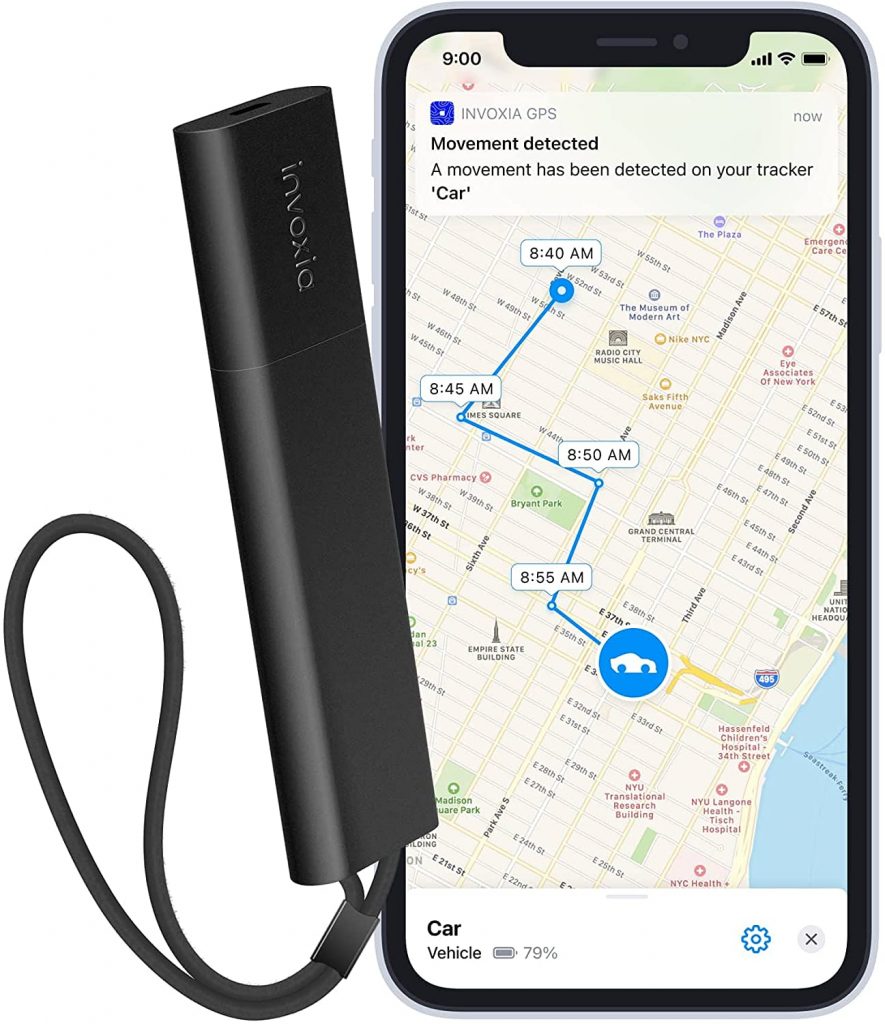 After using the Invoxia GPS tracker for a few weeks, our team found it to be an outstanding solution for protecting your vehicle against theft. Priced at $129.00, it comes bundled with a complimentary one-year subscription, sparing you the hassle of monthly fees over an extended period. Subsequently, a modest subscription charge will apply.
The Invoxia GPS tracker functions in real-time, delivering precise and frequent location updates. The device offers flexibility in update intervals, allowing you to choose between 2, 5, 10, or 30-minute increments based on your preferences.
With this device at your disposal, you can ensure optimal protection for your vehicle. It boasts anti-theft alerts that promptly notify you upon detecting any suspicious activity in proximity to your car. Moreover, you can establish secure zones and receive notifications whenever your vehicle enters or exits these predefined areas.
Unique Feature
No monthly charges and a free one-year plan
Advanced location tracking using Bluetooth, Wi-Fi, GPS
Battery backup of several weeks
App compatibility with Android and iOS
Flexible frequency selection for updates
Real-time anti-theft alerts
Multiple Geofence setup
Zone, travel, and movement alerts
Customized alerts to contacts in emergencies
LandAirSea Sync Real-Time 4G LTE GPS Tracker – Best Waterproof Tracking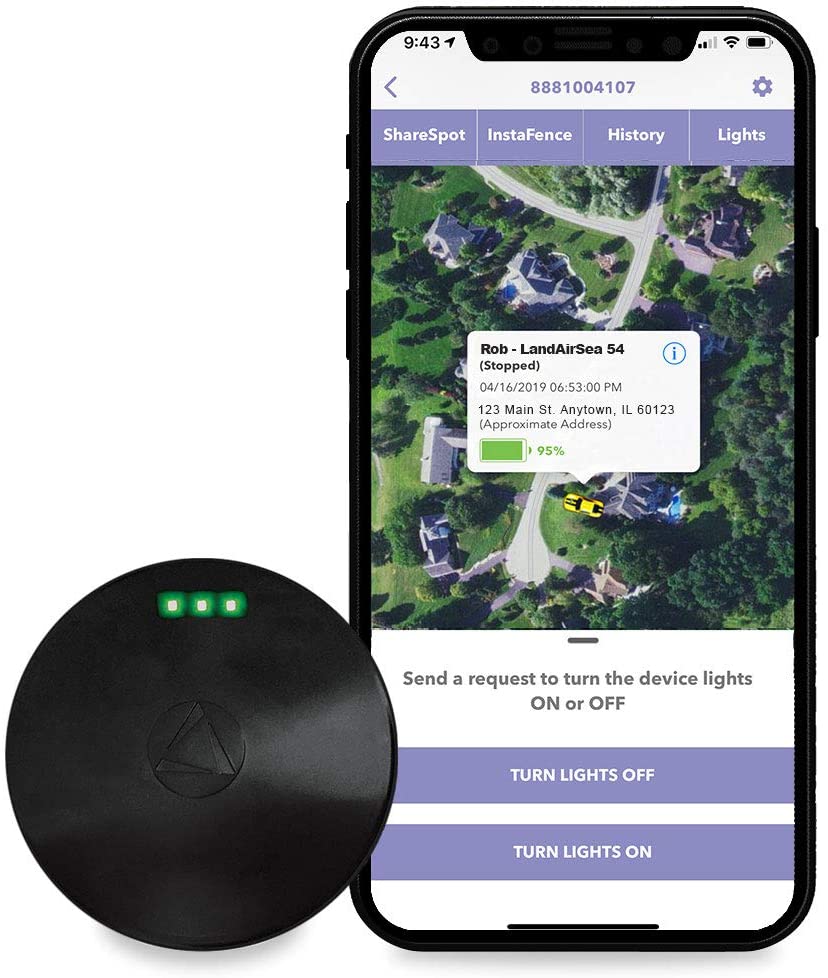 The LandAirSea 54 is a cutting-edge 4G LTE GPS tracker with pinpoint accuracy and geofencing alerts. No monthly fees to worry about. We thoroughly checked its waterproofing (IP67), and it stood tall against all our tests.  It comes with a strong built-in magnet and robust antennas for tough conditions. If you want, the vendor also offers a hardwiring kit, that allows you to monitor engine runtime and temperature. You can enjoy real-time updates and its discrete Dark Mode. Our team was all praises for its ShareSpot and InstaFence features that enhance usability, along with historical playback and API integration.
You can access data on Android, iOS, and computer. Although you can get the device for $29.95, the annual subscription plans start from $179.55 to $499.55 and let you customize updates and save time and cost.
Unique features
One-time device cost with no monthly charges

Compact and waterproof design

Easy installation and setup feature

Share location for collaborative tracking.

Instant notifications for movement outside a designated area

Geofencing with entry and exit alerts within predefined areas

Travel history records for future reference
Amcrest AM-GL300W GPS Tracker- Best Tracker For Discreet Tracking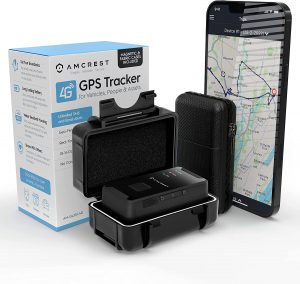 Amcrest is a well-known name in the GPS tracking industry, so we had to check it out. We chose the AM-GL300W device which is best for tracking people and assets discreetly. And of course, it is one of the devices that you can use without having to pay monthly.
We believe that it is an invaluable tool for monitoring assets or loved ones, offering an affordable solution that integrates seamlessly with its user-friendly interface, adaptable alert system, and real-time tracking capabilities. Also, the device boasts a commendable battery backup lasting up to 14 days, a duration influenced by the chosen update frequency. 
The device costs $44.99, with yearly plans costing $19.99 for 60-second upgrades, $24.99 for 30-second updates, and $34.99 for 5-second updates.
 Unique Features
No need to pay monthly fees

Supports multiple Geo-Fencing Regions

Intelligent Battery Alerts to notify about low-battery

Reports about the GPS device power status (on/off)

SOS Alarm feature for emergencies

Motion Alarm based on Internal 3-axis Accelerometer

Weather-resistant design for durability

Sharing of location details with customized contacts
Trakkit WiFi GPS Tracker – Best Wi-Fi Tracker (No SIM)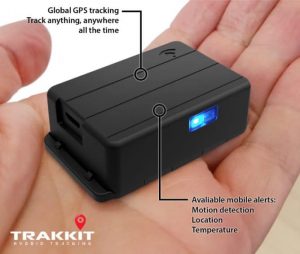 As Trakkit is a WiFi GPS tracker, we tested it in our staff car, as well as asked one of our teammates to carry it around in their bag. And it did not disappoint us. One standout aspect is the absence of monthly fees, subscriptions, or the need for a SIM card. The Trakkit functions as a true WiFi GPS Tracker, effortlessly utilizing available WiFi networks for communication and eliminating the need for cellular coverage.
The Trakkit's GPS real-time tracking, logging, and reporting tools helped our tracking experience significantly. It adeptly logs and records GPS position data, which is quickly uploaded when the gadget comes into contact with our office WiFi. We always knew where our car and our colleagues were. 
You can get this device for $124.95. As it uses WiFi to operate, there is no monthly or yearly subscription. 
Unique Features
No ongoing monthly fees

Very small in size and lightweight

Global tracking facilities across countries

SOS button to send live location information

Includes a magnetic case for protection

Tracking history for up to the last 5 years

Extension of battery backup up to 6 months
Bartun GPS Tracker – Best Pet GPS Tracker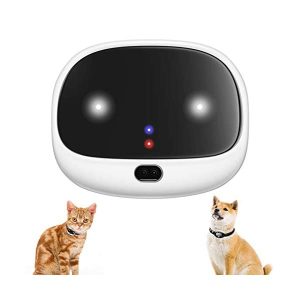 In our efforts to bring you the solutions you need, we went ahead and tested a pet tracker. Our operation manager's beagle volunteered for the job. We have to say that the Bartun GPS tracker lives up to its name and performance as one of the top pet GPS trackers available. Just like a mobile phone, it requires a SIM card for real-time tracking, eliminating any need for recurring monthly subscription fees, which sets it apart from many others on the market. You just have to pay $89.99 one time for the device.
What's remarkable about this device is its IPX7 waterproof rating, ensuring worry-free usage even when your furry friend decides to take a playful splash. The health activity monitoring feature is also remarkable. Keeping track of your pet's movement, walking distance, and calorie expenditure is especially useful for breeds prone to obesity, such as pugs and beagles. This feature allows you to better manage the health of your pets and mitigate potential weight-related issues.
Unique Features
Reasonable hardware cost and no monthly fees

Real-time tracking

Monitoring Health Activity

IP67 Waterproof for overall durability

Magnetic head connector for charging

Low-cost solution

Coverage of over 150 countries

10 days battery life with inactive mode
Qbit Mini Personal GPS Tracker- Best Tracker For Kids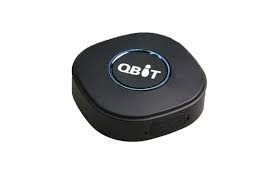 Qbit Mini personal GPS tracker has a compact and lightweight design that matches its robust GPS, Wifi, and LBS positioning technology, and consistently delivers accurate and reliable location data. 
We particularly liked its durable build, which makes it a great choice for families with kids, the elderly, or disabled individuals. It also comes with Geofencing that lets you establish virtual boundaries, triggering notifications whenever the designated area is breached. For $89.99, it proves to be incredibly useful for monitoring the elderly or ensuring kids' safety around their school or home.
Another significant feature of this device is the panic button, providing a reliable means for individuals to signal emergencies and attract immediate attention. Our team tested the tracker's water-resistant properties and can assure you that you can use the tracker for your pets as well. 
The tracker also has a discreet microphone that helps us to remotely monitor the surrounding environment, adding an additional layer of security and awareness. Moreover, the two-way communication feature is a great addition, enabling seamless connection even when the person being tracked doesn't have a cell phone.
Unique Features
No monthly fees involved

Compact and stylish design 

Two-way communication

Listen to surroundings remotely

SOS button

Low battery alert

Water-resistant body
Samsung Smartthings Tracker- Best Tracker For Tracking Luggage

Samsung SmartThings Tracker boasts real-time tracking capabilities, ensuring you're always in the loop. Through our personal experience, we can say that if offers comprehensive theft protection for your valuable assets and family members. All the features can be conveniently accessed through the SmartThings mobile application, which you can download from the Play Store.
Even though the vendor offers several features, we found it to be affordable, coupled with the added advantage of a full year of cellular service at no extra charge. For the initial year, your wallet remains untouched, and even beyond that, the cost is a mere $5 per month.
Unique Features
No monthly subscription required

Live location tracking

Wi-fi Connectivity

Water-resistant

Emergency alert generation

Lightweight and compact
Sherlock 2.0 Anti-Theft Tracker-Best Tracker For Bikes

We have an avid biker on our team, so we had to try a Sherlock 2.0 that specifically caters to bike owners. Our biker colleague agrees that this tracker is the best way to keep your bike safe in parking and also to locate it. Also, the fact that the device cost of $159 includes two years of free service is also one of the factors this device is on our list. The new design of the device is universal and can be used for any bike without difficulty. It has a strong battery life that comes in handy in case of theft. 
The latest version of the tracker has a sensitive motion sensor that will notify you as it detects any unknown movement. It also has an anti-theft mode that you can activate to provide maximum security to your bike. It also has an SOS button that you can press to send a message along with real-time location information to your emergency contacts and call for help.
You can activate the travel mode to view the routes on the map. It will help you to get reliable statistical data like miles traveled, average speed, etc. 
It also has an SOS button that you can press to send a message along with real-time location information to your emergency contacts and call for help.
Unique Features
Yearly service plans with no monthly fees

Sensitive motion sensor

Activation of anti-theft mode

Completely concealed  

Tamper detection feature

Location sharing in case of theft

 
Things to know before buying a GPS tracker with no monthly fee
The power source of a GPS tracking device
A GPS tracker can be powered through an OBDII port of the vehicle or the batteries. The battery-based tracker requires charging once the battery is low. You can check the mAh of the battery before buying the tracker to know its power backup. Some people might prefer an OBDII tracker as it doesn't require any charging and draws its power from the car.
GPS tracker location update time
The location update timing depends on the model of the GPS device. Mostly the GPS device updates the location after every 15, 30, or 60 seconds. However, you may also find the trackers that update after every 3 minutes or 5 minutes. The location update time-frequency depends on your need. Moreover, you can always change the default update timing of the tracker.
Countries in which no monthly fee GPS tracker works
Not all GPS trackers might work everywhere in the world. You have to confirm with your service provider whether the region you plan to operate the device is supported or not.
Data storage duration
The data storage will depend on the device. Some GPS trackers will retain your data for 1 year while others retain it for a longer duration (3 to 5 years). It is important to note that some companies require you to pay a fee to retrieve data from cloud storage. Thus, you should confirm the estimated cost of the device before you buy.
Frequently Asked Questions
Are there GPS trackers that do not require a monthly subscription?
You can avoid the chaos of paying the subscription fees to everyone by choosing any one of the following GPS trackers:
Family1st portable GPS tracker

TKSTAR TK915 GPS tracker

LandAirSea 54 GPS tracker

Amcrest AM-GL300 GPS tracker

Trakkit WiFi GPS tracker 

Bartun GPS tracker

Jimilot GV20 3G GPS Tracker 
Can a tracker help you to reduce your insurance premium?
Yes, you can get discounts on your insurance premium if you use a GPS tracker to track your vehicle. 
How to detect an unwanted GPS tracker on your vehicle?
If someone is trying to track you without your knowledge, you can first locate the GPS tracker and then report it to the police. 
You can start searching for an unwanted GPS tracker in the hideous locations of your car. Usually, people attach GPS devices to a place that is not easily accessible to enjoy discrete tracking. You can also get professional help to detect the device. Or use a GPS locator to hunt it down.
On a final note
Most of the "GPS trackers with no monthly fee" operate by syncing with the software or application on your PC or smartphone. This enables you to access data anytime and anywhere you want. However, when it comes to technology, GPS trackers have become more affordable.
The GPS trackers have also gone through significant changes like upgrading from the hard-wired devices to the OBD port connections. Given the modern-day troubles, a GPS tracker is a much-required preventive measure for the security of our loved ones and assets. You will find what you need on our list of no monthly fee GPS trackers and buy the tracker that suits your needs.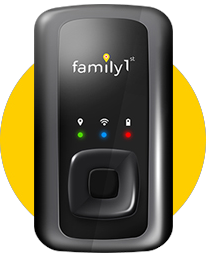 Purchased No Monthly Device