The safety of loved ones and assets is one of the major concerns for everyone in the present time. It's an irrefutable fact that a new set of technologies can now help us keep tabs on the security and well-being of our family even if we are busy or not around. A GPS tracker is one of the advanced tools that help in tracking cars, assets, pets, and people. Unfortunately, most GPS trackers require monthly subscription fees. It can be too costly for some people to pay the fees. It's prudent for them to buy the best GPS trackers with no monthly fee. The best vehicle tracking device with no monthly fee systems allows consumers to use GPS services without extra charges. These systems do not have contracts or monthly service charges with almost all the benefits of the GPS tracker.
Benefits of having the GPS trackers with no monthly fee
A GPS tracker commonly works as an anti-theft measure. It also helps in keeping tabs on elders of the family and safeguarding teenagers. Regardless of your reason for using one, a GPS tracker can always be helpful. You have to simply place it inside a vehicle, or attach it somewhere inconspicuous, and you'll be able to track your vehicle's location via a website or mobile app. 
Having a "no monthly fee GPS tracker" gives you many benefits equivalent to a tracker with a monthly subscription. However, there are also some ways they can be more advantageous. Following are some merits of having a GPS tracker with no monthly fee:
Saves money (no monthly fee or yearly fee)
One of the substantial benefits of having a GPS tracker with no monthly fee is that you save extra charges of the subscription fee. You can use almost all the services like the other tracker
Real-Time Tracking
A GPS tracker can be very beneficial in terms of real-time tracking. It will send you to the real-time location of your vehicle so that you can feel safe about your loved ones and belongings.
Anti-theft
Using a GPS tracker will give you a sense of relief as you feel secure about your car. If your car is stolen, you can get an alert, track its location, and increase the possibility of getting it back.
Improves productivity
Commercial vehicles or fleet management companies can use GPS trackers to effectively monitor routes, driving behavior, mileage, the performance of the vehicle, scheduling, and thereby improving productivity.
Check your location history
Through an efficient GPS tracker, you can check your location history. You can recall all your past visits by accessing the past data stored in your tracker or the cloud storage service.
Secures your pets
There are times when your pets are uncontrollable. You might forget to chain them while you are talking to your neighbors and they might run to a different street or locality. Attaching a GPS tracker may help them locate faster and help you keep them safe.
Analyze performance
The GPS tracker can help you in checking your car's performance. You can evaluate the car's performance by checking several parameters. You can check the distance, the type of route, the speed, and the driving behavior by installing the tracker in your car.
Get help in an emergency
GPS tracker can prove to be a godsend in case of emergencies. You might get mugged, meet an accident, crash a stray, etc. In these cases, you can check your location and inform the required authorities and get quick help. It will help you especially when you are in an unfamiliar area.
Top 9 Best GPS Tracker with No Monthly Fee [Reviewed]
When you look for a "no monthly fee GPS tracker" on the internet you will come across a lot of options. It can be a tough choice when you have to choose the best tracker that suits your requirements. So, if you are looking for the best GPS tracker with no monthly fees, check out our list of the top-performing GPS trackers available today that require absolutely no subscription plans: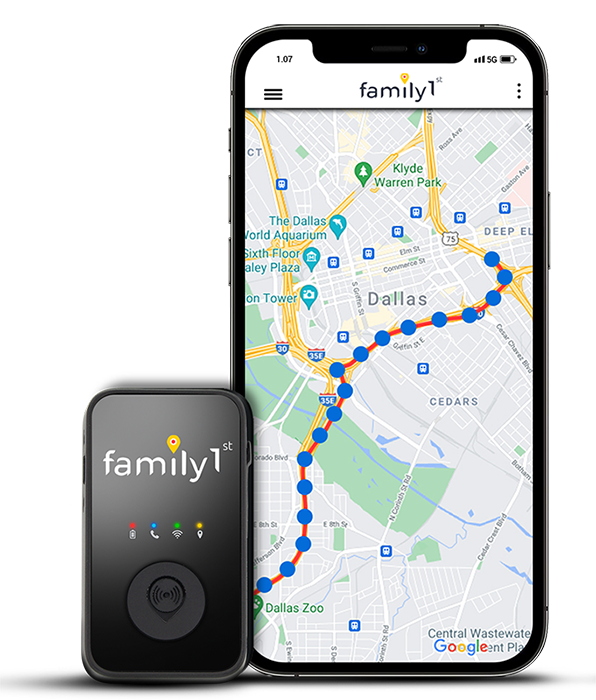 Family 1st GPS tracker is one of the best GPS trackers for seniors and teens available in the market. This tracking device has minimal maintenance and maximum security for your loved ones. With its robust body and effective tracking system, the Family 1st is amongst the most cost-effective GPS devices available online. It has the widest range of features like Real-Time Tracking, 24 Hour Travel History, Current Location Update, GeoFencing, Email/SMS Alerts, Alexa Integration, etc. You can check and download the reports which are store in the cloud servers for 365 days. The data is easily accessible on Android/iOS Apps.
Through this tracker, you can track your assets even in the indoor area using WiFi. The indoor tracking using the WiFi feature helps in many ways. Whether it is for the safety of your assets or recovering the misplaced portable device, the Family1st GPS tracker covers it very well.
The device comes with a 2400 mAh Li-Polymer battery that can run for 2 weeks with continuous updates. The Family1st GPS tracker can be easily installed using the following instructions.
It uses 4G cellular technology for fast-tracking. The full 4G coverage allows sending quick updates all over North America: This device tracks in the USA, U.S. Virgin Island, Puerto Rico, Canada, and Mexico.
The monthly subscriptions start at $19.95 without any sign-up for a year in advance. The company offers a 30-day, no-hassle cancellation policy with no extra charges. Although it charges you for the monthly subscription, you get a plethora of benefits in that amount.
Family 1st is available at $24.95 with free shipping. It offers a lifetime warranty to the customers.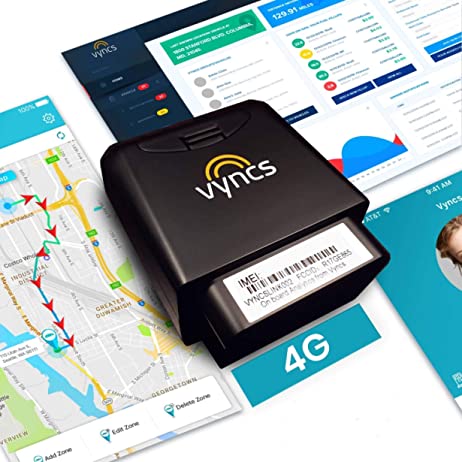 Vyncs GPS Tracker is a smart 4G LTE device that comes with a one-year free data plan. It has a default setting of sending the location update every 3 minutes. You can upgrade the location update duration to 1 minute, 30 seconds, or 15 seconds on purchasing the Vyncs Pro. The tracker uses OBDII diagnostic to give you information on the battery condition, engine light, and fuel economy. Importantly, it reminds you to schedule maintenance of various areas of the car by sending timely alerts for change oil, brake pads, tires, and the battery. It also has the Geofencing option that notifies you when a tracked car enters or exit the preset area.
You can access and monitor data through the website, the mobile app (Android and iOS), and even smartwatches. It can also connect to smart home assistance devices such as Alexa.
Vyncs GPS tracker is easy to install. It requires you to plug the device into the OBDII port, and you are ready to trace your car. The device has a built-in SIM card, that works in over 200 countries including Mexico, Canada, the USA, and Puerto Rico.
Vyncs GPS tracker comes at the price of $78.95. It offers you a limited one-year warranty.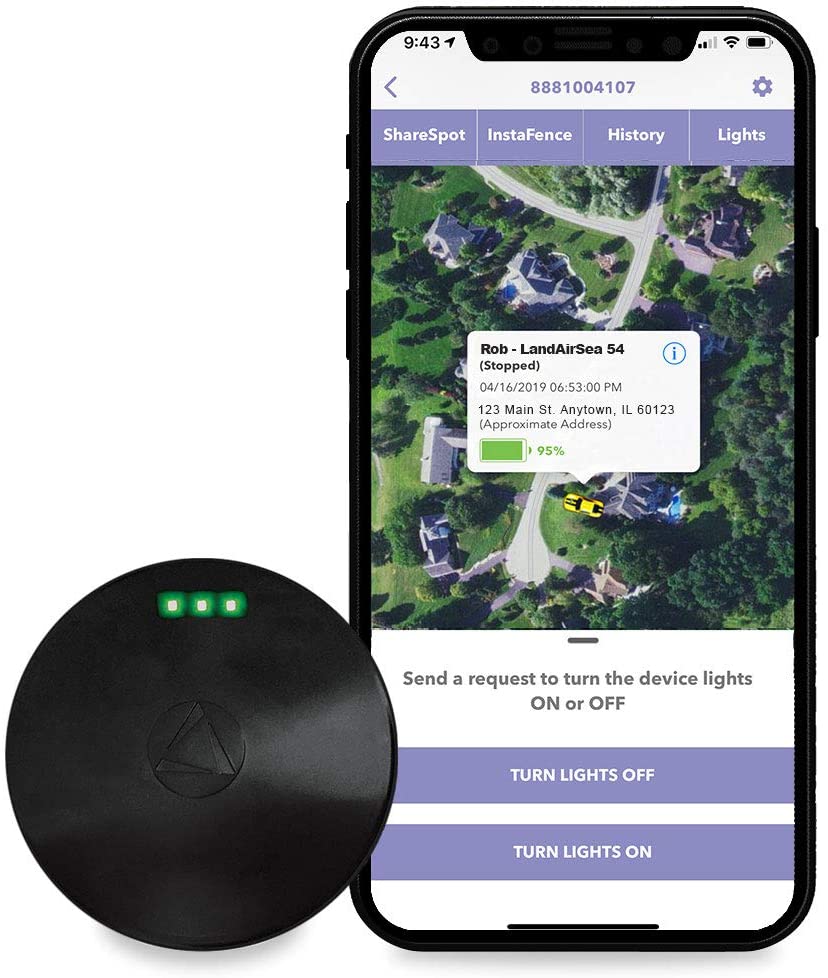 LandAirSea is a 4G real-time LTE GPS tracker that offers you pinpoint tracking with an accuracy of around 6 feet. This track has a special feature of sending you the accident alert along with the driving behavior. It will notify you about the collision if your car is involved in an accident. This device has geofencing features to send departure and arrival alerts. You can get diagnostic reports such as braking, low battery, engine-check alerts, fuel, and excessive RPM.
The data is accessible through your phone (Android and iOS) and computer. You can also check the historical data for past trips.
The LandAirSea GPS tracker is an easy-to-install device. Once you plug the device into the OBDII port of your vehicle it's ready to track the location. Since it uses the OBDII port for the power source, it eliminates the hustle of charging as it doesn't need batteries. It is available at the price of $24.95. The company offers a limited one-year warranty for this device.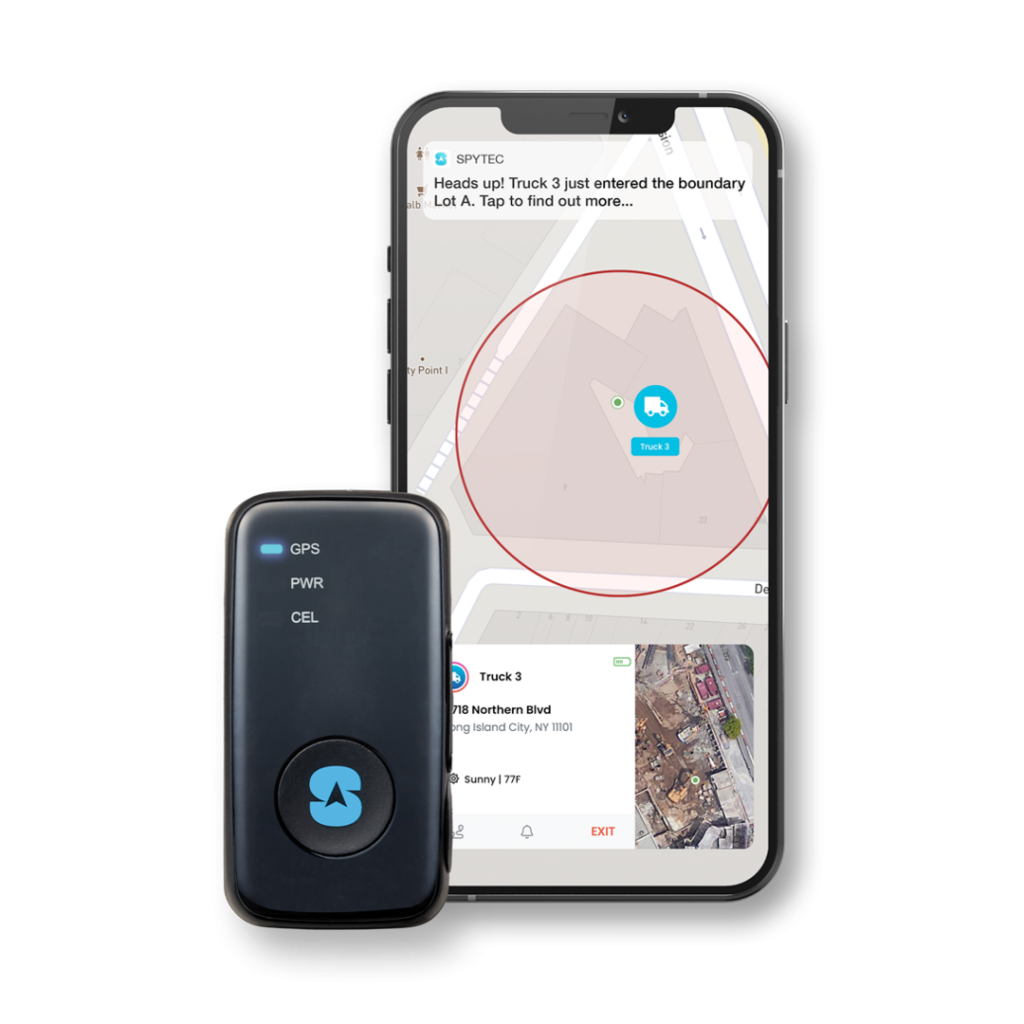 The Spytec STI is one of the most reliable GPS trackers that track the location of your vehicle in real-time with no distortion. It has a perfect 4G coverage that is fast enough to communicate. With more than a 99.99% uptime and a .256 millisecond processing time, the Spytec cloud-based technology meets your need for fast-tracking. You can set the custom alerts to have cutting-edge GPS technology – instant location and Geofence. It sends you alerts whenever the vehicle enters or exits the preset zone. You can receive the alerts via email, text, or push notification of the mobile app (Android and iOS). It has the option of creating a summary of all data reports.
The Spytec is a small device that comes with quality hardware. This 3-inch tracker is compact and can be used for discreet tracking as well. For discreet tracking, you can check out other hidden GPS trackers for your vehicles as well.
The device has one of the best batteries that stays charged for up to two and a half weeks. The price of this GPS tracker is $39.95. It comes with a limited one-year warranty.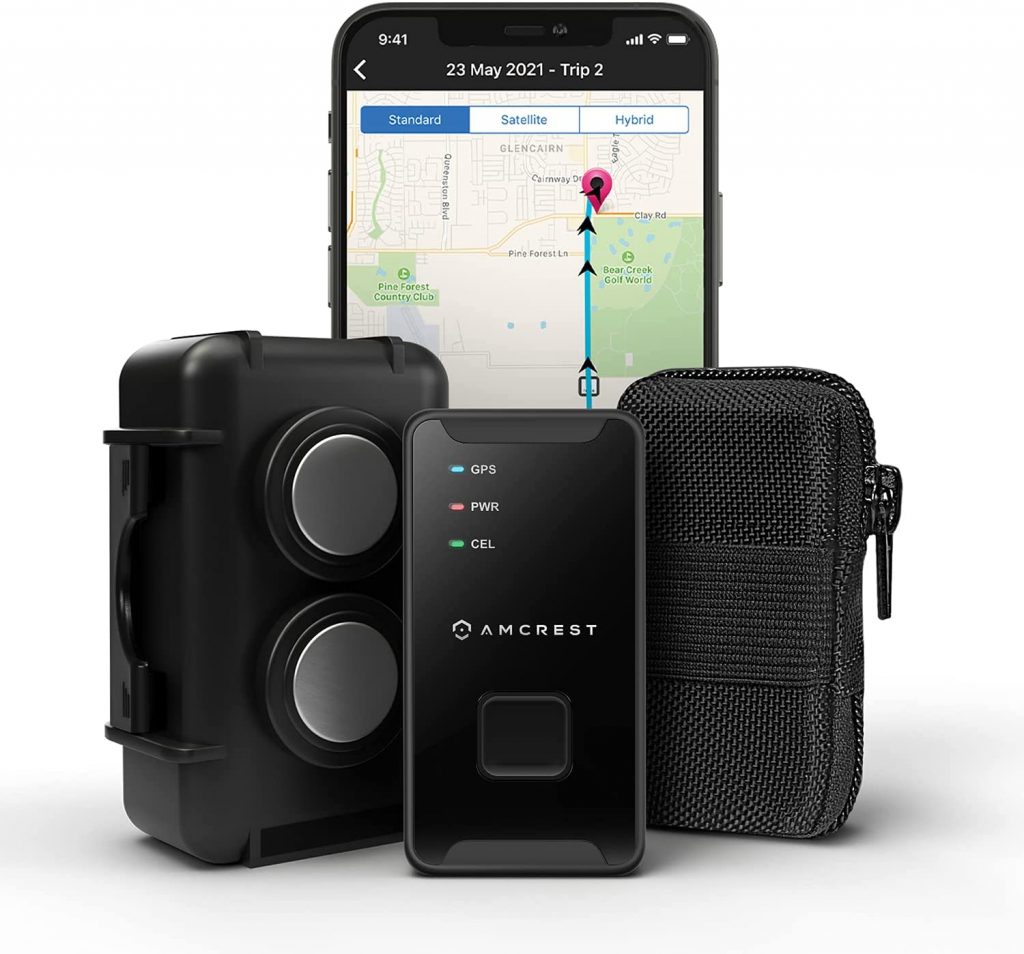 The Armcrest AM-GL300 is a 2G real-time GPS tracker. It is a multipurpose GPS tracker device that can track your vehicles and loved ones (teens, elders, spouses, children, and pets). It offers real-time tracking with up to 5-second updates through a PC or a mobile phone (Android and iOS). Its intuitive user interface allows you to monitor activities, manage alerts and generate custom reports. You can create links and share them with your friends, family, or co-workers. It utilizes Google maps for tracking and mapping.
The Armcrest is a sturdy device with a waterproof casing. It has a powerful battery that lasts up to 10 to 14 days. You can check the battery status through the Armcrest app.
It is available for $39.99 with a lifetime warranty and 24×7 customer support.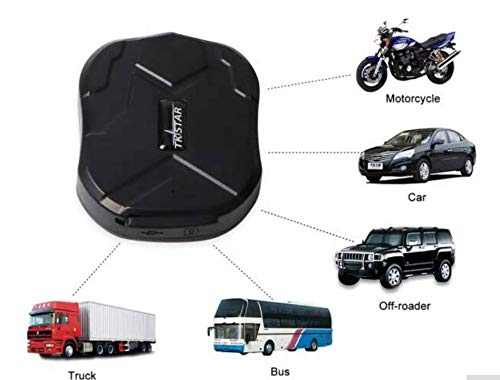 The TKSTAR TK915 is a magnetic GPS tracker with no monthly fee. It comes with a sim card slot. This device has a lot of useful features that make it one of the most versatile GPS trackers. The tracker is easy to set up. You can get the app from the Google Play Store and start tracking your car in real-time. The tracker sends you precise locations, with an accuracy of 5 -10 meters.
The 10000 mAh battery is the highlight of this GPS tracker. It can last up to 120 days after a full charge.
TKSTAR is IP65 waterproof with magnetic attachment, so you can attach it to the bottom of your car without worrying. It has a built-in sensor, that detects when someone tries to remove it and alerts you by sending a notification.
TKSTAR TK915 is available at the price of $66.68.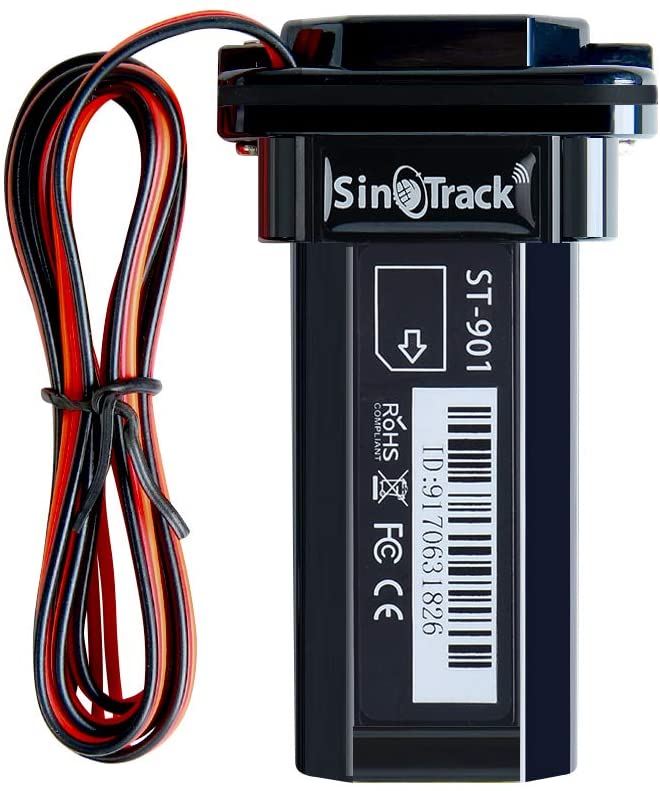 Real-Time OBDII support, the SinoTrack GPS tracker, made it to this list of the best GPS tracker with no monthly fee because it allows you to use its free tracking software for a lifetime. This tracking device has 1-microsecond time accuracy with the satellite's time. You can access the data through the website, mobile app, and text messages. Get alerts for low battery, speeding, shocking, and Geofencing.
The Sinotrack is easy to install with a plug-and-play option. Just put the device into your OBDII port to start enjoying the convenience of real-time tracking.
The device has an in-built battery that can run for 4 hours without charging. The charging can start as soon as you turn on the ignition.
Sinotrack does not come with a sim card. It has the option of using an external sim card. You need to buy a local SIM card if you want to receive a location notification by text. Sinotrack is available at the price of $34.99.
The GPSit 1000BZ LTE Tracking Device is one of the most affordable GPS trackers in the market. The data is accessible through mobile phones (iOS, Android, Windows Phone, and others). Through GPSit, you can keep tabs on your car's trips, stop time, key events, mileage, odometer, geo-fence entry, and exit.
This GPS device is fully compliant with ELD (Electronic Logging Device) rule. You can easily install it through the OAY1000 OBD adapter (separate purchase required).
GPSit 1000BZL comes at the price of $180. The company doesn't charge any monthly subscription fee and offers a one-year hardware warranty. They also provide free lifetime online support.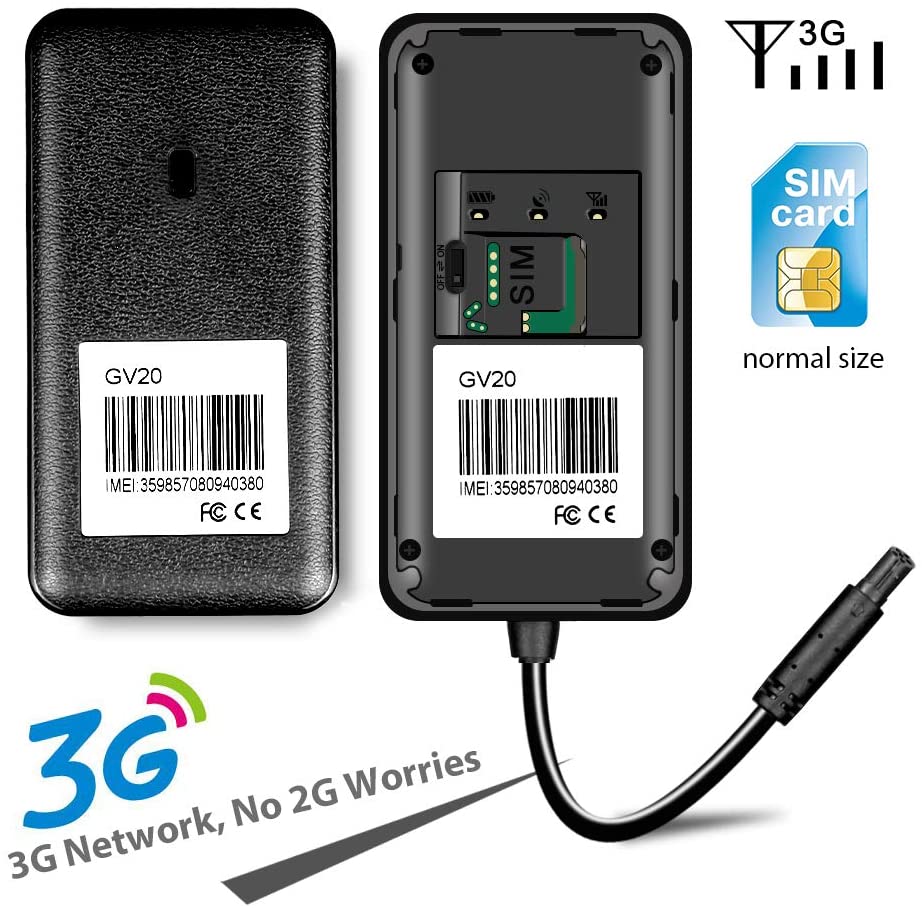 The JimiIoT GV20 3G is a cost-effective GPS tracker. This device is fully loaded with features. This multi-functional tracker is designed for tracking cars, motorbikes, buses, and other fleet vehicles. It works on the triple way of locating: ABS + LBS + GPS positioning. You can rely on the accuracy of its real-time updates. It has various options of instant alerts such as vibration, low-battery, power off, tamper alarms, geofence alerts, etc.
You can set up a geofence to a preset area. The device will send a message to the authorized number when the tracker leaves or enters the preset area. It has the option of 180 days of historical data storage that will let you know the tracking history at any time.
It is a very effective device when you consider its anti-theft feature. It will notify you of the unexpected movement of the vehicle and you can send a command through SMS or tracking website to cut off the power or petrol connection of the vehicle.
It is compatible with all mobile operating systems including Android and iOS. You can also access the data through a PC, laptop, or tablet.
Things to know before buying a GPS tracker with no monthly fee
The power source of a GPS tracking device
A GPS tracker can be powered through an OBDII port of the vehicle or the batteries. The battery-based tracker requires charging once the battery is low. You can check the mAh of the battery before buying the tracker to know its power backup. Some people might prefer an OBDII tracker as it doesn't require any charging and draws its power from the car.
GPS tracker location update time
The location update timing depends on the model of the GPS device. Mostly the GPS device updates the location after every 15, 30, or 60 seconds. However, you may also find the trackers that update after every 3 minutes or 5 minutes. The location update time-frequency depends on your need. Moreover, you can always change the default update timing of the tracker.
Countries in which no monthly fee GPS tracker works
Not all GPS trackers might work everywhere in the world. You have to confirm with your service provider whether the region you plan to operate the device is supported or not.
Data storage duration
The data storage will depend on the device. Some GPS trackers will retain your data for 1 year while others retain it for a longer duration (3 to 5 years). It is important to note that some companies require you to pay a fee to retrieve data from cloud storage. Thus, you should confirm the estimated cost of the device before you buy.
On a final note
Most of the "GPS trackers with no monthly fee" operate by syncing with the software or application on your PC or smartphone. This enables you to access data anytime and anywhere you want. However, when it comes to technology, GPS trackers have become more affordable.
The GPS trackers have also gone through significant changes like upgrading from the hard-wired devices to the OBD port connections. Given the modern-day troubles, a GPS tracker is a much-required preventive measure for the security of our loved ones and assets. You will find what you need on our list of no monthly fee GPS trackers and buy the tracker that suits your needs.