With the rising trend of trekking and solo trips among the youth, personal GPS trackers have emerged as lifesavers. Not only it can be your best companion when you take on new adventures but it also proves to be an efficient device for kids and senior citizens. This article will help you find the best personal GPS trackers.
Many times, people hesitate before taking on a solo trip, and the reason majority of people give is the safety and security of their belongings. Well, you can dispel all those fears if you have a personal GPS tracker on you. The wireless device can tell you where you've been and where you are headed. Click one button and you can inform the local responders about your location.
While owning a GPS tracker seems to be an easy and sensible decision, buying the right one can be a bit tricky. Leave that to us! Here we have gathered the best personal GPS trackers available in the market. Go ahead and decide which suits your needs the best.
List Of Best Personal GPS Trackers 2021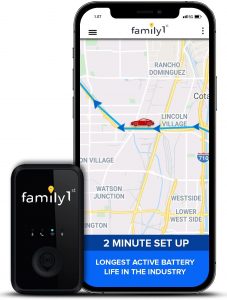 If you are looking for a small-sized personal GPS tracker, then what better than Family 1st GPS tracker, even Amazon has listed it on top. The small size of the tracker allows you to put it in a bag or the car with no one noticing. Family 1st GPS tracker comes with an extended 2400 mAh Li-Polymer rechargeable battery which can last up to two weeks. Equipped with a lightning-fast 4G LTE network, this GPS LTE tracker is perfect to track vehicles, kids, pets, seniors, and all other valuables.
Family 1st enables indoor tracking using Wi-Fi; therefore, you don't have to worry even if you misplace the device. On top of it, they give a lifetime warranty on their products and a 30-day moneyback guarantee. This portable GPS tracker by Family1st can be kept hidden anywhere in a vehicle, backpack, or luggage. You can either connect it to your smartphone by downloading the app or track it directly via the website. In addition, the app allows you to add multiple GPS trackers under the same account, so you can track all your assets at the same time.
The sleek design of the Family 1st GPS tracker makes it easier to plant the device in multiple unsuspecting places. You can even place the GPS tracker under your vehicle with the help of the Family 1st Magnetic case and get complete reports based on total miles driven, total miles driven at or above 80 Mph, hard acceleration activity, etc. You can also create up to 10 geofences and the tracker will alert you when your vehicle enters those areas. The other features of this portable GPS tracker include low battery and speeding alerts, and a feature to receive texts and email notifications.
PROS
Real-time GPS tracker
Compact design
Affordable GPS subscription rates
Lifetime Warranty
14-days battery Life
30-days Money Back guarantee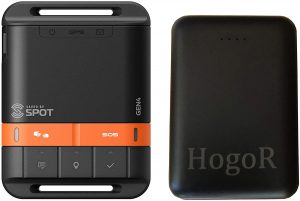 This personal GPS tracker proves to be the best companion on solo trips and treks. Spot Gen4 is laced with advanced features such as the S.O.S. button, custom messages, S.O.V., that make your and your loved ones' trips a safer experience. With this personal GPS tracker by your side, you don't have to worry about getting lost in uncharted areas.
The flagship feature of SPOT Gen4 is the S.O.S. button that can save lives in desperate situations. You simply have to press the button in an emergency and GEOS International Emergency Response Coordination Center will provide the local response teams with your GPS coordinates. The compact design of the device allows you to carry it in your bag or pockets. So, no matter if you are traveling heavy or light, this GPS tracker can be with you on every trip.
SPOT Gen4 gives you the option to send custom messages to your listed contacts about your trip. You can share your GPS coordinates with up to 10 contacts who might be able to reach you in life-threatening situations. Apart from using Spot Gen4 as a personal GPS tracker, you can also use it to track your kids, cars, or other assets.
PROS
Pocketable size
O.S. button
Works without cellular service
Share coordinates with friends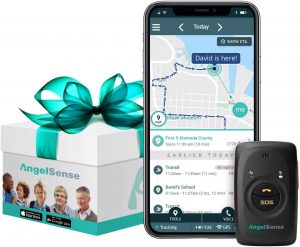 This GPS tracker is designed specifically to meet the needs of people who have ASD. The personal GPS tracker inspires confidence in autistic people and provides a sense of security to their caregivers. Once you place the device on the person, you can track their every movement and the routes they take. Safety-wise this is the best GPS tracker you can have for your loved ones.
AngelSense gives you the best results at an affordable price and can compete with devices even above the $300 range. The personal GPS tracker is secured with customized, sensory-friendly wearables that can only be removed with a special parent key. In addition, the 2-way voice with an auto pickup speakerphone gives you an extra sense of relief. You can not only track your kids but also give directions to them.
The personal GPS tracker allows you to create geofences and alerts you when your kid enters or leaves the customized area. You can share the location of your loved ones with rescue teams in cases of emergency. Also, the device is fully compliant with school regulations. That means your child can wear it to almost every crowded place you can think of.
PROS
2-way voice with auto pickup speakerphone
SOS button
Proactive Alerts
Live Location Sharing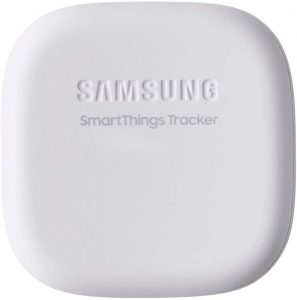 When people sought out personal GPS trackers, they generally look for something lightweight and compact. Samsung SmartThings Tracker is a GPS tracker that fulfills those requirements and also brings other advanced features to the table.
First things first, Samsung SmartThings Tracker is a lightweight GPS tracker that can be put on a person without any inconvenience. You can strap it to your kid's bag, attach it with your keyring or latch it on your pets' collars with ease. Being water-resistant, the tracker also allows full freedom of movement. Trapped in rain and can't find your way back? Samsung SmartThings Tracker will lead you back home. Your pet can take that dip in pools whenever it wants without you having to fuss with its collar.
The personal GPS tracker works both indoors and outdoors, as long as you have a signal. Its battery can last up to 10 days and is rechargeable. You can create geofences, receive alerts, keep a track of your assets via an app and check the location history. All in all, this is one of the best personal GPS trackers you can find in the market within this price range.
PROS
Lightweight design
Waterproof
Durable
Create geofence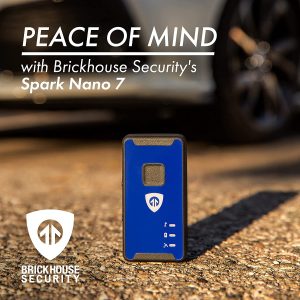 This personal GPS tracker by Brickhouse Security is equipped to fulfill every expectation you may have from a tracker. Spark Nano 7 is small enough to fit in the palm of your hand. And you can effortlessly carry it around or attach it to your pet's collar. So not only it can be your companion on trips but you can also use it to monitor the safety of your children.
The Spark Nano 7 allows you to track your assets using real-time location updates. You can also customize geofences and receive alerts when your kid leaves the customized area. This wireless GPS tracker comes with a panic button that you can use in an emergency to send out a distress signal.
So, no matter what part of the globe you are on, you can rely on this tracker to get you home as long as you have cellular service. You can attach the tracker to your car and it will alert you when your kid crosses the speed limit. All these features make Spark Nano 7 one of the best personal GPS trackers in the market.
PROS
60-second updates
Compact design
4G services
Customized geofence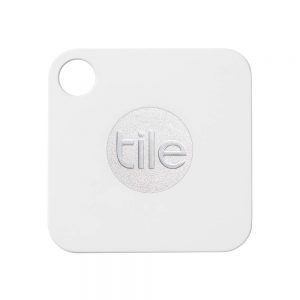 This is the only device on our list that does not run on GPS. Mate by Tile uses Bluetooth to locate your valuables. With a range of about 150 feet, Tile Mate helps you find lost items with your phone. If your lost object is within the range, but out of sight, Tile can ring it.
This feature prompted us to include the device on our list of the best portable GPS trackers. It allows you to locate your phone even when it is on DND mode by playing a loud tone. All you have to do is double press the Tile button on your device. If your device is not with you, you can ask the Tile lost-and-found community to update the location of your phone given they are within the range.
Tile Mate comes with a replaceable CR1632 battery which can run for about one year. It is also waterproof and compatible with Android, Windows, and iOS platforms.
PROS
Track phone even when silent
Water-resistant
Data privacy
Final Words
A personal GPS tracker is relying on cellular network and Wi-Fi signals to detect your location. Some trackers like Tile Mate run on Bluetooth and are very helpful in finding lost objects.
The most important thing while buying a personal GPS tracker is the size of the device. No one wants to carry around a bulky tracking device no matter how useful it proves to be. Therefore, we have taken special care to only mention objects that are lightweight and small in size.
These trackers not only act as your guide but can also help you keep a watchful eye on your kids. You can attach these devices to your valuable assets or your loved ones and track their movement. Trust us, owning a GPS tracker is like having an extra pair of eyes.