Most of us think of retirement as a time to unwind, develop at a slower pace, and relish the rest of our lives without worrying about money. However, we frequently overlook the implications. As the human body ages, it undergoes many changes. Several simple tasks like going for a walk nearby or making breakfast can become a hassle. As a result, they require additional care and support. 
It is not easy to monitor senior parents when they are not around you, especially if you need to be at work for long hours. When the elderly are left alone to care for themselves, their health is at stake, especially if they show signs of memory impairment or weakened body. The majority of senior citizens in the United States live individually, without the support of their families, or in a nursing home. Isolating themselves in their households without adequate care increases the risk of sickness and trauma. We must provide our aging parents with the love, support, and safety they deserve. 
To ensure their safety and wellbeing, you shouldn't wait for incidents before taking action. Everyone is not comfortable or able enough to hire home care for an aging loved one. Hence, many turn to other clever ways of keeping an eye on the elderly, such as using a GPS tracker for seniors.
Sometimes when children cannot reside with their seniors for 24 hours, they use GPS trackers to monitor them virtually. A GPS tracker is a device that can help you stay in touch with your parents even when you are far away. 
Why Do Senior Citizens Need A Personal Tracking App? 
Even their consistent routines, such as exercising or strolling around the neighborhood, can become perplexing in some cases. They may stray from their usual path and wander to completely foreign locations, becoming disoriented. Many elderly go missing because they deviate from their daily routes. You can program a senior GPS tracker with geofencing capabilities to receive an alert if your loved one leaves the parameters and the geographic areas they usually frequent. These could be their street or neighborhood, a park, a mall, a clinic or a hospital, or any other place they frequently visit or spend time in.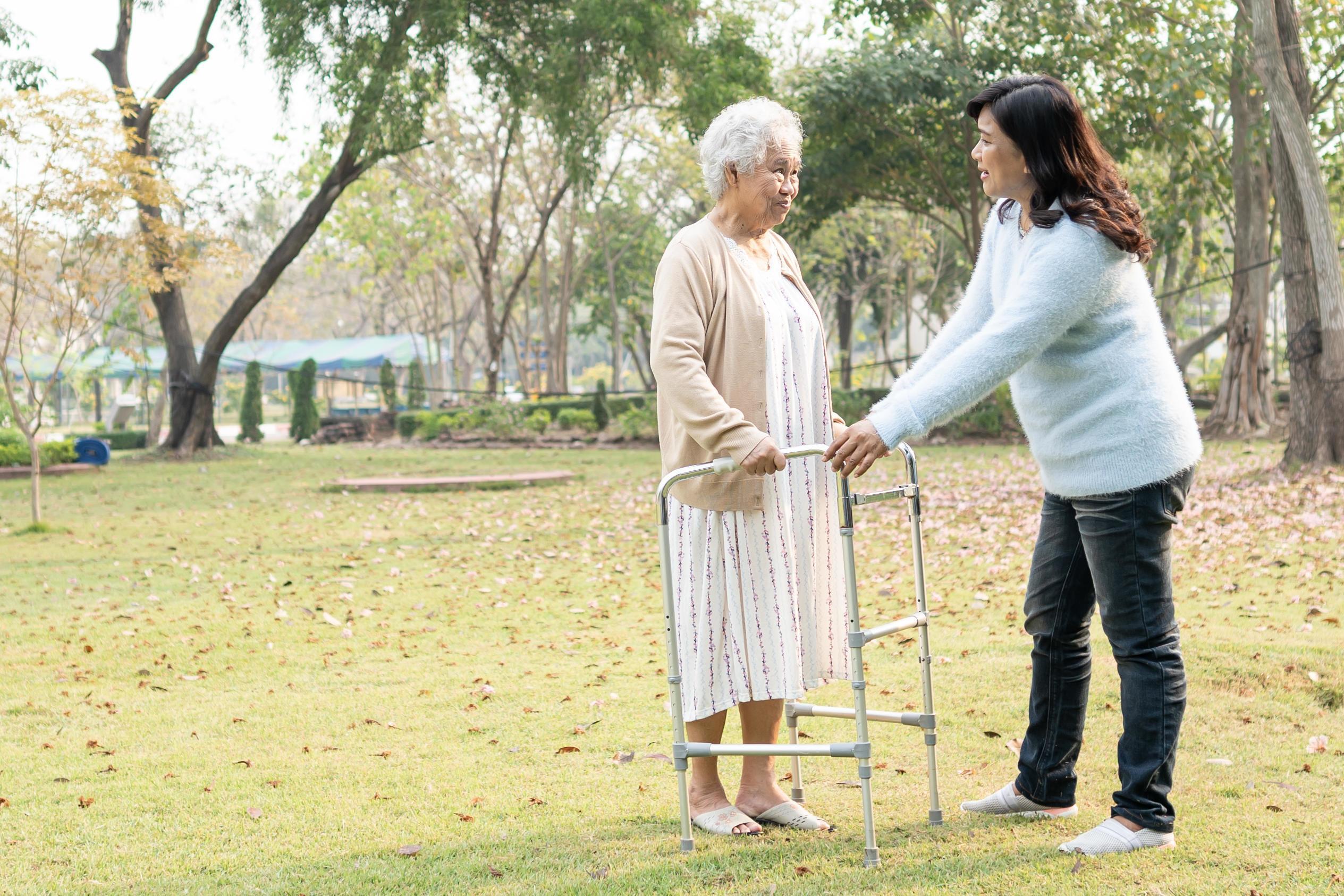 A GPS tracker for seniors is an excellent tool for keeping tabs on elders, dear ones, and friends. You will not constrain their freedom while still ensuring their safety. A senior GPS tracker can be a necessary tool for keeping track of your elderly loved one's whereabouts. 
What Can A GPS Tracker Do For Seniors?
GPS is an abbreviation for global positioning system – a widely used technology for transmitting precise data about geolocation and time to a specific GPS receiver anywhere on or near the earth. GPS devices can function independently and do not need cell phones or internet connectivity to send data. As the data is supervised and recovered through a receiver, a senior GPS tracker will notify you of the user's location. 
Which Is Better: GPS Tracker or Tracking App for the Elderly?
There are two options for tracking your elderly out there, a GPS tracker vs a GPS tracking app. 
A GPS tracker is more expensive than a mobile application. It allows you to keep track of the elderly and offers additional features for a fee. Some of them also include an SOS button that your loved one can use to summon assistance right away.
However, it is only partially useful in practice.
According to one study, only 62% of elderly Americans can use smartphones. Many of them cannot use a smartphone app to request assistance in an emergency.

Furthermore, if your parents have dementia or Alzheimer's and have trouble remembering things, they may leave their smartphones at home.

Another reason is that it is not always possible to carry a phone with you everywhere. For instance, to the restroom. But did you know that most falls occur on the slick restroom floor?

Furthermore, tracking apps deplete phone batteries at a quicker rate. They cannot provide a precise location and are dependent on the performance of the phone and other apps.
As a result, it is safe to say that smartphone apps are beneficial. However, you cannot always rely on them to ensure your parents' safety.
Hence, we advise purchasing a GPS tracking device.
A GPS tracker is an essential tool for keeping track of your elderly loved ones' whereabouts. You can keep them safe without restraints or taking them away. It gives assurance and allows your parents to live their lives as they wish. Most GPS devices include enhanced security features to ensure the safety of seniors. Here are a few examples:
Location tracking in real-time

SOS message

Geofencing notifications

Alert for movement

Low-battery warning

Speakerphone with Assistive Technology
With several GPS tracking systems and devices on the market, it can be hard to ascertain which app will best meet the needs of your elderly and family. When shopping for a GPS senior tracker for seniors, keep the following factors in mind:
Device Compatibility
A GPS tracking application should be compatible with your elder's smart device. It should not require any fuss during installation or use.
User-Friendly Interface And Software
Choose a GPS tracker app with a user-friendly application system that is convenient even for non-technical users such as the elderly. You'll miss out on many beneficial features if the company you bought your GPS tracker doesn't have a separate app. You cannot generate or visualize geofences, view the settings page, or monitor other vitals such as battery capacity. An installed tracking app sends alerts in/out immediately on a smartphone. Excellent trackers should give you more flexibility in customizing location reports.
Use And Purpose
Consider what activities you'll be doing when selecting GPS trackers. Trekking? Bicycling? Fishing? On the road for sales? What do you want your GPS tracker to do? How about navigating the highways or the wilderness, storing favorite fishing spots, or finding geocaches? Will you primarily use your GPS tracker for navigation? What about outdoor activities? Are you only tracking your car? A fleet for your company? Are you following someone or something? When you become more specific in your responses, you can recognize functionalities that your GPS tracker must have to meet your needs. Make sure your tracking app supports the needs and lifestyle of your seniors.
Distress/SOS Button
In an emergency, search for a senior tracking app with an easy-to-use SOS or distress button so that help can arrive quickly. The SOS button in a GPS tracker is a critical feature to look for when selecting GPS trackers because it has the potential to save lives. When in distress, the user can press this button to notify authorities or guardians of the device's present location, including directions. This feature has proven to be beneficial in emergencies. 
Cost
The amount of money you have in your wallet will influence which systems you consider. Once you've determined what you're going to use the GPS tracker for and which features you require, you'll be able to get the best offer on a tracking device. Consider the plan you're about to purchase as well. Most GPS trackers do not encompass service when bought, and monthly costs range from $5 to $49.95. In most cases, the price of a GPS tracker has little to do with its accuracy. A more expensive GPS tracker isn't always better than a less expensive model. 
Intelligent Alerts
The primary purpose of a GPS tracker is to pinpoint the precise location of a person or object. Knowing when one crosses boundaries is crucial for choosing GPS trackers with the best security, performance, and reliability. Get a tracking device that sends instant alerts if the device leaves a safe zone, moves outside its schedule, changes location, or exceeds speed limits. Choose a system with intelligent updates to monitor your seniors' safety and health.
Some other necessary things to consider are:
Support –

Choose a GPS tracker program that enables quick customer assistance and support to ensure functionality and debugging help in the event of operational issues.

Water-resistance –

Water-resistant trackers can withstand light liquid splatters without harming the internal wiring or chip. In emergencies, GPS trackers must have this feature. Outdoor GPS trackers must be durable enough to last for the price you paid.

Low Battery Alerts –

Elderly may be less concerned with keeping their gadgets charged every time. You can set up low battery alerts to notify you and remind them to charge their devices.

Coverage –

The majority of GPS tracking systems transmit data via mobile phones. Before shopping for GPS trackers, you must first determine which cellular network the device will use. Consider (1) whether you have network issues in the areas where your recipient travels and (2) if you should wait minutes, hours, or even days before the device indicates the location. Consider your GPS provider's ability to provide multiple coverage options and determine whether one coverage is more important than another.

Activity Tracker –

Many GPS tracker apps now include activity trackers so the user can track online and application activities, preventing future online abuse.

Inactivity Alerts –

If the elderly live alone, choose a GPS tracking system that will send inactive alerts when the phone is left unattended for a long.
Conclusion 
The Family1st portable GPS tracker is a cost-effective and consumer-friendly solution. It can monitor everything from vehicles to senior citizens, pets, and capital. And, no matter where you are, stay in touch with them. Family1st has a low-cost tracker available for $29.95. In addition to the cost, you will have to pay a monthly subscription of $21.95 to access Family1st's advanced features. Geofence, safe zone alerts, alert notices, and 24/7 tech support are other prominent functions of the Family1st portable GPS tracker.
In conclusion, a GPS tracker can be an invaluable tool for providing your elderly with effortless security. It can be beneficial to both you and the elderly. It can provide you with reassurance and freedom.