Old age is the last stage of our life process. After running smoothly for at least 60-65 years, the body becomes weak and incapable of carrying out its everyday lifestyle. They are forced to rely on someone else to fulfill their basic needs such as eating and toileting, but this is not only the problem a senior adult has to face. There are many more challenges such as medical ailments, restricted freedom, mistreatment, ageism, isolation, etc. While combating these, many of the elderly get diagnosed with dementia. 
Dementia is a chronic disease that impacts the cognitive ability of the brain. It also affects the person's mood, emotional behavior, etc. Nevertheless, the disease also has several other impacts on the person and their loved ones. It makes the elderly more dependent on their caregivers. They often refrain from moving out alone even for a short walk. The family members are worried about the safety of their elderly. 
According to a report by WHO, a caregiver often spends 5 hours on average taking care of the patient and 24 hours worrying about them. They are worried if-
What will happen if they forget their way back home?
What if they are unable to remember their number in case of emergency to ask for help.
 How will they find them?
Also what if they are not present in the city when their parents or relatives need them?
The more we think, the more troublesome this disease appears. While we know that you are taking several measures to help your loved one, there is one thing you have to add to your checklist- a GPS tracker. Yes, you have heard right. 
A GPS tracking device can be a savior that can help you to monitor the real-time activity of your loved ones 24/7. It can provide you peace of mind that your family member is safe & sound and always a notification away. The best part of it is that it provides long-lost independence to senior citizens. 
When they have the GPS tracker with them, they can go wherever they want without any fear of wandering. Additionally, you can always reach them or send immediate help in an emergency. 
So now that you have made up your mind to buy a GPS tracker, let us show you some of the best available options.
If you want to skip the whole list of trackers for dementia patients, You can simply get the Family1st Dementia Tracker.
Dementia
Dementia is a chronic disease that deteriorates the cognitive ability of our brain. It is progressive and thus gets worse over time. It usually impacts memory, thinking, comprehension, calculation, learning capacity, language, judgment power, etc. It is a disease that mainly affects older people. 
According to a report, around 55 million people are suffering from dementia. Among which 6.2 million are Americans aged 65 or above. It is a deteriorating disease that is the 7th leading cause of death. The only reason behind it is the unawareness of the illness among people. 
The disease also impacts family members and other caregivers of the patients. It is estimated that they will spend more than 15.3 billion hours taking care of their loved ones in 2020.
How Can GPS Tracker Help Dementia Patients? 
GPS tracking devices are helping people to keep tabs on their loved ones, possessions, and vehicles from decades ago. The tracker uses its GPS capabilities to provide you with accurate location updates. 
While trackers are useful in several ways, they can become life-saving tools for those suffering from dementia. 
It can provide you with real-time location updates about your parents or relatives. So the next time, if they insist on walking down the alley alone, you can let them go freely.

You can set preset boundaries over the map to create custom notifications whenever the elderly pass by. In this way, you can ensure that your loved ones are not missing any single appointment and wandering off to an unknown place. 

Some of the devices are small and lightweight, so you can clip them to their shoes or clothes without causing any discomfort. Even if they dislike it, you can attach it discreetly to ensure their safety. 

Doctors recommend an active lifestyle in dementia, caregivers often neglect this advice. They are scared to let their family members go out or do any activity alone. And unknowingly, restricts their freedom. With the help of a GPS tracker and its effortless real-time tracking updates, the elderly can enjoy their independence, and you can ensure peace of mind. 

One day, if your parent or relative gets into some trouble and needs urgent help, they can press the SOS button. It will generate an immediate signal, and you will get notified. Some of the companies also offer dedicated teams to address the instant requirements of the elderly. 

Even if the senior citizen forgets their way back home, you can immediately reach them using the accurate location coordinates. Additionally, you can even share the details with the first responders or your friends for help. 
Types Of GPS Trackers For Dementia
You can find different types of GPS trackers for dementia on the market. Let's discuss them one by one. 
Personal GPS tracker

Wearable GPS tracker
Personal GPS Tracker
Personal GPS trackers are dedicated units with in-built GPS capabilities. They are compact and lightweight devices, so the elderly don't find them bothersome. 
Wearable GPS Tracker
Wearable GPS trackers are devices that your loved ones can wear. They come in different forms, such as smartwatches, shoe soles, pendants, keychains, etc. 
Features To Look For In An Ideal GPS Tracker For Dementia
You have to be careful while choosing an ideal device for your loved ones. Since they have special needs, you have to ensure advanced features to provide them with effortless security. 
Some of them are below:
Real-time location updates
• Geofencing
• Affordable price
• Low monthly subscription plans
• SOS button
• A waterproof and sturdy device
• Fall detection feature
• Dedicated agents
12 Best GPS Tracker For Dementia Patients
Disclaimer: The purpose of this article is to list the Best GPS Trackers for Dementia Patients and not review or rank them. All the products listed here have several unique features catering to a wide range of customer requirements.
When it comes to affordability with advanced features, nothing can beat Family 1st portable GPS tracker.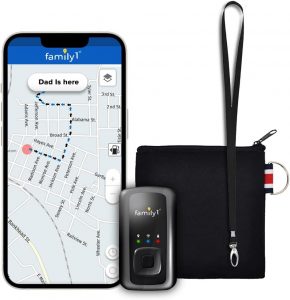 The Family1st Senior GPS Tracker, which costs $25.95, is an economical and complete solution for tracking elders, particularly those with special needs such as dementia and Alzheimer's.
For dementia patients who are prone to wandering, features like quick SOS alerts provide immediate emergency notifications, and geofencing enables caretakers to define safe zones and warn them if their loved ones leave these specified regions. You can monitor your loved one wherever they are in the USA, Canada, or Mexico thanks to the device's real-time monitoring coverage in these nations. The user-friendly iOS and Android apps further increase its usability by making it accessible to folks who are not tech-savvy.
Another exceptional aspect is the availability of round-the-clock live assistance for any problems or crises, which is crucial for dementia care. Although there is a $21.95 monthly subscription charge required for these services, the feature set justifies the price, especially when taking dementia patients' safety into account. In addition, the tracker comes with a strong pouch and lanyard. This solution offers a low-risk yet extremely advantageous way to secure the safety of dementia-affected seniors, with a 30-day money-back guarantee.
Price And Subscription 
Family1st is the most affordable GPS tracker on our list. You can own a device by paying $29.95 along with $21.95 in monthly subscription fees. 
AngelSense GPS tracker is an advanced GPS tracking device specially made for the elderly with dementia and Alzheimer's. The device has extra safety and quality of life features to protect your family members. It provides you with a reliable and accurate location on the live map, hence you can know where your family members are from anywhere. 
It sends you immediate alerts if your loved ones are detected wandering in an unfamiliar place or arrives late to their destined location. It is comfortable to wear, and you can easily attach it to their clothing without even informing them. If they need you, they can press the SOS button. It has a unique feature known as an assistive speakerphone that allows you to communicate with your loved ones virtually to provide them comfort. 
In 2022, the company added new features such as indoor search, fall detection, and SOS call direct. It ensures that you can locate your loved ones even if they are inside a building, get immediate notification if they fall, or connect to them via assistive speakerphone when they press the SOS button. 
Hence, we can say that with the help of this device, you can provide maximum independence to your seniors without compromising their safety. 
Price And Subscription 
The price of the hardware is $99. Apart from it, you will have to pay $45 per month.
Jiobit tracker allows you to stay connected to your loved ones 24/7. It is a small and long-lasting GPS tracker that is no bigger than a cookie. So it won't be a burden on your seniors. You can slip it into their pocket or backpack to enjoy real-time tracking updates. 
With effortless real-time tracking, you can get information about wherever your family members go. With the timeline feature, you can ensure that there is no point C between points A and B. 
It has a decent battery life that protects your family member for a longer period without the chaos of charging it frequently. You cannot always be available to address emergencies. So the company allows you to add other people to the care team to take care of them when you are not there. 
When your family member presses the SOS button, the device notifies every member mentioned in the care team. It also sends location details to a professional dispatcher to provide help immediately. 
Price And Subscription 
The price of the hardware is $129.99 and monthly subscription fees are $14.99. 
Around six out of ten people suffering from dementia often forget their way back home, even when they go out for a casual walk. It would be no use if you could be with them to ensure their safety. But it is not always possible, right? After all, you have your things to do. 
Don't worry, Trackimo can help you stay virtually with your family members no matter where they are. It is a convenient and user-friendly tracking device. It allows you to view live reports of your parents or relatives from anywhere and at any time. 
It is a small and lightweight device that is compact and weighs 1.4 ounces. This way, your seniors won't find it bothersome to carry it around while doing their daily routine. You can use it as a keychain belt clip or hang it around the neck like a lanyard. 
You can also set custom alerts for your relatives so that they don't get far from their predetermined route. If they do, you will get an immediate notification, and you can take measures to ensure their well-being. If they like to drive a car or any other vehicle, you can set speed alerts and ensure they are not engaging in reckless driving activity. 
The Trackimo also has a panic button that sends you a message with exact location details. So if one day, your parents find it difficult to find their way home, they can press it, and you can come to pick them up or send help.
Price And Subscription 
To own the hardware, you will have to pay $198.90. Apart from the device, you will also have to pay monthly subscription fees of $5. 
As a family member, you need a device that can ensure the safety of your loved ones without restricting their freedom. iTraq can help you with the exact job. It is a location device that uses its in-built GPS, cellular, and Wi-Fi capabilities that work anywhere, whether indoor or outdoor. 
It is the small and lightweight trackers you can attach to their clothes or slip into their pocket. On top of that, it is easy to use. The key feature of this device is that its battery can last up to four months with one report per day. 
But what if they lose the device itself? Well, in that case, you can set it to beep. It is water and dust-resistant, so your elderly can take it anywhere, including outdoors in the rainy season or in the bathroom.  
In case your loved one needs immediate assistance, they can press the SOS button, and you will get alerts via SMS or email with precise location details.
Price And Subscription 
The cost of the device is $129.00, along with it, you will have to incur monthly subscription fees of $7.99.
Life is hard in your older age, but it becomes harder when you have degenerative diseases like dementia or Alzheimer's. While people often face difficulty carrying out their daily activities, as a family member, you have to take measures to protect them, whether it is injuries from falls or wandering. 
In such a case, a lightweight Geozilla GPS tracker can help you to get real-time location details. With its 4G cellular network, you can always ensure safety and connect with your senior citizens no matter where you are. They can wear it around their neck or attach it to clothing without inconvenience. 
It is 100% waterproof, so they can take it with them to the bathroom without most of the fall accidents happening. It has inbuilt fault detection capabilities that send an immediate alarm in case your family member falls and injures themselves. 
In case your parents need immediate assistance, the company agent will contact them and send police, fire department, EMTs, mental health services, or other members of the care circle accordingly. 
Price And Subscription 
The price of a Geozilla GPS tracker is $79.99. Apart from this, you will have to pay monthly subscription fees of $19.99. 
PocketFinder is another loved GPS solution by family and caregivers to keep tabs on their loved ones. It provides you with accurate location information using GPS, Wi-Fi, and Cell-ID capabilities. You can receive location updates every 10 seconds to 60 seconds, as per your need. 
You can multiple geofences over the map to ensure your family member does not wander off from their destination. You will get an immediate alert notification as they enter or exit the preset boundaries. In case they are driving a vehicle, you can set speed limits to get notified when they exceed them. 
In case of an emergency, your loved one can press the SOS button on the tracker to notify you. The PocketFinder is sturdy and water-resistant, so you don't have to dictate to your parents where they can or cannot take their device. 
Price And Subscription 
To own a PocketFinder GPS tracker, you will have to pay $159. Apart from this, you will have to pay $12.95 as monthly subscription fees. 
Theora care GPS watch is a smartwatch with in-built GPS technology. It is a personal GPS tracking device with an SOS button to give peace of mind to the caregivers and freedom to the seniors. You can view real-time location updates along with historical wellness data on the Theora Link smartphone app. 
Unlike other devices, it does not grab much attention from others. Anyone can wear it as a normal watch. Another notable feature of this GPS tracking watch is auto answering. In case of an emergency, even if your loved ones are unable to receive the call, you can still reassure them with your voice. 
The device also allows you to create a virtual safety net via a simple drag and drop feature. It also has an SMS button which is easy to locate and automatically sends an immediate alert with a notification.
Some other notable features are superior customer support, automatic low battery notification alert, magnetic charging station, etc. 
Price And Subscription 
To own this GPS smartwatch, you will have to pay $247.97. Apart from this, a monthly subscription fee of $69.97.
If your parents live abroad or in a different country than the USA, and you want to assure their safety from far away, then here is the best match for you- the Tracki Mini GPS tracker. 
Tracki Mini GPS tracker is a mini device that provides you with worldwide coverage. It can provide you with real-time location updates in more than 190 countries. You can know where your loved ones are and what they are doing no matter where you are. Additionally, it is a simple GPS tracker that you can install in a few minutes without any professional help. 
It offers several features to ensure maximum safety and the best tracking experience. Some of them are- safe zone notifications, speed alert notifications, indoor + outdoor coverage, etc. It also comes with an SOS button to address the emergency. It has a friendly user interface you can easily navigate through the mobile application to get the location updates of your loved ones. 
Price And Subscription 
The cost of a Tracki Mini GPS tracker is $28.88. And the monthly subscription fee is $19.95. 
Do your parents love their active lifestyle? But because of this disease, you are scared about their safety and hence are worried about whether you should send them outside alone for a walk or not? Well, if this is the case, you can end with complete confidence with the help of this GPS watch. 
MG Freedom GPS smartwatch is comfortable to wear, and they can wear it like any other regular watch. You can then enjoy real-time GPS tracking. You can set up geofences to get notified whenever your family member is about to wander away from the predestined route. Moreover, you can create reminders and alerts for the different schedules, so you can know where they should be and where they are. 
It also has a fall detection feature that is super handy to avoid serious injuries from fall accidents. Also, the company has trained and dedicated agents available 24/7 to assist your loved ones in their needs. Additional features that make this GPS tracker more interesting are weather forecasting, step pedometer, analog clock, calendar alerts, SMS messages, etc.
Price And Subscription
The price of the hardware is $199.95. Along with it, you will have to pay monthly subscription fees of $39.95. 
Optimus 3.0 GPS tracker is a real-time tracker that can help you to locate your elder from any distance. When your parents get old and get diagnosed with a disease, your responsibility increases multi-folds. You can use this device to ensure their safety and your peace of mind. It can help you to locate your elders in real time on a love map.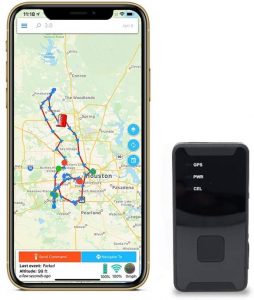 You can also create safe zones to get notifications when your elders cross them. It is a helpful feature, especially when your parents have Alzheimer's. For example, if the elderly leaves the house and is lost, the device will help locate them and bring them back to safety. You can also create a care group that will notify your family members when the elderly get lost or wander. 
Another notable feature of this GPS tracker is its battery. It lasts up to one month with one-minute updates. It means you can easily rely on this to work for a longer run without worrying about frequently charging the device. Optimus is also a compact device that you can easily attach to their clothes or keep in their pocket or backpacks. It won't hinder their daily lifestyle, and they won't even feel uncomfortable.  
Price And Subscription 
Optimus 3.0 portable GPS tracker costs $39.95, with monthly subscription fees starting from $19.95. 
Another reliable GPS tracker in our list is the LandAirSea 54 GPS tracker. It is a real-time 4G LTE tracker, making it perfect to keep updated on your loved one's activities.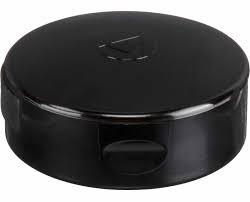 It is a compact and waterproof device; you won't have to worry even if your parents take it with them in the shower one day. It is small and lightweight, making it easier to place it in their pocket, purse, or backpack. 
LandAirSea 54 GPS tracker allows you to track your loved ones in real time. You can lower the update frequency to 3 seconds if they get lost and bring them back safe and sound. You can customize the device according to your individual needs and receive text and email alerts. You can even set geofence over the map to get notified whenever they cross. It can help you to bring them before they wander far away from home. 
Price And Subscription 
The price of the LandAirSea 54 GPS tracker is $29.95. The annual subscription plans start from $179.55.
Final Words
Whether you are taking care of a family member or a friend, you should never see yourself alone. There are several tools and technologies available in the market to help you in ensuring the safety of your loved ones. Among these GPS tracker you can find a noteworthy one. 
You can use GPS tracking technology to minimize the dangers associated with dementia. It can provide you peace of mind along with independence for your loved ones. 
Apart from it, you can take several other measures to ensure the safety of your family members.