GPS trackers are of all kinds ranging from plug-in trackers to hard-wired. But when we talk about mini-GPS trackers, it is generally portable ones. Here we will walk you through the list of the best mini-GPS trackers.
Portable GPS trackers are smaller and also don't cost an arm and a leg. They are usually of pocketable size and can be carried around easily. You can use them for tracking almost every asset you want.
Owning a GPS tracker is the first step towards the safety of your loved ones and valuables. Because let's be honest no matter how well you study a new place's map, there is still a high possibility of you getting lost. And in such a situation, a GPS tracker may prove to be a lifesaver.
Mini GPS Trackers- Why do you need them?
The principal purpose of a GPS tracker is to keep you updated with the whereabouts of your assets and loved ones. And small GPS trackers make this task easier.
A mini-GPS tracker is lightweight and quite simple to use. You can customize safe areas for your kids on the map and receive alerts when they leave the safe zone. The best mini-GPS trackers come with more than enough features to give you a sense of confidence if you wander off the beaten path.
Another benefit of having a mini-GPS tracker is you can put it in places without others noticing. They have an added benefit over the other GPS trackers too. While it might be tough to get your child or pet to carry around a bulky tracker, you can simply attach a mini-GPS tracker on your kid's clothes or around your pet's collar. To know how these devices function, click here.
Here we have put together a list of the best small GPS trackers for you.
Best Mini GPS Trackers – Reviews
Disclaimer: The purpose of this article is to LIST the best products in the market, and not to review or rank them. All the products listed here have several unique features catering to a wide range of customer requirements. While compiling this list, we evaluated the devices based on their cost, subscription plans, battery life, size, and installation process. We considered factors like the countries they offer coverage in, ease of use of their application, security, or other unique features they offer. We also looked into add-on services these vendors provide – lifetime warranty, 24/7 customer support, installation help, and more. The intention is to inform and educate the reader on the variety of options available in the market.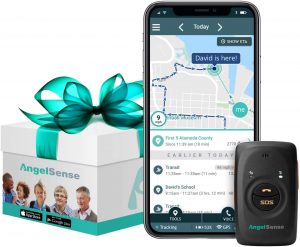 This GPS tracker is designed specifically to meet the needs of people who have ASD. The mini-GPS tracker inspires confidence in autistic people and provides a sense of security to their caregivers. Once you place the device on the person, you can track their every movement and the routes they take. Safety-wise this is the best GPS tracker you can have for your loved ones.
AngelSense gives you the best results at an affordable price and can compete with devices even above the $300 range. The mini-GPS tracker is secured with customized, sensory-friendly wearables that can only be removed with a special parent key. In addition, the 2-way voice with an auto pickup speakerphone gives you an extra sense of relief. You can not only track your kids but also give directions to them.
The mini-GPS tracker allows you to create geofences and alerts you when your kid enters or leaves the customized area. You can share the location of your loved ones with rescue teams in cases of emergency. Also, the device fully complies with school regulations. That means your child can wear it to almost every crowded place you can think of.
Product Highlight
2-way voice with auto pickup speakerphone
SOS button
Proactive Alerts
Live Location Sharing
Battery & Specs
Size: 2.4″ x 1.7″ x 0.63″

Weight: 1.4 Oz

Battery: NA

Battery type: NA

24 hours of active battery life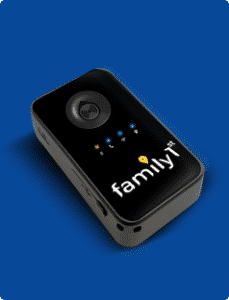 Family1st GPS tracker sits on the first spot on our list of the best mini-GPS trackers. The small size of the tracker allows you to put it in a bag or the car with no one noticing. Equipped with a lightning-fast 4G LTE network, this GPS LTE tracker is perfect to track vehicles, kids, pets, seniors, and all other valuables.
Family1st GPS tracker comes with an extended 2400 mAh Li-Polymer rechargeable battery which can last up to two weeks. It enables indoor tracking using Wi-Fi; therefore, you don't have to worry even if you misplace the device. You can hide this small GPS tracker anywhere in a vehicle, backpack, or luggage and track it via the app or the website.
The sleek design of the Family1st GPS tracker makes it easier to plant the device in multiple unsuspecting places. You can even place the GPS tracker under your vehicle with the help of the Family1st Magnetic case and get complete reports based on total miles driven, total miles driven at or above 80 Mph, hard acceleration activity, etc. The other features of this portable GPS tracker include low battery and speeding alerts, and a feature to receive texts and email notifications.
Product Highlight
Real-time GPS tracker
Pocketable size
Lifetime Warranty
14-days battery Life
30-days money-back guarantee
Battery & Specs
Size: 2.8" x 1.8" x 1.1

Weight: 3.60 Oz

Battery: 2400 mAh Li-Polymer

Battery Type: Internal and Rechargeable

2 weeks active battery life with 1 minute update

6 months sleep mode battery life at one update per day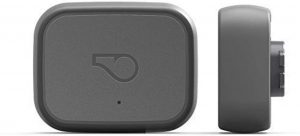 Designed specifically for tracking pets, Whistle 3 turns out to be one of the best portable GPS trackers. The lightweight tracker runs on GPS and thus covers a wider range than Bluetooth-based devices. This new upgrade comes with two new modes, Whistle goes explore and Whistle go.
Whistle 3 allows you to monitor your pet's daily activities and also how your pet measures up for their age, weight, and breed. Since they designed it for pets, durability and waterproof feature is a given. So, you need not worry about your pets that love to jump in a puddle whenever they see one.
The battery life for this product is also exceptional compared to other pet tracking devices. Depending on the activity of your pet, the battery can last up to 6-7 days. It can be easily attached to your pet's collar and it won't even feel the weight. You can also get text, app, or email notifications when your pet leaves home.
Product Highlight
Small and reliable design
Nationwide location tracking
Longer battery life
Affordable
Battery & Specs
Size:1.8″x1.4″ x 0.6
Weight: 0.96 Oz
Battery:1 Lithium ion batteries
Battery Type: Internal and Rechargeable
7 days active battery life with 1 minutes update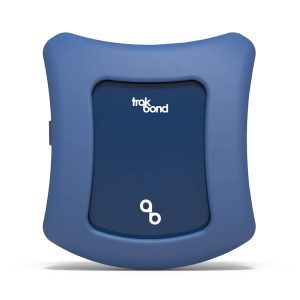 If you are looking for a mini-GPS tracker specifically for your kids, you will find Trakbond Trail to be quite useful. Based in India, this mini-GPS tracker takes special measures to ensure the safety of your little ones. The small device is equipped with advanced features such as real-time tracking, panic button, timeline view. And you get all of it at an affordable price.
Trakbond Trail comes with a pre-installed SIM card and you get 2-months of subscription for free. The subscription includes unlimited data usage, SMS alerts, a mobile app, a secure cloud, instant support, and other benefits. The company charges no cancellation fee and you can withdraw from the contract whenever you want. In addition, you get a 1-year warranty and lifetime support.
This mini-GPS tracker allows you to create geofences and mark safe areas. The app will alert you or you'll receive a text when your kid enters an unfamiliar place that doesn't come under the pre-defined regions. You can also check the exact location of your kids or assets on a live map. Trakbond Trail comes with various wearing options like a neck strap, silicone case, and lockable carabiner. You can easily attach the locator to your child's clothing or backpack. The device has a trendy look and comes in various colours, so your child can wear it comfortably.
The only downside of this mini tracker is the battery life. While the company promises battery backup up to 2 days, it may seem insignificant compared to what the other companies are offering. However, you won't get such cheap plans with other trackers along with all the service. Trakbond Trail lets you check the location history of the tracker and features an SOS button for emergencies. With that said, the company promises security of your data.
Product Highlight
Small GPS tracker
Check location history
Wearable options
SOS button
Lightweight and durable
Battery & Specs
Size: 1.6″ x 1.7″ x 0.9″
Weight: 1.4 Oz
Battery: 3.7V 600 mA/H Lipo battery
Battery Type: Internal and Rechargeable
2 days of active battery life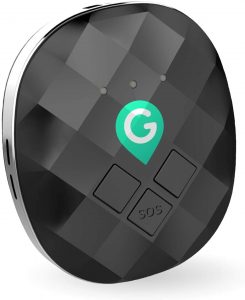 Product Dimensions: 1.85 x 1.6 x 0.7 inches
Weight: 1.06 ounces
Another small-sized tracker to ensure the safety of your loved ones and the security of your valuables. Geozilla GPS tracker can easily be paired with the app to receive alerts and notifications. The mini-GPS tracker is lightweight and thus can be attached to your kid's clothing with no inconvenience. You can also latch it to your pet's collar.
Geozilla GPS tracker is available at an affordable price with a battery life of 5 days. The portable device is black, so it will not stand out if you decide to carry it in person. It comes with a hard case pouch that ensures your device can assist you even in unfavourable weather.
You can rely on this mini-GPS tracker for the safety of your pets and kids. Geozilla GPS tracker will be your most reliable companion when you take on trips to new countries. You can trust this device to lead you whenever you feel lost.
Product Highlight
Lightweight and portable
Blends with surroundings
User-friendly app
Affordable tracking services
Battery & Specs
Size: 8″ x 1.6″ x 1″

Weight: 1.05 Oz

Battery: Li-ion 520mAh

Battery type: Internal and Rechargeable

2-3 days active battery life for 1-minute updates

6 days in sleep mode (no activity)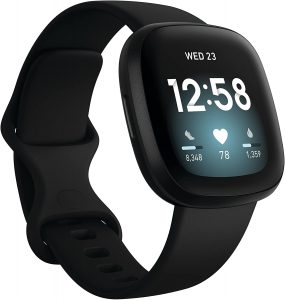 Another one of those devices comes with a built-in GPS tracker and you can strap it on your wrist. Weighing only 30g, Fitbit makes one of the best small GPS trackers. Their recent upgrade comes with even better features and longer battery life.
Fitbit is perfect for fitness enthusiasts who get so involved in their fitness routine that they sometimes wander off into uncharted zones. If you are one of those people, you need not worry anymore. This device uses 24/7 heart rate to track resting heart rate and alerts you when you're in your personalized Fat Burn, Cardio, or Peak heart rate zones. And once you are done with your routine, you can check it for an evaluation of your workout. On top of it, the built-in GPS checks your pace and distance on screen during outdoor runs, cycles, hikes.
The latest Fitbit device is water-resistant and gives you an accurate measure of calorie burn. You can also track your sleeping pattern with the help of this device. In a time where people are living off black coffee and staying up till late at night, this feature proves to be a boon. And as an extra feature, you can also use it to text and call people. Simply connect it to your Android smartphone and answer calls from your wrist. The product comes with an instruction manual that will guide you step by step on how to set up the GPS tracker and other settings. In addition, you also get one extra strip and a charging cable.
Product Highlight
Built-in GPS tracker
Active Zone Minutes
New exercise modes
Sleep tracking
7-day battery
Water-resistant
Battery & Specs
Size: 9.72″ x 1.13″ x 0.49″
Weight: 1.05 Oz
Battery: NA
Battery Type: Internal & Rechargeable
7 days active battery life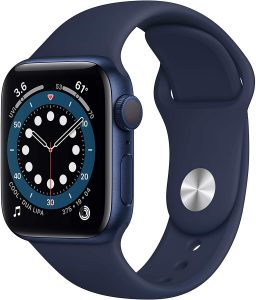 What is better than a small GPS tracker? A watch that comes with a GPS and other sparkling features.
Produced by one of the most trustworthy brands in the market, this watch has a built-in GPS. This means you don't have to bother with carrying another device. It is perfect for treks and since it is water-resistant, you can also wear it underwater. With a sapphire crystal and ceramic back, this watch gives a professional view. You can wear it to meetings or seminars.
Apple Watch also acts as a smartphone and a fitness band. Connect it to your iPhone and keep a track of your daily activities without a hitch. You can make and receive calls, reply to texts, and sync your favourite music, podcasts, and audiobooks. It can store up to 32Gb of data which goes a long way. The watch comes with an always-on retina display. This feature proves to be quite useful when you wear it under the sun as the screen is 2.5x brighter outdoors.
The watch helps you in staying fit by measuring workouts like running, walking, cycling, yoga, swimming, and dance. It checks your heart rhythm and measures the blood oxygen too. The other additional features include S6 with 64-bit dual-core processor, W3 Apple wireless chip, U1 Ultra Wideband chip, Barometric altimeter. It also has a built-in rechargeable lithium-ion battery and promises 18 hours of battery life.
Product Highlight
Built-in GPS tracker
Easy to connect and operate
Smartphone and fitness band in one
Waterproof design
Blood oxygen sensor
Ambient light sensor
18 hours of battery life
Always-On Retina display
5GHz Wi-Fi and U1 Ultra Wideband chip
Battery & Specs
Size: 12.32″ x 2.69″ x 1.33″
Weight: 9.9 Oz
Battery: NA
Battery Type: Internal and Rechargeable
18 hours of active battery life
Frequently Asked Questions
Where can I use a mini-GPS tracker?
Simple answer – anything that you want to track! A mini- GPS tracker works best to track children and pets. The size of these trackers ensures that your kids and pets can roam and play around freely. You can also use mini-GPS devices for luggage, handbags, laptop bags, wheelchairs, bikes, and so on. 
How long does a mini GPS tracker last?
It depends on the GPS tracker you choose. Some GPS devices have longer battery backup than others. 
But on average, a GPS tracker lasts up to two weeks with active tracking and up to six months in sleep mode. You can further extend the battery life by lowering the frequency of updates. 
How accurate are mini GPS trackers?
Generally, GPS trackers provide you with accuracy within 0.3 meters. It is the basic parameter of most devices. Also, size does not affect the accuracy of the device. 
How to choose the best small GPS tracker device?
Consider these factors to choose a perfect GPS tracker for you. 
Battery life

Size

Connectivity

Price

Monthly subscription fees

Geofencing

Smart alerts

Additional features 
Is there a monthly fee to use a GPS tracker?
Yes, you have to pay monthly or annual subscription fees to enjoy the GPS tracking service. You have to pay this cost as GPS service providers have to rely on satellites to provide accurate location updates.
Final Verdict
Who doesn't like to have an extra set of eyes to ensure the safety of their loved ones? GPS trackers provide you with the extra help you are looking for. These mini-GPS trackers will keep you updated with the exact coordinates of your valuables at the touch of a button.
The best mini-GPS trackers must be lightweight since you'll be carrying them around the entire time. If you are looking for trackers specifically for pets, then Whistle 3 and Geozilla GPS tracker can prove to be a good pick. When it comes to special kids, AngelSense takes the crown. If you are one of those people who want multiple benefits along with the tracker, you might want to go for Apple Watch or Fitbit.
So, you see different trackers suit different needs. We have done our bit by compiling the best of the lot for you. Now it is up to you to choose the one you think is the best for you.