GPS technology is nearly everywhere in modern life. The majority of us use it daily without thinking twice. The GPS (Global Positioning System) consists of a network of satellites orbiting the Earth and devices that can assist in determining the location of an object or a person. GPS has a variety of purposes, ranging from international military exercises to driving directions. GPS tracking necessitates the installation of a tracking device in a vehicle, on a piece of equipment, or on a person. With this vehicle tracking device, you can find the exact location, piece of equipment, or person. It also monitors the activities of a vehicle, piece of equipment, or person. A GPS tracking device, for example, can be used to determine the location of a truck, a kid, or assets.
Car GPS trackers are a valuable tool for parents of young drivers and caregivers of aging parents. They enable you to track a child's location, driving patterns, and emergencies while allowing parents and children the freedom they desire. Most units have a compact design – ideal for storing in a seat or door pocket, glove compartment, or center console, but some have a magnetic mount for external use. 
Subscription fees (monthly or yearly) can ensure constant coverage and real-time tracking (via apps). You can set up email or text alerts for a vehicle – if it leaves its designated area or if the SOS button is activated. Some units even allow you to listen in on a live audio feed if there is an emergency. When shopping for a car GPS tracker, battery life should be. Most units include rechargeable batteries that can last for several weeks. Others have detachable, rechargeable batteries, allowing you to keep several on hand for quick swaps when the unit requires power.
Here is a list of the seven GPS trackers with the most extensive battery life. 
Most Recommended Best GPS Trackers With Longest Battery Life
Disclaimer: The purpose of this article is to list the Best GPS Trackers With Longest Battery Life and not review or rank them. All the products listed here have several unique features catering to a wide range of customer requirements.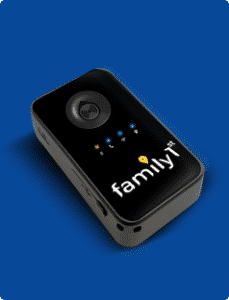 If you need a GPS tracker for individual use, the Family1st portable GPS tracker is ideal. It has a 4G interconnection, indoor WiFi monitoring, and Alexa integration. Hence, it is great for monitoring children, the elderly, and pets. The hardware is durable, weatherproof, waterproof, and takes little space. Because the device is portable, it is simple to set up and can be used to monitor your teen's car. Its companion app gives you access to a wide range of GPS services, including geofencing, theft alerts, safe zone notifications, etc. The Family1st Portable GPS tracker is a good option for those looking to get the most bang for their buck.
The Family1st Portable GPS tracker costs $29.95, with a monthly subscription starting at $21.95. 
Battery and Specs Specifications 
Battery type: internal and rechargeable. 

Battery life stays active for two weeks with one minute update.

Six months sleep mode battery life at one update per day.

Battery: 2400 mAh Li-Polymer

Size: 2.8" x 1.8" x 1.1" 

 Weight: 3.60 Oz
Product Highlights 
Lifetime warranty on GPS device.

Low device price and subscription plan.

No cost activation, no contract, and deactivation.

Coverage in the USA, Mexico, and Canada.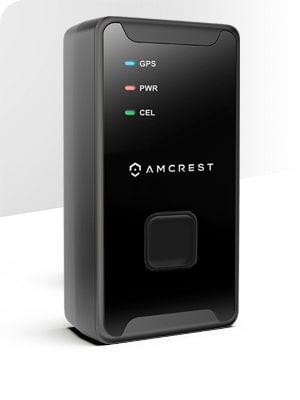 The Amcrest GL300W GPS tracker, which weighs less than 4 ounces, is among the smallest trackers on this list and is suitable for hidden tracking. You can track it if you can conceal it. The Amcrest GL300W GPS Tracker, like most industry rivals, allows you to set speed restrictions and geofences. You can also share your current location with loved ones and close friends. When you press the SOS button, it is easy to request help in an emergency.
The GL300W has an active battery life of 14 days. The device has an intelligent and responsive AI that instantly puts the tracking system to sleep when not in use. You will receive a notification when the battery is running low.
The Amcrest GL300W GPS tracker works in the United States, Canada, and Mexico. The device costs $52.99, with a monthly subscription beginning at $19.99.
Battery and Specs Specifications 
Battery type: internal and rechargeable.

Five-six days of active battery life span for five minutes updates.

Approximately two weeks on standby mode (no activity).

Battery: Li-Polymer, 2600 mAh.

Size: 3" x 1.5" x 1".

Weight: 3.52 oz.
Product Highlights 
Compact and secure (smaller than a matchbox).

Intelligent battery notifications.

Motion and SOS alarm setting.

Weather-resistant.

Compatible with up to 20 geofences.
Geozilla is a viable solution if you need a modest GPS tracker for personal use. It has all of the innovative features at an affordable price. Trackers detect crashes and then send alerts to emergency contacts – assist quickly. You can create a custom alert for arriving and departing notifications on the companion app. Aside from that, there are other notifications such as Geofence, SOS button, etc.
With a 60-second location update, it has a rechargeable battery that lasts five to six days on a single charge. 
The tracking device is reasonably priced and convenient for people of all ages. Geozilla costs $79.99 for this gadget, with a $19.99 monthly subscription model. The device also includes a global sim card. If you choose a long-term subscription, the subscription price drops to $4.99 per month.
Battery and Specs Specifications 
Battery type: internal and rechargeable.

Battery life: two-three days for a one-minute update.

Six days in sleep mode (no activity).

Battery: Li-ion 520mAh

Size: 8″ x 1.6″ x 1″.

Weight: 1.05 oz.
Product Highlights 
Best for tracking children, senior citizens, and pets.

Compact real-time GPS tracker.

An SOS button.

Global coverage.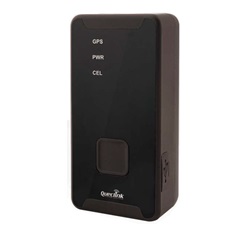 The Americaloc GL300W GPS tracker is a miniature version of the famous GL300. The small device is adaptable and can be used to track people and things of all ages and sizes. The Americaloc GL300 is the top pick if you're willing to splurge on a high-quality GPS tracker with several features. The device is available in the United States, Canada, and Mexico and sends text or email notifications in English or Spanish. With the companion app, you can access up to a year of monitoring history on your laptop, mobile phone, or tablet. The app allows you to set up geofencing and track data such as movement, downtime, unit battery capacity, and whether the device is turned on or off. To send an SOS signal for street emergencies, press the unit's front button. 
Americaloc provides two months of free service upon activation, with additional coverage available in monthly or annual subscription plans; this is ideal for anyone who only needs a tracker on a temporary or intermittent basis. The Americaloc GL300W, which uses CAT M1 technology, has a long-lasting battery of 14 days. 
The vendor has no agreement, no initiation, and no refund policy. The device costs $109.90, and the monthly subscription fee is $25. 
Battery and Specs Specifications 
Battery type: internal and rechargeable.

10-14 days of active battery life with one-minute updates.

Battery: Lithium-ion battery.

Size: 7" x 1.51" x 0.92".

Weight:24 oz.
Product Highlights 
Several battery nodes.

Converts to a wired device if needed.

Global coverage.

Keeps a track record history up to 1 year

No contract, activation fee, or cancellation fee.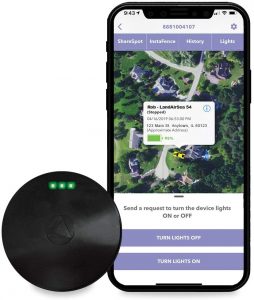 The LandAirSea 54 is among the most reasonably priced trackers we've observed from a reputable manufacturer. You don't need an optional case with this waterproof device because it has an internal magnet. With a long-term pre-paid plan, you can sign-up for as little as $20 per month. Outdoor-mounted GPS units face several environmental conditions, and the LandAirSea 54 withstands them all. The highly durable outer casing helps protect vital components from dust, moisture, and harsh sunlight, allowing it to operate flawlessly every day. The built-in high-strength magnet simplifies the installment in a wheel well, bumper, or chassis. It uses Google Maps for real-time tracking, geofencing, and retrieving location histories.
A fully built-in rechargeable battery lasts almost six months without maintenance. You can configure text and email notifications for tracking parameters to quickly respond to aging parents or teenagers who may need assistance.
Battery and Specs Specifications 
Battery lasts up to three weeks (with three-minute updates).

Battery Typ: built-in Lithium-ion.

LED Indicator

Green/red for battery and GPS status.

Size: 2.25 x 2.25 x 0.8″ (57.2 x 57.2 x 20.3 mm).

Weight: <1 lb (0.5 kg).
Product Highlights 
Inclusive of SIM card.

Usage of Google Maps is extensive.

Least expensive of the trackers here (with three-minute updates).

An internal magnet means there's no need for an optional case.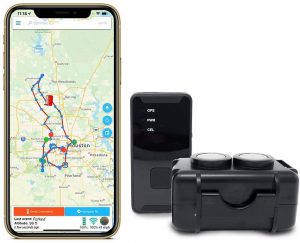 The model provides the best value for money for the cost and functionalities. It can send more notifications than many industry rivals, and its app generates "geofence" zones of any form, whereas most trackers limit you to radial areas. The Optimus 2.0 comes with a magnetic, waterproof case for $40, and its monthly fee is among the lowest we've seen. Keeping a car GPS tracker hidden and shielded from tampering or removal is critical, whether you want to keep an eye on teenagers or elderly parents. The Optimus 2.0 has an incredibly minimalistic size, gauging only 3 inches long. The obtainable magnetic mount makes it quick and easy to place it in a wheel well or under a bumper. The companion app is compatible with both Android and iOS, and it allows you to track your location and driving information.
When transmitting at its default 60-second intervals, its battery can last up to two weeks, but you can increase its frequency to every 10 seconds for free. With an active subscription, it covers a lifetime warranty. You can customize the data you want to track with two different subscription packages at a price that fits your budget. The device has an SOS feature that will alert you to road emergencies such as dead batteries or collisions.
Battery and Specs Specifications 
Battery: lasts two weeks when reporting frequency is 1 minute.

Batteries: one Lithium Polymer battery.

Size: 3in x 1.5in x 1in.

Weight: 3.3 ounces.
Product Highlights 
Magnetic mount. 

An SOS button lets a person call for help.

Alerts you of vehicle motion, speed, battery capacity, and the entry or exit from a geofence zone. 

It can send data every 10 seconds for no additional charge (using more battery power).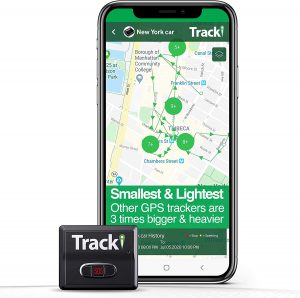 Tracki is one of the most flexible tracking devices on the market today. It's a small GPS tracker that you can easily carry around and attach anywhere. You can use it to track vehicles, drones, barbacks, traveling trollies, and anything else. The best part is that Tracki's cellular-based tracking system allows for global tracking. With its real-time GPS tracking and long-lasting battery backup, you'll never lose track of your valuable possessions.
The Tracki GPS tracker supports global coverage, including the United States, Canada, and 185 other countries. It is an entirely personalized tracking app that can track logging and time anywhere. Furthermore, you can access the location on any desktop or iPhone/Android app via GPS, GSM, WiFi, and Bluetooth tracking (within 100 feet ). If real-time GPS tracker functionality is not required, the battery life can last up to 30 days on a single charge. Alternatively, the Tracki unit will last two to three days in real-time.
While adding bulk to the Tracki, an optional battery extender will broaden real-time tracking up to 2 weeks — notifying you four times per day will last you up to 6 months. The procedure is simple, and you can get started in less than five minutes. While the size is ideal for discretion, the short battery life could be a barrier for those seeking real-time tracking. Take a look at the best fitness tracker if you want to track your miles on your next hike.
Battery and Specs Specifications 
Battery: 900mAh.

Rechargeable battery life is about 2-3 days tracking real-time every 1-5 minutes.

If you want the battery to last for 30 days, use the sleep/hibernation mode on the app.
Product Highlights 
Easy 5-minute setup procedure.

Global tracking coverage.

An optional battery extender is available.

Unlimited distance real-time tracking 4G LTE+ extra triband.
Frequently Asked Questions
How long can a GPS tracker battery last?
The battery life of the GPS tracker varies from one to another. But on average, a GPS device can also last up to 6-12 months without active tracking. 
Is there a GPS tracker that doesn't need charging?
Yes, if you don't want to go through the chaos of removing the tracker every time and charging it, you can choose plug-in-play or hardwired units. But you can only use it to track your vehicle and not the other things. 
The service power from the engine; hence, you will not have to charge it.
How often do GPS trackers need to be charged?
It depends on how long the battery life of your tracker lasts. For some, it can be two weeks and for others, less than that. 
How long does it take to charge a GPS tracker?
You have to charge your GPS tracker for at least 2 hours before you start moving. 
How can you increase the battery life of the GPS tracker? 
You can increase the battery life of your tracker either by purchasing an additional battery or lowering the frequency of reporting. 
Things To Keep In Mind Before Investing In a GPS Tracker 
GPS trackers can range in price from low to high depending on the features. Remember that a low-cost GPS tracker is not always a good investment. It is unwise to judge a device solely based on its price, but even if it is inexpensive and you want to buy it, be sure you check its features.
The most important consideration is your requirement. Examine the reason for purchasing a GPS tracker. Do you require vehicle tracking? Do you want to keep a record of your pet's daring adventures? Do you have concerns about your child's, parents', or employees' health? Once you've determined why you require a tracker, you can start looking for trackers with the features you need. Knowing your inclinations and necessities can likewise assist you with restricting your pursuit from the immense scope of trackers.