No matter the kind of GPS tracking device you have, it must have a long battery life for several reasons. It ensures extended usage without frequent recharging, making your tracker reliable during long trips or outdoor activities.
It also provides peace of mind, especially in emergencies, as the device will continue functioning when needed most. Moreover, it reduces the risk of device failure or becoming non-functional due to a depleted battery, which could lead to losing track of valuable items or loved ones. Long battery life is beneficial if you live or travel to remote areas. 
All the devices on the list are great for keeping track of things like cars and belongings. They have long-lasting batteries, so you can use them for a long time without worrying about recharging. Perfect for making sure everything is safe and sound!
That is why we tested some of the GPS tracking devices on the market and compared their battery life to bring you this guide and help you choose the one you need. We also looked at several other essential features to give you the best and a comprehensive solution. 
How have we tested?
Our process entails a thorough evaluation of numerous GPS trackers, including compatibility, ease of installation, app usage, and tracking accuracy. We put them through rigorous testing in terms of signal strength, data accuracy, and extra features like geofencing and live tracking. Pricing comparisons, prolonged durability testing, and information from accurate customer evaluations on platforms like Amazon and Shopify all contribute to our thorough assessment.
List 9 Best GPS Trackers With the Longest Battery Life
Disclaimer: The purpose of this article is to list the Best GPS Trackers With Longest Battery Life and not review or rank them. All the products listed here have several unique features catering to a wide range of customer requirements.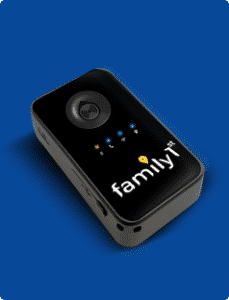 When it comes to long battery life, Family1st is unparalleled. It is ideal for personal tracking needs. We especially checked its multi-connectivity function and found that it has 4G connectivity and Alexa integration. Add its long-lasting battery into the mix, and you get a GPS-tracking device that is great for monitoring children, the elderly, and pets. 
The hardware is durable, weatherproof, water-resistant, and takes little space. As the device is portable, it is simple to set up and can be used to monitor your family or a new teen driver's car. Its companion app gives you access to a wide range of GPS services, including geofencing,  safe zone notifications, etc. Even with all these features, it is remarkable that the device can function for over 14 days after a single charge. We believe that the Family1st Portable GPS tracker is a good option for those looking to get the most bang for their buck.
The Family1st Portable GPS tracker costs $29.95, with a monthly subscription starting at $21.95. 
Pros
The device battery provides prolonged use without regular recharging, ensuring uninterrupted tracking.

Setting it up and tracking it immediately after activation is easy.

The Family1st tracker offers real-time monitoring through the companion app, keeping you informed and updated.

The device generates signals when the tracker crosses specified zones.

It keeps track of travel routes and destinations for reference.

The water-resistance feature makes it suitable for use in various environments. 
Cons
No Real-time Location Alerts

: Some users may not like the lack of real-time location alerts when the tracker moves in real-time.

Lack of direct location sharing with 911 services

: Unlike other GPS trackers, this feature is not included, potentially reducing its utility in emergencies. 
Pricing and subscriptions
Device costs: $29.95
Subscription plan: Monthly subscription starting at $21.95. 
Key features
Long-lasting battery life with Li-Po battery

Real-time tracking through the user-friendly App

Water-resistant design

Travel history records

Easy installation

Compatibility with Alexa

Android and iOS compatibility

Shared tracking through multiple devices
 What's in the box?
The box contains the following:
GPS tracker device

Charging cable

User manual

Necessary accessories for installation 
What are customers saying?
Amazon Review Score: 4.0 out of 5
Most users found that the device's long-lasting battery ensures extended usage without frequent recharging, making it ideal for continuous tracking without interruptions. They also put in a good word for its companion app that gives access to various tracking solutions, including safe zone notifications.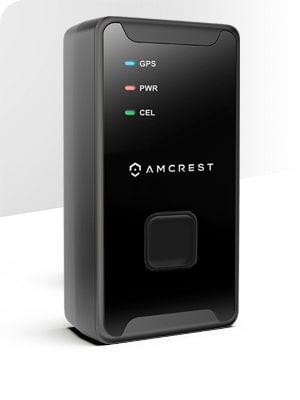 The Amcrest GL300W GPS tracker, which weighs less than 4 ounces, is among the smallest trackers on this list and is suitable for hidden tracking. However, while testing, our core concern was its battery life. We charged the device and put it under our staff car's seat. The small size of the tracker does make it easy to conceal. Moreover, it comes with an SOS button that you can use to request help in an emergency.
The Amcrest GL300W GPS Tracker, like most industry rivals, allows you to set speed restrictions and geofences. After extensive tests and checking all the features to see battery usage, we can say that it is a great tracker for your loved ones and close friends. The GL300W has an active battery life of 14 days. The device has an intelligent and responsive AI that instantly puts the tracking system to sleep when not in use. You will receive a notification when the battery is running low.
The Amcrest GL300W GPS tracker works in the United States, Canada, and Mexico. The device costs $44.99, with a monthly subscription beginning at $19.99. 
Pros
Impressive 10–14 day battery life based on innovative power architecture

Complete quad-band transmission for accuracy in real-time tracking

Easy monitoring and adjustment through integrated maps interface

Customizable, safe zone alert options for updates on routes and locations

Water-resistant design suitable for a variety of conditions

The watertight magnetic case for further protection
Cons
Some users find the higher update frequency plans too expensive

Mobile browser compatibility is not so efficient for remote accessibility. 
Pricing and subscriptions
Device cost: $44.99 

Subscription plan

: Yearly subscription plans ranging between $19.99  to $34.99 
Key features
Impressive 10–14 day battery life

Supports multiple Geo-Fencing Regions

Intelligent Battery Alerts to notify about low-battery

Reports about the GPS device power status (on/off)

SOS Alarm feature for emergencies

Motion Alarm based on Internal 3-axis Accelerometer

IPX5 Weather Resistant for durability 
What's in the box? 
The package includes the following items:
4G GPS Tracker with Pre-installed SIM Card

Magnetic Waterproof 

GPS Pouch

Mini USB 5V AC Power Adapter

Quick Start Guide 
What customers are saying?
Amazon Review Score: 4.2 out of 5
Because of its extended battery life and excellent features, the Amcrest GL300 4G GPS Tracker is one of the popular choices. Users agree that its simple interface and dependable tracking capabilities provide peace of mind by providing real-time updates on the safety and location of people, pets, or precious items.
During our test, we found that Geozilla proves to be a practical solution for individuals seeking a simple GPS tracker for personal usage. Moreover, it also offers an impressive battery life of up to 48-72 hours of active usage and more than 144 hours of standby.
One of the features that we liked is its capacity to automatically detect crashes and promptly send out alerts to designated emergency contacts, ensuring swift assistance when needed the most. Also, the companion app allows for the creation of personalized alerts for both arrivals and departures, further enhancing its utility.
A 60-second location update interval supports Geozilla's tracking capacity, and its rechargeable battery has a commendable lifespan of five to six days on a single charge. This allows for longer operational durations without the need for frequent recharging, maximizing convenience.
Geozilla is priced at $79.99, inclusive of the device and global SIM card. Additional services are offered with a $19.99 monthly subscription, while long-term users can opt for a $4.99 monthly plan,
Pros
The GeoZilla GPS Tracker has a long battery life, offering 48–72 hours of active usage and over 144 hours of standby time.

Users can experience seamless and trouble-free connectivity in many parts of the world.

The simple pairing process with the GeoZilla app for iOS or Android.

The GeoZilla software allows multiple members access to the device's location

The device is small and portable, easy to carry.

Wi-Fi connectivity improves tracking quality and precision. 
Cons
Users needing constant real-time tracking may find the battery life insufficient.

Users in poor coverage areas can need help tracking. 
Pricing and subscriptions
Device cost: $121.99 
Subscription plan: $5 for a month, $50 for a year, and up to $99 for three years of coverage. 
Key features
Global coverage

iOS/Android Interface

User-friendly GeoZilla App

Lightweight and Compact Design

2-3 days active battery life for 1-minute updates

Standby mode for up to 6 days (144 hours) with no activity 
What's in the box?
The package includes the following items:
GeoZilla GPS Tracking Device

Global Coverage eSIM

Rechargeable battery (Li-ion 520mAh)

USB cable

Lanyard for use as wearable

Attachment pouch
What customers are saying?
Amazon Review Score: 3.5 out of 5
It is helpful in various applications, and users can expect hassle-free connectivity in multiple parts of the world. The impressive battery life providing reliable tracking for up to 48-72 hours of active usage, is an outstanding feature.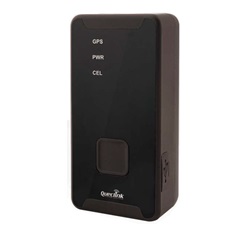 We got our hands on the Americaloc GL300W GPS tracker, the mini version of the renowned GL300, and tried it for over three weeks. This tracker's amazing battery life is one of its biggest selling points. The Americaloc GL300W, like many other devices on the market that we tested, has an excellent battery that can last up to 14 days. This means less trouble with regular recharge and more continuous monitoring. Whether you're keeping an eye on a loved one or safeguarding your valuables, the long-lasting battery ensures you stay connected without interruptions.
Although we could not travel to these countries to test the device, the vendor does claim that the Americaloc GL300W GPS tracker covers the US, Canada, and Mexico, offering language-customized notifications via text and email in English or Spanish. 
Through the companion app, we could access all the monitoring history, and the app supports up to one year of historical data. Geofencing and tracking vital data are seamless, with added security from the SOS feature. Americaloc's solid two-month free service and flexible subscription plans accommodate various needs. At $80 upfront and a $25 monthly fee, the GL300W excels in value. 
Pros
Long battery life lasting up to 14 days

Flexible tracking frequency and customized location update adjustment

Multipurpose usage for vehicles, merchandise, family, and employees

Global coverage in over 180 countries

Real-time tracking and one year of tracking history

Real-time notifications for various events.

User-friendly platform for monitoring and managing multiple trackers

Powerful battery backup for several days

 
Cons
No mention of waterproof or weather-resistant features.

Some users prefer even longer battery life for extended tracking. 
Pricing and subscriptions
Device cost: $80.00. 
Subscription: Monthly plan: $25, and the yearly plan can go up to $228 
Key features
Long-lasting rechargeable battery (up to 14 days)

Setting up the frequency of location updates as ten, thirty, or sixty seconds.

Wired option for continuous power supply

Event alerts for motion, stops, speeding, low battery, and route deviation

User-friendly application for monitoring and managing devices

Built-in movement detector to conserve battery life while idle
What's in the box?
The Americaloc GL300, GPS Tracker package includes the device, a rechargeable battery, a magnetic box for GL300MXW mounting, and a SIM card.
 What customers are saying?
Amazon Review Score: 4.5 out of 5
Americaloc GL300 GPS Tracker is suitable for intensive vehicles, people, or asset tracking. It provides extraordinary battery life using cutting-edge technology and location updates more frequently with no extra cost, ensuring access to accurate and up-to-date information.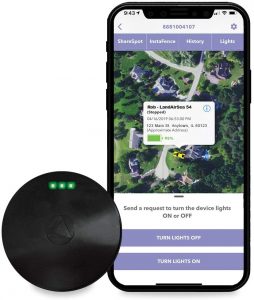 Following extensive testing, it is clear that the LandAirSea 54 stands out as a reasonably priced tracker from a trustworthy company. Notably, the built-in rechargeable battery lasts long – an impressive six months without requiring maintenance. Because of its integrated magnet, which securely attaches it, this waterproof device avoids the need for an alternative casing. You can subscribe for as little as $20 per month if you choose a long-term pre-paid plan.
The LandAirSea 54 proves its capacity to withstand and work successfully in a variety of outdoor environments. Its rugged exterior case protects critical components from dust, moisture, and direct sunlight, assuring consistent operation. The built-in high-strength magnet simplifies installation in tire walls, bumpers, or chassis.
Google Maps integration enables real-time tracking, geofencing, and retrieval of location history. The gadget supports individualized SMS and email notifications, allowing for quick reactions to situations involving aging parents or teenagers who require assistance.
Pros
LandAirSea54 GPS Tracker's battery life can range from 15 days to several months

It can withstand adverse situations because of its tiny size and waterproof grade

These features let users quickly notify others about the location and send immediate emergency alerts.

The gadget provides an entire API catalog for simple system integration.
Cons
The Tracker needs to be periodically recharged

Historical data may occupy ample storage space
Pricing and subscription
Device cost: $29.95 
Subscription plan: Annual subscription ranges between $179.55 to $499.55
 Key features
Long battery life with various tracking modes: 15 days to 365 days

Compact and waterproof design

 Share location for collaborative tracking

Instant notifications for movement outside a designated area

Built-in magnet for easy mounting

Geofence, Speed, and Battery Alerts

 Engine run-time and temperature monitoring
 What's in the box?
The LandAirSea54 GPS Tracker, USB Micro B Charging Cable, and a Quick Start Guide
What customers are saying?
Amazon review rating: 4.2 out of 5
The LandAirSea54 GPS Tracker sends location details via the App and provides instant alerts in case of unusual movements. Getting real-time location updates through the App or any web platform is easy. The option to share location details with other contacts is a handy feature to ensure safety and security.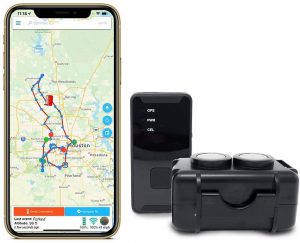 Optimus 3.0 is the latest model of the Optimus GPS tracker range, so we had to try and see how it fares against its older version. Without a doubt, it is one of the best devices out there regarding battery life. It can also last up to one month with a one-minute update frequency that makes it distinguishable from others. You can buy the device with a magnetic, waterproof case to protect the device and use it discreetly. It can help you to make your device durable and tamper-proof.
Another highlight of the Optimus GPS tracker is that we can generate geofences of any shape. It does not restrict you to the basic rectangle or circular shape. Given its smaller size and magnetic mount, we understand why it is popular as a portable option. You can easily install and hide the device in the wheel well, under a bumper, under a car, etc. It comes with a companion app, for both Android and iOS. 
Optimus 3.0 Portable GPS tracker is available for $39.95, and the subscription plans start from $19.95 per month.
Pros
Considerably long battery life

The GPS Tracker is portable because of its compact design

Integrated motion sensor to help preserve battery life by switching to standby mode.

The user-friendly tracking webpage with Google Maps allows tracking the movements

Allows sending notifications to predefined SMS and email recipients.

Receive news in the event of speeding, crossing designated locations, or low battery.
Cons
Some customers have reported minor issues with signal strength in areas with weak network coverage.
 Pricing and subscriptions
Device cost: $39.95 
Subscription plan: $19.95 (monthly plan)
Key features
Battery backup for extended hours

Unlimited distance real-time tracking

Generates geofences of any shape

Stores historical data for up to five years

SOS button for emergencies

Sends data update every 10 seconds
 What's in the box?
Belt Clip

Magnet

Lanyard

Keychain for attachment
  What customers are saying?
 Amazon review rating: 4.4 out of 5
Customers have given the Optimus 3.0 GPS Tracker high marks for dependability and accuracy. Customers praise its real-time tracking skills and user-friendly design. The gadget has become famous for its lengthy battery life, small size, stealthy placement, and simple installation.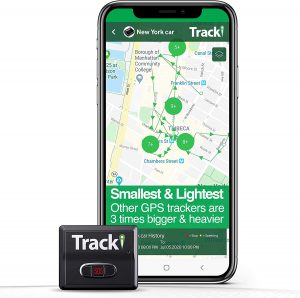 While curating this list, we wanted to give an option for our globe trotters. That is why, we chose Tracki, one of the most flexible tracking devices on the market today.  Because it is meant for travelers, we put this device in a backpack and asked our staff member to take it for a trip over 3 weekends. If real-time GPS tracker functionality is not required, the battery life can last up to 30 days on a single charge. Alternatively, the Tracki unit will last two to three days in real-time.
The Tracki GPS tracker supports global coverage, including the United States, Canada, and 185 other countries. It is an entirely personalized tracking app that can track logging and time anywhere. Furthermore, you can access the location on any desktop or iPhone/Android app via GPS, GSM, WiFi, and Bluetooth tracking (within 100 feet ). If real-time GPS tracker functionality is not required, the battery life can last up to 30 days on a single charge. Alternatively, the Tracki unit will last two to three days in real-time.
While adding bulk to the Tracki, an optional battery extender will broaden real-time tracking for up to 2 weeks — notifying you four times per day will last you up to 6 months. The procedure is simple, and you can get started in less than five minutes. The device is priced at $18.88, and the subscription plan offers monthly fee options of $16.60, $13.95, or $9.95. 
Pros
Long battery life for use for an extended period
Small size and portability allow easy mounting

Long battery life for use for an extended period 

Lifetime warranty on loss or defects

Coverage across the countries.

Android & iOS app compatibility
Cons
It may have a short battery life

Requires a cellular connection 
Pricing and subscriptions
Device cost: $18.88
Subscription plan:  Monthly fee package options ($16.60, $13.95, or $9.95) 
Key features
Very small in size and lightweight

Global coverage for tracking

SOS button to send live location information

Includes a magnet for easy mounting

Tracking history for up to the last five years

Extension of battery backup up to six months
What's in the box?
Tracki Mini GPS device

Magnetic mounting

Velcro and belt clip
What customers are saying?
Amazon review rating: 4.1 out of 5
Tracki Mini GPS Tracker has received positive feedback for its small size, lightweight, and ease of use. Customers have appreciated this reliable and feature-rich GPS tracking solution that meets their expectations of tracking real-time location updates with tracking accuracy.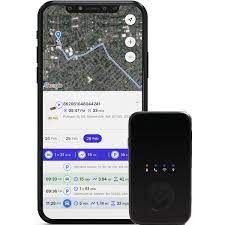 The next device on our list is the Prime Tracking GPS tracker, which is a real-time personal GPS tracking device powered by 4G LTE technology. Because it is subtle, light, and robust, we believe it can be best utilized for hidden tracking. It has an impressive battery life and can update every minute for up to two weeks. It may be used to track the whereabouts of individuals in real-time, such as children, the elderly, cars, equipment, and tools. You can also set up various geofences to be notified whenever the cracker goes through the area.
We tried Prime Tracking GPS tracker's SOS feature and found that in an emergency it sends real-time alerts to your family member's phone and seek help. The tracker provides a limited GPS range throughout Mexico, the USA, and Canada, so you can always keep an eye on your loved ones no matter where they are on the continent. 
Prime Tracking GPS tracker is an affordable solution that costs $29.99 and a monthly subscription of $24.97.
Pros
Simple to set up, use, and monitor through a digital device

Excellent battery life

Supports wide connectivity

Allows customized geofencing
Cons
GPS range is limited to Mexico, the USA, and Canada only.
Pricing and subscription
Device cost: $29.99. 
Subscription plan: $24.97 (Monthly subscription)
Key Features
The small and lightweight device

Tracking history of 1 year

Real-time event tracking like speed and motion

Emergency SOS facility to generate alerts

Setting up multiple Geofencing zones
What's in the box?
Prime Tracking GPS tracker hardware device
What customers are saying
Amazon review rating: 4.7 out of 5
Prime Tracking GPS tracker is a fantastic solution for keeping track of persons, luggage, or a vehicle. Its smartphone app with a GPS sensor gives accurate real-time tracking and unlimited range that making it more reliable. The battery life is excellent, allowing consistent monitoring facilities.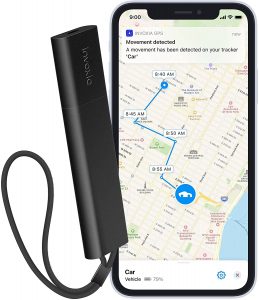 Based on our hands-on experience, the Invoxia Cellular GPS tracker is a perfect solution for protecting your car from theft. The best part of this GPS tracker is that it has a good battery life that can last up to 4 months in power-saving mode. The battery life varies according to usage. You can charge it within 90 minutes. 
It can send you location updates every 2, 5, 10, or 30 minutes, depending on your settings. When it detects any suspicious movement or attempted theft of your vehicle, it gives you anti-theft notifications. So the next time you leave your car in a parking lot, you won't have to be concerned about its safety. 
We also tried the virtual fence feature by creating one over our office parking lot, and we received an alert every time our staff car entered or exited the predetermined boundary. It also allows you to access the location history of the vehicle.
Invoxia cellular GPS tracker costs $129 with a free one-year subscription. Afterward, you will have to pay $39.95 per year.
Pros
 The long battery supports up to 4 months in power-saving mode

.
Accurate location tracking with a flexible frequency of updates

The long battery supports up to 4 months in power-saving mode.

Easy to create custom Geofencing zones

Anti-theft alerts for suspicious movements
Cons
Not waterproof

Delay in zone alerts
Pricing  and subscription
Device cost: $129 
Subscription plan: $39.95 (Yearly Plan)
Key features
Advanced location tracking using Bluetooth, Wi-Fi, GPS

Battery backup of several weeks

App compatibility with Android and iOS

Real-time anti-theft alerts

Proximity radar

Zone, travel, and movement alerts
What's in the box?
Invoxia cellular GPS tracking device
What customers are saying?
Amazon review rating: 4 out of 5
Customers have acknowledged the features of Invoxia Cellular GPS Tracker, like easy setup, accurate tracking, customized alerts, and virtual safe zone demarcation. The Invoxia Cellular GPS Tracker seems a popular and reliable choice for those looking to keep track of their valuable belongings, cars, and equipment in transit.
Frequently Asked Questions
How long can a GPS tracker battery last?
The battery life of the GPS tracker varies from one to another. But on average, a GPS device can also last up to 6-12 months without active tracking. 
Is there a GPS tracker that doesn't need charging?
Yes, if you don't want to go through the chaos of removing the tracker every time and charging it, you can choose plug-in-play or hardwired units. But you can only use it to track your vehicle and not the other things. 
The service power from the engine; hence, you will not have to charge it.
How often do GPS trackers need to be charged?
It depends on how long the battery life of your tracker lasts. For some, it can be two weeks and for others, less than that. 
How long does it take to charge a GPS tracker?
You have to charge your GPS tracker for at least 2 hours before you start moving. 
How can you increase the battery life of the GPS tracker? 
You can increase the battery life of your tracker either by purchasing an additional battery or lowering the frequency of reporting. 
Things To Keep In Mind Before Investing In a GPS Tracker with Long battery life
GPS trackers can range in price from low to high depending on the features. Remember that a low-cost GPS tracker is not always a good investment. It is unwise to judge a device solely based on its price, but even if it is inexpensive and you want to buy it, be sure you check its features.
The most important consideration is your requirements. Examine the reason for purchasing a GPS tracker. Do you require vehicle tracking? Do you want to keep a record of your pet's daring adventures? Do you have concerns about your child's, parents', or employees' health? Once you've determined why you require a tracker, you can start looking for trackers with the features you need. Knowing your inclinations and necessities can likewise assist you with restricting your pursuit from the immense scope of trackers.
Ending note
This article has provided a comprehensive overview of the 9 best GPS trackers with the longest battery life. Through rigorous testing and evaluation, these trackers have been proven to offer reliable and accurate tracking capabilities. From personal use to asset monitoring, they cater to various needs with diverse features and global coverage.
Whether it's tracking vehicles, children, pets, or valuable assets, these GPS trackers have proven their worth. With long-lasting batteries and user-friendly interfaces, they offer peace of mind and real-time updates to ensure safety and security. Choose the one that best fits your requirements and stay connected with the things that matter most.