The United States is slowly becoming a country with an increasing number of the elderly population, given that the 76 million people born post World War – II, during the years 1946-1964, have crossed the age of 65 plus years in this decade. Also, known as baby boomers, the lives of the people born during this time brought with it several challenges as well as developments in the country, giving rise to better educational and employment opportunities. Older adults belonging to this group, have higher education and more work experience than their predecessors, which allows them to have comparatively better financial security in their old age.
For the past several decades, the U.S. policymaker and service providers have been gearing up to prepare for the needs that this generation will need in their old age. According to the report published by Population Reference Bureau in December 2015, there were more than 46 million people above the age of 65 years, and this number will see an increase to 95 million in 2060. The report also projected an increase of 18 million in the number of the older population in 2020-2030, as the last of the baby boomers cross the age of 65 years.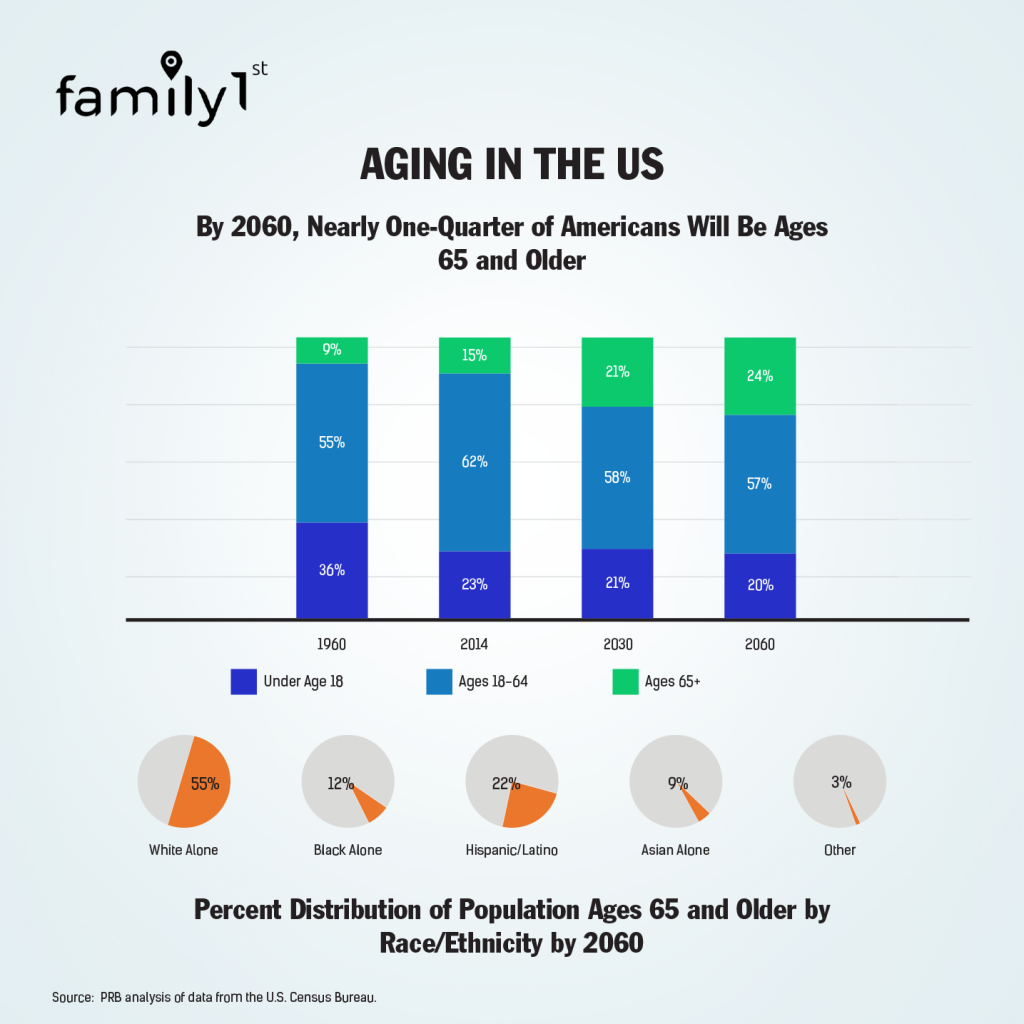 The alarming rate of increase in the older generation was inevitable due to the baby boom of 1946-1964, however, it does call for planning and policies that would help them lead a better life in older age. The baby boomers generation has been marked with unique characteristics. They had greater opportunities for higher education and employment, allowing them the financial security to lead a comfortable life. But because of having fewer kids and higher divorce rates, most baby boomers live alone without the care and social support of a family. This is why there must be enough resources in terms of medical assistance, assisted care living, nursing homes, as well as a pension that will allow the older population to have a better living standard in their remaining years.
Age Group, Racial and Ethnic Composition, and Generational Gap
Because of the higher rate of life expectancy in the U.S., which is 78.54 years as of 2017, a significant part of the American population is composed of people over the age of 65 years. In 1960, 9 percent of the population was age 65 or older, and one-third (36 percent) was under age 18, while in 2014, children made up less than one-fourth of the total population (23 percent), and those of ages 65 and older made up 15 percent or nearly one-sixth of the total. Recent studies and projections predict that by 2035, the number of the older population will definitely surpass the younger ones.
The U.S. is an ethnically and racially diverse country, although such diversity is more evident in a younger population than the older ones. In 2014, it was noted that about 75 percent of the older population (65 years and older) were non-Hispanic whites. Also, the population is bound to get more diverse by 2060, as the number of annual immigrants in the future may increase to 1.5 million people. However, between 2030 and 2060, the share of the older population that is non-Hispanic white will drop by 17 percentage points, and then the Hispanic share will double from 11 percent to 22 percent.
Studies have shown that the life expectancy of the black older population who are 50 and above years of age is comparatively lesser than others. At age 50, white men in the United States may expect to live (on average) another 30 years and white women another 33 years, while older black men and women may not expect to live as long—27 and 31 years, respectively. However, African Americans who survive until age 85 may expect to live slightly longer than whites of the same age.
Because of the ethnic/racial composition of the population, there has been a diversity gap between the older and the younger generation. Currently, half of the population under the age of 20 belongs to one of the racially and ethnically minorities, while only one-fourth of the older population, above the age of 65, belong to minority groups. In about a decade or so, the last of the baby boomers will reach 65 years plus age, of which only one-third will belong to a minority. This means that in the year 2030, by 2060, nearly half of older adults are projected to be racial/ethnic minorities—roughly the same share as those under age 20 today.
It is important to keep a constant eye on the generational and diversity gap so that public resources can be effectively divided between the growing older population and the racially/ethnically diverse younger population entering the workforce. Policymakers need all population data, historical as well as projected, to ensure that benefits like Social Security and Medicare can be effectively distributed.
Life Expectancy and Gender gap, living arrangements, and marital status
Women have better life expectancy than men, although the gender gap and life expectancy rate are slowly narrowing. According to the data collected by U.S. Census Bureau, in the age group of 65 and older, there are 79 men for every 100 women, as of 2014. In 1990, there were 67 men for every 100 women in the same age group. The reason for this rate of decline in the gender gap is attributed to decreasing trend in smoking in the last few decades. The gender gap also gives an insight into the living arrangements of the older population, many of whom are either widowed or divorced and live alone. The living arrangement and marital status also indicate social support and economic well-being. Women have a higher life expectancy which means that more wives live longer than their husbands. Also, it has been noted that widowed men are more likely to remarry after the death of their spouses.
Most of the older population from the baby boomers generation had steady jobs and therefore have permanent residential accommodation, and have not been severely affected by the Great Recession of 2007-2009. Thus, in their old age, they do have a comfortable place to live. However, because of the medical and day-to-day living assistance that a lot of older people require at this age, and in absence of familial caregiver and support, the older population do opt for assisted living and medical facilities. In 2010, more than 1.3 million men and women of 65 years and above lived in skilled nursing facilities, and studies have projected a 100 percent increase in these numbers by 2030.
Economic Security
The baby boom created a need for better education and generated greater employment opportunities, and this generations' income, living conditions, and retirement funds were not overly affected. A huge percent of the older population who had been laid off during the recession delayed their retirement and worked for a longer period of time, thereby strengthening their economic position. This led to a decrease in the rate of poverty in 65 years and above the age of men and women to 10 percent in 2014 from 30 percent in 1990. This was partly because of the expansion in Social Security, which is a primary source of income for the older population.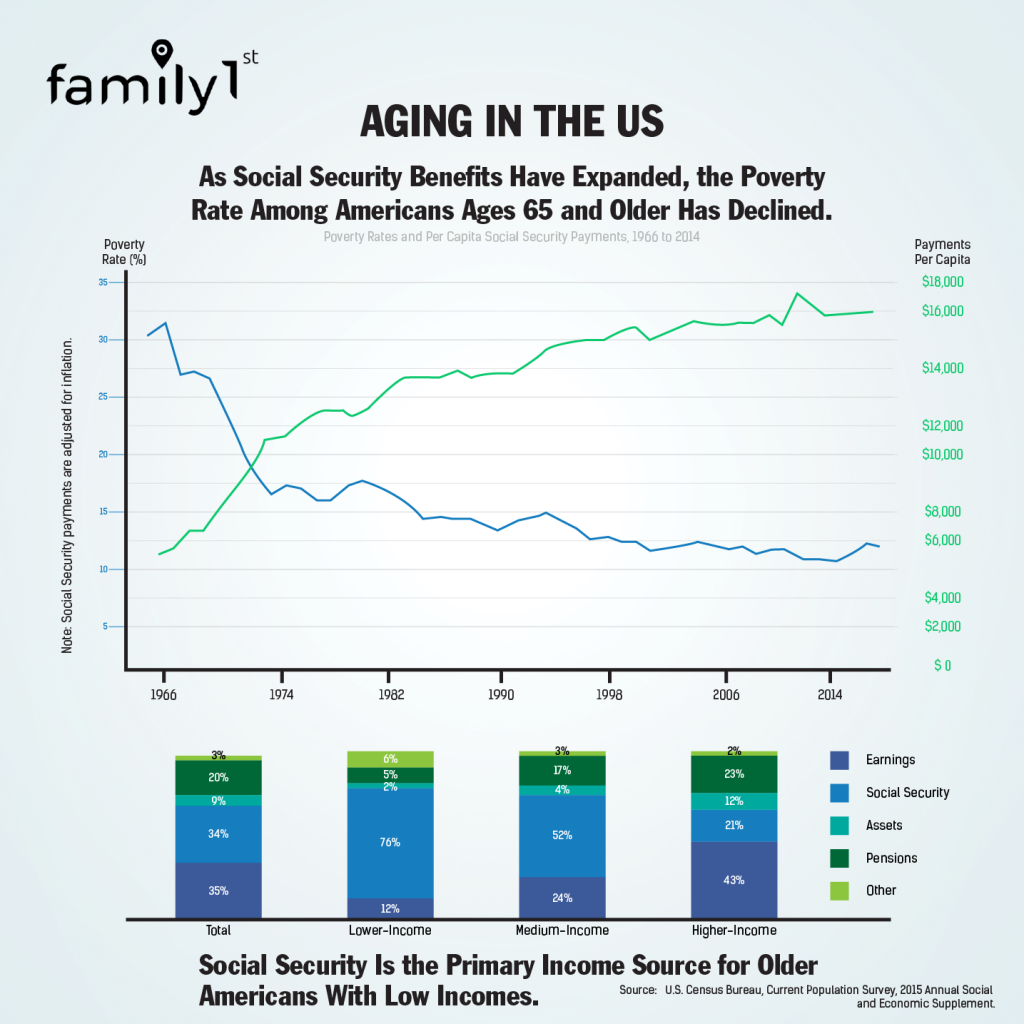 The combination of sources of income is significantly different for older Americans at the top of the income distribution compared with those at the bottom. Social Security benefits are given at age 62 account for 76 percent of total income for households with lower income, while the same accounts for only 21 percent of the income of higher-income households of older adults. 43 percent of income among higher-income households comes from their earnings, which is nearly four times the share among the lower-income household. Income from assets, savings, investments, and rental income are six times more among higher-income households (12 percent), compared with lower-income households (2 percent).
The U.S. has never seen such unprecedented growth in the percentage of the older population, and this growth has severe and significant implications on the overall socio-economic and health policies of the country. Along with the change in patterns of marital status and family structure, immigration trends, and narrowing generational and gender gap, future policies need to improve and provide for the last of the baby boomers on the verge of retirement.
One of the significant impacts the baby boomers have had on the family structure is the fewer number of kids, thereby leading to limiting family support and care. The generation after the baby boomers is also called the 'Sandwich Generation' for they are required to care for their parents, have a good job, and take care of their own kids. This has become gradually difficult due to inflation, and to provide for the family, both parents have to work, leaving elderly parents and kids unattended.
Family1st Solutions – Care for your family
In the current family structure, both parents often work to ensure good present living conditions as well as to provide for a better future. However, for the sake of the future, they often have to leave their older parents and younger kids at home while they work, and often worry about their well-being in their absence. Family1st understands the need to ensure the safety of your family when you cannot be with them. We have several GPS-enabled products that allow you to keep a track of your elderly parent from wherever you are.
At Family1st, we have special Senior GPS trackers that are small in size, light-weight, and discreet. The devices are motion-activated, and allow you to set up Geofence – a virtual geographic boundary, helping you monitor the movements of your elderly family members. It comes with 4G cellular technology, indoor tracking with Wi-Fi, and can be integrated with Alexa, ensuring that you are in constant touch with your elderly loved one. All our Gps tracking devices are curated for the security and safety of your family, offered at affordable prices, without compromising on effectiveness. We understand your need to keep your loved one safe and that is why our Senior GPS tracker comes priced at $19.95 with the lowest monthly subscription plan of $17.95 – the lowest in the market, to show our support for you and your family.
To know more about our Senior GPS tracker, please contact our tech service associates, who are available 24/7 for all product and service-related queries.
What are some of the ways through which we can help our elderly? Let us know your views and opinions in the comment section below.