Falls are all too familiar among the senior demographic. According to the American Academy of Family Physicians, a staggering one-third of mature adults (over the age of 65) fall each year. Sadly, many of these falls lead to severe injuries and sometimes even death. Today, falls have become the leading cause of injury-related-deaths; and a public health concern, particularly among the aging population.
According to the U.S. Centers for Disease Control and Prevention:
1 in 4 Americans aged 65 or more falls each year.
Every 11 seconds, at least 1 older adult is treated for a fall in hospital emergency rooms.
Every 19 minutes, an elderly person dies from a fall-related issue.
Falls are the leading cause of fatal injury and the most common cause of nonfatal trauma-related hospital admissions among older adults.
Falls result in more than 2.8 million injuries treated in emergency departments annually, including over 800,000 hospitalizations.
More than 95% of hip fractures are caused by a fall—usually when the victim falls sideways.
Women fall more often than men and account for three-quarters of all hip fractures.
1 out of every 5 falls causes a serious injury, such as broken bones or a head injury. (Based on an article by National Center for Biotechnology Information)  
Falls—or even the fear of them—have a heavy impact on the quality of life of the elderly. A growing number of older persons fear falling and, as a result, limit their social engagements and activities. This can lead to further physical decline, forced social isolation, depression, and feelings of helplessness.
This is one of the reasons why leading institutes such as The National Council on Aging have launched targeted beneficial programs like the Falls Free® Initiative, which is led by the National Falls Prevention Resource Center to address the growing public health issue of fall-related injuries and deaths.   
How to reduce incidents of falls amongst the elderly?
Discuss openly with your doctor about fall risks and prevention.
Tell your doctor right away if you have fallen, if you are afraid you might fall, or if you feel unsteady often.
Review all of your medications with your doctor or pharmacist and discuss any side effects like feeling dizzy or sleepy. Some medications, even over-the-counter and herbal supplements, can have such effects.
Observe if you get dizzy or lightheaded when you go from sitting to standing or turn quickly. CDC's Postural Hypotension brochure has information on how to manage these symptoms.
Have your eyes checked annually and update your glasses, as needed. Conditions like cataracts and glaucoma could limit your vision and increase fall risk.
Get your feet checked. Discuss proper footwear with your doctor and ask whether seeing a foot specialist (podiatrist) is advised to ensure you have the right balance on your feet.
Along with these tips, it is also important to keep the home safe to prevent or at least minimize the trauma from a fall. Here are a few things we can do:
Remove things you can trip over from stairs and places where you walk regularly.
Use the Check for Safety brochure to help identify and eliminate fall hazards from your home.
Do away with small rugs or use double-sided tape to adhere them to the floor and keep rugs from slipping.
Add grab bars in the bathroom—inside the bathtub and next to the toilet.
Use non-slip mats in the bathtub and on shower floors.
Have handrails and lights installed on all staircases.
Make sure your home has lots of light.
Technology to the rescue
While you, as an elderly or a caregiver to an elderly person, might take all the necessary precautions, it is not possible to eliminate the risk of a fall. But we must understand that some fall protection is always better than no fall protection. The good news is that thanks to advanced technologies, it is now possible to get quick help and perhaps reduce post-fall traumas, in case of an incident.
Fall Detection Technology: A Senior's Best Friend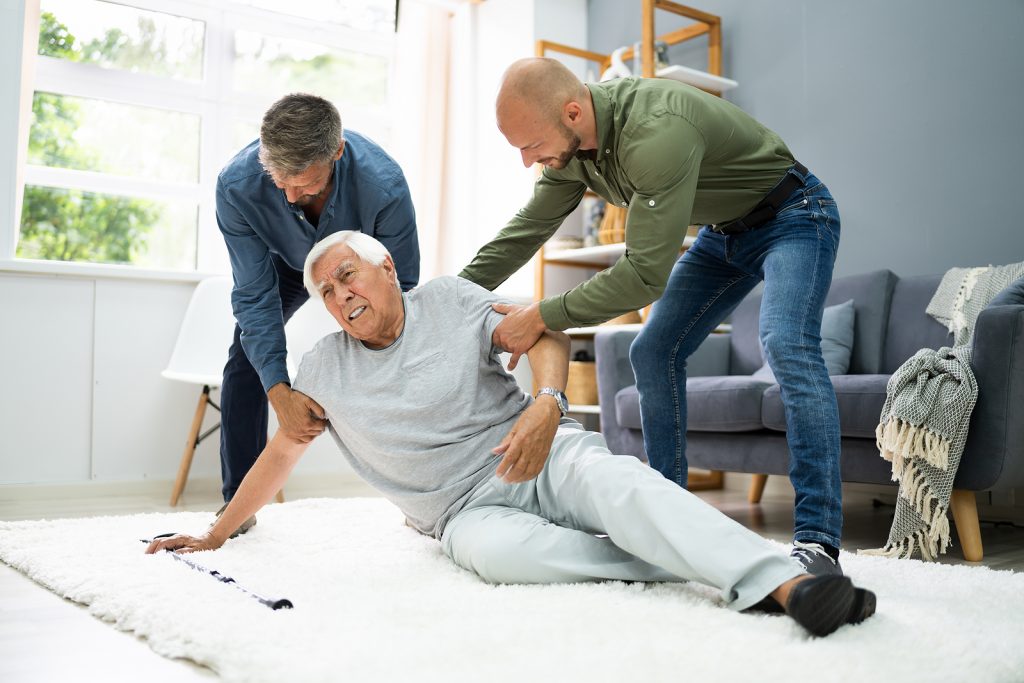 Fall detection has become an important feature of medical alert systems. It is usually built into wearable pendants, hip-worn devices, or bracelets. As the name suggests, its basic function is to automatically detect a fall and alert your monitoring agency who can promptly call someone on your care list or reach out to emergency responders. This ensures that help is sought in time so that damage may be minimized. Some devices also have a button that can be clicked to alert the required caregivers if help is needed after the fall, while others automatically send out a notification as soon as the fall is detected.      
Fall detection technology, while easy-to-use, is actually quite advanced. The typical fall detection device utilizes a low-power radio wave technology to monitor movement within a specific space, like a bathroom. Some advanced devices also employ a range of accelerometers, detection sensors, and algorithms to sense a sudden change in speed. As this technology continues to evolve, newer products may not require you to wear a device at all.
Interestingly, fall detection technology can even sense small falls of 2 feet or lower. This means that if you or your loved one falls off a chair, a bed, or off the toilet seat, the alert will still be sent out.
Many medical alert system providers now offer fall detection features as an upgrade to regular packages. This technology is incredibly helpful for seniors who live alone or those who are prone to falls. In fact, it is also proven useful for people who suffer from seizures or have dizzy spells due to issues like blood sugar, irrespective of their age.
Whether it's for you, or a loved one in your care, there is no denying that fall detection adds an extra layer of safety and peace of mind.
How does automatic fall detection benefit seniors?
The real-time detection and prompt response cycle set in motion by an automatic fall detection system could be life-saving. Keeping in mind the rising numbers of seniors suffering from falls each day, systems like this are an absolute necessity.
If you or your loved one sustains an injury or becomes unconscious from a fall when they are alone, their chance of getting help fast is increased significantly by automatic fall detection technology.
Medical alert monitoring systems like fall detection can provide immediate access to life-saving ambulance services—which can limit the harmful impact of injuries by providing early treatment.
Providers of medical alert systems give comfort to loved ones while waiting for the first responders to arrive.
Many medical alert systems can provide activity monitoring services that provide further security and added safety.      
Best fall detection devices for elderly
When it comes to the safety of our elderly, there should be no compromises. Today, many tech and medical companies offer fall detection devices with multiple useful features. This is a list of some of the best-in-industry devices to help you make an informed decision before you buy:  
Bay Alarm Medical
Bay Alarm Medical's system with added fall protection comes backed by a 24-hour medical alarm emergency center. It has the most helpful feature to put a call-in for the victim if they aren't able to move, ensuring help gets there as quickly as possible.
Family1st Belle+ A-GPS
Drawing strength from A-GPS technology—which, simply put, is a way faster and more accurate version of GPS—Family1st has launched its latest medical alert system and fall detection device, Belle+ A-GPS. This innovative device uses patented algorithms to detect falls and acquire satellite and cell tower signals to find the user faster. The best part is that the devices are water-resistant, use existing WiFi connections, and allow 2-way voice communication from the device itself. With its pocket-friendly prices and well-thought-out service packages, the Belle+ is one of the top choices for medical assistance and fall detection devices amongst families.  
Medical Guardian
The Medical Guardian alert system is ideal for every kind of senior—from those who are active and frequently jog to those who prefer to stay home and read. Every system comes with around-the-clock protection and clear two-way communication.
GreatCall 
GreatCall is another good provider of safety solutions for older adults and their caregivers. They offer an array of simple-to-use mobile products that are ideal for active seniors. GreatCall also offers health, wellness, and safety services including and 5Star Urgent Response and GreatCall Link. 5Star Urgent Response includes access to highly-trained agents who assist in the form of linkage to urgent care and more, any time.
LifeStation 
LifeStation's medical alert system with fall detection provides 24/7 medical monitoring for seniors living alone. Their In-Home Traditional system is great for seniors who want a basic solution that works with their home telephone. While the Mobile with GPS plus packages offer help away from home as well. Fall detection is available with this system.  
Features To Look For In A Medical Alert System
Long battery life (Because the elderly might not remember to charge the device daily, it is best to choose one that can go on for about a week, per charge.)
Fall detection service included.
GPS and cellular triangulation technology.
WiFi location services.
Certified on Verizon 4G LTE network for best speeds.
2-way voice communication through the device.
Caregivers can locate the user 24/7.
Most Cost-Effective Medical Alert System. And it is FREE when activated!
The Belle+ comes with multiple subscription plans starting from $32.95—so you can choose the one best suited to your needs. What is equally exciting is that the device can be yours for free when you activate it. You do not have to pay for a feature that might not be useful for you.
It is as simple as…
Buy the device and choose the plan during checkout.
Activate the device and update emergency care instructions.3.
Charge the device and start using it!
Does My Loved One Really Need Automatic Fall Detection?
None of us wants to take a chance on the well-being of the elderly. But if you are still undecided on whether your beloved family member needs a medical alert system or you are an elder yourself and wondering whether this device is for you, here are a few questions to consider:
Have you or another family member ever witnessed your loved one fall? You would not want to go through the pain of its injuries.
Do you (or your family elder) live alone?
Are they beginning to "shuffle" their feet rather than take complete steps?
Are there trip hazards around the home like throw rugs, areas where the floor is uneven?
Do they have to use stairs to get around in their home?
Does your loved one need to step into a bathtub to use the shower?
Do your aging parents think they can still do just about anything on their own, and you worry every time you see them doing it?
Does your elderly loved one have a medical condition such as diabetes and is prone to fainting spells?
Has your loved one broken a hip before and need to be extremely careful not to fall again?
Do they live in an area that is prone to excessive rainfall or slippery ice in the winter?
Family1st is one of the top-rated providers of tracking technologies for families across the US. At Family1st we understand your desire to ensure your loved ones are safe, no matter where they are. We are here with you, to offer tailor-made solutions that meet your everyday safety needs.
For more information regarding our Senior GPS tracking device and subscriptions, feel free to contact us. Our service associates are available 24/7 throughout the year.
With Family1st you can be assured of the latest technologies, best customer service, and the most cost-effective prices.