Social media is a platform where you meet your target audience. Demographic data helps understand and tailor the content on knowing who your audience is. Family1st garnered information based on surveys from 2018 to 2020 on how often do teens use social media. This blog will also give you an insight into how teens look at social media platforms today. Given below are statistics of Facebook, YouTube, Instagram, Snapchat, and Twitter.
Please note that 'teens' refer to kids aged between 13 and 17 years only.
Trending Social Media Platforms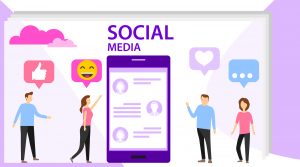 There was a time when Facebook was the chief social media addiction and a youth's favorite in the United States. However, after YouTube, Instagram and Snapchat shared the social media ground, Facebook wasn't the lone dominator anymore. In fact, the latest Pew Research Center survey has stated that a little more than half (51%) of teenagers in the U.S aged between 13 and 17 years use less of Facebook in comparison with YouTube, Instagram, Twitter, and Snapchat.
Survey-based Internet Usage Statistics
The pew research survey combined with statistics from sprout social has analyzed and determined that 95% of teenagers use smartphones while 45% are online now and then. There has been a major shift in the usage of social media by teens in comparison to the 2014-2015 surveys.
The omnipresence of cell phones, most commonly found with teens off late is one of the most obvious triggers that influence teenage social media behavior as well as preference. About 95% of teenagers today own or can easily access a smartphone which enables them to be active on social media without any hindrance. This access gives fuels the social media fire having around 45% of teens online almost constantly. Given below are trending social media apps along with teen usage based on surveys.
Facebook
In the 2014- 15 survey, about 71% of teens used Facebook more than any other app. However, in the 2018-2020 survey, reports suggested that Facebook dominated only 51% of the teens as most teens preferred other apps. It was also found that teens from a lower-income household ($30,000 and less) mentioned the use of Facebook more than teens from a higher-income household ($75,000 and more). Also, black teens resorted to Facebook more than white teens. The ratio in percentage was 26:7.
Youtube
In recent years YouTube gained more popularity than most other apps becoming one of the most favored social media preferences. About 85% of teens use YouTube while 32% said they use this app more often than others. Gender wise 39% of boys voted YouTube to be their most preferred social media platform in comparison with the 29% of girls that favored YouTube.
Snapchat
Teenagers are more inclined to use Snapchat, especially girls. About 69% of teens said they use Snapchat. 42% of girls preferred this app while only 29% of boys spoke in favor of it. The survey also revealed that 41% of white teens, 29% Hispanic, and 23% black teens said that Snapchat was their most often used app.
Twitter
About 32% of teens aged 13 to 17 years used Twitter. Gender-wise, boys preferred Twitter more than girls.
Instagram
72% of teens said they used Instagram daily. Of these, 15% of teens were found to use Instagram more than any other app.
In comparison with the 2014-15 survey, 22% more teens have access to a smartphone. This brought the former 73% to the current 95% of teens using a smartphone in the current day and age.
88% of teens have access to a desktop or laptop computer at home. 96% of teens from higher household income ($75,000 and more) have access to a computer at home, while 75% of teens from lower household income ($30,000 and less) have access to a computer at home. The education level of parents also determines the access of teens to computers. 94% of teens had access to a computer if their parent is a degree holder, whereas, only 78% of teens, whose parents had a diploma or less, had access to a computer at home.
45% of teens are now online constantly compared to the 24% 6 years back. 9 out of 10 teens said they go online a couple of times every day. Gender wise 50% of girls are online almost constantly while 39% of boys were reported saying the same. 54% of Hispanic teens are online constantly in comparison with the 41% of white teens.
84% of teens have access to a game console at home while 90% say they play all kinds of games via cell phones, computers, or gaming consoles. While 83% of girls said they play video games in general, 92% of boys agreed to the same. On the whole, 97% of teens said they play some or the other form of video games.
Impact of Social Media on Teens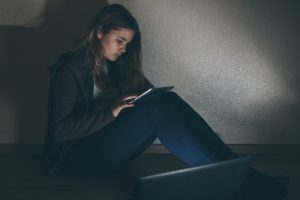 There is mixed information when it comes to the kind of impact social media has on teens. 31% of teens said it had a positive impact while 24% vouched for its negativity. 45% said it had neither a positive nor a negative impact. T
Teens that were positive about social media platforms said;
Social media is a wonderful way to connect with family and friends
Social media is a good platform to make new friends
It can be used as an outlet to express their opinions and emotions and gain approval for the same
Posts can spread awareness and happiness both
Social media allows people to reach out to other people
On the other hand teens that were negative about social media platforms were of the opinion that;
Social media has led to more bullying and the overall spread of rumors
It encourages a bigger audience to shame and spread hate against one another
It creates a fake image of people's lives
You cannot be sure about whom you are talking to
People can say anything with anonymity, which can trigger negativity
Connecting on social media hampers face to face conversations and interactions to quite an extent
Real-life socializing takes a backseat
It is a major distraction
Peer pressure influence on social media
Family1st's take on the Social Media Trend
With the ever-evolving technology and omnipresence of smartphones and tablet devices, it is close to impossible to curb the usage of social media platforms for teens. True that social media can have a good as well as bad influence over teens; parents can always police their access to phones and computers if they find their usage is going out of hand.
For additional assistance on teen, solutions visit us at Family1st