Bike theft has gained pace owing to the low risk and high return associated. And this is the reason why around 2 million bikes become the victims of this. No place is safe, whether it is your garage or backyard. So in such a situation, you need proper measures to protect your precious assets. Bike registration, high-quality locks, chains, and padlocks are a few examples to protect your bike. 
But for easy retrieval and 100% advanced security, you must have a bike GPS tracker. Yes, you have heard right. While GPS trackers protect your loved ones and assets effortlessly, you can now add the bike to the list. 
The modern-day GPS tracker provides a high level of protection for your bike from thieves. Unfortunately, if it gets stolen, you can retrieve it easily. How? Let us talk more about it in the article. 
Bike Theft- An Unaddressed Problem
Bike theft has become common in the streets of the USA. In fact, according to a survey, it has doubled in the last 20 years. There are several reasons for this: 
Firstly, bikes are an easy target. They are lightweight, and hence they can carry them wherever they want. 

Only one out of five bike theft victims report the crime. 

Less than 1% of bike owners register their bikes. So once they lose it, it becomes impossible for them to retrieve it.

Also, an unregistered bike implies that police will not be able to return the bicycle to the rightful owner or punish the thief.

When caught, they have to pay a nominal penalty.  
While bikes are an eco-friendly and healthy mode of transport, problems like bike theft prohibit people from adopting them. According to a survey, 20% of people leave this hobby after bike theft. 
The statistics are drastic for one to understand the importance of adopting correct measures for bike protection. So if you are a bike lover or a professional cyclist, you can follow these simple steps to protect your valuable asset:
Park your bike in a safe place. Never abandon it anywhere but look for a stand or a sturdy object.

Purchase a high-quality u-shaped lock for your bike as it can help you to reduce 50% of theft chances. 

Also, you can try adopting additional measures such as chains and padlocks if you plan to leave your bike for long. 

As already discussed in the above statistics, most bike owners do not register their bikes. It makes it difficult for law enforcement officers to retrieve them. So make sure to register your bike and get an identification number.

Similar to a car or a person's insurance, you can get bike insurance to protect yourself from financial losses.  
GPS VS Bluetooth Bike Trackers
While looking for a bike tracker in the market, you will come across- Bluetooth and GPS trackers.
The GPS bike trackers use satellite technology to get accurate and reliable location updates. Irrelevant to the bike's location, you can always get exact location details with generally 2-3 meters. 
On the other hand, a Bluetooth tracker communicates with your phone to provide your location. And therefore, it stops working when the bike gets out of range, i.e., 400 ft away. 
So even though Bluetooth trackers may attract you with their cheaper cost, do not get swayed by them. And directly invest it in a GPS tracker for accurate and reliable updates. 
How To Track Your Stolen Bike With The GPS Tracker?
So you have unfortunately lost your bike. Don't panic! With the help of a GPS tracker, you can retrieve it fast. 
If your GPS tracker provides a motion alert, like the Family1st GPS tracker, as soon as someone tries to move the bike without your consent, you will get an immediate alert on your phone via SMS, and you can take action against it. 

But if you don't, utilize the feature of the geofence. Drop a virtual boundary over the map and get notified immediately if the bike leaves the preset fence.

Open the mobile application and look for the current location.

If you find you have forgotten your bike somewhere, you can retrieve it. Once you have ensured your bike is gone, move to the next steps.

Activate faster tracking and get location updates frequently. 

File a report to the nearby police station. They will ask for necessary information such as bike identification number, physical appearance, model, etc.

Don't forget to share the location details with the police to help them find your bike fast. 
Features You Need To Get Most Out From Your Bike Tracker 
When your bike gets stolen, a GPS tracker plays a central role in helping you retrieve it. You have to depend on it to get your bike back, so if anything goes wrong with the tracker, you might never be able to see your asset again. 
So don't let your investment go in vain and choose the perfect option for you. 
We have sorted some features that should be on your checklist while looking for a bike tracker. 
You can find two types of GPS trackers on the market- active and passive devices. You have to download the location details manually from the passive tracker at the end of the day. However, it is not an option when looking for an ideal tracker to protect your bike from theft. 
You should have an active GPS tracker that provides real-time tracking updates. So if the bike gets stolen, you can get reliable location details every 1-5 min. 
A GPS tracker is only helpful for you till it works. Once the battery does, it becomes useless. A GPS tracker with long battery life is a safe option for you as it will give you and the police enough time to locate the thief and retrieve your bike. 
Motion alerts can help you address theft beforehand. It sends you an immediate notification via SMS or email as someone tries to move the bike without your knowledge. So you can immediately get back to the place and take action. 
Geofencing is another helpful feature that can help you reach your bike before it goes far away. It allows you to drop a virtual fence over the map. And get notified when it crosses it. 
Today, when we have upgraded ourselves, so have thieves. They track down the GPS device to remove it before laying their hands on their target. So look for a tracker with a compact size. They are easy to hide and help you enjoy discreet training.
If you are a mountain rider, love to ride a bike on a rough course, or often speed up to reach your destination fast, look for a tracker with a strong magnet mount. It will ensure that the GPS tracker will stick to its place and not fall off. 
Look for a durable GPS tracker that is not wary of fast and can serve you for a longer time.
Lastly, choose a tracker that offers you faster connectivity so that it can send you frequent location details. 
Family1st Portable GPS Tracker- Our Recommendation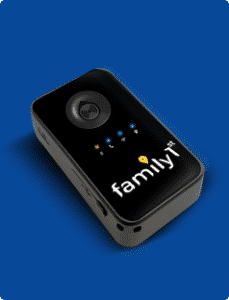 Family1st Portable GPS tracker is an affordable yet powerful solution. You can use this real-time tracker to protect any asset or loved one. It is a compact and lightweight GPS tracker and allows you to enjoy discrete tracking. It also has an optional water-resistant magnetic case that permits you to attach the tracker to your bike without worry. 
Family1st also has a long-lasting battery that can last up to for two weeks on frequent updates. 
It uses 4G connectivity, so it provides your lightning-fast location updates.  
Here are the highlights of the tracker for you to glance at: 
Cost-effective device

Low monthly subscription cost

Best for personal tracking

Handy and doesn't require any installation

Great customer support

Good battery life

Real-time tracking and alerts
Takeaway
A bike GPS tracker can help you provide maximum security to your bike. And if you are a bike lover and often use it as a mode of transport, make sure to have one. Similarly, follow other measures and don't let that mischievous thief take your assets from you.