According to the Department of Justice of the United States of America 
Only about 2% of violent crimes committed by minors reported to police involve kidnapping.
There are three main categories of kidnapping:
Kidnapping by a family member (49% of all kidnappings)

Kidnapping by a friend (27% of abductions)

Abduction by a stranger (24% of kidnappings)
Parental kidnapping is the most common form, accounts for 43% of all kidnappings, targets young children more often than older children, affects boys and girls equally, and typically begins at home.
Most kidnappers in cases involving acquaintances are under 18, most victims are females or teenagers, the kidnappings typically occur in private homes, and most victims sustain injuries.
More girls than boys fall prey to stranger kidnapping; it typically takes place in public places, affects both adolescents and younger children, and is often linked to sexual assaults in the case of girls and robberies in the case of boys (though not always). It's the type of kidnapping most likely to involve firearms.
According to reports from the United States Department of Justice
In one year, 797,500 children (younger than 18) went missing, accounting for an average of 2,185 children daily.

There were 203,900 kidnappings involving children.

Abductions outside of families accounted for the deaths of 58,200 children.

115 children in "stereotypical" kidnappings. (Someone the child doesn't know or barely knows holds the child overnight, moves them more than 50 miles away, kills them, demands money, or keeps them permanently are all examples of this crime.)
Where And How To Put GPS Tracker On Kids?
Using a GPS tracker on your children can effectively monitor their whereabouts and ensure they are safe. When considering using a GPS tracker on your children, it is essential to consider the potential risks to their privacy and the ethical considerations involved.
Here is some helpful guidance on how to position a GPS tracker on your child in a way that is both responsible and safe:
On their clothing: Some GPS trackers are small enough to be attached to a child's clothing, such as a jacket or backpack, which allows the device to monitor the child's location at all times. Your child can always keep the tracker on, which will be easy to conceal. This option may be easier for you than others. It is essential to ensure that the tracker is mounted firmly and is not discernible to anyone else.

If your child takes a backpack or school bag with them when they leave the house, you can place the GPS tracker inside the bag. If your child does not take a backpack or school bag when they leave the house, you can set the tracker somewhere else. If you want to track your child's location while at school or participating in other activities, this may be a valuable option for you to consider.

Some GPS trackers are meant to be worn on the wrist like a watch or wristband, while others are more conventionally shaped like bracelets. If you want your child to wear the tracker at all times and they are old enough to take responsibility for wearing it, this is a suitable option for you to consider. On the other hand, you need to ensure that the tracker is attached safely and cannot be removed easily by anyone, including your kid or anyone else.

If your child already has a phone, you may hide the GPS tracker inside the phone case to keep it safe. As your child is likely to have their phone with them at all times, it is an option that is convenient for you. Nevertheless, checking that the tracker does not disrupt the phone's performance or damage the device is essential.

GPS trackers are available that are made specifically to be placed inside footwear, such as a shoe. If your child is active and is likely to lose the tracker if it is connected to their clothing, then this may be an excellent choice for you to consider. On the other hand, you need to ensure that the tracker is attached safely and won't hinder your child's ability to walk or run freely.
When determining where to put the GPS tracker on your child, it is essential to consider their age and level of maturity. To avoid misplacing, kids' trackers should be fastened to the child's knapsack or clothing. Older children may be more capable of taking responsibility for themselves and may be able to wear the tracker on their wrist or in a phone case.
Why should you use
Family1st's portable GPS Tracker
to ensure your kid's well-being?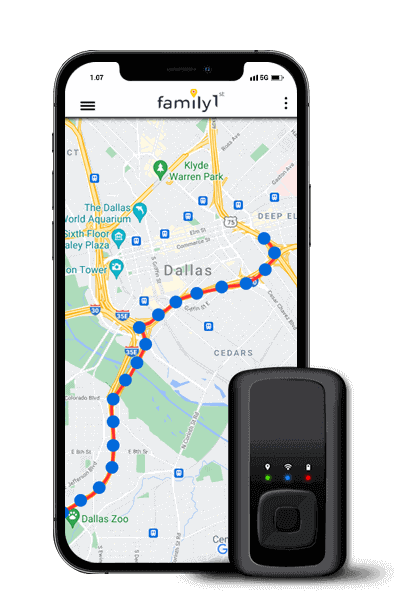 The Family1st portable GPS Tracker is an excellent tool for ensuring the well-being of one's kids. Kids are free to go wherever they choose and should get in touch with their parents whenever possible. Parents can keep their schedules the same to take their kids to the park, the learning center, or other places.
Because Family1st incorporates cutting-edge features like an SOS button and Geofencing into their monitoring devices, these products are often considered the best available on the market. At a price point that most parents can manage, the Family1st portable GPS Tracker is a fantastic choice for monitoring your kid's locations without breaking the bank.
The kid-friendly wearable GPS tracker offered by Family1st is packed with various features. The following are some features that set it apart from the others:
SOS Feature
Using this function, the kids can get in touch with their parents in an emergency. This feature ensures that your kid will never be in danger and will always sleep without worry.
Geofencing
You can make a protective barrier by dragging and dropping the pin. If your kid wanders outside of the designated area, an urgent notification will be sent to you.
Long-lasting battery
After a complete charge, the tracker has a battery life of more than 14 days. 
Help and assistance for customers
If assistance of any kind is required, the customer service professionals of the organization are always available to provide the highest possible level of service.
Easy to access location
You can always find your kid if they are using a personal device such as a phone, computer, tablet, or laptop by simply pressing a button on any of those devices.
Portable
The Family1st GPS trackers are lightweight, easy to transport, and take up very little space.
Conclusion
The most crucial thing to consider is choosing a place for the GPS tracker that will enable it to function correctly and offer precise location information. Be sure to use the tracker following the instructions provided by the manufacturer, and test it regularly to ensure that it is functioning appropriately. You should respect your kid's privacy at all times. The tracker should be used more as a tool for providing additional protection and peace of mind than as a means of continually monitoring your kid's movements.
Your kid will be protected from harm thanks to all the features described above and the most cutting-edge waterproof magnetic case currently available on the market. You don't need to be present to keep your kids safe. With the help of the Family1st GPS tracker, you can provide your kid with the freedom to confidently and securely travel the world.