Marriage is based on trust. However, quite often one or the other partner in a marital relationship might go off the track. It is a very disheartening and confusing situation. Because you need hard evidence to confirm whether they are cheating on you or not. Not just to know the truth, but also for your peace of mind. If you suspect your husband or wife of cheating and are looking for a way to confirm this suspicion, then there is no doubt that you need a GPS tracker to track your cheating husband or wife. Let us tell you why only a GPS tracker is the best choice when it comes to cheating spouses.
People use different ways to find and catch their spouses cheating on them. From going through their cell phones to check call logs, and messages, search the history of social media to follow them on their way to the office or home, some people leave no stone unturned. When nothing works, they might even hire a private detective to check the loyalty and fidelity tests of their partner. 
This all can be very frustrating and embarrassing if you are caught snooping around. Moreover, your partner, if cheating on you, would be smart enough to hide all the evidence and move one step ahead of you. 
But what if you had an easier, effortless, and discreet way of finding the truth? Yes, we are talking about GPS tracking devices. Of course, they are not originally designed to catch your cheating spouse off-, they surely do a perfect job. Most GPS devices on the market these days are lightweight and compact, making them easy to hide. So you can now track your cheating spouse with a GPS tracking device without getting caught. Using a tracker will avoid frustration and embarrassment and still help you know the location of your husband/wife at all times. 
Family1st Spouse Tracker- Best Spouse GPS Tracker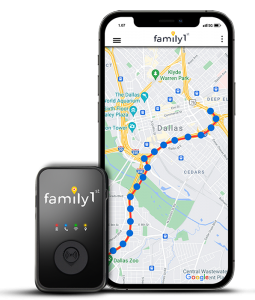 Family1st Portable Tracker is one of the #1 Rated Personal Tracking Devices. It is used by hundreds of thousands of users to track their partners and family members. It comes at a very affordable price and also offers you a lot of custom features.
Lowest Price Starting $29.95
Lifetime Warranty
Real-time GPS tracker
Pocketable size
14-days battery Life
30-days money back guarantee
For heavy outdoor use, you need a magnetic case to protect the unit
---
Why do you need a tracking device for a spouse who is cheating?
To confirm your suspicions: When you are unsure whether your husband or wife is cheating, you tend to make different perceptions about them. You will overthink and constantly make plans to catch them. Having a GPS tracker will clear all your doubts without much effort. 
To save time, money, and effort: It takes a lot of time, expenditure, and many attempts to find the truth about your spouse's infidelity. You will look for different measures to catch them red-handed. And you will only be grasping at the end of the ropes after putting in all that effort. Using a GPS device to track a cheating spouse will save time, money, and energy and give you quicker results.
To keep it a secret: While monitoring your spouse you have to make sure to not get caught. The chances of catching them cheating will reduce if they are aware of you keeping an eye on them. A tracking device will assist in finding the truth discreetly.
Tracking anytime you want: You can check your spouse's locations at any time and anywhere with an efficient GPS tracker. 
To stay carefree: While spying on your spouse, you want to be free-minded. You don't want to keep guessing about them being with someone else while you are busy at your home or office. A GPS tracker lets you stay calm and check your spouse's location once in a while.
You can use them in the future or for other purposes: Once you find out about your spouse's innocence or guilt, you can keep the tracker for other security purposes for your family. You can use it for family members' safety or the vehicles in your house.
Best GPS tracker for cheating spouse: Things to consider before buying
To find out whether your spouse is cheating, you must have a GPS tracker that is fully functional and does all the ideal tasks required. Here are some of the factors to consider before buying the best tracking device for a spouse:
Real-time tracking: Before you go for a GPS device that tracks the activity and location of your spouse, you have to ensure that it has a real-time tracking function. A real-time tracker has several functions and information to offer like tracking the route, locations visited, time spent in a particular place, etc. It is the best feature of any efficient GPS tracker, so make sure it is available in yours.
Size: The size of a tracker you want to hide for spying should be compact. It should not be very bulky or heavyweight that you can put anywhere your spouse won't find out. To find out the best smallest GPS trackers, click here.
Battery life:  A GPS tracker for spying must have a long battery life so that you can keep track of your spouse for a day or two without any disturbance. The longer the battery life, the higher the chances of knowing their reality.
Good storage: The GPS tracking device should have a good data storage capacity. You should be able to check the old data whenever you desire. It will let you compare the behavior by comparing the places they visited before and the places they are stopping by now.
High-range tracking: Your spouse can travel a long distance with someone without letting you know. They may lie to you about going on a business trip. You can easily trace or locate them if you have a high-range GPS tracker even if they travel to a long distance or the place they didn't tell you about visiting.
Waterproof and breakproof: You might want to hide the tracker in a place, for instance, under a car, where it could get drenched. You might place it along with the heavy luggage where it has a chance of breaking easily. Find a sturdy tracker that is waterproof as well as breakproof. 
Accessories: A fine customer-focused GPS solution company would provide all kinds of add-on services and accessories to help their customers use their products. Compare all the brands for providing relevant accessories along with the tracker. Accessories like free connection cables, extra batteries, and casing (magnetic) can give a good user experience.
Easy to hide: The GPS tracker should not emit any light or make any sound. Even if it has a flashing LED light, it should have the option to turn it off. It should be a dark-colored device that is not easily visible to the eyes. To find out the best hidden GPS trackers, click here.
A dedicated App: The tracker should have a dedicated app for Android as well as iOS devices. You are going to surveil your spouse from anywhere you want, therefore you should be able to access the data from your cellphone or tablet.
Value for money: Even if a GPS tracker is a bit costly, it should provide all the general features so you can locate or track your spouse whenever you want. 
A 24×7 tech support:  Some companies offer direct phone support and some via live chat or email. GPS Tracking devices are advanced technical devices and require at least basic tech knowledge. Make sure the company offers start-up assistance and support while you learn how to manage your device. Moreover, it should have a warranty of at least one to two years. Make sure the company offers provisions for the return of faulty items and that the device will operate properly without causing any problems.
When to use a GPS Tracking Device for Cheating Spouse?
When you doubt your spouse cheating on you, the first step is to have a proper discussion with them and ask them the reasons for such a change in behavior. It would be the best option to save time. You both could make the right decision without any nuisance. 
If your wife/husband won't agree about things not working out and their behavior continues to be the same, then you might want to take matters into your own hands. That's when you go for a GPS tracker. But you need to be familiar with the law before tracking your partner.
GPS Trackers For Cheating Spouse Reviewed 
If you have decided to track your partner, you should buy the best GPS tracker to trace them. So considering all the good features that an ideal tracker should be composed of, we have a curated list of the best GPS trackers that would help you out your cheating spouse.
The purpose of this article is to LIST the best products in the market, and not to review or rank them. All the products listed here have several unique features catering to a wide range of customer requirements. The intention is to inform and educate the reader on the variety of options available in the market. The images and the brands belong to their respective owners and we don't own any rights to the images.
Disclaimer: The purpose of this article is to LIST the best products in the market, and not to review or rank them. All the products listed here have several unique features catering to a wide range of customer requirements.
While compiling this list, we evaluated the devices based on their cost, subscription plans, battery life, size, and installation process. We considered factors like the countries they offer coverage in, ease of use of their application, security, or other unique features they offer. We also looked into add-on services these vendors provide – lifetime warranty, 24/7 customer support, installation help, and more.
The intention is to inform and educate the reader on the variety of options available in the market.
Family1st GPS Tracker – Best Portable Tracker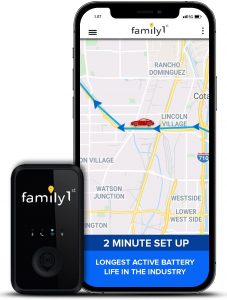 When it comes to tracking your spouse, you need a tracker that is reliable, compact enough to hide, and feature-packed. When we tested the Family1st GPS tracker on these criteria, we found it to be the perfect partner in uncovering the truth about your spouse's behavior. You can track them in real-time and simply check their location details on your phone, tablet, or computer.
Its sleek and tiny form allows you to conceal the GPS monitoring device in numerous items such as your spouse's car, backpack, handbag, or outer pocket of luggage. The smartphone also has a geofencing capability that allows you to create virtual restrictions around their movements.
The device, which is powered by a 2400 mAh Li-Polymer battery, can run constantly for two weeks while sending regular updates. It's worth noting that the user-friendly hardware and app settings provide an extremely handy method of following your spouse's location.
The Family1st GPS Tracker is competitively priced, making it an affordable option for a wide range of users. The device is priced at only $185.99 and includes one year of free service.
Spot Trace Real-Time GPS Tracker – Best Waterproof Tracker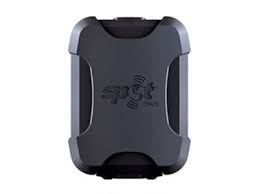 Following a thorough evaluation of the Spot Trace GPS tracker, we can certainly state that it is among the best tiny GPS trackers on the market.
Its discreet size allows for inconspicuous placement within luggage or attachment to the exterior of a vehicle, ensuring it goes unnoticed. Housed within a waterproof casing, its performance remains unaffected by adverse weather conditions.
This device proves to be incredibly practical and compact, making it effortlessly concealable within a purse, bag, or even your spouse's suitcase. It fulfills your tracking needs by providing updates on your spouse's location every 2.5 minutes.
Utilizing the Spot app, which features a user-friendly interface, you can conveniently access tracking information whenever necessary, enabling you to keep a vigilant eye on your partner's activities.
Measuring 2.69 x 2.02 inches, this device is equipped with rechargeable batteries that can be easily charged using a USB charger. The Spot Trace GPS tracker is available for online purchase for $79.99.
Invoxia Cellular GPS Tracker – Best Hidden Tracker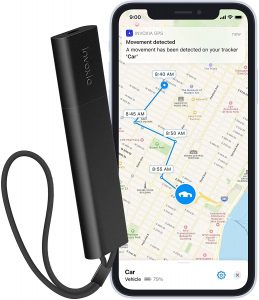 Based on first-hand experience, the Invoxia Cellular GPS Tracker is ideal for real-time tracking of a spouse's location and movements. After putting this device under trial, we discovered its various features that perfectly match your requirements for personal tracking. You can easily watch this tracker move along with a map within customized boundaries, enabling you to track any unusual movements.
The Invoxia GPS tracker is a tiny device that can be secretly placed in your spouse's backpack or purse. It functions in real-time while sending precise location updates at a frequency of 2, 5, 10, or 30 minutes whatever you find suitable to monitor your spouse.
The cost of the Invoxia cellular GPS tracker device is $159. It offers a free one-year subscription and no monthly charges. After one year, the users have to pay $39.95 per year.
Tracki GPS Spouse Tracker – Best Coverage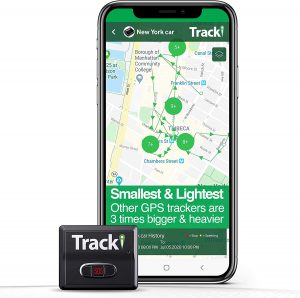 Our findings show that Tracki is a compact GPS tracker that is simple to carry and attach to any surface, making it a perfect option to track and confront a cheating spouse conveniently. You can easily hide this mini tracker underneath a vehicle seat or place it in your spouse's belongings without making them aware of it.
As per our practical experience, this waterproof device and magnet mounting are robust enough to be used under varying conditions. Our trial with this product demonstrated excellent results in tracking a person with the fastest speed and accuracy at any time, anywhere in the United States, directly from iPhone, Android, or computer.
The Tracki Mini device costs $28.88 with monthly subscription plans of $19.95, $16.60, $13.95, or $9.95, allowing flexibility to suit your budget needs and service requirements.
LandAirSea 54 with Sharespot(TM) – Best For Versatile Tracking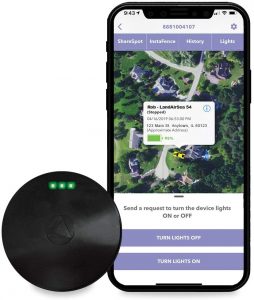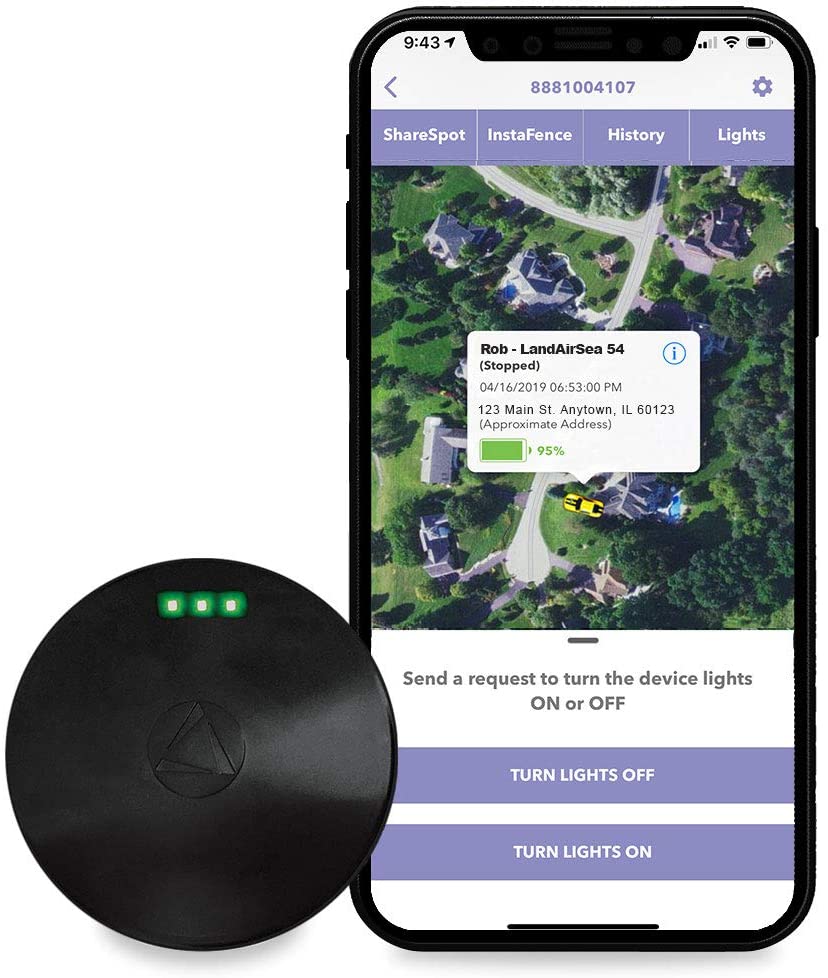 LandAirSea 54 GPS tracker is well-known for its versatile tracking options, so we had to check it out. And we came across some beautiful features that perfectly suit the needs for tracking a cheating spouse. It gives real-time location updates every 1 minute.
It is a portable and compact device with dark mode, allowing covert tracking. The device is water and weatherproof and is equipped with high-strength internal magnets, so you can easily hide it in any nook or corner.
We became interested in examining this device's wide range of features, including geofence, instafence, and sharespot, along with historical reports of the number of stops, locations, and idle time. What more? As the device is portable and does not require complex installations, you can conveniently put it in a bag pack or purse and monitor your spouse without suspicion.
One unique feature that we have found in this product is the location-sharing option. As you get the real-time location details of your cheating spouse, you can share the information with your friends, families, or anyone else you trust.
LandAirSea 54 GPS tracker has a stable battery life and can run up to 3 weeks with 2-minute frequency updates. The device is priced at $39.90, and the monthly subscription starts from $19.95, along with various options for bi-annual and yearly subscription plans.
Optimus 2.0 GPS Tracker – Best Compact Tracker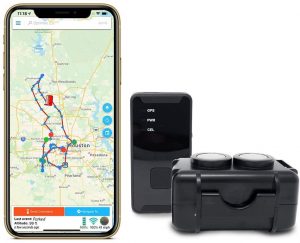 Drawing from our assessments and analysis, we can count on the Optimus 3.0 GPS tracker as a reliable tracking tool that accurately delivers real-time location updates. It can help you cater to your tracking needs by informing you about your spouse's whereabouts as and when required.
You will be delighted to know that Optimus 3.0 GPS tracker provides coverage throughout North America. So whether your spouse is in the USA, Canada, or Mexico, you can track where they are going. We thoroughly examined the features of this device that need to be mentioned. You can buy this device with the twin magnet case to attach discreetly under the car to keep track of the movements and destinations of your spouse regularly.
The device is well-protected from rainfall, snow, and other weather conditions, so attach it wherever you want. Our team is impressed by its battery life which can last up to one month with a one-minute update frequency. So you can rest assured about the frequent and continuous updates you receive on your digital device.
You can own this by paying a decent amount of $39.95 and monthly subscription fees of $19.95.
Logistimatics Mobile-200 Spouse GPS Tracker – Best Car GPS Tracker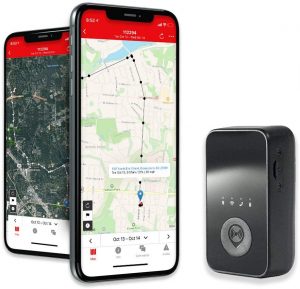 Having used the Logistimatics Mobile-200 Spouse GPS tracker, is the most compact hidden GPS tracker with the most extended battery life ever invented. This hidden GPS tracker is so appropriate to catch cheating spouses with their real-time location details available at your fingertips. You can track the person without them ever knowing through your cellphone or computer.
You can set geofencing alerts and get notifications any time your spouse exits or enters an area you preset. It makes you aware of how often your spouse visits the specified location.
It also has an impressive feature with a GPS tracker live audio facility that lets you hear what's happening at the tracker's location. The included magnetic mounting keeps the tracker secure when attached to any metal surface secretly. Last but not least, it comes with a powerful battery backup of over 140 days while offering you real-time GPS tracking.
The device price is $39.95, and the monthly plan will cost you $19.99 per month, or you can pay an advance of $150 for a one-year subscription plan.
DATABLAZE Blackhawk Real-Time Mini GPS Tracker – Most Intuitive Device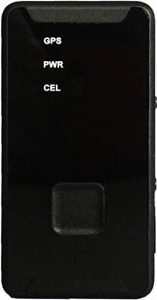 Many of our team members have acknowledged that the Blackhawk LTE real-time GPS tracker is one of the most user-friendly online monitoring systems available in the market. It has a simple way to track a person, including your spouse, using cellular and GPS technology. You can access geofencing alerts that enhance the real-time tracking experience while watching your spouse's movements.
This compact device weighing only 1 pound, can be hidden anywhere you want without your spouse noticing it. Our experiments showed that it has an accuracy of tracking within 6 feet that helps you identify the exact location where your spouse is spending time.
We recommend this compact and efficient tracking device with a reliable battery backup of up to 14 days to fulfill your tracking requirements most effectively. You need to pay $152 for the device and then go for a subscription plan of $25 a month with no contracts or cancellation fees.
Amcrest GL300W GPS Tracker  – Best Tracker for Accurate Location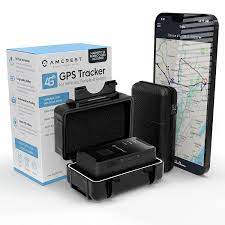 Our experiments with the Amcrest GL300W 4G GPS Tracker revealed that it is another reliable GPS tracker you can use to track your spouse. It provides you with real-time location updates with precision. If you want to keep your spouse under close watch, you can set the update frequency as low as 5 seconds to track them live.
We also observed through our trail that it sends notifications for specific events that can help you confirm your suspicion. The vendor can provide an IPX5-compliant water-resistant casing to discreetly hide the device without worrying about damaging it.
What we found very unique about this tracker is its battery life which is a bonus. If you are satisfied with a 1-minute reporting frequency, you can use this device continuously for up to 10-14 days without recharging. It means you won't have to worry about removing the device frequently, and your spouse would not get suspicious of you tracking them.
The device costs $44.99, with yearly plans costing $19.99 for 60-second updates, $24.99 for 30-second updates, and $34.99 for 5-second updates.
Prime Tracking GPS Tracker
–
Best Feature-Rich Tracker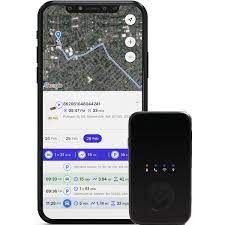 How does the Prime Tracking GPS tracker meet your requirements for tracking your cheating spouse? We have tested it personally, and the results are excellent. It is a small, lightweight, durable, and undetectable GPS device that you can discreetly hide in your spouse's purse or briefcase, and they can't even notice it. You can set up virtual boundaries over the map and receive notifications whenever they breach the limits of that zone.
It will help you confirm whether your spouse is visiting places they are not supposed to go. Also, by monitoring the entry and exit time, you get an idea of how frequently they visit the designated place and how much time they spend.
What we liked about the product is its user-friendly app that lets you know the location of your spouse and helps you track them while shopping, dining, etc., through your smartphone.
You can easily manage and control the device to remotely track the person within a comprehensive coverage over North America, so even if they travel to other places, you can still have their location and movement updates.
The Prime Tracking GPS tracker has an official price of $99.97 and comes with a 30-day money-back guarantee. This means that if you are not satisfied with the results of this Tracker, you can return it within 30 days and get a full refund.
Frequently Asked Questions
How can I track my cheating spouse?
You can use a GPS tracker or mobile applications to track your cheating spouse. 
How can I track my spouse's car without them knowing?
You can purchase a compact GPS tracker and install it in a hideous place to enjoy discreet tracking. 
There are various places where you can attach the tracker for coveted tracking:
under the seats

inside the seat cover

in the door partition

under the dashboard

under the car

wheel wells

front/rear bumper
My spouse is not a cheater. Now what do I do with the tracker?
Congratulations! You can still use the tracker to avoid car theft, manage fuel expenses, monitor driving habits, and get discounted insurance premiums. 
Can my spouse sue me if they find the hidden car tracker?
They can if the car belongs to them, and they can prove your intention behind the installation of the tracker. However, if the car belongs to you, there will be no legal repercussions. 
Final Words
So that is the list of GPS trackers for the people who want to track their cheating spouse. However, please make sure that the use of such a spying device is your last, despairing option. You should go for these options only when you have questions like these:
How to track my cheating husband?
What is the best tracking device to catch my cheating wife?
How can I bust my cheating husband?
How to track a cheating wife?
How to locate a cheating spouse?
Is there a free app to catch a cheating spouse?
How can I track my husband's car without him knowing?