Best hidden GPS trackers for cars: Real-time GPS devices to secure your car
GPS tracker for cars has made its way into the market, from people flaunting it, to use it as a necessity, and for various security purposes. Using a hidden GPS tracker is a smart move for any car owner in this day and age. Through a tiny tracking device that uses Global Positioning System or GPS, you can easily locate your vehicle.
As technology advances, people tend to stay aware of everyone and everything near them, be it their family members or their belongings. Knowing the exact location of a dear one or the vehicle they are driving, in real-time gives you a sense of relief. Having a GPS tracker for a car of your loved one is driving makes you feel more secure about them.
The tracker is generally used to recover lost vehicles because people nowadays are very cautious about car theft and they want the best possibility of finding their vehicle if someone steals it. A hidden car tracker is not only used for the prevention of theft. It can help you to know the driving habits of the teenager of your house so you can guide them in future. You can analyze the routes traveled by your employee. This will help you find better and shorter paths. Find your driver's location, or analyze the remaining time of the journey by calculating the distance of the car away from you. You may also want to evaluate the performance of the car by keeping a track of its routes and distance traveled.
Family1st Car Tracker- Best Hidden GPS Tracker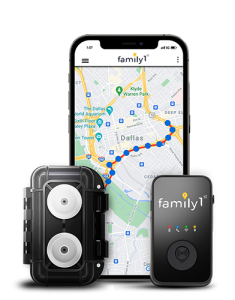 Family1st Car Tracker is one of the #1 Rated Hidden Tracking Device on Amazon. It is​ used by over hundreds of thousands of users to track their bikes and vehicles. It come at a very affordable price and also offers you a lot of custom features
Lowest Price Starting $24.95
Lifetime Warranty
Real-Time Tracking & Reports
Pocketable size
14-days battery Life
30-days money back guarantee
For heavy outdoor use you need a magnetic case to protect the unit
---
Types of the Hidden GPS trackers
There are generally two types of secret or hidden tracking devices for cars. The two ways in which these GPS trackers work are:
Passive hidden tracking device: A passive GPS tracker acts as a data logging device. It records all the routes traveled by the vehicle, and the data can be downloaded later. They don't require a continuous internet connection as they won't work in real-time. The problem with these types of trackers is that you won't be getting regular updates.
Active hidden tracking device: The active GPS trackers can send you the information any time you want. They require a constant data connection to transmit the data in real-time. They require more power than passive trackers. Thus they must have a powerful internal battery, or you might have to replace them regularly. Using an active tracker is very helpful as you get the information in real-time, and it might save you or your family in an emergency.
Features of an ideal Hidden GPS tracker
Here are some basic features that an ideal hidden GPS tracker must have:
Real-time tracking: If you need to see where your vehicle is in real-time, a GPS tracker should include real-time tracking. With the function of finding the location of your vehicle anytime, this feature is generally included with most GPS tracking systems.
A powerful battery: A hidden tracking device for your car, specifically the active tracker, should have a strong battery. As it constantly uses the data connection and sends you the data, it would require long battery life.
Casing: The hidden car trackers could be used roughly as they are portable and are mostly placed in an unguarded area. Therefore, they need to be protected with a good quality case. A well-featured tracker will come with a proper casing along with it. Moreover, it's an additional benefit if the case has the option of easy mounting, such as a magnetic case.
Proximity alerts: The Proximity alert is a feature in which you get a notification every time your vehicle reaches a destination you set on the map. This feature will help in freeing you from constantly checking whether you have reached your destination or not.
Geofencing: Geofencing feature of a GPS tracker, notifies you when a vehicle goes outside of a predetermined area. It may help you in notifying about the family members who might cross the preset area. With this feature, you can monitor a teenager, of the family, who has gone to an evening football match. You can check if he's going to the after-match party, which is outside the preset area on the tracker. You may also check if the old family members are traveling within the area that you have set on your tracker for their safety.
Speed alerts: A good GPS tracker will notify you if the car is crossing the speed limit. You can set a speed limit on the tracker so that you can train the driver in learning better driving skills.
Data recording: An ideal GPS tracker for cars must keep an accurate record of the data for a longer time so that you can check the information whenever required. Ideally for vehicles, a GPS tracker that can store the data for 30 days or more is the best.
Benefits of Hidden GPS tracker
Tracking your vehicle's location anytime: Having a GPS tracker in your car will help you locate it, anytime and from anywhere you want. If the tracker is within an area with a persistent internet connection, it would send you constant updates on your cell phone or any other device of your choice via email and SMS, or through a dedicated app that is installed for the tracker.
Finding your vehicle even after it's stolen: With an efficient, hidden GPS tracker you can recover your stolen car. You may easily share the location of your car with the law enforcement agency, increasing the chances of getting it back.
Analyze your car's performance: You can check your car's performance by knowing the distance it traveled, the type of route it took, and the speed and the driving behavior of the driver, just by installing a secret tracking device in your car.
Safeguard your family members: Know the whereabouts of your family members through the GPS tracker, so that in case of emergency, you can get them the help they need, and protect them against harm.
Get immediate help in an emergency: The faster you know of a problem, the quicker you can solve it. As soon as your GPS alerts you of an accident or other mishap, you can inform the required authorities and get quick help. The tracker will help you in sending the exact location to someone for help in the case you are stranded or have met with an accident. This will help especially when you are in an unfamiliar area.
Recall your meetings: You can access your old records to check your routes and whom you have met in the past few days with the help of the GPS tracker for a person in your vehicle.
Get details and statistics of a trip: You can evaluate the mileage, fuel usage, and other details of a long trip with the help of these trackers.
Calculate the time left for a journey to complete: When you know the distance remaining to reach your destination and the speed of your car, you can easily calculate the time left for the journey to complete. This can be done by other sources on your car like google maps, etc. but having a tracker will help you calculate the data even if you are away from your car and someone else is driving it.
Surveilling the driver: Did you know that as a car owner, you are responsible even if your driver gets into an accident, or if the car is used for illegal, unauthorized work? A GPS tracker could help you avoid that. There are instances when you have to send your car driver for various tasks of your home or office. These are the times when you might want to keep an eye on him to check if he's following the rules and regulations.
Know when your car is being towed: This is another way you can use your hidden GPS tracker. You will get notified whenever your car is moved, towed, or even bumped so that you can act immediately.
List Of 9 Best Hidden GPS Trackers In 2021
So, now that you know how beneficial a GPS tracker can be for your car, here is a list of 9 best-hidden GPS trackers for your car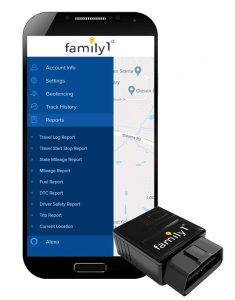 Family1st GPS Tracker is among the best GPS trackers available in the market. It's one of the most user-friendly GPS tracking solutions available online, especially for the security of teens and senior members of your family. This tracking device notifies you of the speeding and hard braking of the vehicle. By knowing your driver's driving behavior beforehand and guiding him for proper driving skills, you can reduce the chances of accidents.
Family1st has designed this tracking device with a very user-friendly interface since it's meant to be used by any age group person in the family. The company has all kinds of GPS trackers that include GPS trackers for cars, bikes, teenagers, and family members.
This tracking device usage has been made easier in many ways. You can easily use the geofencing feature of the Family1st GPS tracker. You can drag and drop a pin, and when the GPS vehicle tracker enters or exits the preset area, you will get an instant notification.
The Family1st offers GPS trackers that can be used as personal GPS trackers, International GPS trackers, GPS trackers for teens, GPS trackers for cars, and small GPS tracking devices.
This tracking device comes in the size of 2.8 inches, weighing 3.60 ounces. It has a 2400 mAh li-polymer battery. The Family1st is currently offering you the device at the price of $24.99 with the monthly subscription that starts at $19.95 They offer 24×7 tech support in case of any assistance regarding connectivity, installation, usage, etc.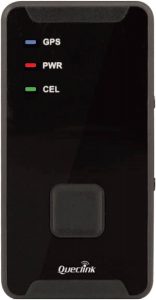 The Americaloc GL300W is an excellent device to track your vehicle on any occasion or circumstance. Not only does it track people it can also be used to locate assets and equipment. It is a portable real-time tracker that comes ready to use and helps you in tracking vehicles from any phone, tablet, or computer. It is updated with a longer battery life that can last for weeks and track many movements with faster coverage.
Its size is 2 inches and weighs 2.3 ounces. GL300 W tracks your latitude/longitude, vehicle parking, speed, device turn on/off, and arrival and departure. It has the option of location update speed of 10, 30, or 60 seconds. Americaloc Android and Apple-compatible mobile applications can be used to keep historical data up to one year. It comes with a preinstalled lithium-ion battery and SIM card option.
It's quite an expensive device and costs upwards of $100, along with a monthly subscription fee of $25.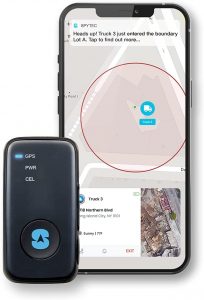 SpyTec STI GL 300 Mini Portable Real-Time Personal and GPS tracker is one of the most affordable GPS trackers in the market. This device can be easily linked to your mobile phone or computer.
With only 2 inches in size, this portable device can be attached easily to almost anything to track people, objects, and vehicles. It has 2 week-long battery life and comes with a magnetic M2 case used for its protection.
It has an advanced Geofencing feature and it notifies you when a tracked person or car tries to cross the preset area.
One of the drawbacks of this device is GPS tracking can become inaccurate when the vehicle is moving in a rural area. Moreover, the package doesn't include a SIM card, so you'll have to buy one separately.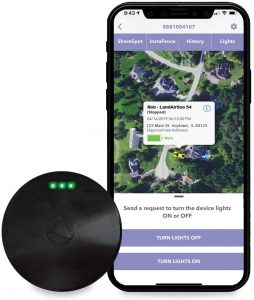 With a compact body, LandAirSea 54 is a real-time GPS tracker. It's a waterproof and dustproof device that comes with an internal magnet and SIM Card. As it is a portable and handy device and can be attached to a vehicle, equipment, motorbike, ATV, RV, boat, or anything that moves or transports. The tracker also supports 4G connectivity. LandAirSea 54 has LED lights that can be turned off as per requirement.
One of the best features of the LandAirSea 54 tracker is that it can be integrated with Google maps in real-time or on the SilverCloud app for reliable live tracking of people, assets, or vehicles. You get immediate notification via text or email alerts. It is one of the best devices for discreet tracking because of its small size and the LED lights can be disabled via the app, so it won't glare from a hidden area. It's a very strong device so it does not require any additional accessories.
One drawback of this device is that while the battery lasts for around 4-5 days, you'll need 12 hours to charge it from zero to full.
The LandAirSea 54 requires a monthly subscription plan starting at $19.99 per month but for 2 years of prepay-subscriptions, you are charged as low as $9.95/month.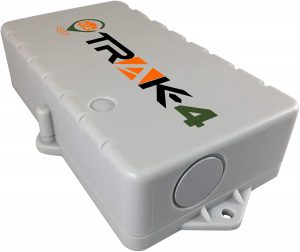 Trak-4 is a rugged-bodied, bulky GPS tracker. It comes with a hard case that is designed to protect the device from crashes and knocks. It is an easy-to-setup device that comes with mounting tabs so you can screw the device instead of magnet mounting it.
It can be used independently of a dedicated phone application. The device is controlled and monitored via Trak-4's website. Through the website, you can set live text, email alerts, and Geofencing settings.
Due to its bulkiness and rugged body, it's meant to be used for vehicles, but it's small enough that you can carry it in your pocket or bag for personal use as well.
It has a rechargeable internal battery that lasts 12-18 months on a single charge with a daily reporting feature.
It also has a Trak-4 cell-trilateration feature that gives an approximate location when no GPS signal is available.
One of the demerits of using the Trak-4 tracker is that you have to visit the company's website for controlling the settings instead of using a mobile application.
The current price of Trak-4 is $48.8 with a wiring harness and a subscription fee of $83.88 per year.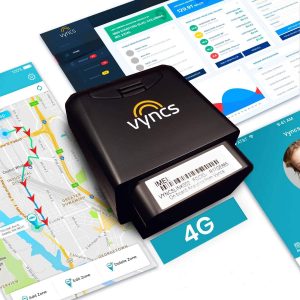 Vyncs GPS Tracker is a multipurpose hidden GPS tracker for cars. It tells you about your vehicle's health, driving history, fuel performance, and location.
The data can be accessed from your computer or the Vyncs mobile application on your mobile or tablet. The company provides an international sim card that will work in 200+ countries.
While Vyncs doesn't charge monthly fees, they do charge a one-time activation and a yearly subscription fee that can be unsubscribed anytime. They offer 24/7 customer support and a lifetime warranty.
The device can be easily detected as it is connected directly to your car's OBD2 port.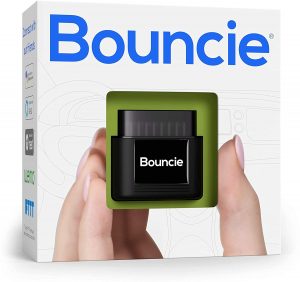 Bouncie Smart Driver Companion gives updates on your vehicle's location every one minute, even if the vehicle is not driven and parked somewhere. It also provides various notification alerts for instances like acceleration, speed, braking, and after-curfew driving, and tampering.
It is an OBD2 adapter tracking device that is about 2 inches long and 4.2 ounces in weight.
Apart from the vehicle movement, the device provides information like vehicle diagnostics, renewals, mileage, reminders, reports, and statistics of the vehicle. The information can be accessed through a dedicated app available in the App Store and Play Store. The device can be connected to Alexa or Google Home for easier access.
Bouncie offers 3G connection compatibility throughout the United States. It is a wireless device that gets its power from your car's OBDII port. It comes with a monthly data plan on purchase. The plan can be canceled anytime with no fees.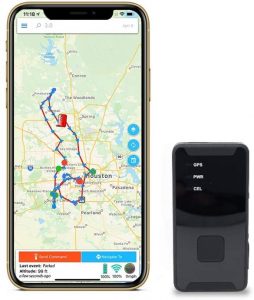 Optimus 2.0 GPS tracker is a mini GPS tracker – best to track vehicles, items, cargo, people, or any movable thing. Optimus 2.0 tracker has a customizable position alert system of every 30 seconds that can be upgraded to 10 seconds with an upgraded plan.
It provides email, text, or application alerts for all the movements and changes. It alerts for movement, low battery, and SOS button-press. It records unlimited data and can be viewed any time through the mobile app or computer. The data is displayed as a map or street view as it uses Google maps for tracking.
It's a 3-inch long device that weighs 3.36 ounces. It includes a Lithium polymer rechargeable battery that can last for 1-2 weeks.
This tracker supports the coverage in the US, Canada, and Mexico only. The company provides phone and email support. The Optimus Twin Magnet GPS Tracker Case and the Optimus GPS Tracker Hardware Kit are sold separately.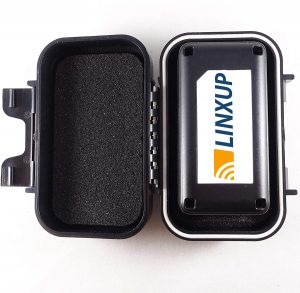 Lynxup OBD GPS Tracker is a real-time GPS tracker that uses Google Maps and sends device location wirelessly through the app or text and email alerts. It is connected to a vehicle through the OBDII port. Lynxup comes with a Geofence feature to notify you about your vehicle crossing a particular area, a replay option to review routes, and real-time location updates. It can track and schedule maintenance of the vehicle with its built-in Linxup maintenance management system.
The real-time alert includes speeding, parking, fuel consumption, and off-hour vehicle use.
The Linxup OBD GPS Tracker is available for customers in the United States. It works on 3G data, and a monthly plan is initiated upon purchase. The plan can be canceled at any time with no additional fee.
Things to consider before you buy a hidden GPS tracker
Real-time tracking: A hidden GPS tracker should be able to send you to the real-time location of your vehicle so that you can feel safe about your loved ones, vehicle, and belongings.
Length and weight: It should not be very long or heavy as its primary purpose is to stay hidden from anyone.
Monitoring capabilities: Monitoring a GPS tracker can be done through a mobile app or a computer. An ideal GPS tracker should be pre-configured so that a user can easily trace its location through a web-based tracking platform, accessible through any internet-enabled device.
Battery: A long-lasting battery is a must for any GPS tracker so that you can track your vehicle even if it covers a long journey for many days.
Installation: The tracker should be easily installed in your vehicle and should be away from anybody's visibility.
Pricing: Prices for the tracking devices generally vary between $50 – $250. If you consider buying a costly device, make sure it has all the features of a high-quality GPS tracking device.
Read more: How Much Does a GPS Tracker Cost?
Range: Before buying the GPS tracking device make sure it offers wide coverage. It should at least cover the area where your vehicle is regularly traveling.
Plans: Considering a subscription fee that is affordable and helpful for the long term is an important factor to consider before buying a tracker.
Tech support: Some companies provide direct phone call support while some offer live chat or email. Tracking devices are advanced technology devices and require basic knowledge of tech. Make sure the company is providing after-sale tech support while you get your hand on the device.
Final Words
There is a stigma around using concealed or hidden GPS devices. However, these devices can prove to be extremely helpful without invading privacy. It can be used for the easy recovery of your stolen car. It's used for the safety of your dear ones. Fleet management and company owners have these installed in their vehicles to monitor the location of their vehicles and keep an eye on them.
You first need to identify the usage and benefits of the best-hidden GPS tracker according to your requirements and then buy it for your safety and peace of mind.