Both in the U.S. and internationally, reports of kidnappings and abductions of children are alarmingly frequent. Each year, there are 800,000 incidents of missing children in the US., according to the International Centre for Missing & Exploited Children (ICMEC). According to the National Incidence Studies of Missing, Abducted, Runaway, and Thrown-Away Children (NISMART), there are 2,300 missing children reported each day in the U.S.
Every year, millions of kids go missing, and because so few cases are reported, the number is probably considerably higher. But in recent years, thanks to technological development and increased public awareness, nearly all of the missing children in the U.S. have been located and safely returned home. It has been possible to resolve situations without harming the child through quick response and GPS tracking. In terms of the degrees of defense you may procure today to safeguard your loved ones, the sky is the limit.
What is GPS Tracking?
A network of satellites called the Global Positioning System (GPS) is a space-age navigational system that can pinpoint your position anywhere on the globe, usually within a few yards or meters. A GPS receiver can interpret this data by locking onto these signals and triangulating its precise location on the planet. GPS is available around the clock in all types of weather to provide straightforward navigation on land, water, and air. 
The capacity of GPS devices to pinpoint the current location of the person or thing they are attached to dramatically aids in the protection of children. This is how GPS trackers may be used as an anti-kidnapping weapon, and at a time when maintaining security has become impossible, we need all the assistance we can get to protect our children.
GPS supplies location data to numerous everyday gadgets like laptops, smartphones, and vehicle navigation systems. These gadgets can be located on a map thanks to satellite data. GPS technology is enabled on various devices to help find businesses or obtain instructions for an unfamiliar region. The widespread use of GPS-enabled devices helps with location tracking and monitoring.
There are numerous ways that GPS monitoring is allowed legally. For instance, a parent can use GPS Tracker technology to accurately track their children with real-time location updates.
GPS Trackers as Anti-Kidnapping Tool
Giving your child a GPS tracker is sometimes essential, even though helicopter parenting is rarely necessary. For instance, a GPS tracker can assist parents of children with special needs or who reside in multiple homes to keep track of their locations. In congested areas, toddlers and small children may also benefit from wearing a tiny tracker.
With the help of a portable GPS tracker, you can keep tabs on where your children are, find out if they are not where they should be, communicate with them, and even get an SOS if something unfortunate occurs.
GPS trackers exist in various forms and dimensions; some are little modules that may be attached to clothing or bags, while others are watches or pendants. Most have similar extras like two-way calling, text messaging, and emergency buttons.
Although people of any age may use most trackers, some are created expressly with the elderly in mind. Of course, a specific model can be deficient in one or more desirable features. You might need to modify them owing to variations in child and adult dimensions so they can be carried safely. Please continue reading for shopping advice and tips for GPS.
Every parent worries that their youngster will get into trouble or end up in danger, and a GPS for kids is the tool that might make this happen. If your child becomes missing, a tracker, worn like a necklace on their wrist, can be used to find them. 
Live Tracking: Know You may be guaranteed that your child won't ever get lost by using a GPS tracker for children. You will constantly be aware of their location. 
Movement alarm: Receive alerts when your child leaves a designated safe location. The geofencing capability of GPS trackers is one of their outstanding features. You can respond swiftly and prevent kidnapping if a child is carried outside the house or from another location where you left them.
Call for help: The SOS button in a GPS tracker means You are alerted as soon as your child pushes the button, indicating that they require assistance. Your child's current position is sent along with the alert, allowing you to reach them as soon as feasible.
Family Safe: GPS trackers for kids make family vacations and their experiences a little safer with features like geofences, mobile app notifications, and activity tracking. Thanks to these tools, you may feel confident letting children begin to explore the world at their own pace.
The Things To Look For In A Kids' GPS Tracker
Although various GPS monitoring systems are designed for specific age groups and lifestyles, you should generally consider a few important factors when choosing a GPS tracker. The perfect child GPS tracker will feature a personal monitoring system to pinpoint your child's whereabouts using a map on your smartphone or tablet.
The ideal GPS tracker is reliable in its readings, easy to use, and durable enough to last all day. Here are some things to remember:
Real-time Tracking
This is the most crucial feature when you need to know where your child is. Your tracker's app settings can be changed to update your location every minute to every fifteen minutes.
User-friendliness
Pick a tracker that is simple to use and discreet for your little one. It shouldn't restrict their movement or get in the way.
Size
Even the most feature-rich GPS tracker available will only be handy if it is highly compact. Only purchase a GPS watch for a child if you are confident they can carry it discreetly.
A Waterproof Design
Children can be clumsy, so make sure your tracker can survive the roughhousing children can throw at it. Choose waterproof ones that can also manage spills and puddles. Any good portable GPS must resist abuse. Your child's fancy new GPS device will only survive the next trip to the water fountain if the GPS tracker you choose for them is relatively durable and waterproof.
Alerts And Notifications
To prevent false warnings or blowing up your phone, look for a device with changeable settings. Your device should be programmable so that you may check on your children whenever you want and receive alerts when something is wrong.
SOS Button
Most kids' GPS units have panic buttons that your child can press to let you know when anything is wrong, or they need help.
Two-way Calling And Communication Features
Numerous GPS trackers provide two-way voice communications between the user and a guardian or loved one. Two-way communications are restricted to a certain number of contacts in GPS trackers for kids, such as parents, family friends, and sometimes grandparents. Unknown callers' calls are blocked. With this feature, you may communicate with your child using their tracker as an intercom to find out where they are and whether they need help.
Range
Not two GPS gadgets are the same. While Bluetooth devices are designed for close range, cellular 4G LTE tracking can manage long-range connections if your kids vacation somewhere out of state.
Why choose Family1st Portable GPS Tracker?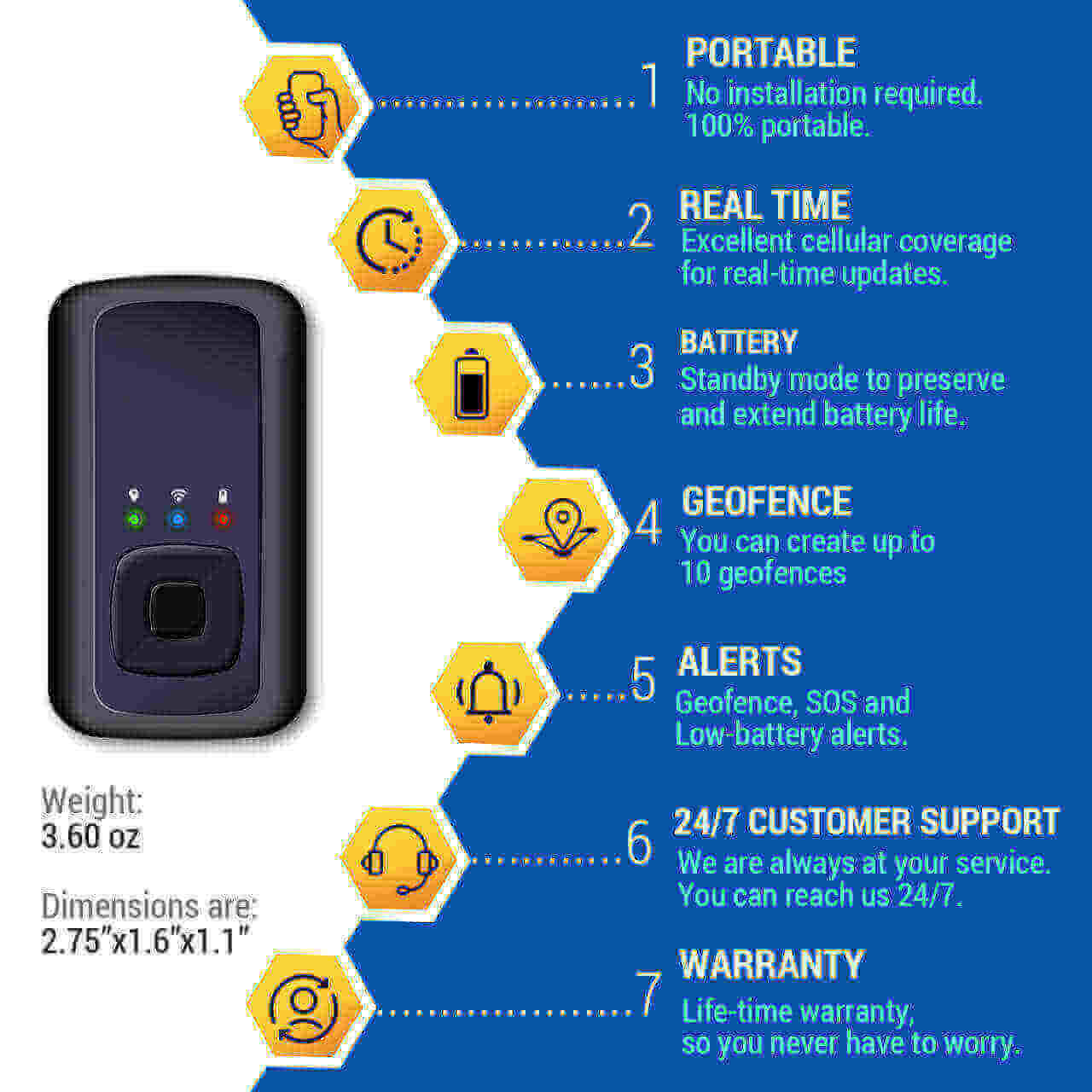 Want to keep your young child secure at home, at play, and anywhere else? Family1st is a great GPS tracker for kids. Family1st's app provides regular tracking and virtual fence features, so you can see your kids arrive safely at school.
Family1st is feature-rich, so we'll look at the prime features: 
Safe Zone Alerts:

Get alerts immediately when your kid departs or comes home. You'll be informed by email or SMS notifications when they exit the ten designated Safe Zones. Other programmable alarms include low-battery and SOS alerts.

Real-Time Tracking:

Track your kids with customized alerts and notifications. Our GPS LTE tracker provides a discreet approach to monitoring kids thanks to a super-fast 4G LTE network. 

Easy Installation:

Place your Family1st GPS tracker carefully on the person you want to monitor. You may set up the devices effortlessly for discreet tracking, and you can get personalized notifications. An application that can be downloaded and installed on any mobile device connects to this GPS tracking device. You may live your life stress-free thanks to an intuitive navigation system and prompt notification alerts (via email and texts); while being discreetly followed by a device, your child can enjoy riding a bike with their pals.

Compact and Portable:

This GPS tracker may be quickly mounted anyplace thanks to its compact and small design, whether in a car, bag, purse, luggage, or seat pocket.

Low Monthly Charges:

With monthly payments beginning at $21.95. No charges for cancellation. Anytime, cancel

Continual Warranty:

Family 1st stands by its products and offers lifelong warranties and unlimited customer service.

Long-lasting Battery:

This GPS tracker's 2400 mAh Li-Polymer rechargeable battery may operate for up to 14 days.

24/7 Technical Support

: Because we understand how vital it is to keep kids safe at all times, Family1st tech support specialists can help you by phone and email daily from 9:00 AM to 5:00 PM PT.
One of the few GPS trackers created especially for families with children, Family1st delivers some of the most thorough monitoring features in a GPS tracker. Family1st is our top pick because it offers good value, battery life, and accurate location tracking at low monthly fees. Family1st Portable GPS Tracker provides regular interval updates, so you never have to worry about your child's safety. At the same time, check-in and maintain peace of mind whether your children are at school or elsewhere. Take the initiative and get in touch with us today.