On average, an 18-hole championship golf course spreads over 200 acres. And looking for a single golf cart in a massive area as such is no less than looking for a needle in a haystack! It is no wonder that several golf course managers are opting for GPS-backed technologies to track their carts, use them efficiently, avoid theft, and enhance the overall customer experience. 
Apart from locating them, GPS tracking devices can help the managers in several other productivity-improving tasks like renting or allocating available golf carts to members and guests, ensuring that the golf carts are in perfect shape, and many more. 
Reasons To Use GPS Tracking for Golf Carts
One of the biggest reasons to use GPS trackers for golf carts is the size of the golf course. As already mentioned, 9-hole and 18-hole golf courses take up 100-200 acres of land. The managers need to know where their carts are to assign them to their members and players. 
Golf carts are small and lightweight and therefore susceptible to theft. It may come as a surprise, but in June this year, the FBI launched an official investigation into the theft of over 70 golf carts. The carts were stolen in North Dakota, South Dakota, Minnesota and Wisconsin, and a few other states. 
Most golf carts run on 36-volts, 48-volts, or the new 75-volt lithium battery. Some golf carts run on gas. Managers need to know how much distance the golf carts have covered before needing a refill or recharge. 
Like all other vehicles, golf carts also need regular maintenance. Based on the mileage and usage, managers need to schedule repairs and replacements.
Along with the golf carts, managers also need to ensure the safety of the players and their expensive golf club kits.  
Golf courses have uneven terrain. Given that the carts are light in weight, they can roll over or collide with others. Managers need to know their exact location in such cases so that immediate help can be sent. 
Benefits of Golf Cart GPS Tracking:
Real-time location tracking: GPS tracking offers real-time accurate and precise location data. Golf course managers can use this data to locate the position of their golf carts – on the course or in the garage. With the help of this location data, managers can easily assign golf carts to their clients. 
Safety: Because of their lightweight and the bumpy terrain on the course, golf carts can roll over or collide with other golf carts. In case of rolling over or collision, players and caddies might need medical attention. These carts also carry expensive golf clubs that can be misplaced or stolen. GPS tracking offers safety features to ensure that players, caddies, golf carts, and clubs are safe and can be reached or recovered whenever required. 
Theft prevention: Most new GPS tracking devices are designed to be tamper-proof. They are also equipped with highly sensitive motion sensors that alert managers when an unauthorized movement is recorded. It allows managers to take preventive steps and avoid golf cart theft.
Easy invoicing: Most players rent their golf carts at the golf course. With the help of GPS trackers, managers can bill clients for golf cart usage accurately. 
Battery/Fuel Management: Golf carts either run on batteries or gas. GPS trackers can help managers plan the route according to the available battery/gas and alert them whenever refuel or recharge is required.
Maintenance: Golf carts are also machines and need repairs, replacements, maintenance, cleaning, and more. Managers can use GPS tracking metrics like mileage, fuel use, and more to schedule regular wear and tear of golf carts.  
Family1st GPS Portable Tracking Device for Golf Carts
Family 1st offers an all-encompassing GPS tracking solution – devices and software. As we manufacture, build and develop all our hardware and software, we ensure that you get only the best of everything. Also, as we directly sell what we manufacture, we can offer the latest, smart, and intuitive tech at affordable rates. 
Take a look at our Portable GPS tracking solution for Golf carts:
The Hardware
Golf courses have uneven areas. That is why you need a portable GPS tracker that can endure bumpy rides and still transmit the necessary data. Family 1st trackers are sturdy, compact, weather, and water-resistant. No matter how bad the ride gets, our portable GPS tracker will do its job. 
The portable GPS tracker for golf carts comes with a two-week battery life in active mode with continuous updates.
If you are going to depend on the data collected by the GPS tracker, you need one that is reliable. Family 1st portable GPS tracker comes with 4G connection network compatibility and guarantees constant communication. Also, our devices are tamperproof, which means if anyone tries to uninstall or deactivate them, you will get immediate notification. 
One of the reasons why our portable GPS tracker is popular amongst users is its simplified installation. You need to take the tracker out of the box and keep it in the vehicle or asset you are tracking – in this case – the golf cart. We also offer a magnetic case separately that helps in attaching the device to any metallic surface.  
Many rental vehicle businesses are often in the dilemma of using GPS trackers without invading the privacy of their clients. With our portable GPS tracker, you can track your golf cart without much stress. The GPS device is small and compact, making it easier to hide anywhere in the golf cart. 
The Software/Platform
All Family 1st GPS devices come with an integrated platform that allows users to access the data collected by the device. The user-centric platform also gives unbridled access to the user to a plethora of tracking management features. 
Through the platform, golf course managers can set up their preferences for notifications and alerts. They can create various teams and groups with limited permissions. 
The platform collects the data, analyzes it, and produces intelligent reports, which can help golf cart users and managers keep a tab on their maintenance and fuel usage. 
The platform is available for download on any Android and iOS device. Also, a single user can download the same account on several devices thereby, sharing access with authorized persons. 
Family1st Portable GPS Tracking Solution Features for Golf Carts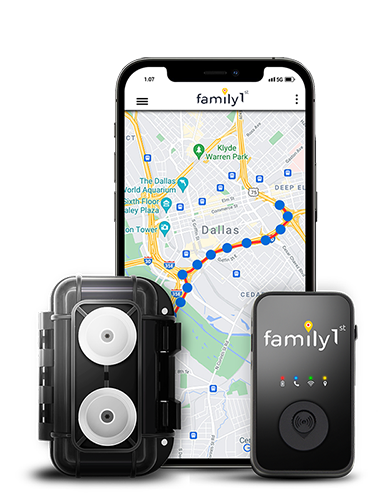 Real-time location: Anyone who has ever used a GPS tracking solution will tell you how easy everything is with real-time tracking. While tracking your golf cart, you do not want to call up the driver, client, or caddy all the time to verify their location. Golf course managers can look up the site of the golf cart on the integrated device.
Allocation: Golf is a luxury sport, and therefore, golf courses need to ensure premium services to their members. This also means timely service. They cannot have clients waiting for long. With portable GPS tracking in their golf carts and the integrated platform, managers can find the golf carts that are available for use.
Fuel Usage: Golf carts run either on 36 or 48-volt batteries, 72-volt lithium batteries, or gas. Before letting the clients use them, the managers must ensure that the golf carts have enough battery or gas. 
Maintenance: Golf carts can have their fair share of wear and tear. As they are a kind of vehicle, they also need regular repairs and maintenance. Based on mileage, battery, or fuel use reports, managers can create a maintenance schedule. They can set up alerts and notifications for the same.
Safe zones: All Family1st GPS tracking solutions come with geofence technology. Golf course managers can create virtual fences around areas like – garages, golfing regions with rough terrain, not-in-use zones, and more. When a golf cart is in or out of these areas, the managers receive a notification. In case the golf cart is somewhere it shouldn't be, managers can take the necessary steps to safeguard it and the clients. The safe zone feature also helps the managers curb the unauthorized use of business assets.
Safety: The top speed of an average golf cart is 12-14 miles and hours, which is comparatively safer than other vehicles. But that does not mean that it is the safest mode of transportation. If a golf cart is going at its top speed, it can topple over small bumps in the course. Also, these golf carts do not have a lot of driving controls and can collide with others on rough turns. Managers can set up alerts for speeding or collision and get immediate help whenever necessary.
Alexa Integration: The Family 1st GPS tracking solution for golf carts works well with Alexa. Once you integrate the device with Alexa, you can use voice commands to access data and reports. 
Why should you choose the Family1st golf cart GPS tracking solution?
 Although there are a lot of GPS tracking solutions available in the market, Family 1st offers several benefits, making it the best choice for you. 
Affordable Pricing: The Family 1st Portable GPS tracker is priced at $29.95 only. We also offer the lowest monthly subscription – only $21.95 per month. 
Lifetime Warranty: Because we manufacture the device, we are completely assured of its quality and performance. That is why we offer a lifetime warranty on all our devices.
No Contract: Golf is seasonal. There are months when there is no need to track your golf carts, as they are not in use and are parked in the garage. With our no-contract and pay-as-you-go policy, you only pay a subscription for the service used. You can activate and cancel the subscription anytime you want, without any extra fees or charges.
Compatibility: Our portable GPS tracker for golf carts comes with a dedicated application. Golf course managers can download it on any Android and iOS device and access the data. Our app is compatible with all such devices – smartphones, tablets, laptops, desktops, and more.
Support: No matter what day or time, the Family 1st tech and support team is always available through various channels. You can call, message, email, or even talk to our chatbot. We ensure to fix your problem and answer your query with lightning speed. 
With the Family 1st golf cart GPS tracking solution, you can ensure the safety of your golf carts and of your clients. Apart from safety, you can also manage all the golf carts efficiently and offer a wholesome and premium golfing experience to your clients. And if you look at our prices and consider the projected increase in your business's revenue, you will find that getting a Family 1st GPS tracking solution for your golf carts is not an expense, but an investment.
For information on our GPS devices and services, contact us here!