Looking for the perfect GPS tracker to suit your needs can be tedious. There are so many features you need to consider. You need to decide why you need a GPS tracker. Is it for a car? Is it for a loved one whose safety you want to assure? You also have to choose what pricing policies best work for you. Lucky for you, you have found the right article! No need to look further- for your convenience, we have brought together the best real-time GPS tracking devices in one list. 
According to the latest ratings and the best perks of each tracker, you have a plethora of GPS tracking devices from which you can choose. All products have unique features that cater to different customers and families. Note that these devices are not in particular order or rank. 
GPS Tracker- The Need of the Hour
Crime rates are constantly increasing. It is important to protect your family and assets. A good GPS tracker helps you track everything you need as and when you want. Here are some of the things and people you can track with a GPS tracking device-
Car(s)

Bike(s)

ATV or Boats

Your children

Your teen's driving habits

The elderly in your family

A pet

Anything you'd like!
Most GPS trackers come with easy-to-use mobile apps which have a user-friendly interface. You can access the data recorded by this tracker at any point during your day. Tracking your child has never been easier- any need to call them multiple times to inquire about their location, all you have to do is check where they are through the app whenever you want!
All you need to use these apps are an electronic device (a phone, tablet, laptop) and a stable internet connection. Some GPS services even provide an instant messaging feature- receive updates in the SMS format if there is no internet connection. Communication has never been so convenient!
Most GPS trackers come with long battery life, saving you from the hassle of charging it every other day when you have to do it just one time in a month. 
Why is Real-Time Tracking Important?
The best GPS tracking devices support real-time tracking now, thanks to advancements in technology and features that are easy to use. 
Apart from living location facilities, here are some of the benefits that a real-time GPS tracker can provide you. 
Vehicle Recovery
Using a GPS tracker for your car, bike, ATV, Boat, or any other vehicle is the need of the hour. With the help of a GPS tracking device, you will know where your car or boat is at all times. If it gets stolen or misplaced, you can easily track your vehicle with the help of your GPS app and figure out the fastest ways to reach it using the shortest routes. 
Emergency Alerts
One of the main features of GPS tracking devices is to alert concerned authorities of an emergency. You can connect to emergency helplines in a dire situation. 
If your loved ones are in trouble, they can inform you through a GPS tracker. Many trackers come with an SOS button. You can click on the button, and a notification is sent to the app. 
Geofencing
This feature essentially allows you to form borders and safety areas on a map. When the tracker enters or exits a geofence, you will receive a notification immediately. Making a geofence is very easy- drag and drop a pin across the screen- your borders have been formed! 
Know more about geofencing and how GPS trackers work: [How do GPS Tracking Devices Work?]
Communication Features
An SOS feature is not the only communication facility provided by a GPS tracker. Some GPS tracking devices have two-way calling features, allowing you to contact your loved ones as and when you need them! 
Some GPS trackers also provide WiFi and hotspot tethering, providing global coverage. It helps you stay connected to the world no matter where you are. 
Insurance Policies
Many insurance companies provide benefits and incentives to families with GPS trackers in their vehicles. It proves that you have taken existing safety measures and aid you with the same. 
Some GPS trackers also display statistics regarding fuel consumption and show personalized methods of preventing fuel wastage. A GPS tracker not only helps with your safety but also your finances. 
What Should You Consider Before Buying a GPS tracker? 
Many factors come into play while making any purchase. Here are some things you need to consider before investing in a GPS tracker. 
Portable or Wired?
Choosing between a portable or a wired tracker can be tricky; both have perks and benefits. 
A wired tracker is a good choice for those who want to use it only for their car or another vehicle. Wired trackers are ideal for those who want to make a long-term investment in one tracker that offers them more than location tracking – fuel and maintenance, driving reports, insurance, theft and accident protection, and more. 
However, if you want a tracker for multiple vehicles and your loved ones, we recommend a portable GPS tracker. A portable GPS tracker is easy to carry and requires negligible setup. Some of them are small enough to fit inside your pocket!
Tracking Software
Many devices come with free tracking software that lets you locate the tracker through an app or a website whenever you want. This feature is essential for real-time updates of your trackers' location- especially in emergencies! 
Long Battery Life
The battery life of your prospective GPS tracker is an essential aspect to be considered. If you're going for a portable GPS tracker, consider the battery life before purchasing. How many times do you have to charge it in a month? How long can it go on a single charge? What do the reviews say? You must know these answers if you want to make the most of the GPS tracker you get. 
Emergency Alerts
Some trackers give automated alerts when they detect collisions, while others alert when they notice tampering. Some trackers come with an SOS button feature. All you have to do is click the button in an emergency- the emergency dispatch services and your family members will get an alert through the app. 
Most experts recommend getting a tracker that offers a wide range of alert preferences. If the tracker is for your loved ones, get one that has an SOS button. 
Family1st Real-Time 4G GPS Tracker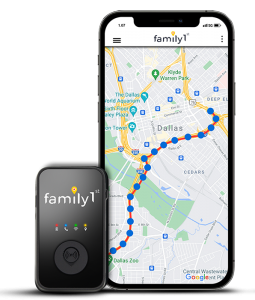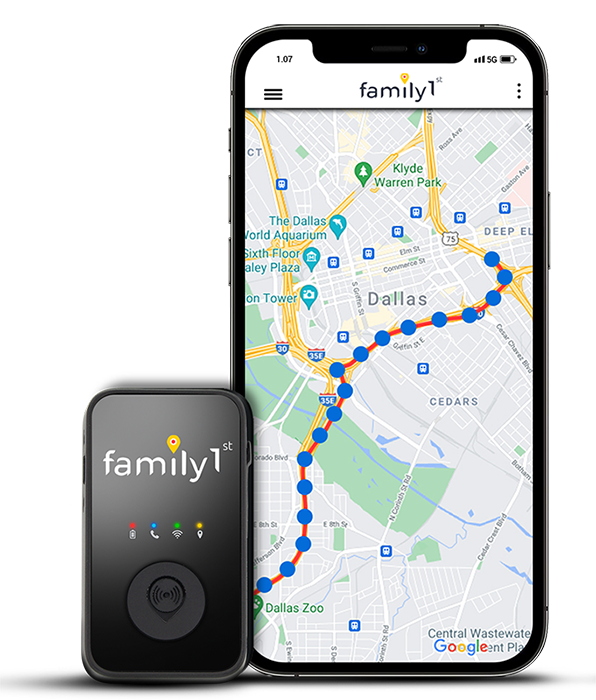 Do you want to make sure your teen reaches home safe from a party? Or is it your aged parents whose safety you'd like to ensure? Maybe it's a vehicle or two you'd like to track. In any case, Family1st has your back. Family1st Portable is a real-time 4G LTE GPS tracker and can track kids, the elderly, vehicles, your luggage- almost anything! 
Family1st also brings with it 24×7 customer support, proving itself to be dedicated to the safety of you and your family. We also offer a 30-day return policy along with free shipping. If a product turns out to be defective within 30 days of purchase, we will replace it free of cost.
Our portable GPS trackers have time and again proven themselves to be the most economical and smartest choice in the market. Our products are affordable and worth the price. The lifetime warranty on all Family1st products serves as the cherry on top! 
You can buy the tracker from our Family1st website or from Amazon.
Why Should You Choose Our Tracker? 
At Family1st, we believe that the safety of your family comes first before anything else. 
Sleek and Compact
The device is small and portable. Its compact design allows you to track everything discreetly. It also comes with a magnetic case that helps affix the tracker to a metallic surface. 
Long Battery Life
Once you recharge the device – it will not require a charge for a good two weeks after. We use a 600 mAh Li-Polymer rechargeable battery, which gives our device one of the best battery lives in the industry. It also comes with a Sleep Mode Battery Life for six months. 
Customize Your Alerts
You can customize the alerts you receive according to what you want to see at the touch of a finger. Instant notifications on your laptop, computer, or phone are assured. 
Instant Reports
You can generate reports with the data that the tracker automatically documents. The device consistently tracks all relevant information- miles per hour, current location, tampering, etc. 
Lifetime Warranty
All products at Family1st come with a lifetime warranty along with 24×7 customer support, letting you be comfortable and rest assured about us as your backup in an emergency. If you'd like a replacement, refund, or repair, all you have to do is place a call. We will do the needful without any questions asked.
Alexa Integration
The Family1st portable 4G LTE GPS Tracker seamlessly integrates with Amazon's voice service – Alexa. Our device is easy-to-operate and can keep up with the ever-changing, demanding times. It has also been rated #1 consistently on Amazon and has received excellent reviews over time. 
Overall, the Family1st GPS tracker is economically efficient and easy to use. It is a simple and reliable tracking system that requires minimal maintenance and has all the features you need. If that wasn't enough, it also offers indoor tracking and uses 4G technology, making the tracker operational almost anywhere you'd like! It has been the ultimate choice for many families for many years- there's no reason for you not to join our family too!