Today, a range of technical solutions are available to us to meet our specific requirements in our personal and social lives. The latest GPS-enabled technological tools allow us to keep track of our family members, including elders and kids, when they are away from home and get alerts in case of an emergency. The GPS tracking solution provides us with innovative ways of tracking persons, vehicles, or assets and ensuring safety and security. GPS tracking systems installed as a part of fleet management software can help track automobiles, select suitable routes, and improve driving standards to ensure efficient operations.
A GPS tracker provides an effective and reliable navigation system with an accurate route tracking facility and notifications about potential risks. The Global Positioning System (GPS) features can be enabled in the device and attached to the assets that help track their real-time location and movements. It can also send alerts per the requirement with complete location details to deliver quick assistance. The unique features of GPS trackers also allow us to define a zone of movement for the elders, kids, or cars, considering their safety and security.
Top 5 Things To Track With a GPS Device
GPS technology provides effective tracking solutions in day-to-day life. It can be used to know the whereabouts of elders and kids in various situations – while traveling away from home, in school, or on any transport, and ensure their safety and security. You can conveniently monitor your vehicle, luggage, or other assets using GPS technology. The devices take care of your worries and efforts in tracking your assets and belongings. It also guides you with relevant and valuable information to make informed decisions. You can use the GPS trackers for various purposes that you prioritize as most important. The applications of GPS devices are as follows:
Tracking Elders
GPS tracking devices for elderly have features that take care of the needs of senior people and provide solutions to safeguard aged family members. You can synchronize the tracker with the mobile app to enable you to keep track of your elders all the time. The devices also have SOS features like panic buttons, fall detection, safety zone alerts, and many other features that can ensure safety. As the elderly members move out to another place or travel, you can track the routes and get an idea of any unusual movements. 
Tracking your Kids
Parents want to know their kids' whereabouts to take all possible precautions to ensure their safety. These GPS tracking solutions for kids can provide smart solutions to keep an eye on your child's movements and prevent them from getting lost or facing danger. GPS trackers installed in school buses can help school authorities to get all the real-time information like bus location, deviation in routes, road blockage, breakdown, driver's performance, etc.
Tracking Vehicles
Tracking vehicle location and movements using GPS tools is a common and reliable solution. You often want to know the car's location and follow the driver's actions which are possible by fixing the GPS device for car inside the vehicle. The latest models of compact GPS devices are conveniently fixed in vehicles that can send updates about current locations, show route planning, and keeps a record of journey details available through your phone or computer.
In the case of large fleet businesses involving more trucks or cars, the GPS trackers provide vital information about routes, trips, movements, and locations. GPS-enabled devices help generate reports regarding vehicle performance, fuel efficiency, driving behavior, and compliance requirements.
This tracking device provides security against theft and misuse of vehicles as the GPS device monitors the asset location and sends alerts. The GPS trackers have advanced features that allow managing fuel efficiency, technical issues, and unsafe driving practices and help fleet operators improve resource utilization and ensure safety compliance.
Tracking Luggage And Assets
Small GPS tracking devices are perfect for keeping track of valuable assets during transit or storage. You may be keen to know the exact location of expensive equipment or large shipments and stick a GPS device on the equipment or inside the trailer carrying it, to see its location from starting point to destination. The real-time location details help you maintain peace of mind and make suitable decisions about important deliveries and customer service. Tracking your luggage gives you power by allowing you to keep a watch on your belongings even when it's out of sight. If you've ever had your luggage or car lost or stolen, it becomes easier to recover it with the help of a GPS tracking device.
Tracking Routes On Adventure Trips
GPS trackers have many special applications ranging from simple navigation to need-specific tracking facilities that provide great support while hiking, trekking, or driving on an adventurous journey. There are facilities for uploading a predefined route and receiving turn-by-turn directions as you move. The application of GPS trackers for hiking/trekking is not just limited to optimizing routes to your destination but also directs you to get emergency responses or roadside assistance near your location.
The GPS tools can work well even in places with limited network coverage. An important feature is a geofencing facility that generates alerts when entering or leaving a predefined zone. SOS facility enables the users to raise alarms in any potential risk or emergency. The devices generally are waterproof and impact-resistant, with long battery life, making them robust and reliable for use in various conditions.
Tracking Boats and Water Transport
Water transport is more challenging than road transport because of many unforeseen situations and more risks. Often it becomes necessary to track the location of boats out for fishing or transportation to avoid any potential risk of meeting an accident or being diverted. Effective GPS tracking technology can help you monitor your boat movements and receive alerts if the boat faces any danger or is stolen or misused. 
You can track the traveling routes of ships while on the sea and can access the location information about your boats at the tap of your mobile or other digital devices. GPS trackers for boats can be an effective tool for lifesaving in many situations as it lets you track the exact locations of boats and keeps you ready to take immediate action in emergencies.
The Family1st GPS tracker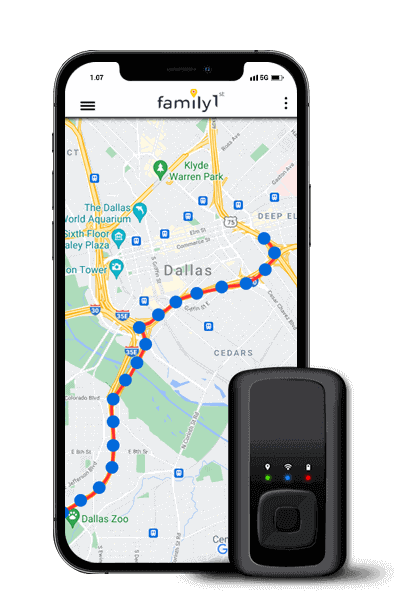 The latest GPS devices help you ensure the safety of the concerned person and assets by constantly tracking their location and movements. A wide range of customized GPS trackers works efficiently to keep track of persons, vehicles, and various assets. Family1st GPS tracker is one of the best GPS trackers, which offers an efficient and cost-effective tracking solution with minimal maintenance and maximum utility. The main advantages of this tracker are as follows:
Cost-Efficiency: This GPS tracker helps to determine the best-suited routes for vehicles that save time and fuel by avoiding traffic congestion and disruptions. The accurate, real-time information helps you make timely decisions towards ensuring better asset and resource utilization affecting overall cost.
Safety: The GPS tracker helps to manage valuable company assets and protect family members through real-time tracking. The Family1st GPS tracker offers a reliable way to track the location and movement through mobile phones and computers. You can create custom zones for the activity and get immediate alerts as the tracker enters or exits the specified area.
Compact Design: It is one of the most suitable GPS devices to track vehicles, children, elders, trucks, boats, equipment, assets, and valuable belongings. The compact and portable design allows it to be easily kept in the backpack and taken anywhere.
Emergency Response: This modern GPS device can send alerts if route deviations or safety violations happen. This facility allows you to respond immediately to resolve the issue or provide necessary assistance in emergencies. The GPS trackers also notify the users about potential risks to help them take proactive actions toward improving safety.
User-friendly: Family1st GPS devices use advanced technology combined with software support to set up the system in the most user-friendly manner. It helps you connect through long-lasting battery life, technical support, and a lifetime warranty.
Conclusion
The GPS tracker will provide an effective and affordable technological solution for many challenges as you get to know real-time location information about family members, assets, vehicles, and shipments. Numerous devices with customized features work efficiently to keep track of kids, women, physically unstable, and elderly persons. It is always a good idea to analyze your personal and business needs before choosing a GPS tracking solution that best serves your purpose.
Personal tracking using GPS tools can provide smart solutions to keep an eye on others' whereabouts and prevent them from getting lost or misguided. Fleet managers can use GPS trackers to have complete control of vehicles, reduce risks, improve utilization, and meet necessary compliance. It helps to make proactive decisions to ensure safety, efficiency, and productivity. It is significant to select the right GPS tracker with customized features to access all the necessary information to ensure safety and compliance.