Youth such as the students of 10th standard, 12th standard, etc. are in a critical age. They often have a lot of trouble settling with a load of academics, choices of friends, etc. At this age, the children easily get influenced, fall under peer pressure, have confusing career goals, and are unable to understand the best for themselves in the coming future. Since they are vulnerable and exposed, many youngsters are found using drugs. It is a disease that spreads very easily and quickly. It starts with a casual drag, but always ends as an addiction and abuse.
One of the most common damages of drugs is drug-impaired driving. It is highly dangerous for youth to drive after consuming the drugs as the drugs cause mental changes, inability to focus, semi-consciousness, confusion, double vision, and much more. Under such circumstances, a GPS tracking device can help to monitor the movement of youth. Some people find this against their privacy norms. But if you look at the larger picture, it is crucial to have a car GPS tracking technology not just to control and monitor them, but to be available for help at the time of emergency and untoward incident.
In this changing world, where there is a huge external influence on children, it is necessary to take certain steps to fight substance addiction. It often influences the youngsters to do certain things that they will never do in case of the absence of drugs. Once the kids are addicted, it is easy for them to get involved in the criminal offense, and later, the parents are seen paying the price of their addiction.
When the kids are at the home, the parents can easily keep a watch on their kids. But when the children move out of the home, what to do? So, to keep your kid safe from this condition, preventing drug abuse in youth is the key to investing in GPS tracking technology.
As per National Institute on Drug Abuse (NIDA), by the time the students go to high school, 70% have already tried alcohol, 50% have abused an illicit drug, 40% have smoked a cigarette, and 20% used a prescription drug for nonmedical purposes.
Data and statistics of drug abuse – MPS Survey 2019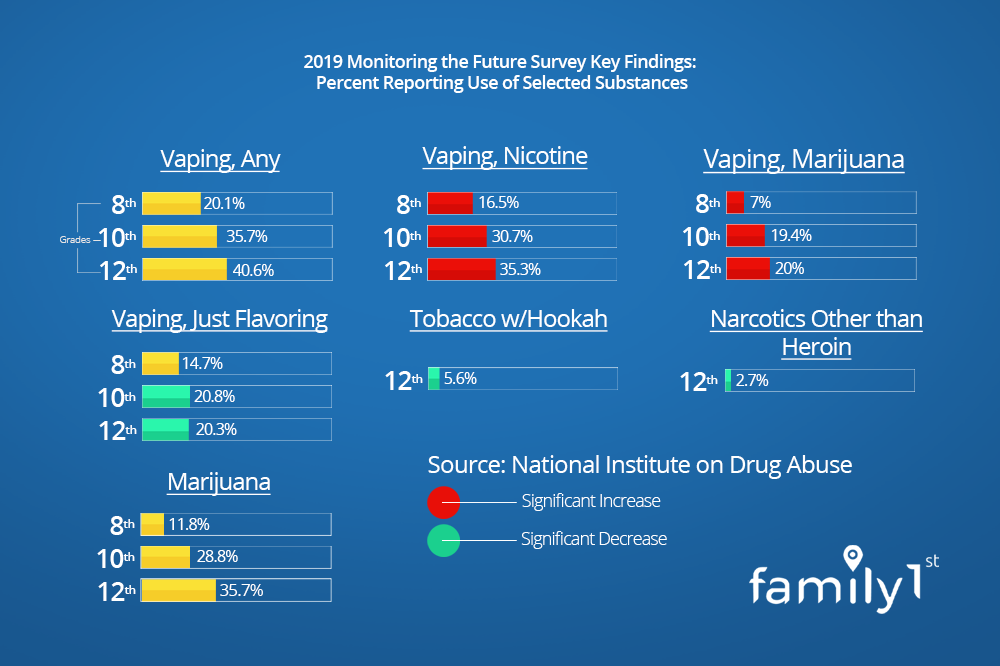 If you want to know the real facts and figures related to drug and alcohol abuse in youth, then here are the eye-opening details for you.
As per the Monitoring the Future Survey which was conducted in the year 2019, around 42,500 students from 400 public and private schools with grades of 8th, 10th, and 12th used vaping, illicit drugs, alcohol, marijuana, and prescription opioids.
One of the four students in the 10th grade and one in three students in the 12th grade consumed vaping nicotine, marijuana, and flavors. Due to this, there was a 30% alleviation in the use of cigarettes along with a decrease in alcohol use.
The use of prescription opioids in high school students had the lowest rate but the increase in vaping cannot be overlooked.
Reasons for alcohol and drug abuse
The kids fall into alcohol and drug abuse due to many factors such as: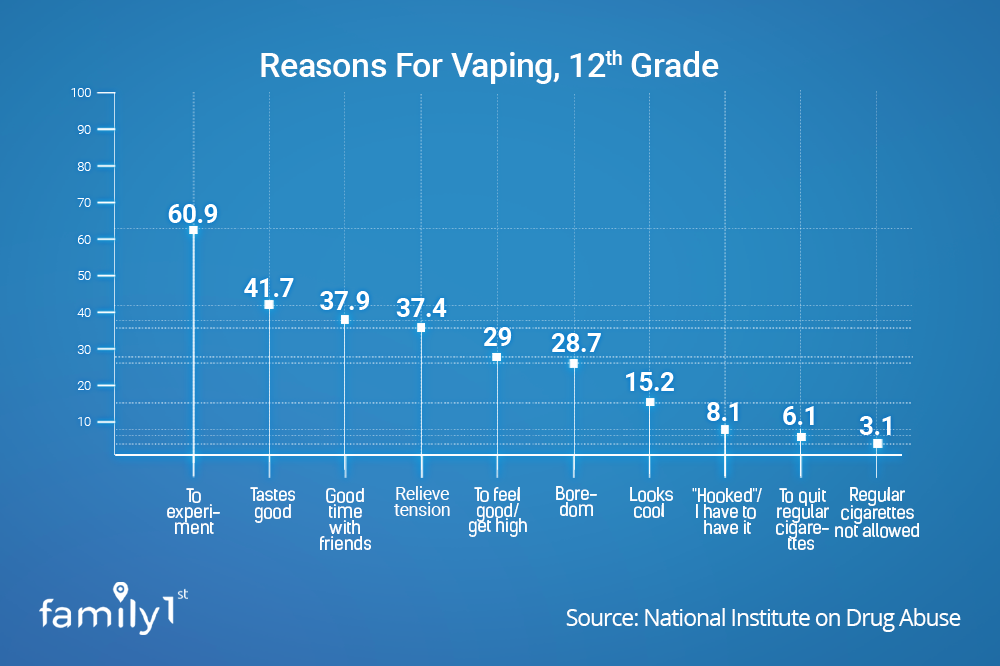 Curiosity – the children want to experience how does it feel like.
It makes them feel high
Peer pressure
To look cool
To enjoy a good time with friends
To relieve stress and tensions
They are getting bored
Vape is easily available
Parents conflict, and so on
Vaping
Vaping is a drug abuse very popular since 2010. As per the 2019 survey, 82% of 10th graders confirmed that vaping is easily accessible and 80% of 12th graders admitted that they arranged e-liquid with nicotine easily.
10%, 20%, and 26% of 8th, 10th, and 12th graders respectively confirmed that they vaped nicotine. It is also a surprising fact that most high school teens know the harms caused by occasional and regular vaping of nicotine. The research also confirmed that the teens preferred flavored nicotine and are unaware of the brand of the e-liquid.
Cigarette Smoking
As said earlier, there has been a downfall in smoking in the students of all grades. This downfall has been linked to the considerable increase in vaping nicotine. 2% of 8th, 3% of 10th, and 6% of 12th graders used cigarettes one-half pack. Only 2% of 12th graders smoked daily. A five-year decline in smoking cigarettes was found.
Marijuana
The survey also collected data regarding the teen drug abuse of Marijuana. The use of marijuana was found steady in the students of the 8th, 10th, and 12th classes. About 7% of 8th, 18% percent of 10th, and 22% percent of 12th graders used marijuana, and this year and 12%, 29%, and 36% of 8th, 10th, and 12th graders, used in the past year. You can observe the increase in the consumption of marijuana in 8th and 10th graders by a significant percentage.
Due to the easy availability of marijuana as a medical drug, the teens do not know that it is harmful to them if they find their addiction in it. Though 52% of 8th graders, 40% of 10th graders, and 30% of 12th graders know that it is harmful to consume marijuana.
Alcohol Abuse
Talking about the use of alcohol, there was a five-year decline in alcohol abuse and drinking in 10th and 12th graders. 8%, 18%, and 29% of 8th, 10th, and 12th graders respectively used alcohol. Binge drinking which means when you consume more than five drinks in a row within two weeks, decreased too in the 10th and 12th graders. 4% of 8th, 8% of 10th, and 14% of 12th graders were found indulging in binge drinking. There was also a decrease in the lifetime use of alcohol in 8th graders from 56% to 24%.
Opioids
Opioids, which means prescription narcotics are suggested by doctors in their prescription for certain diseases. In the survey, there was a decline in the usage of such drugs too in the 12th graders. The use of heroin was found low and showed a five-year decline in the past year. It was 0.5% in 2014 which was as low as 0.3% in 2019 in the 10th graders and from 0.6% to 0.4% in the 12th graders.
There was a decline for Vicodin and OxyContin. The use of Vicodin was 3% in 2014 which was found to be 1% in 2019 in 10th graders and 5% to 1% in the 12th graders. The use of OxyContin was 3% in 2014 which was found to be 2% in 2019 for the 12th graders.
Illicit Drugs
According to the survey, the use of other illegal drug like cocaine, methamphetamine, and OTC cough and cold medicines was seen to be steady. Cocaine was used by 0.7% of 8th graders, 1.5% of 10th graders, and 2% of 12th graders. The usage kind of declined in 12th graders from 54% in 2013 to 48% in 2019.
Methamphetamine use remained low which was less than 1% in all grades.
In the case of amphetamines, LSD, and synthetic cannabinoids, there were few changes in the figures. The use of amphetamines was almost the same in four years of the survey but in 2019, there was a decrease among 10th class people.
It was also found that 10th and 12th graders are getting engaged in LSD abuse. Synthetic cannabinoids or spice or K2 or synthetic weed recorded a five-year decrease from 5% to 3% among 10th graders and from 6% to 3% among 12th graders.
Family1st GPS devices
This is the reason why Family1st crafted GPS technology products and high-performing features. They use advanced technology and software applications to help you monitor drug use in your young children. You must also know that GPS car trackers do not compromise the privacy of your children. The product is designed to keep them safe and sound.
Family1st provides the best and dependable GPS tracking solution to the parents. The car tracker GPS can be easily integrated with the software application to allow yourself tracking of the youth. The application is user-friendly and it can run on any device. It allows you to access real-time locations and also permits you to create many Geofences. You can generate emergency alerts and keep your loved ones safe.
The devices and services offered by the latest GPS technology by Family1st can be used for free. You can also customize the same as per your needs. The app also offers added security. There are parental control apps using which you can restrict certain videos, movies, games, and music so that your kids do not see and listen to them. you can also access their browsing history, email conversations, etc. if you are thinking that it is an invasion of privacy, then it is not. Rather it is a way to ensure that your kid is not misusing the internet.
Since Family1st aims to ensure the safety of your children, car tracking devices for teenagers are one of the best investments you can make today. You can get in touch without a customer support team, who are available non-stop to answer all your queries and concerns.
Wrapping up
You would have observed by going through the data above that the situation is alarming. National Institute on Drug Abuse, National Institutes of Health, and U.S. Department of Health and Human Services release data to make the parents aware. This needs you to take necessary action on time. It will be disappointing and upsetting to know that your child is involved in drugs but instead of getting worried, you must try to help him. Trust is one of the important factors that can take your child on the path of recovery. It is imperative to know about their location and friends. Make the best use of GPS technology and go for car GPS tracking today!